When I was thinking about what I could write for our 4th of July travel blog post I considered the many places within the US we have already visited. New York, Washington, Boston, LA, San Francisco, San Diego, Las Vegas and Orlando to name but a few!. But, none of them appealed to me as depicting the true essence of America. Sure, all of these places have their charm and appeal for different reasons. But, I want our readers to see that there is so much more to experience than cities. When planning a holiday that will truly embody the American spirit I would look no further than Yosemite National Park. In my opinion, a true gem of the United States.
With its awe-inspiring landscapes, majestic waterfalls, and diverse hiking trails, Yosemite offers an unparalleled experience for travellers year-round.
In this blog post, we'll delve into the seasonal highlights, breathtaking vistas, rainbow sightings, hiking adventures, accommodation options, and delightful food choices that make Yosemite National Park an ideal destination for your 4th of July getaway.
Exploring Yosemite's Seasons
Yosemite National Park boasts different charms throughout the year, making it a remarkable destination no matter when you visit.
Spring (March to May)
This season breathes new life into the park as waterfalls gush with melted snow. Witness the grandeur of Yosemite Falls, the tallest waterfall in North America, at its peak flow during this time. Mirror Lake is also a must-visit, as the snowmelt transforms it into a pristine reflecting pool.
Summer (June to August)
Summer is the peak tourist season at Yosemite. It is also when most of its famous landmarks will be easily accessible. The waterfalls may have diminished flow, but the warm weather provides excellent conditions for hiking and exploring the park's trails.
Word of advice – don't expect to see Mirror Lake in the summer. This is what we saw after a long trek in the blazing sun (although we did make up for it by spotting some coyotes along the way.)
Fall (September to November)
With the arrival of autumn Yosemite's landscapes transform with beautiful tones of red, orange, and gold. During this time you will also find that the crowds will lessen. As with summer, Yosemite Falls and Mirror Lake will have reduced water levels, but the vibrant tones of the foliage will no doubt create a breathtaking atmosphere.
Winter (December to February)
Yosemite transforms into a winter wonderland, captivating visitors with its snow-covered landscapes and the park offers cross-country skiing and snowshoeing. Please do take note however that access to the park may be limited (or closed entirely) due to adverse weather conditions.
If visiting Yosemite in mid to late February, you might witness the extraordinary phenomenon known as the "Firefall." When conditions are just right, the setting sun illuminates the waterfall, creating a breathtaking orange glow that resembles a flowing river of fire. Unfortunately we have not experienced this in person but it is certainly on our bucket list.
Scenic Hiking Trails
Yosemite National Park offers a plethora of hiking trails, catering to adventurers of all skill levels. Here are a few notable hikes to consider:
Half Dome
Considered one of Yosemite's most challenging hikes, Half Dome requires a permit and advanced planning due to its steep ascent and cable section. The reward is unparalleled panoramic views from the summit. For more information about Half Dome check out the park's website here.
Mist Trail to Vernal and Nevada Falls
This popular hike showcases two stunning waterfalls and offers a moderate to strenuous challenge, with steep sections and mist from the falls.
The trek involves a 3 mile round trip to Vernal Fall (7 mile round trip to Nevada Fall) and is a hugely popular trail. To limit the crowds, we recommend that you start your trek in the early morning. Do take into account that this trek will take around 2-5 hours to complete and if you are planning on heading out later in the afternoon you will need to pack a torch (flashlight).
Tuolumne Meadows
Located at high elevation, this serene area provides various hiking opportunities amidst beautiful alpine scenery. Explore the stunning Cathedral Lakes or embark on longer backpacking adventures along the Pacific Crest Trail.
Please note that there is currently a major project underway at Tuolumne Meadows Campground. Consequently, no reopen until 2024 or 2025. No camping will be available at the meadows during this time.
For information on all of the trails available at Yosemite National Park click here.
Accommodation Options
To fully immerse yourself in the Yosemite experience, consider staying within or near the park. We did and whilst the accommodation was not something we would have normally gone for it was a highly surprising experience.
Accommodation within the Park
General advice is that you should look to book accommodation for Yosemite six months in advance. That said, we tried booking ours nine months prior to our trip and we were almost booked out of the park itself. There's a funny story about our hotel booking but more about that later. For information about lodging within the park, check out this link.
Accommodation Outside the Park
If accommodations within the park are fully booked or you prefer a wider range of options, nearby towns offer excellent choices.
El Portal: Located just outside the park's western entrance, El Portal offers a range of lodging options, including cosy cabins and lodges nestled in the forested surroundings.
Mariposa: Situated near the park's southern entrance, Mariposa features charming bed and breakfasts, hotels, and vacation rentals, providing a comfortable base for exploration.
Groveland: Positioned near the park's western entrance, Groveland boasts historic inns, rustic lodges, and campgrounds, offering a perfect blend of convenience and tranquillity.
Oakhurst: Situated south of the park, Oakhurst provides a range of accommodations, from budget-friendly motels to full-service resorts, along with dining and shopping options.
Dining Experiences
Whether you prefer dining within the park or exploring nearby towns, Yosemite and its surroundings offer a variety of culinary delights.
If you choose to dine within the park, Yosemite Valley offers a range of dining options, from casual cafeterias to full-service restaurants.
For an elegant dining experience enjoy a meal at The Alwahnee Dining Room or The Mountain Room Restaurant which rank as the number one and two restaurants in Yosemite National Park on Trip Advisor.
For a more causal (and affordable) experience try Curry Village Dining Pizza Deck.
Our Personal Experience
My family and I were blessed to have spent a couple of days in this stunning national park last August and we all agree that this (together with Lake Tahoe) is our favourite destination in the US to date. Yes, the kids even preferred it to Disney World and Disneyland (just!)
Our holiday to Yosemite was part of a road trip to the West Coast of the US which we had been planning for almost three years thanks to Covid. I don't think we have ever been more excited for a holiday than we were for that one and it did not disappoint.
Our "Hotel"
As we mention above, accommodation bookings are recommended about six months prior to your stay. There's actually a funny story about our hotel booking. My husband booked our accommodation and texted me with "babe, do you want the good news or the bad?" I asked for the good news and was told that we would be staying within the park itself. Amazing, I thought. Then came the bad news….
Curry Village features standard hotel rooms, wood cabins and canvas tent cabins. When Dani sent me a photo of the place where we would be staying, it is fair to say that I was not impressed. At the time of our booking only the tent cabins were available. Now, those that know me know that I don't fare well in this type of accommodation. Yes, I have been called a snob before!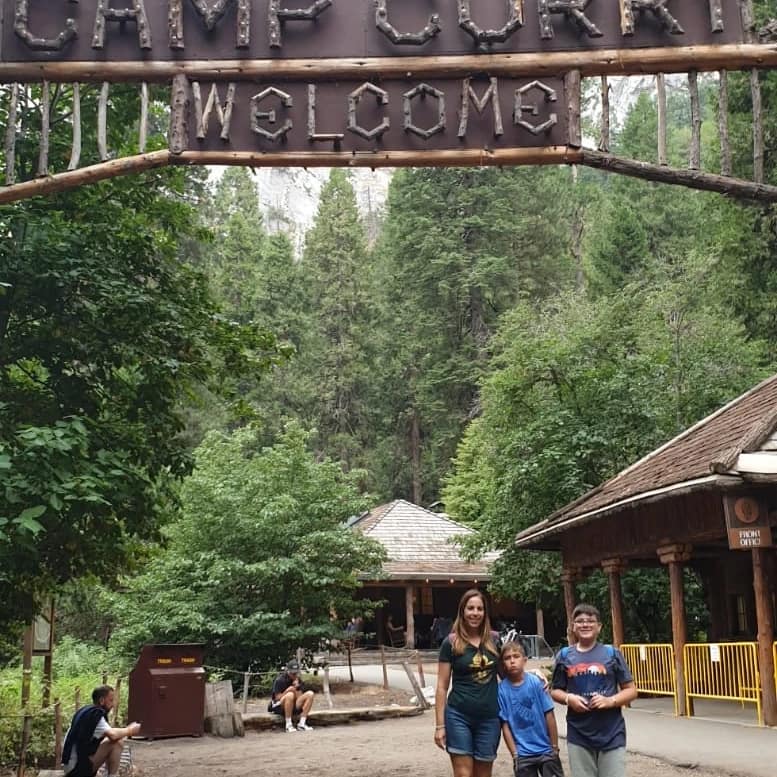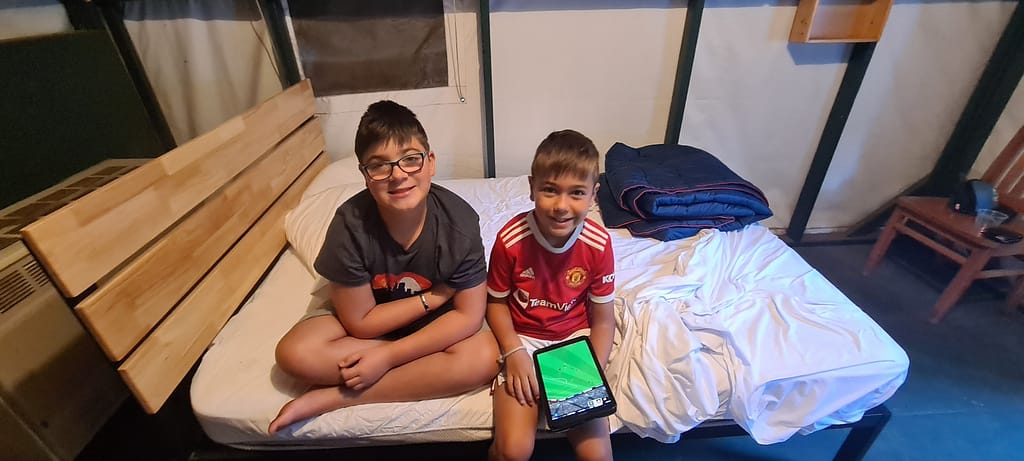 How wrong was I?!?! Yes, the canvas tent cabins are basic and the toilets and showers are in a communal block but Curry Village was a super fun place for the kids and is superbly located within the park. If you are booking the canvas tent cabins we recommend you choose a heated option (even in summer) the reason for this being that you will not have any electrical points unless you choose this option.
At Curry Village you will also enjoy free guest parking and there is access to the shuttle to various points around the park. There is an outdoor swimming pool, an amphitheatre where you can enjoy Ranger-led nature programs, multiple dining options and a gift shop.
Do Not Forget to Pack These!
We recommend that you pack the following if staying at Curry Village:
Torch (flashlight) and batteries
Layers – including a light rain jacket (even in summer)
Flip flops for the communal showers
Padlock for the bear locker (yes, you read that right!! No food is permitted within the cabins)
Ear plugs – the walls in the cabin are thin and people tend to be up early to enjoy the trails
Refillable water bottles
Hiking boots
Driving to Yosemite
Yosemite National Park was our third stop on our epic road trip, driving down from the equally magnificent Lake Tahoe. Our nerves about this part of the trip were frayed as there was a raging fire in parts of the park weeks (even days before our visit). Thankfully this was brought under control but we were able to see the extent of the damage on our drive down to Mariposa Grove.
The drive was an experience in itself. Driving through some middle of nowhere towns where we honestly expected to see tumbleweed along the way. The drive from Lake Tahoe was via some very windy roads and we got some torrential rain along the way making it interesting to say the least.
Tunnel View
If you are making a similar trip to ours, be sure to stock up on snacks for the car journey as there is nothing much by way of restaurants or service stations along the way. We stocked up on wraps and other goodies at Tahoe and our first stop upon arriving at Yosemite was Tunnel View. And, what a view it is! Breathtaking does not begin to describe it, but see for yourselves…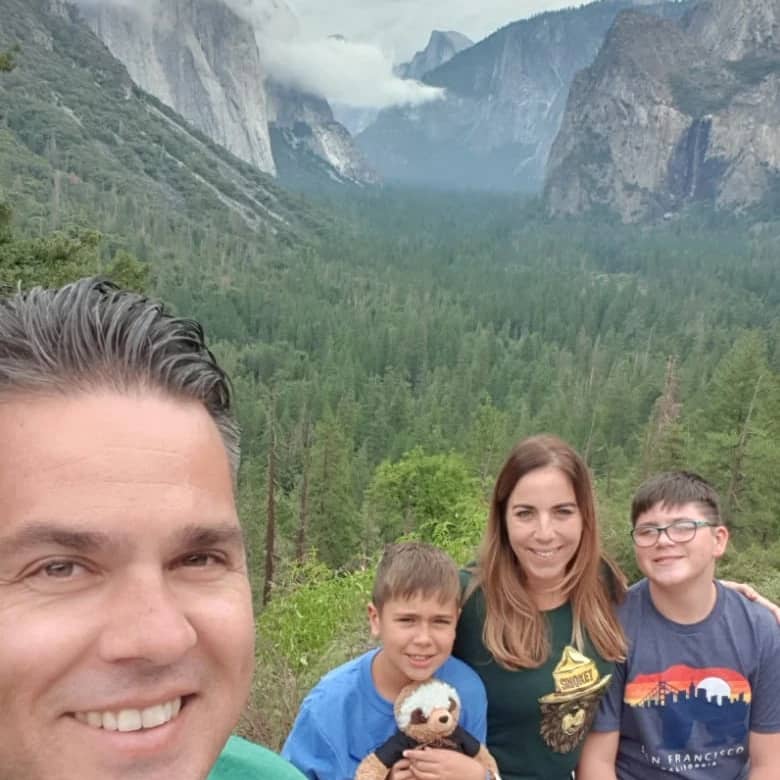 With such a view, who wouldn't stick around for some lunch?
Mariposa Grove
After lunch we continued our drive and were able to explore Mariposa Grove. Here you are able to walk amongst perhaps the largest living things on earth. The Grizzly Giant, the most famous sequoia in the park measures 209 feet (63.7m) and is thought to be between 2000 and 3000 years old!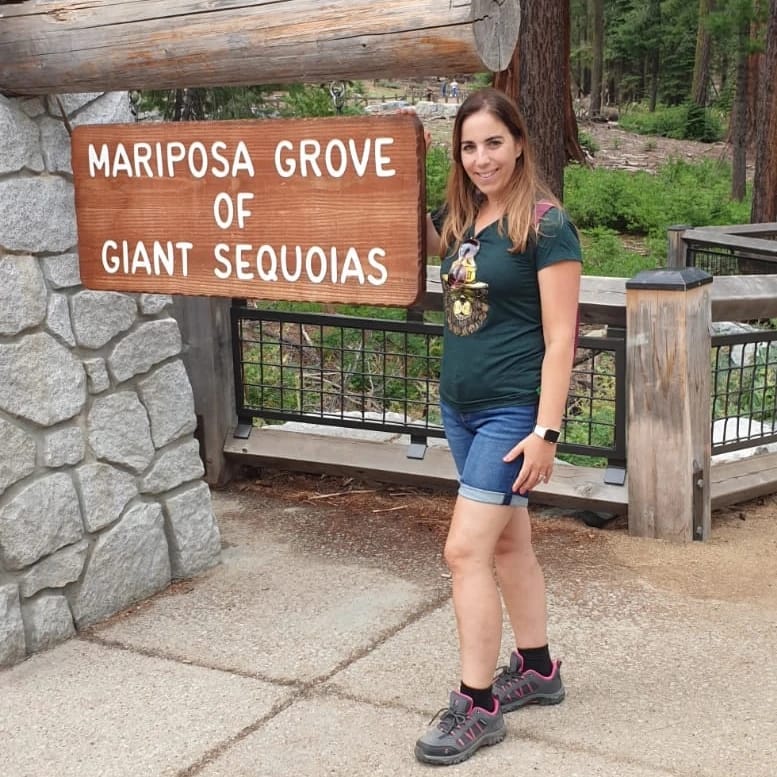 Settling In at Curry Village
After our experience of walking between giants we were ready to check into our hotel (details above). And, after a comical introduction to our children (who are not used to camping) to their new accommodation, we enjoyed exploring the camp area and dining on pizza under the stars. I have never seen so many stars in my entire life. It was truly spectacular.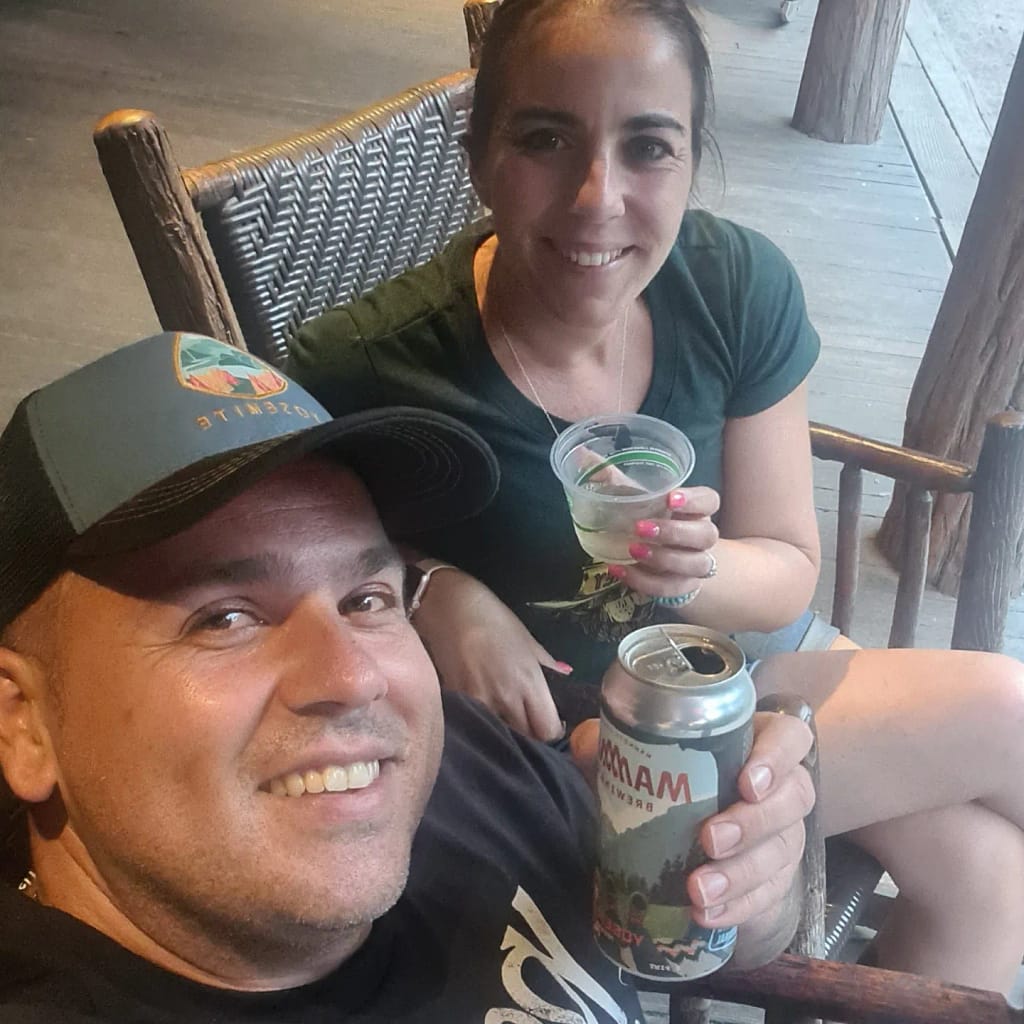 Our Trails
As we were travelling with children we did not explore the more strenuous trails. That said, even the flat walks along Yosemite Valley up to Lower Yosemite Falls were tough in the blazing sun and we were extremely grateful to cool off in the lake beneath the falls. The falls were greatly diminished and we did not experience the impressive gush you would have during the spring but the freezing cold water was a welcome respite from the heat following our trek.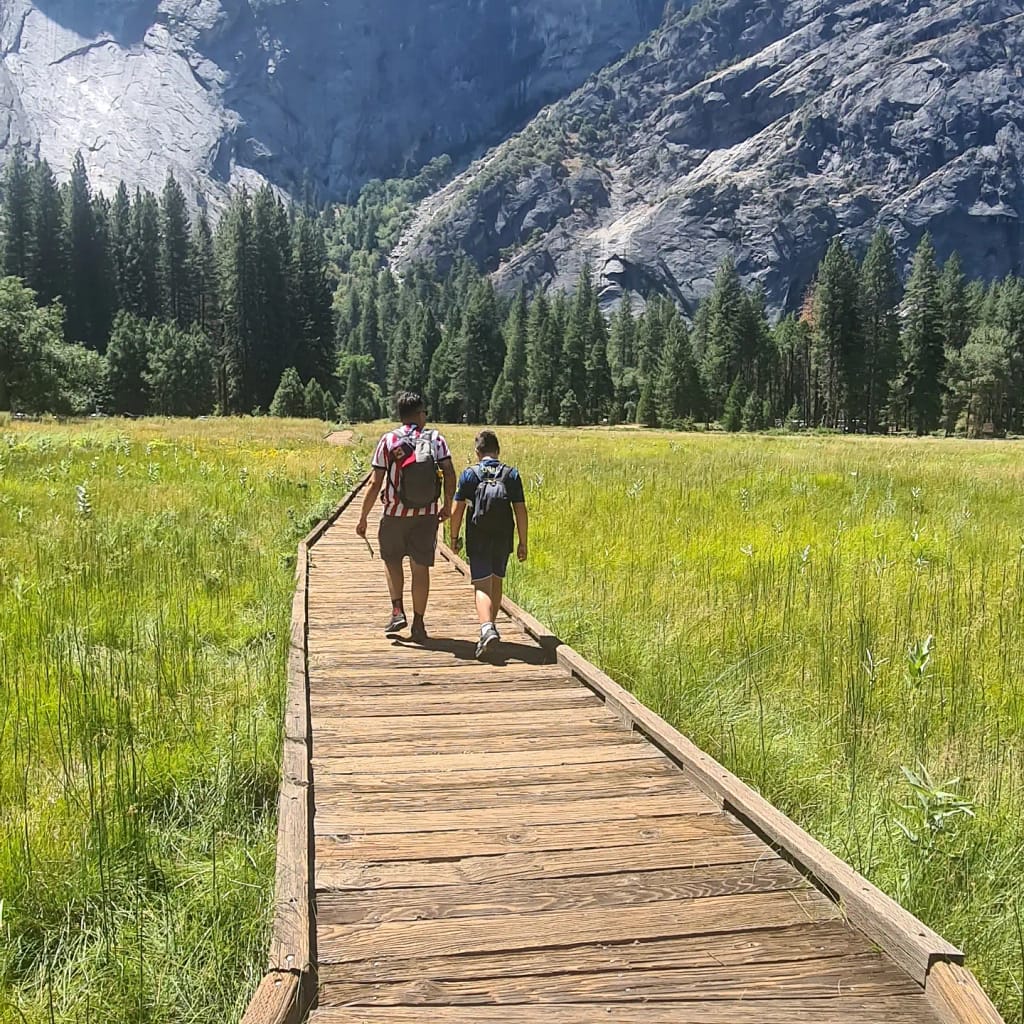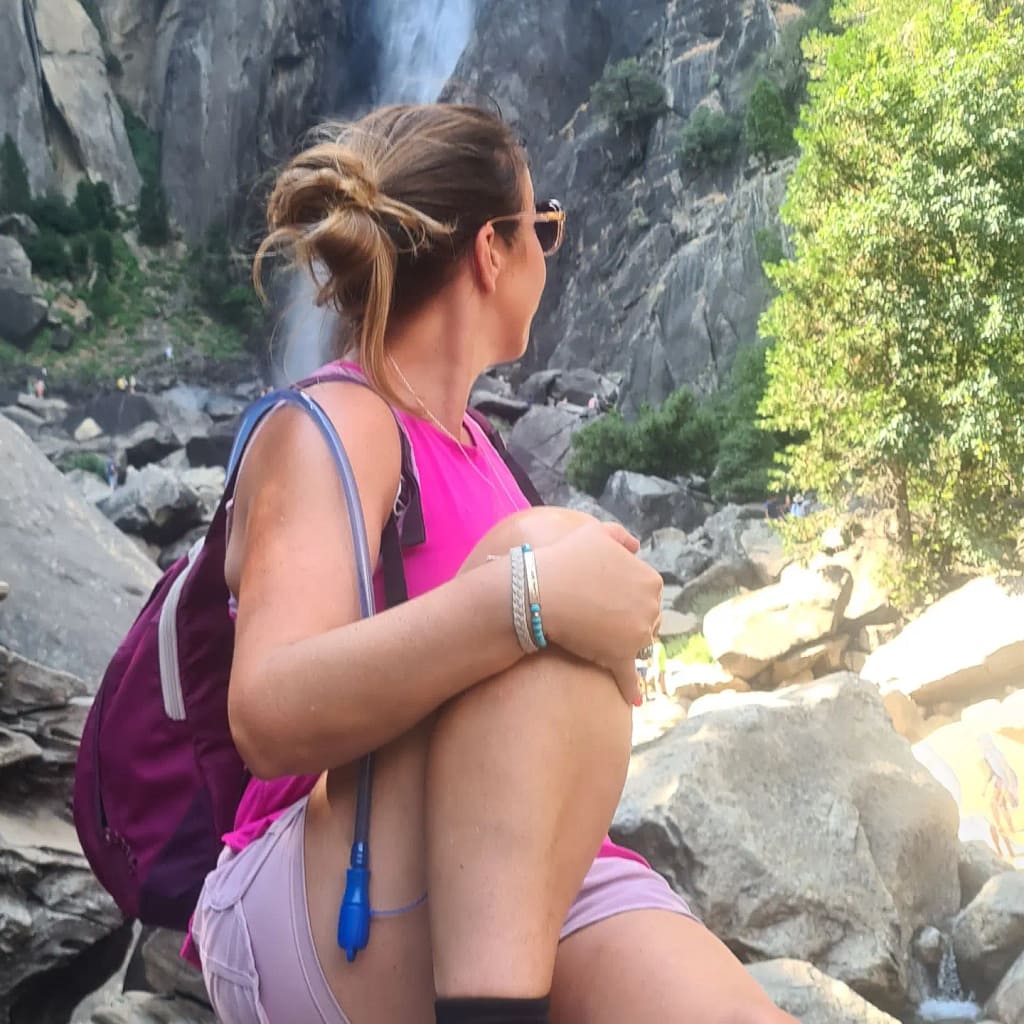 Must Visit!!
We absolutely loved everything we saw and experienced within the national park. Two days was definitely not enough time but the good thing is that we experienced something new as a family and we know we have to go back.
If you are thinking of travelling to the US this year we would highly recommend Yosemite National Park for its outstanding natural beauty and the unforgettable lifelong memories you will no doubt create here. Even if this type of holiday is outside your comfort zone, Yosemite National park will not disappoint.
Wishing our American friends and followers a very happy Fourth of July! If you are planning a celebratory BBQ, be sure to check out our BBQ series where we have you covered from Starters and Mains to desserts and cocktails.
Sharing Is Caring:
Related Articles You Might Enjoy: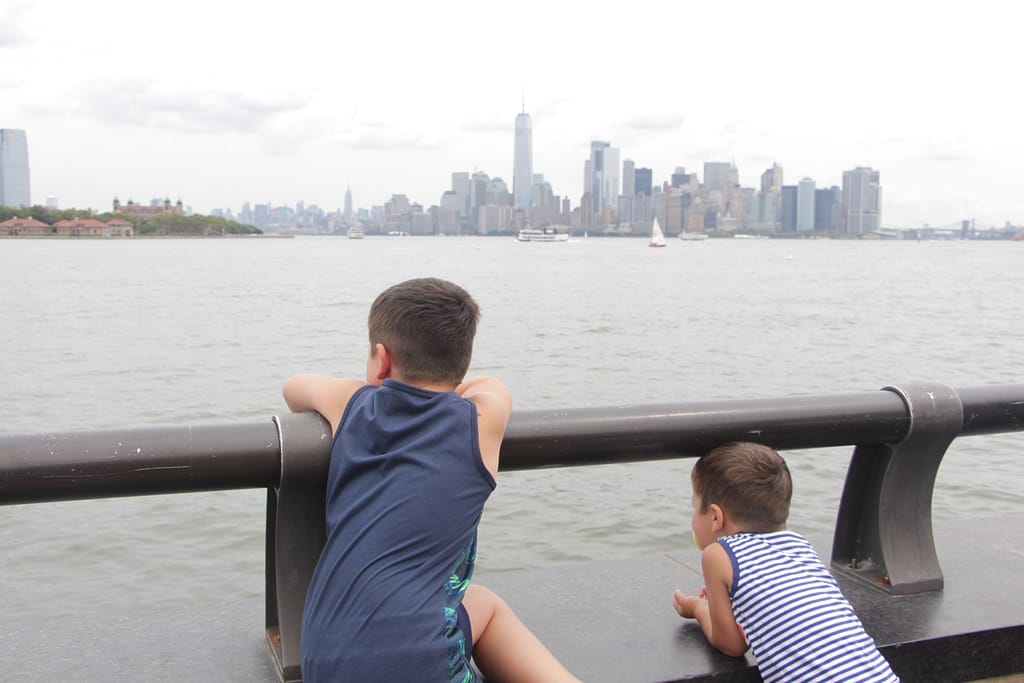 Whilst looking for photographs for the Mickey's Not So Scary Halloween Party blog I came…