Whilst looking for photographs for the Mickey's Not So Scary Halloween Party blog I came across tons of photographs from other holidays. I was specifically drawn to those of New York City, a place which holds very special memories for me. New York is where Dani and I got engaged. We also spent part of our Honeymoon there. And, six months after our wedding, it is also where we found out I was expecting Evan. More recently I have very happy memories of having visited New York with the kids during the autumn midterm break. Given that midterm is once again around the corner, the photos inspired me to write this blog. Here we will provide hightlight what the city has to offer families visiting NYC in the fall.
Amazon Associates
As an Amazon Associate, we earn a commission from qualifying purchases.  Some of the links on this post are affiliate links.  This means that if you click on the link and make a purchase we may earn a commission at no extra cost to you.  Learn more

here.
The City That Never Sleeps
It is true that New York is the city that never sleeps and, if you are after a fun nightlife then this is certainly the place for you. However, as you would expect from a city like New York, there are activities for all ages. It is a really fun place to visit as a family.
Whilst it can be unbearably hot during the summer, October is an ideal time to visit New York. The city comes alive with vibrant autumn colours and the cooler weather makes it the perfect time for sightseeing.
If you are spending a few days in New York these are some of the kid friendly activities we recommend you try out.
Parks and Outdoor Activities
Central Park
Central Park is the perfect place to escape the hustle and bustle of Manhattan and enjoy the breathtaking fall foliage. We like checking out some local delis and buying some delicious goodies to enjoy in the park. A pocket waterproof blanket like this is lightweight – perfect for packing your bag for an impromptu picnic in the park.
If you want to explore Central Park fully, be sure to allow at least 4-6 hours. Download a map of the park here.
Walk around the park enjoying the natural scenery and sites such as Bethseda Fountain or Bow Bridge (from which you can see the famous Ghostbuster towers) or take a ride on the carousel. Prices are just $3.25 per person so it is an affordable and fun activity.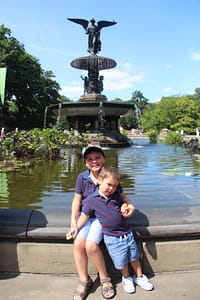 Central Park zoo is definitely a must-do when visiting NYC with children. Here you will find sea lions, penguins, lemurs, snow leopards, red pandas, Grizzly bears and more. Opening times during October until November 4th are from 10.00am-5.00pm on weekdays and until 5.30pm on weekends. After this date, the park will close at the earlier time of 4.30pm until March 29th.
Admission fee is $19.95 for adults and children over 13. Children aged 3-12 pay $14.95 and those over 65 $16.95. Children under 2 years old visit for free.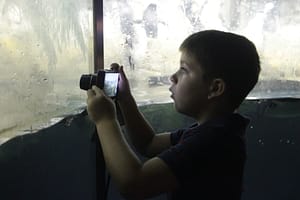 You can also rent a rowboat from Loeb Boathhouse or take a tour on a gondola. We rented a rowboat the last time we were in New York and had fun out on the lake. It was a little too much excitement for Jamie (then aged almost 3) who fell asleep in the boat shortly after this photo was taken!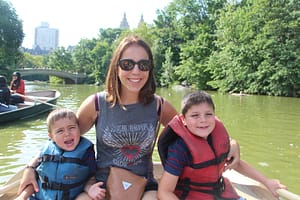 Other fun activities around the park include catching a puppet show at the Swedish Cottage Marionette Theatre. You can check out upcoming performances and buy tickets here.
If you don't have much time or struggle long distances, why not take a horse and carriage ride? We actually did this before starting our walk around the park and really enjoyed the experience (despite the look on Jamie's face in this photo!). A 20-25 minute ride costs around $90 but you can get more information here.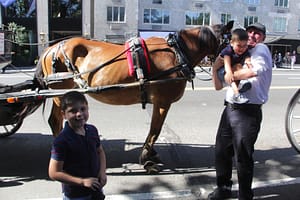 The High Line
You will find this elevated park on a former rail track. During the mid-1800s deliveries of coal, dairy and beef products were made via the railroad tracks along 10th and 11th Avenue. However, this was a dangerous process despite warnings the lines still saw some 548 deaths and over 1,500 injuries. The solution to this problem was to elevate the tracks. This resulted in the high line being used from around 1933 to 1978. The line was then disconnected from the national railway system due to its limited use. Thereafter it fell into disrepair until 2006 following calls from residents along the High Line to preserve and re-purpose the old train line.
Today, following extensive works, the High Line provides 1.45 miles of beautifully landscaped gardens and offers a unique perspective of the city. Another bonus point is that it is completely free.
Hudson River Park, Pier 25
Pier 25 is the longest pier at Hudson River Park. Here you can find an 18-hole mini golf course (paid activity), sand volleyball courts and a children's play area. The play area includes swings, climbing frames and water features. Beyond the playground, you will also find a grass field where your little ones can burn off even more energy.
Byrant Park
When visiting NYC in the fall you will be able to enjoy ice skating at Bryant Park as from the end of October. Admission is free although skate rentals range from $18-55. Check out their website for opening times, rental prices and information on bag storage.
Museums and Educational Fun
Museum of Modern Art (MoMA)
If you're an art enthusiast, MoMA offers free admission on Fridays from 5:30 PM to 9:00 PM. Explore iconic works of art from Picasso to Warhol.
We have visited the Natural History Museum in London and also in San Diego but have not yet had the chance to visit the one in New York. That said I have read many good things about the museum in New York and it is definitely on my "must visit" list for next time.
Before your visit, download a free Explorer App for turn-by-turn directions to exhibits.
Intrepid Sea, Air & Space Museum
We had a really enjoyable afternoon discovering historic aircraft, submarines, and the Space Shuttle Enterprise on a wet fall day.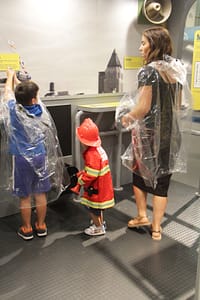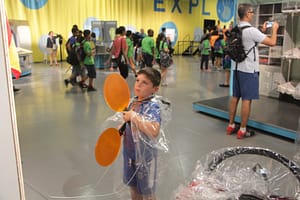 Between the ages of 2 and 4 Jamie was absolutely crazy about Fireman Sam and anything related to firefighting. He literally was like a kid in a candy shop when we visited the FDNY Fire Zone where he was able to climb onto a fire truck, meet firefighters and try on bunker gear.
If you have a young child who loves firefighting you can't miss a visit to the FDNY Fire Zone. Entrance is free although they do accept donations
I think Jamie's absolute highlight from our visit to FDNY Fire Zone was when we bought him his fireman uniform complete with a siren and megaphone. He wore it all round New York – it was the cutest thing to see.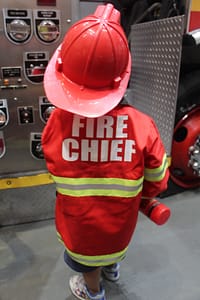 Observation Decks and Landmarks
If you are looking for some stunning views of the city then we recommend either The Top Of The Rock at the Rockefeller Centre or the Empire State Building.
Prices for both are more or less although if you want to go to both the 86th floor observatory and the 102nd observation deck at the Empire State Building then this will be a more expensive option.
Statue of Liberty and Ellis Island
A stay in New York would not be complete without a visit to both the Statue of Liberty and Ellis Island. Please note that if you would like to be able to go all the way up the statue's crown you will need to book tickets beforehand. At least four months before your intended visit.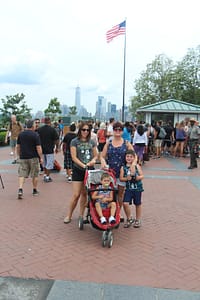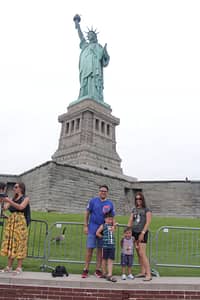 Interactive Experiences
Madame Tussauds
"Meet" royalty, presidents and superheroes or pretend you are the President of the United States Madame Tussauds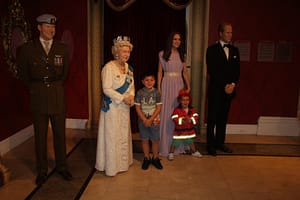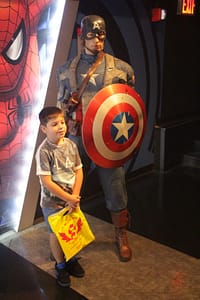 The LEGO Store
Explore the incredible LEGO creations, build LEGO figures ($10 for 3 including carry case), play LEGO virtual games or of course, shop for LEGO!
This theme park was not open the last time we visited New York but it definitely looks like a lot of fun.
SPYSCAPE spy museum
This is an attraction dedicated entirely to espionage where you can complete timed coding puzzles, take a lie detector test, check out the 007 exhibits and more.
Based on online reviews however, it it might be an activity which is better suitable for older kids ( ages 10 and above)
Do you have a Harry Potter fan in the family? If so be sure to check out the Harry Potter experience located across the street from Macy's
Entertainment and Shows
Catching a Broadway show is always a fun experience when visiting NYC. Check out Aladdin, & Juliet, The Lion King, Harry Potter and the Cursed Child or Wicked if you are looking for a child-friendly show.
The TKTS booth in Times Square is the place to look for some same-day discounted theatre tickets. That said, if there is a particular show you absolutely want to watch, be sure to buy tickets beforehand to avoid disappointment.
Sporting Events
The only sporting event we have (as yet) been unable to attend in New York is an NFL game. We have however enjoyed the baseball, basketball, ice hockey and soccer games we have attended.
During our last visit, we managed to get tickets for the New York Red Bulls v Orlando City game at just $11! Not the most exciting of matches it has to be said, especially as a football-mad family used to watching European football but a good way to spend an afternoon nonetheless. The boys absolutely loved getting the typical sporting foam finger.
Boat Rides
Whilst there are various (paid) boat tours on offer you can also ride the Staten Island ferry. The ride is absolutely free and offers panoramic views of the Statue of Liberty.
Key Information
Most tourist attractions in NYC are wheelchair accessible, and public transportation is equipped with ramps and elevators but be sure to check before booking any tickets.
A MetroCard is a super convenient and cost-effective way to travel on subways and buses. A 7 day unlimited travel card costs just $34.
If you plan to visit a number of museums or landmarks, check out the Sightseeing Pass or CityPass as you are bound to save a significant amount on the normal day prices.
Perfect Family Fun
Visiting NYC in October is a fantastic choice for families. The weather is perfect for sightseeing and there are literally hundreds of activities you can choose from offering something fun for everyone.
Our family loved our time in NYC and no doubt you will too!
Sharing Is Caring:
Related Articles You Might Enjoy:
Those who know me well know how much I absolutely love Disney. Since we had…