Travelling as a couple
Despite my husband's Aerophobia (that's fear of flying) we absolutely love travelling. Throughout our twenties, before getting married and adapting to travelling with babies and toddlers, we made sure to travel as much as work and finances would allow. During this time we went on a number of cruises and really enjoyed what they had to offer. We found that cruising allows you to experience a snapshot of what a place is like. If you like a place then you can plan a fuller holiday just to properly explore that city or town at a future date.
Taking our first trip to the USA in 2007, our love for crossing the pond was firmly cemented. We found that New York City was soon becoming a very special place for us. Dani proposing in Times Square. Spending part of our honeymoon exploring NYC as a local. And, perhaps most importantly, discovering that I was expecting our first child, Evan. NYC really holds some wonderful memories for us.
Travelling with Babies and Toddlers – Learning to Adapt
Once Evan was born we were dead set on continuing with our travels. We knew we needed to instill in our children a love for travel and exploring new places and cultures. Our first opportunity of travelling with babies and toddlers was when Evan was just three months old when we drove to Malaga and took the fast train to Madrid. Boy was this an eye-opener.
Just a few months to a year before Evan's birth we regularly made last minute decisions to travel to Madrid as train prices were (at the time!) quite affordable. We could be in the Spanish capital in around 4 hours meaning we could quite easily travel on a Friday afternoon after finishing work. When we did this we would literally just throw some clothes, make up and toiletries in an overnight bag, grab our passports, bank cards and some euros and get going.
Must Haves When Travelling With A Baby
We soon discovered however that travelling with babies and toddlers is akin to planning a military operation! We needed to make sure that we had everything that Evan could possibly need. The list seemed to be endless:
Baby formula
Bottles
Travel Bottle Sterlizer
Nappies
Barrier cream
Vests and socks
Baby grows – with plenty of spares to allow for accidents!
Clothes – again with plenty of spares
Baby toiletries
Inflatable Baby Bath
Medication – just in case! We took baby paracetamol, nurofen, Infacol, thermometer
The trip went well and whilst Evan obviously won't remember his first travel experience it allowed us, as first time parents, an opportunity to learn how to adapt our travelling around the needs of our child. Soon after, we got to planning a holiday a bit further afield. We decided to take our first flight with a baby!
Tips When Flying with a baby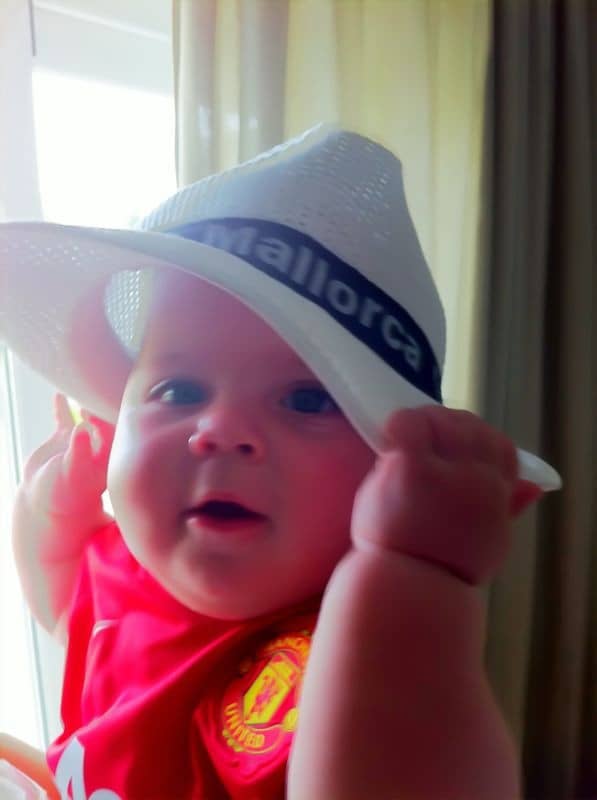 Travelling from Malaga to Mallorca, the flight was a short one. Again, this was the perfect way to ease us into the changes that need to be made when travelling with babies and toddlers.
We were lucky enough to be sat on the front row of the plane which made trying to get Evan to sleep a little easier as the only way he would fall asleep at the time was if we held him and rocked him to sleep. Had it been available at the time I think I would have certainly purchased a Baby Must carrier as it has five different carrying positions including a side cuddle option which would have made getting Evan off to sleep a whole lot easier. It also has plenty of storage allowing you can keep nappies/diapers and wipes in the large storage bag, keys/phone/cards in the two side zipper pockets and milk bottle/water bottle into two breathable mesh pockets. The loop also allows you to safely clip a small toy or dummy/pacifier.
Book front row seats and basinettes
If you are travelling long distance then I would also recommend booking the front row seats and reserving a bassinet prior to travel. This will allow your little one to rest much more easily and allow you a little more freedom too. Feeding them during take off and landing will also help them adjust by soothing their ears when changing altitude.
Don't stress about others
I remember feeling nervous and anxious about how other passengers were feeling especially when Evan was unable to fall asleep quickly and was crying loudly. But I soon realised that was their problem not mine and not yours either if you are flying with your little one!
If you are travelling with a baby you have enough to deal with to add worrying about others to your list. Whilst most passengers will be totally understanding about a cranky baby, remember that your baby has the same right as anyone else to be on that flight.
If you still feel too anxious about how others might feel, you may want to put together a little goodie bag for those sitting around you as a sort of sweetener for any possible disruption your little one's behaviour might cause them.
Speaking of bags make sure that you have everything that you could possibly need to care for your little one to hand at all times. Nappies/diapers, wipes and nappy/diaper bags, medication, decanted formula should all be kept close at hand during your flight.
If your baby prefers liquid formula be sure to check out the travel restrictions prior to travel although most airports will allow you to take enough baby food, sterilised water, prepared baby milk and expressed breast milk for the journey.
Stackable containers are super convenient for decanting baby formula and, once your kids grow out of the formula stage and you are travelling with toddlers they will be the perfect size to hold different treats such as raisins, sweets, mini cookies etc.
Be sure to pack spare dummies/pacifiers and a travel sanitizer which clips on to your bag or buggy to quickly and safely sterilise your little ones dummy/pacifier whilst on the move. This could also simultaneously save your sanity!
Lastly, do not forget to keep any comfort toys that your little one absolutely cannot be without within easy reach during your journey.
Travelling with babies – too much hard work?
It may sound like a lot of hard work to travel with babies, and, I'm not going to lie, it is! But, it is totally doable and absolutely worth it.
The sooner you expose your little ones to travelling the better. It will soon become second nature to them.
Both of my children have travelled from a young age and they are both amazing travellers and fellow passengers have often complimented us on how well behaved they are (well not so much now as they are now 12 and 8 and I guess good behaviour is now expected!)
With toddlers – PLAN AHEAD
By the time Evan was two we travelled a little further afield and visited France and Norway. These holidays also involved fairly short travel times and it wasn't until he was around 3 years old that we braved a transatlantic flight.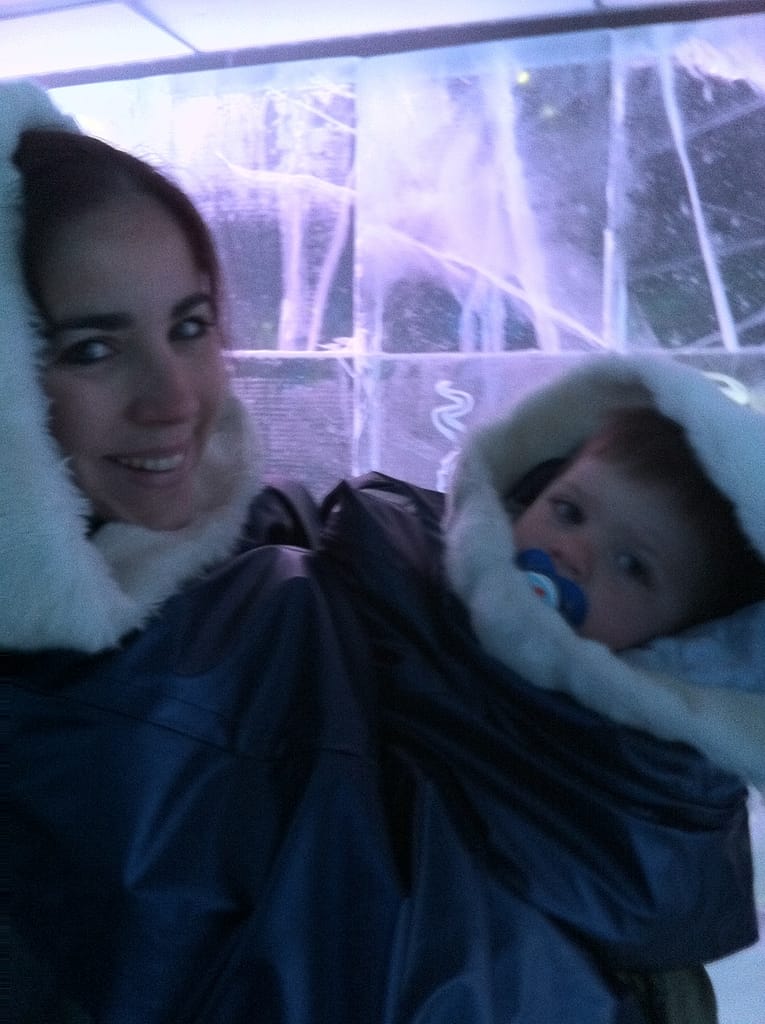 Now, a 9 hour flight with a toddler is the ULTIMATE travelling challenge for a parent. Gone were the days of asking for a nice wine and sitting back to watch various films and snoozing before landing relatively refreshed at our destination. Instead, a lot of pre-travel preparation was involved.
When travelling with a curious toddler within a confined space for practically half a day you need to be prepared!
Top Tips when travelling with toddlers
Here are some of the things we have learnt from our travels with toddlers and young kids.
You are going to need a lot of snacks although be sure to limit sugar loaded snacks in order to avoid a MAJOR sugar rush and subsequent crash.
Some options to consider packing are:-
Raisins
Bananas
Crackers
Dairylea lunchables
Babybel cheese
Goldfish
String
Pretzels
Grapes – cut in halves or quarters
Cheerios
Trail mix
Carrot sticks and hummus
Apple slices
Clementines
Hard boiled eggs (peeled ahead to make life easier!)
Rice cakes
For sweet treats the following work well when travelling:
M&Ms
Gummy bears
Mini cookies
Muffins
Crips (Chips for our US friends!)
Mini chocolate bars
Also, don't forget their sippy cup so as to avoid spillage and mess.
We all know that plane food is not exactly the best. When travelling with little ones, especially fussy eaters, our top tip is to take a home-made packed lunch.
We learnt this the hard way with our second son Jamie when travelling to Orlando. Even the relatively plain pasta served on the flight was not to his standards!
Now, before travelling I make sure that I make (or buy) something which I know will travel well and that both kids will enjoy should the food on offer on the plane not be to their liking.
Foods such as:
Potato omelette (torta de patata)
Breaded chicken fillets
Croquetas
Wraps
Baguettes
Cold pizza (Jamie's absolute favourite!)
Travel games (especially some new games which can be given to them every hour to keep them entertained are life savers,) downloaded films and apps (preferably on a specialised kids' tablet ) and a HUGE dose of patience are definitely on the menu!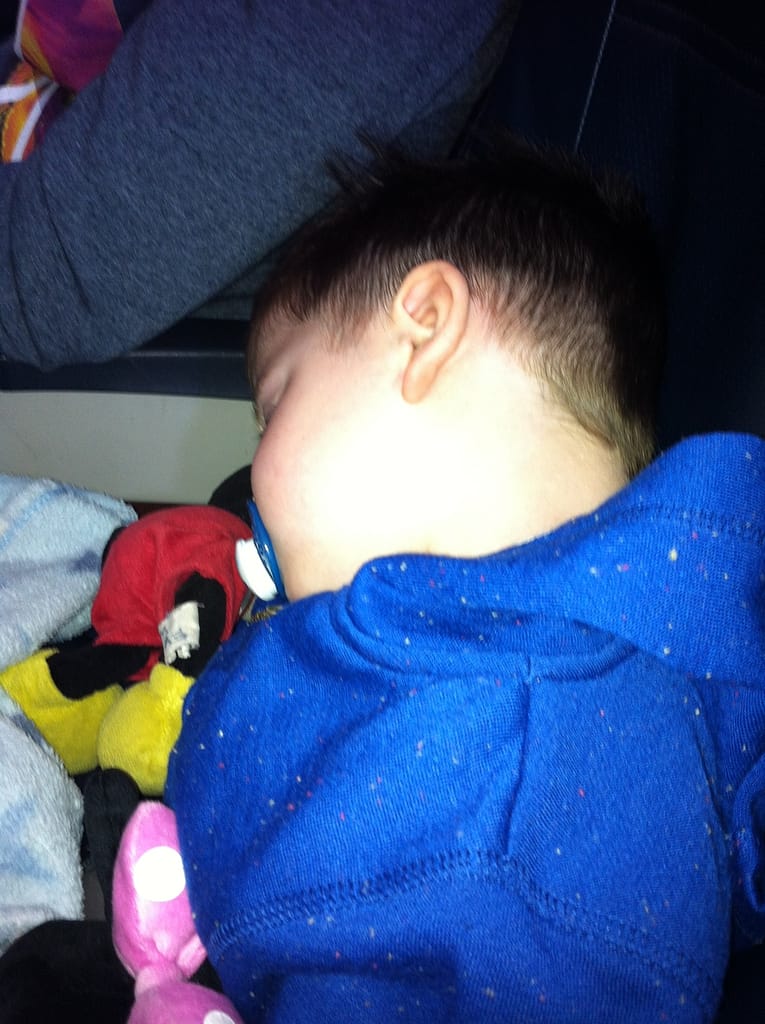 Another huge tip is to try to burn as much of the kids' nervous energy as possible before boarding the flight. Running and jumping around in the kids soft play area at the airport will hopefully make for sleepy kids who will get a few hours kip after take of.
We've looked into some of the play areas offered at some of the most popular UK airports to make life when travelling with babies and toddlers even easier for you.
Heathrow Airport
Soft play areas are available at terminals 2, 3, 4 and 5 and separate baby and junior zones, slides and colouring-in and activity sheets are also available.
Be sure to also check their kids eat free deals (for kids under 10) during school holidays.
Gatwick Airport
There are two soft play areas located in the kids zones in North and South Terminals. The play areas are also equipped with a TV, seating for parents and educational toys.
Birmingham Airport
Whilst there is no soft play area there is a free interactive play area which has games which are suitable for toddlers right up to young teens. Be sure to check out which apps you can download to use in the Sky Zone prior to travel.
Glasgow Airport
Head to the free soft play area for children which is located after Gate 27. There is also a paid kids zone (which includes a game centre), located on the upper deck. Prices for children aged between two and 13 is £19 and for anyone aged 14 and over the cost is £23.
Edinburgh Airport
The play areas are located at Gate 2 and Gate 21.
Luton Airport
A family-friendly area with a big screen is located next to a Pret a Manger. Just follow the signs for Gates 1-6.
Newcastle Airport
This airport offers play pods including child-friendly tablets with a range a games for younger children and a play area for older children.
Namco Games has arcade games, including crane games, an air hockey table and slot machines.
East Midlands Airport
A soft play area for children aged up to eight-years-old can be found near the first floor food court.
Aberdeen Airport
A play area is located next to Gate 1 and at the time of writing the airport was working on plans for a new play area as part of the terminal transformation project.
Have fun and make happy memories
Perhaps the most important bit of advice when travelling with babies and travellers? Remember, you are a parent and are used to learning as you go. You will adapt to any situation.
Travelling with babies and toddlers is different but so rewarding so don't forget to just have fun and make happy memories.
Happy travels!
Related Articles