A long time ago in a Galaxy far far away…. Is there any movie introduction more iconic than this? For all Star Wars fans the experience literally begins with the movie title together with the amazing, masterful and unforgettable score.
For me, as an 80s child, there is nothing not to love about Star Wars. Watching the movies countless times as a child. Replicating the scenes in the school playground where I played Princess Leia. These form some of my earliest Star Wars memories.
Star Wars Virgin
One Christmas tradition which I still love is watching Star Wars movies. But, during one of our first Christmases together I was shocked to learn years ago that my husband had not EVER watched a Star Wars movie!! This had to be put right pronto!!!
At first he really did not want to sit down to watch "boring" Sci-Fi but, this was non-negotiable. Wanting him to experience the wonder of Star Wars, I eventually convinced him to watch Episode IV A New Hope. This is the first ever movie in this franchise. I know it is Episode IV so how is it the first episode right? Whilst this sequence does not follow the chronological order of the story which you will now get if you start off with Episode I The Phantom Menace, for me it is the best way to fall in love with the Star Wars world. It worked! Dani was hooked on the series and we ended up binge watching ALL of the films during the Christmas period.
What is Star Wars?
I can't believe that I would even have to explain this! But, given my experience with Dani and my recent conversation with Milly about this I feel that maybe I do! Star Wars is a cultural phenomenon that has been captivating audiences since the release of the first movie in 1977.
One of the most compelling aspects of Star Wars is its storytelling. At its core, Star Wars is a classic tale of good versus evil with heroes and villains battling it out across the galaxy in a vast and complex universe.
There are countless fascinating characters from the Jedi to the Sith, from the Rebels to the Empire. Whether you fall in love with Rebels such as Luke Skywalker, Princess Leia, Han Solo, Rey, Chewbacca, R2D2 or 3CPO or your root for the ruthless Sith, there is sure to be a character in the series that you can relate to.
Jedi Training
With my husband's love for Star Wars complete, we now continue watch Star Wars movies at Christmas with our kids.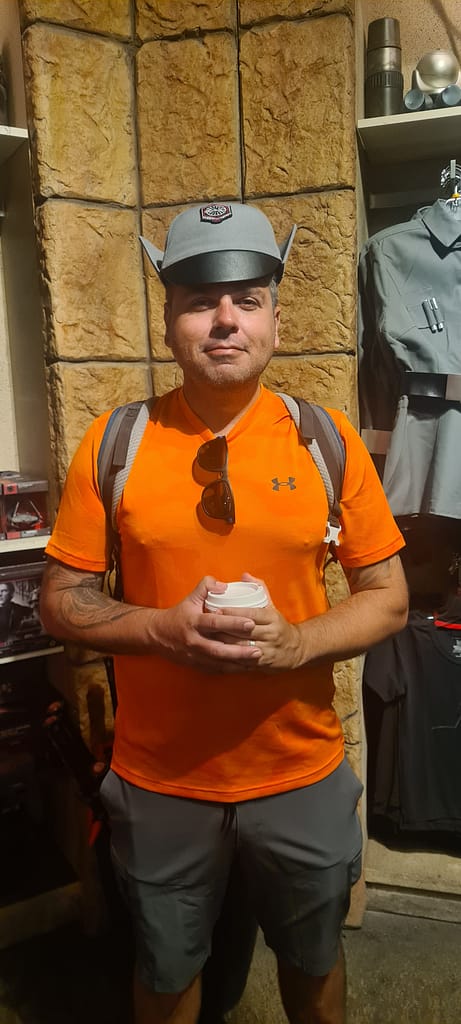 A few years ago we visited Disney World in Orlando and one of the main must do things was Jedi training. Evan absolutely loved this experience. I mean who wouldn't love becoming a Jedi with your own lightsaber and fighting and defeating Darth Vadar.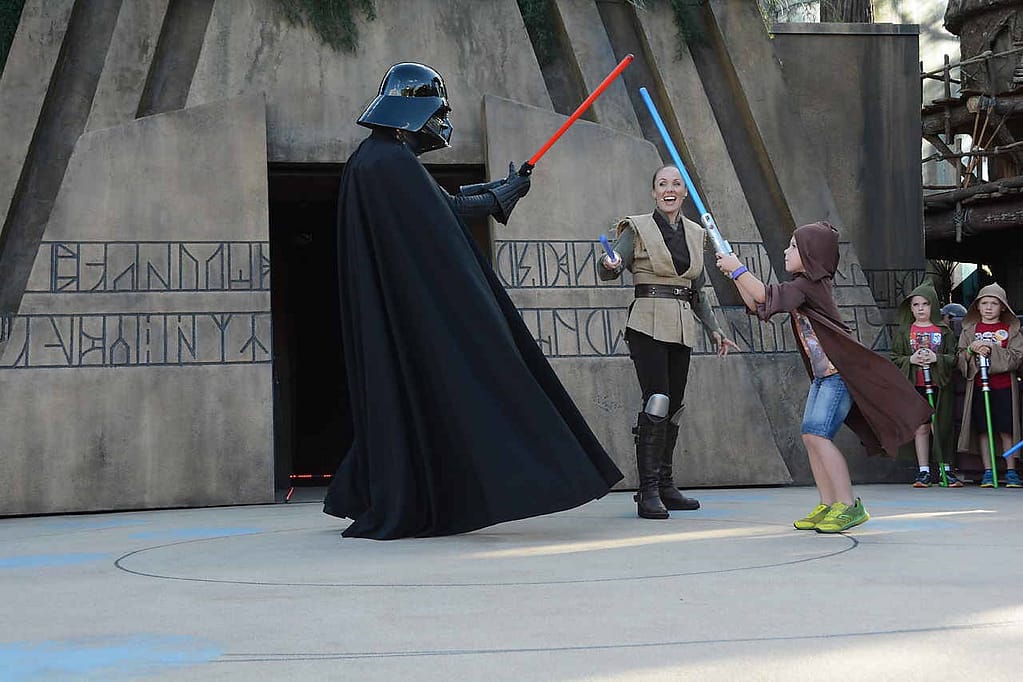 Unfortunately though it seems that this experience has been unavailable since March 2020 due to Covid. I really hope that Disney reintroduce this as it was such an amazing experience and a memory which Evan will always cherish.
Disney's Galaxy's Edge
Last year we had the privilege of experiencing an amazing road trip around the West Coast in the US.
Given that this involved a lot of driving we made sure that we had plenty of fun stops and experiences for the kids along the way. Including two days at Disneyland with one full day spent at each of the parks. We were especially excited about the new Rise of the Resistance ride at Galaxy's Edge. Now, this is an extremely popular ride and there are no Fast Passes available for the same. Wanting to make the most of our time at the park we set our alarms for the ungodly hour of 6.00am! Whilst the park opens at 8am if you want to make sure you are first in the queue for this ride you need to be there at rope drop. We recommend that you do this an hour before actual opening. Rope drop is an experience in itself!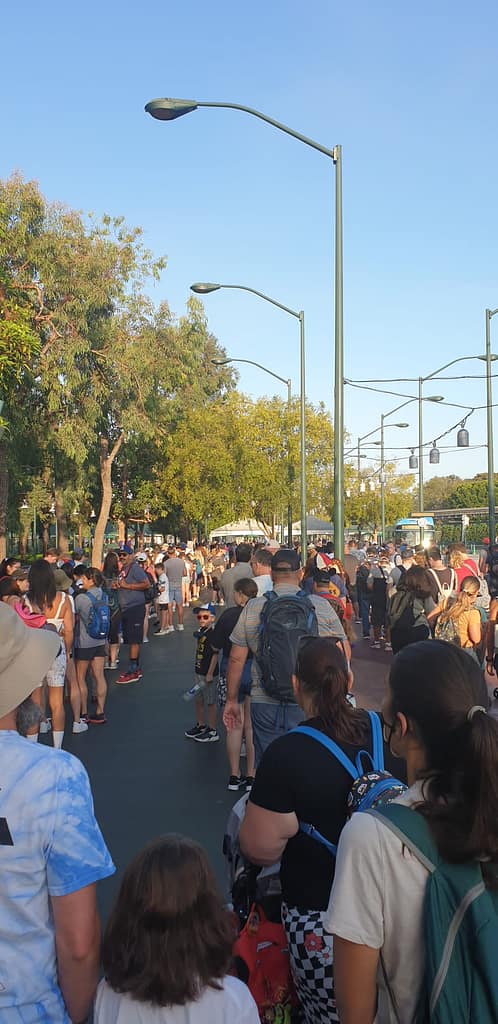 We were not disappointed even though the ride itself did not open immediately upon rope drop on this particular day! We explored other Star Wars rides and met Chewbacca, R2D2 and Rey along our way to the Rise of the Resistance.
With a 2 hour wait time we thought it would be a tedious experience but we were completely in awe at the brilliance of the new Disney ride. The attraction includes a combination of a trackless dark ride and walk-through sections, motion simulator, and drop ride system. Even more amazingly, you will be right in the middle of a battle between the Resistance and the First Order. You will feel like you are actually part of the story and you too will be in awe of the ride features and stunning visual effects. We would highly recommend you experience this ride if you are a Star Wars fan regardless of the wait time. We are planning another trip to Disney World for Christmas 2024 and I can guarantee that this will be one of the top rides on our must ride list.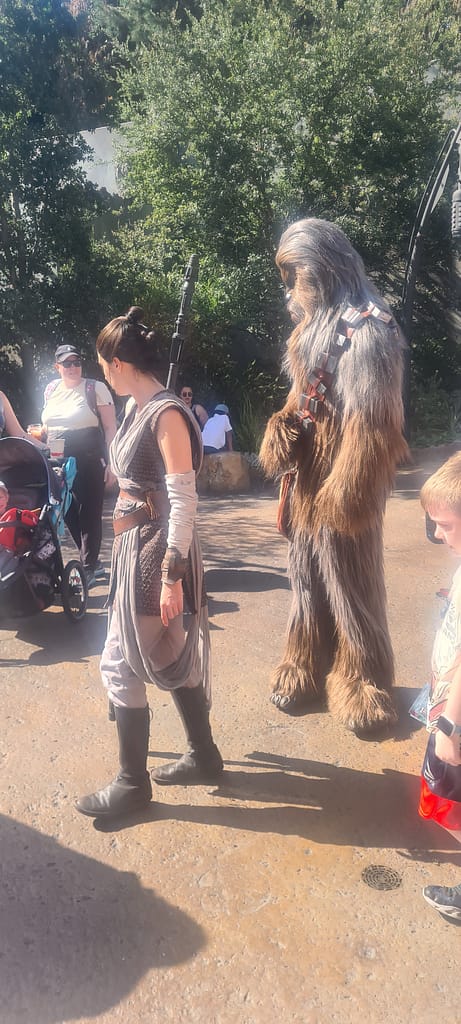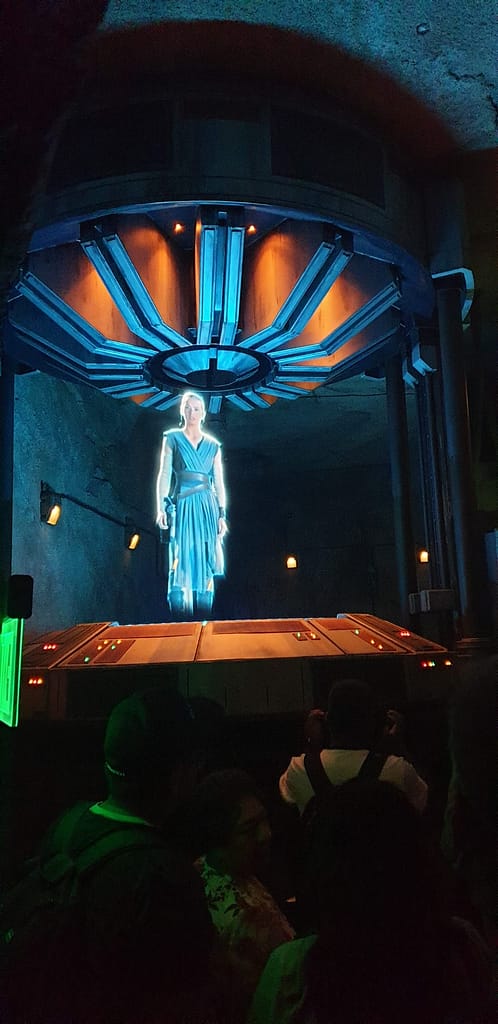 Other Must Do Disney Star Wars Experiences
With an entire land dedicated to Star Wars you can also explore the planet of Batuu, interact with characters and even pilot the iconic Millenium Falcon. The Millennium Falcon: Smugglers Run is the ride which allows you to pilot the amazing spaceship originally piloted by Han Solo and Chewbacca. It features impressive graphics and realistic controls which allow you to feel like you really are flying through space!
Be sure to also take a chance to build your own lightsaber as this is a truly unforgettable experience.
The attention to detail at Disney is incredible. They even offer food and drink which feature in the movies. For a quick bite, try the Ronto Wrap, a savoury wrap filled with roasted pork, grilled sausage and a tangy coleslaw. The Blue Milk (enjoyed by Luke Skywalker in Episode Iv) and Green Milk (enjoyed by Luke in Episode VIII: The Last Jedi) drinks are also popular with fans. These drinks are made from coconut milk and rice milk and flavours such as grapefruit, mandarin and orange blossom. The Green Milk also has hints of passion fruit and the Blue Milk has hints of dragon fruit, pineapple, watermelon and lime.
If you fancy enjoying some specialty cocktails, be sure to visit Oga's Cantina. This is a lively bar where they frequently have performances by a droid DJ!
If you are a Star Wars fan and you have a chance to visit Disney please do so. We guarantee it will not disappoint. At Galaxy's Edge, you will truly feel like you have been transported to a galaxy far, far away.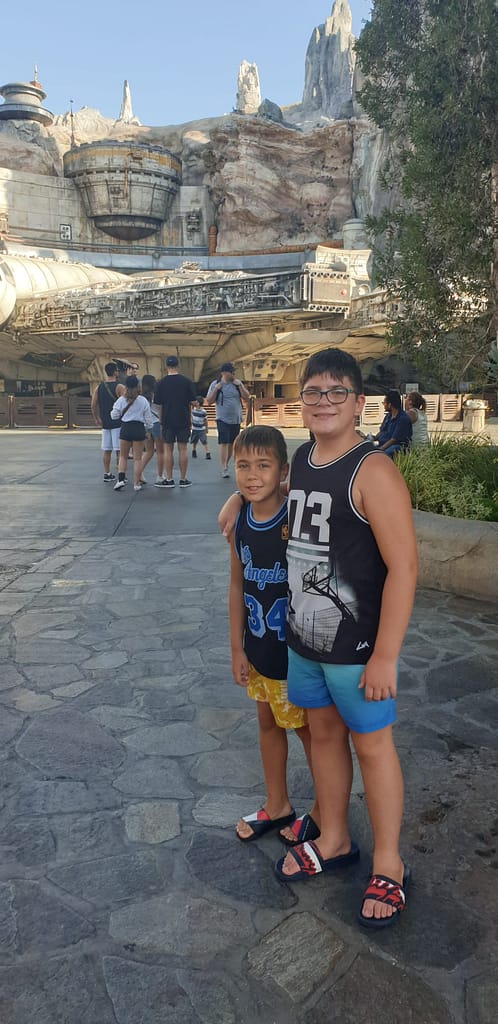 Happy travels and, if you are new to travelling with children, be sure to check out this post. May the Force be with you!
Related Articles: