There is nothing I love more than gathering around the table with my family for a delicious home-cooked meal. However, the fast pace we live our lives means that this is not a daily (or indeed a weekly) occurrence. On weekdays there is always something going on. We rush home from work and on most days there will be after-school activities we need to get to. Football practice and matches, swimming practice, cubs and scouts. By the time we get back home, there is homework to be done and the cooking cannot involve an elaborate meal. In the week we inevitably eat on the sofa off of a tray. This is why I love when the weather turns colder and we can finally start looking forward to our delicious Sunday roast meals.
Amazon Associates
As an Amazon Associate, we earn a commission from qualifying purchases.  Some of the links on this post are affiliate links.  This means that if you click on the link and make a purchase we may earn a commission at no extra cost to you.  Learn more

here.
For many, the traditional British Sunday roast is more than just a meal. It is a ritual that brings generations together, creating lasting memories and fostering a sense of togetherness. I always remember "helping" my gran make the Sunday roast when I was a little girl. I have vivid memories of her slow cooking a leg of lamb whilst we watched Formula 1 and me "helping" by acting as the quality controller – yes, trying the food before everyone else. The best bit was I got the best part of the lamb without giving anybody else a chance and you would always find me hovering around the gravy pan to get first dibs on that too. A Sunday roast was always a special meal to enjoy as a family and it is still one of my favourite meals.
A Glimpse into the Past: The History of Sunday Roasts
The tradition of the Sunday roast dates back centuries. It is believed that the tradition of roast beef on a Sunday stems back to the 15th century under the rule of King Henry VII. With the King's guards enjoying a roast beef meal following Church on Sundays they earned the nickname "beefeaters". Over time, the practice evolved into a culinary custom that celebrated both food and family.
Traditionally, a Sunday roast would be a reflection of the local produce and seasonable ingredients. Whether the meal would feature beef, lamb, or chicken as the centrepiece was therefore dependent on the time of year. Accompaniments would also include seasonal vegetables, potatoes, Yorkshire pudding, and gravy. Nowadays though the choice of meat and vegetables usually comes down to personal preference.
The Chosen Delight: Pork Roast with all the Trimmings
Among the various delectable options available, our family favourite is a mouth-watering pork roast accompanied by an array of tantalising trimmings.
As the rich aroma of roasting pork fills our home, we're reminded of countless Sundays spent gathering around the dining table. We are not the Brady bunch so some of these memories are good, some are funny and some well, let's just say that some, like the boys recreating every WWE sequence known to man whilst we are cooking, are best forgotten. Cooking the perfect Sunday roast takes time and sometimes during this time, it seems as if our boys are engaging in World War III! Does that ring true with any of you?
At our house cooking the Sunday roast is a two-person endeavour. Dani meticulously prepares, seasons, and roasts the pork to perfection. He always makes sure that there is crispy crackling and uses the meat's savoury juices to form the basis of a delicious gravy. But the pork is only the beginning. No Sunday roast can be complete without delicious accompaniments. This is where I come in.
The Classic Trimmings
When you think of a Sunday roast what do you think of? The meat of course, but golden, crispy Yorkshire puddings, fluffy yet slightly crispy on the outside are a must, right? Traditionally yorkshire puddings were served as a starter with lots of gravy. The reason for this of course was that meat was more expensive and by serving the yorkshires first it was hoped that you would be too full to eat too much meat!. Yorkshire puddings were also only served with beef but nowadays they are served with any roast meal. Rightfully so in my opinion – I absolutely love Yorkshire puddings!
Next are the roasties. Delicious roasted potatoes with a vibrant medley of seasonal vegetables such as carrots, creamed leeks and parsnips all add to the perfect Sunday family meal.
Homemade Bliss Over Dining Out
While many establishments offer enticing deals on Sunday roasts we find that nothing can beat our homemade Sunday roast. The kitchen may be a whirlwind of activity, with pots and pans clattering and surfaces dusted with flour, but the process itself is an opportunity for bonding and collaboration (yes, despite the World War III scenarios I mentioned above!).
Soggy Boiled Vegetables vs. Vibrant Roasted Medley
One of the highlights of our homemade Sunday roast lies in the vibrant assortment of vegetables. While dining out often means encountering soggy, over-boiled veggies, our home-cooked feast offers a burst of colours and flavours. Not a boiled vegetable in sight! Roasting or sauteing the veggies intensifies their natural sweetness creating side dishes that are just as eagerly anticipated as the main roast itself.
Our Perfect Sunday Roast Menu
To celebrate the end of British Food Fortnight, we share our perfect Sunday roast. For us, the perfect Sunday roast must include:
Juicy roasted pork
Delicious roast potatoes
Sweet honey garlic carrots
Creamed leeks
Cauliflower cheese
Honey glazed parsnips
Yorkshire Puddings
Gravy – lots of it!!
Roast Pork and Gravy
We have been making this delicious roast pork and gravy using Jamie Oliver's recipe for some time now. It is absolutely wonderful.
Roast Potatoes
It might seem easier to buy some frozen roast potatoes but believe me, it is worth the effort of making your own.
You can do this in a conventional oven or an air fryer. I have invested in this Ninja Air Fryer for my family and it is becoming a firm favourite.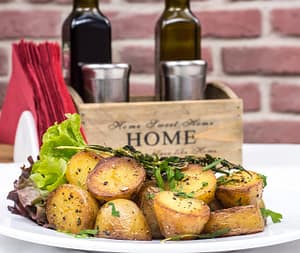 Ingredients
1 kg Maris Piper potatoes
120g lard or duck fat
1 teaspoon salt
1 tablespoon fresh thyme (or 1 teaspoon dry)
Instructions
Wash and peel the potatoes before cutting them into 2 inch pieces.
Parboil the potatoes in a large saucepan for around 8 minutes.
Whilst the potatoes are boiling, heat the lard or duck fat in a large roasting tray.
Drain the potatoes in a colander, shaking them well to roughen up the edges of the potatoes – this will make the potatoes crunchy around the edges once we roast them.
Using kitchen tongs carefully add the potatoes to the roasting dish. Turn the potatoes around in the oil a couple of times to make sure that the entire surface is coated in oil.
Cook for 15 minutes and then turn the potatoes over and cook for another 15-20 minutes.
Once the potatoes look nicely golden, remove from the oven and add the salt and thyme leaves.
If you would like to make your roast potatoes in an air fryer (definitely healthier as you will not need much oil) follow the steps above to parboil the potatoes. Then add the potatoes to the air fryer basket (I like to use these liners to make cleaning up even easier) with 2 tablespoons of sunflower oil and some salt. You will probably have to cook the potatoes in batches as you do not want to crowd the baskets. Cook for 25 minutes at 190℃ turning halfway through. If you like your potatoes a bit crispier then cook for a little longer, checking every few minutes.
Honey Garlic Carrots
Is there anything more tasteless and unappealing than carrots boiled to an inch of their life?? Our honey garlic carrots are the total opposite. Sticky and sweet, they are one of my favourite Sunday roast accompaniments.
Ingredients
3 ½ tablespoons unsalted butter
450g (1 lb) carrots
½ teaspoon Himalayan salt
3 garlic cloves
1 ½ tablespoons raw honey
1 teaspoon dried parsley (or 1 tablespoon fresh flat-leaf parsley)
Instructions
Wash, peel and cut the carrots at an angle (about ¼ to ½ inch in thickness).
Heat 2 tablespoons of butter over a medium heat in a cast iron skillet. Add the carrots and salt and stir to coat all of the carrots with the butter.
Cover the skillet and cook for 15 minutes over a medium heat, stirring occasionally.
Slice the garlic cloves and add to the skillet, cooking uncovered for about 10-15 minutes. Be sure to stir occasionally so that the garlic does not burn.
Add the remaining butter, honey and parsley to the skillet and cook for an additional 2 minutes.
Creamed Leeks
I don't know whether it is from my time studying in Wales but creamed leeks are a must-have with my Sunday roast.
Ingredients
3 large leeks
5 tablespoon unsalted butter
1 tablespoon olive oil
2 garlic cloves
½ cup chicken or vegetable stock
¼ cup dry white wine
¼ cup double cream
4 tablespoons plain flour
Instructions
Melt 4 tablespoons of butter and oil in a cast iron skillet and cook the leeks on a medium heat until softened. Add the crushed garlic and cook for a further 2 minutes. Set the leeks aside.
In the same skillet, add 1 tablespoon of butter. Once melted, add the plain flour and allow it to come together into the roux.
Add the stock, wine and double cream and mix together over a medium heat until the sauce comes to your desired thickness. Add salt and pepper to taste.
Return the leeks to the pan to cover with the sauce.
Cauliflower Cheese
Whilst many will make cauliflower cheese by boiling the cauliflower, you will get a much nicer flavour if you roast the veg.
Ingredients
1 kg cauliflower florets
2 tablespoons olive oil
60g unsalted butter
3 ½ tablespoons plain flour
2 cups full-fat milk
½ teaspoon salt
½ teaspoon pepper
¼ teaspoon freshly grated nutmeg
1 ½ cups Cheddar cheese, grated
1 cup Gruyere cheese, grated
Instructions
Preheat the oven to 220℃/430℉
Place the cauliflower in a roasting tray and cover with the oil and ¼ teaspoon salt and the pepper. Roast for 20 minutes. Remove the cauliflower from the oven and turn the temperature down to 180℃/350℉.
Make the roux by melting the butter in a cast iron skillet. Once melted, add the flour and mix until it comes together. Add the milk, remaining salt and nutmeg and cook until it comes together with the butter and flour mix.
Next add 1 cup of Cheddar cheese and ½ cup of Gruyere and mix until the cheese melts.
Return the cauliflower to a roasting dish and cover with the cheese sauce.
Add the remaining grated cheese and roast for a further 30 minutes until the cheese is golden and bubbling
Honey Glazed Parsnips
These honey-glazed parsnips with parmesan are quite simply the most delicious parsnips ever.
Ingredients
250g parsnips
1 ½ tablespoons plain flour
½ tablespoon honey
1 tablespoon sunflower oil
1 tablespoon butter
25g Parmesan cheese
Instructions
Wash and peel the parsnips. If they are very large I recommend that you also cut them in half lengthways to reduce the cooking time.
Bring the parsnips to the boil in a large saucepan with salted water. Cook for 5 minutes.
Drain in a colander – this collapsable over-sink colander is perfect if you are tight on space in your kitchen. Set the parsnips aside for 5 minutes.
Preheat the oven to 190℃/375℉.
Toss the drained parsnips in flour and honey and add to a roasting dish with oil, butter, salt and pepper.
Roast for 20 minutes and then remove from the oven and add half the Parmesan cheese to the top of the parsnips. Turn over and cover with remaining cheese before returning to the oven to cook for a further 20 minutes.
Yorkshire Pudding
Making your own pudding couldn't be easier. We love this recipe by BBC Good Food.
Tuck In And Enjoy
We hope that we have inspired you to make your own family Sunday roast.
Sharing Is Caring:
Related Articles You Might Enjoy:
Every year on the 30th November, Scotland, and Scots around the world, celebrate St. Andrew's…