Waking up early sets you up for a successful day ahead. It can also allow you to start new habits, most of which you would never have the time for by waking up later. By waking up earlier than those who choose not to, you are already ahead of the game. Imagine if by mid-day you have already practised self-care, run errands, got the cleaning done and cooked the meals for the day? Amazing right? Summer is a season for the outdoors. There is so much to do, so many places to go to, and so many memories to be made. That is why having a productive summer morning routine is necessary in order to make the most out of your summer.
Hello Summer!!
With the change of season, any daily routines need to be tweaked to accommodate changes to your schedule. If during the summer you have an earlier start at work, waking up earlier than usual will help you avoid stress and anxiety about all the things that need to be done.
If like myself, you are fortunate enough to have summers off from work, then having a good morning routine in place will help you make the most out of your afternoons. Funnily enough, I find time management during the summer more of a challenge. In the winter my afternoons are spent at home, whilst during the summer, I spent them at the beach, which ultimately means I have less time to do house chores. This year as an added bonus, I have to make time for blog work.
Every year when June rolls around and I get to the last day of work, I feel excited at the prospect of having extra time on my hands. The opportunity to spend more time with my grandkids, read as many books as I want, trips to the beach, late night walks….there is so much to do.
However, a few weeks in and I am already walking around like a lost soul. I am after all a creature of habit and a lack of routine does NOT sit well with me.
Therefore, this summer I am determined to maintain some of the discipline I have acquired during the long winter months. Furthermore, for the first time ever I will be working from home on the blog, so that means I need to get myself organised.
Kick Start Your Day With These 8 Steps For A Productive Summer Morning Routine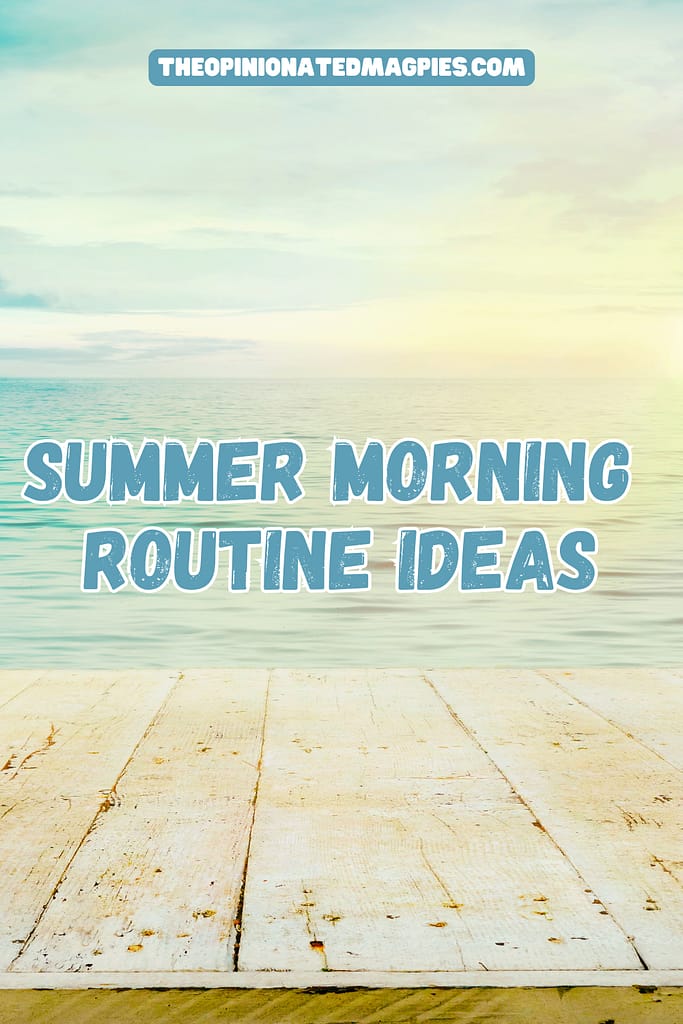 I strongly believe that a good day starts with self-care. A chance to ground yourself, plan your day, and get a workout done, in other words, time for you. The best time to practice self-care as a busy mum is first thing in the morning.
1 – Early Wake Up
If you've already read my post, My Self-Care Morning Routine, you will know that I wake up at 6 am most mornings. At least I try, but some days I have to prioritise sleep. Anyways, during the summer I am changing it to 7 am. Mostly because I know I will go to bed later than usual and I don't have to go to work.
Waking up at 7 am still gives me plenty of time before my family wakes up. If you have to work, I suggest you try waking up a bit earlier.
2 – Hydrate
As soon as I wake up I reach for the water bottle by my bedside table. Hydration during the summer months is crucial for our wellbeing. The best thing you can do as you open your eyes is provide your body with much-needed hydration. Not only will it help you to flush out accumulated toxins in your body, and boost your metabolism, but it can also help maintain a good immune system.
If you fancy turning your morning water into a detox drink, why not squeeze in a few drops of lemon?
Want to boost your immune system? Check out our blog on 12 Ways To Boost Your Immune System.
3 – Meditate
Every morning, whether it's winter or summer or any other season for that matter, meditation is a must. Sticking to a consistent meditation practice is the key to success.
Grab your headphones and find a comfortable sitting position. I normally open Youtube on my phone and follow a guided meditation. Two great channels for meditation are – The Mindful Movement or Great Meditations. It takes me from fifteen to twenty minutes. There are also plenty of apps for your phone that you can download.
Other times I just want to sit in silence for ten minutes and do some breathwork. When I manage to ground myself and stay in the present moment, I always feel so much lighter afterwards. My mind is like a loudspeaker on repeat, voicing all the things it 'thinks' I need to worry about and then some. Meditation grants me the ability to quiet my thoughts and harness inner peace, which is what I strive for more than anything.
4 – Thirty Minute Workout or Go For A Walk
It doesn't matter what you do as long as you move your body. I have recently started lifting weights again, after almost a year. Back in the day, I used to work out for over an hour. I don't have the patience for it anymore, so I give it thirty minutes and then I head for the shower. Thirty minutes is better than nothing.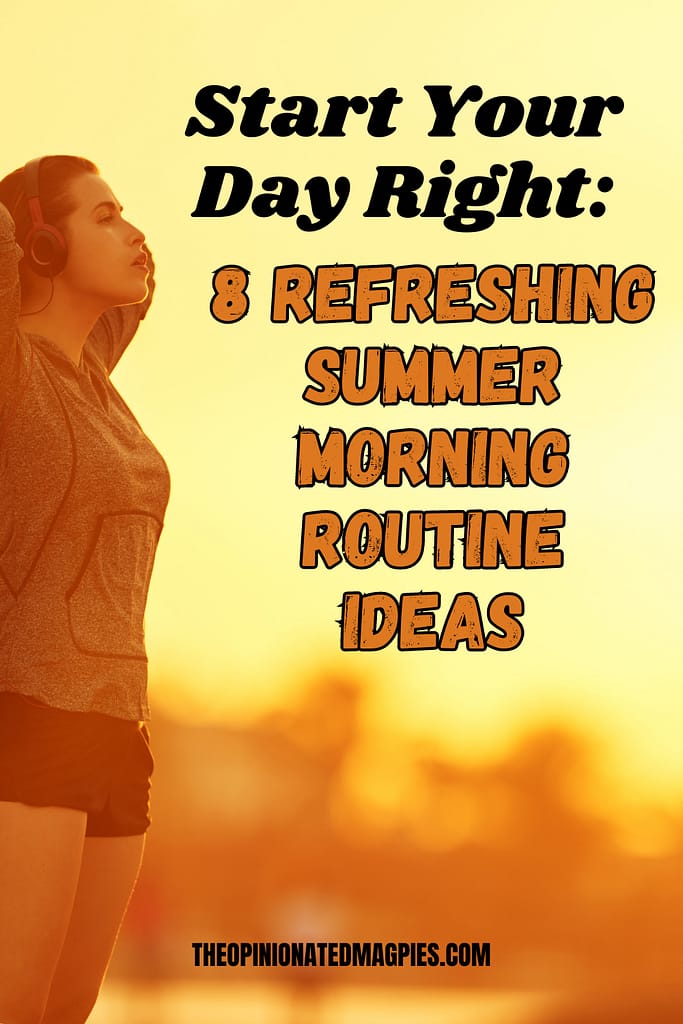 On the days that my husband is off work, we go on an hour's walk. Stretch the legs, get the steps in, because the rest of the day chances are I will be at the beach soaking in the rays and reading for hours. It's a hard life, I know!!
5 – Don't Skip On The Cold Shower
This feels so much better in the summer weather. Especially after a workout.
Even if you decide not to work out, don't skip the cold shower. Cold water is a great way to kickstart your body into action. It's also an effective way to alleviate anxiety and boost your immune system.
6 – Get Summer Skin Ready
It's so important to take care of your skin every month of the year, but especially in the summer. After your shower, don't be shy, slap on the moisturizing lotion. Always opt for creams with SPF, your skin will thank you for it.
If you want to get your skin summer ready, check out our blog on Summer Skin.
7 – Plan Your Day
I aim to sit down at 9:30 am every day and plan my day, whether that entails running errands, cleaning the house, meal planning, or blogging, which will probably take up most of my morning regardless.
8 – Journal
Whether it's dumping thoughts on a piece of paper, or writing about something that is going on in my life right now, I journal every day. It's part of my self-care routine along with meditation. Both practices help me stay present and grounded.
If you fancy giving journaling a try, we have a great blog, Journaling: A Path To Self-Discovery.
What To Avoid First Thing In The Morning:
Checking your phone – it can wait.
Hitting the snooze button
Eat a heavy meal
Indulge in coffee
And Now To Get On With The Rest Of Your Day
You've had time for yourself, and you've made healthy choices, now it's time to get on with your day. Whether it's enjoying a healthy breakfast, turning on the washing machine before work, or hoovering the house, at least you know you have honoured your own time. You have shown up for yourself. You are ready to face the day.
If you are stuck for healthy breakfast ideas why not try our healthy overnight oat recipe?
Final Thoughts
During the winter months, I always slot in some reading time in the mornings. However, seeing as it's beach season, which equals to ridiculous amounts of reading, I don't go out of my way to get any reading done early in the morning.
For those of you with full-time jobs, I feel you, I've been there and as a single mum too. I used to hate summer because, by the time I finished eight hours of work, picked up the kids from my mum's house and headed to the beach, it was well past 5 pm. Not to mention, once we got back home the stress to get the kids ready for bed and everything set for the next day was unbearable. I literally had no time for myself or for house chores. Then again, I used to wake up with enough time to get myself and the kids ready and rush out the door. I wish now I had a proper morning routine back then.
Whatever your current situation is, I hope you do get to enjoy the summer and that you make unforgettable memories with your loved ones.
Sharing Is Caring:
Related Articles You Might Enjoy:
Mammograms, a vital tool in breast cancer screening and early detection. However, the prospect of…