I absolutely love any kind of chocolate dessert. When eating out, I will scour the dessert section on the menu first so that I can balance out the rest of my meal around my preferred chocolate dessert! But now that it is sweltering (inside and out) who can bear to spend time in the kitchen baking? Don't panic though because this does not mean that you have to go without chocolate treats until the weather turns colder again. In this blog post we will share some no-bake treats which are dangerously easy to make and will satisfy your need for delicious summer chocolate desserts.
Any of these chocolate desserts would be perfect to celebrate World Chocolate Day!
Chocolate Mousse
This recipe was given to me years ago by a good friend and work colleague. It used to be made in one of the local cafeterias and it has got me out of jam on more than one occasion. Years ago, not realising that my sister in law has a huge dislike of bananas and therefore not able to eat the dessert I had made for New Years I was able to whip up this chocolate mousse in minutes.
Whip the cream until firm peaks have formed.
Melt the chocolate in a double boiler or in the microwave if preferred. Wait a few moments for the chocolate to cool slightly and then fold the chocolate into the cream carefully so that you do not lose the volume of the cream.
Pour into individual serving bowls and refrigerate for at least 4 hours but preferably overnight. I like to crumble some flake bars over the top for some crunch.
You can also make this with Aero mint chocolate if you prefer.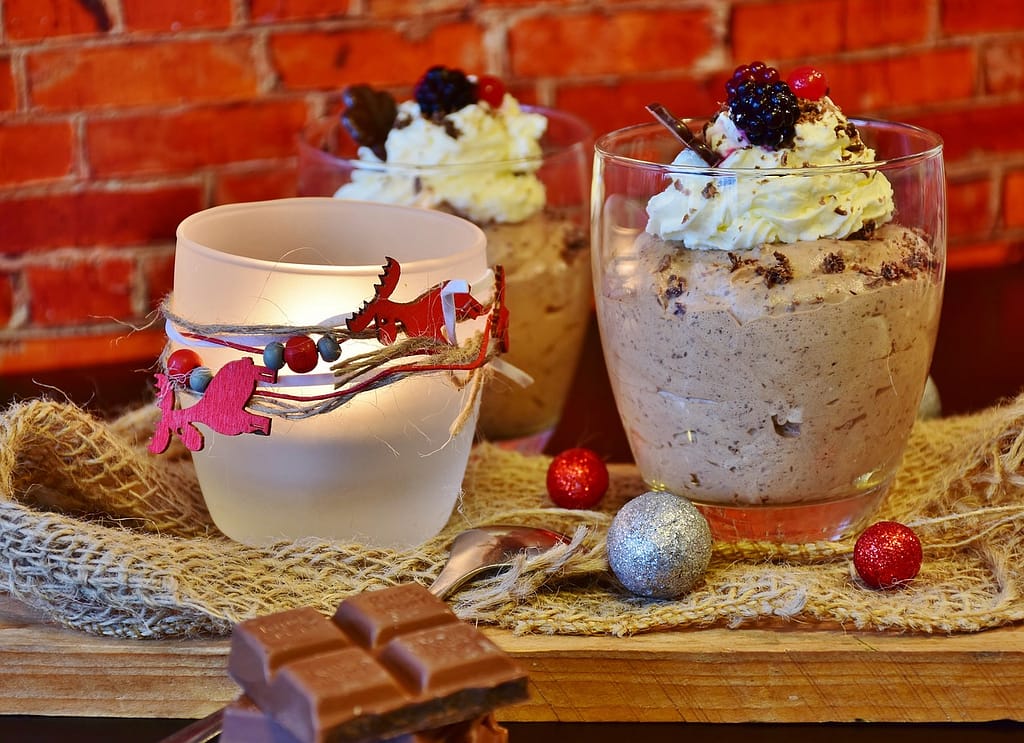 Aero Cheesecake
This Aero cheesecake is so good and extremely easy to make too. Get the recipe here
Chocolate Wafer Delight
There is possibly no easier summer chocolate dessert than this one! Open a pack of obleas (wafers) spread each layer with nutella and refrigerate! I told you it was easy but the best thing is that it is super delicious!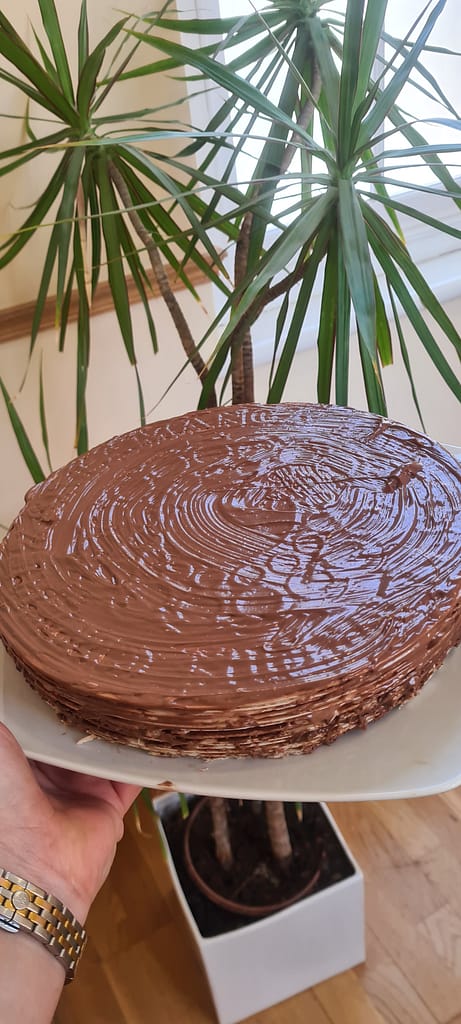 S'Mores Ice Box Cake
This S'mores ice box cake will surely hit the spot and become a firm family favourite for your summer chocolate dessert repetoire.
24 Digestive Biscuits
1 10z bag mini marshmallows
2 pints chocolate ice cream
2 pints vanilla ice cream
5 regular sized Dairy Milk/Galaxy chocolate (42g each) – in the US you would typically use Hershey bars.
Directions
Allow the ice cream to soften.
Line a loaf pan with plastic wrap so that the sides overhang the sides.
Line a sheet pan with parchment paper
Set aside 1 cup of marshmallows. Grill the remaining marshmallows on a sheet pan. Be careful not to burn them!
Add the ice cream to two large bowls. Add half of the toasted marshmallows to each bowl.
Add two chopped chocolate bars to each bowl.
Stir well.
Layer the digestives on the pan and then top with half the chocolate ice cream mix. Add another layer of biscuits and then top with half of the vanilla ice cream. Repeating the process and finishing with the vanilla layer. Top the cake with the reserved marshmallows and remaining chocolate. Crumble some additional biscuits over the top.
Fold over the cling film and freeze for at least eight hours.
S'Mores Pie
Many recipes I have seen use ready made graham cracker crusts but since we don't have these in Gibraltar I make my own using Digestive biscuits.
100g Digestive biscuits
100g butter
500 ml (2 cups) double cream
65g (½ cup cup) icing sugar
1 tsp vanilla extract
170g (1 cup) milk chocolate chips (you will need extra for the topping)
115g (½ cup) cream cheese
115g (½ cup) marshmallow fluff
230g (1 cup) mini marshmallows) (you will need extra for the topping)
Directions
With a mixer, whip 1.5 cups of the double cream until soft peaks form.
Add the icing sugar and vanilla extract and continue to whip until the cream has thickened and stiff peaks have formed.
Crush the Digestive biscuits and melt the butter in the microwave, Mix the butter into the biscuits and then press into an 9 inch cake tin.
Heat half a cup of double cream until simmering (not boiling) then pour over the chocolate chips and whisk until chocolate has melted.
Pour the chocolate ganache over the biscuit crust. Refrigerate for 10-20 minutes to allow the ganache to firm up.
Meanwhile mix the cream cheese and marshmallow fluff making sure they are well combined.
Add the mini marshmallows, mixing well.
Fold in half a cup of the whipped cream and chocolate mix into the cream cheese and marshmallow mix and then pour onto the refrigerated pie.
Top with the remaining cream and then crumble some additional Digestives and chocolate chips over the top for some crunch.
You can also add some toasted marshmallows to the top if desired. You can either do this by grilling them for a minute or two (but be careful as they will burn quickly) or by using a Butane torch. Check out this list for the best recommended Butane torches of 2022.
White Chocolate and Strawberry Cheesecake
No-bake cheesecakes can be such a life saver. There are so many different combinations of no-bake cheesecakes you can put together at relatively short notice. I have a whole load of different no-bake cheesecake options which I rely on for delicious no fuss desserts throughout the summer months. This strawberry and white chocolate cheesecake by Anna Banana is one of them. Get her recipe here.
No Bake Choc Chip Cookie Pie
Ingredients
1 x 13oz pack Choc chip cookies
200g Digestive biscuits
100g Butter
1 cup Milk
1 cup Roselle Cream
1 cup Milk
Directions
Keep 2 or 3 cookies to crumble over the top of your pie at the end.
Make the pie base by crushing the digestive biscuits into crumbs. You can do this either in a food processor or by placing the biscuits in a freezing bag and banging them with a rolling pin. Melt the butter and mix into the biscuits before pressing them into a pie dish.
Quickly dip 8 cookies in a bowl of milk (one at a time). Place on top of the digestive biscuit base.
Whisk the cream until well whipped and then spread about a third of the mix over the cookies.
Dip another 10 or 11 cookies in the milk (as before) and place over the cream. Add another third of the cream and then repeat the process one last time.
Crumble the 2 or 3 reserved cookies over the top and chill for at least 8 hours before serving.
Chocolate Boudoir Dessert
A traditional Gibraltarian dessert at any celebration.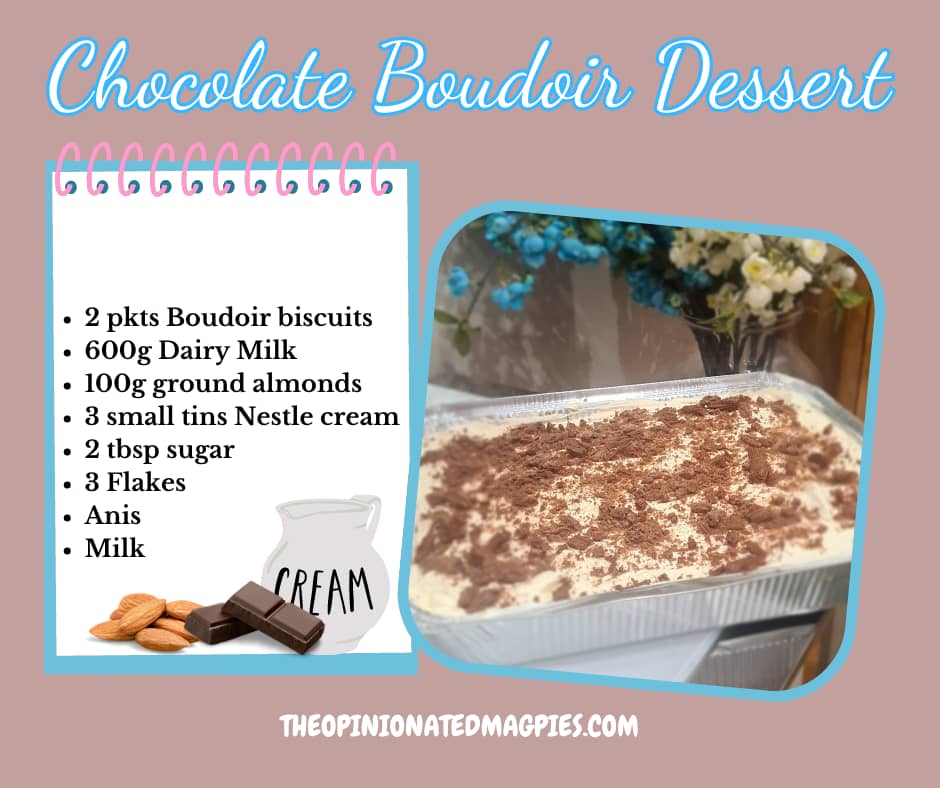 Directions
Melt the chocolate in a double boiler and add one of the tins of cream together with the ground almonds and sugar.
In a bowl, mix together 1 cup of milk and ½ cup of anis and quickly dip the biscuits into the mix.
Line a dish with a layer of biscuits and pour half the chocolate mix over the top. Repeat with a second layer of biscuits and the remaining chocolate cream.
Place the two remaining tins of nestles cream in the fridge and refrigerate overnight together with the dessert. In the morning, cover the dessert with the cream and cover with crumbled flake chocolate.
White Chocolate and Pistachio Tiramisu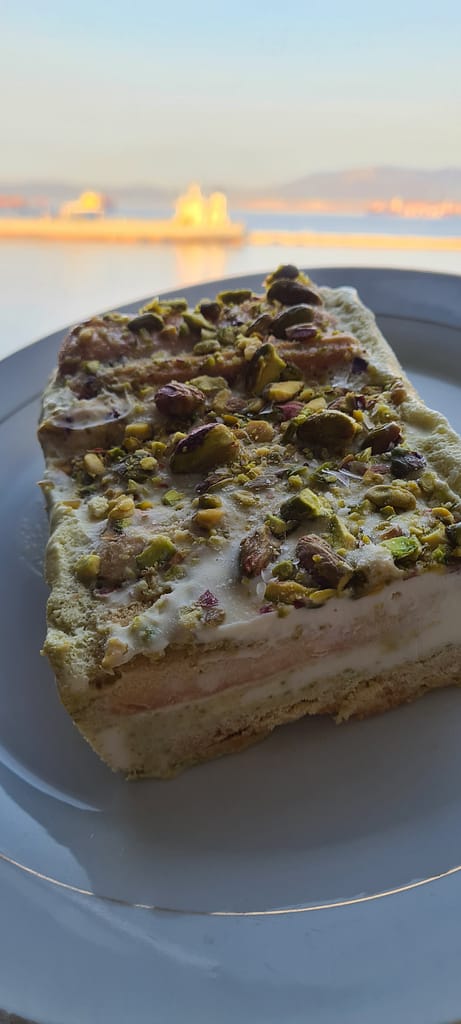 2 packets boudoir biscuits
Frangelico or Amaretto liqueur
1 carton full fat cream cheese
1 tin condensed milk
1 tbsp icing sugar
100g white chocolate
150g pistachios, shelled
30g unsalted butter
190ml full fat milk
Instructions
Make the pistachio cream first by boiling the pistachios in a medium sized saucepan for around 5 minutes. Drain and dry on a clean kitchen towel.
Fold over the kitchen towel and rub the pistachios to remove the skins.
Add to a food processor with 80ml (¼ cup) milk and 1 tbsp icing sugar. Blitz for 5 minutes until a past starts to form. Stop the food processor as and when needed right scrape the paste back into the mixing bowl.
Melt the chocolate with the remaining milk and butter. Set aside.
Transfer the pistachios paste to a blender and add the white chocolate mix. Blitz until smooth and creamy.
Mix cream cheese and condensed milk.
Soak the biscuits in the liqueur and start the first layer of biscuits in a loaf tin.
Add a layer of pistachio cream and one of cream cheese. Repeat the process various times.
Finish off with a cream cheese layer and chopped pistachios for colour and crunch.
I find it is best to leave this dessert in the freezer until you are ready to serve. Take out of the freezer about 5-10 minutes before you want to eat the same.
Chocolate Energy Balls
For a healthier chocolate fix, why not try our delicious Energy Balls?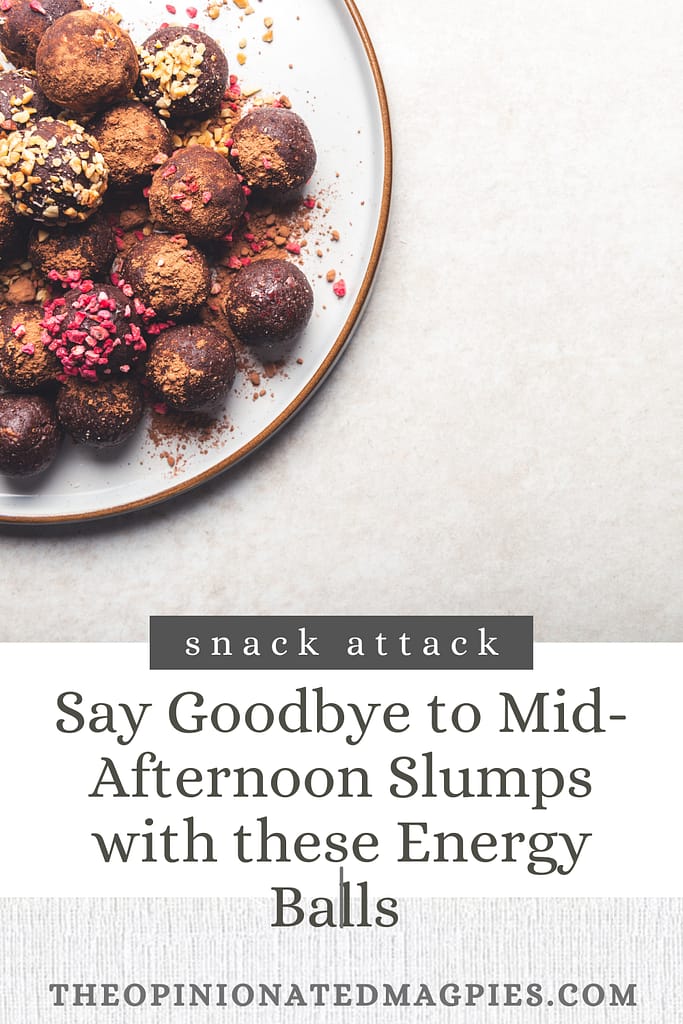 We hope that these no-bake chocolate treats will satisfy your chocolate dessert fix without the need to turn on the oven. Let us know if you have any other no-bake chocolate treats you recommend we try out during the summer months.
Sharing Is Caring:
Related Articles You Might Enjoy:
Every year on the 30th November, Scotland, and Scots around the world, celebrate St. Andrew's…