St. Patrick's Day is a feast day held on March 17th to honour the patron saint of Ireland, St. Patrick.
Who Was St. Patrick?
Saint Patrick was actually born in Britain, likely in the fourth century. He was kidnapped and taken to Ireland as a slave at just 16 years old. In Ireland he spent several years in captivity during which time he became a devout Christian. Escaping captivity and returning to Britain St. Patrick had a vision in which he was called to return to Ireland as a missionary.
Saint Patrick then spent several decades preaching the Christian faith and converting many of the Irish people to Christianity. He is said to have used the three-leafed shamrock as a metaphor for the Holy Trinity. The shamrock then became the symbol associated with Ireland and an iconic element of the St. Patrick's day celebrations.
What Are The Origins Of The St. Patrick's Day Celebrations?
Whilst we now celebrate St. Patrick's Day across the world, its exact origins are unknown. That said, it is thought that the first celebrations were held in the 17th Century when the Catholic Church declared March 17th (the date on which Saint Patrick passed away in the 5th Century) as the official feast day in his honour.
How Do We Celebrate St. Patrick's Day?
St. Patrick's Day is a day in which to honour both Saint Patrick and all things connected to Ireland. It's heritage, culture, food and customs.
As part of their celebrations, people in Ireland often attend Church services. They wear badges (buttons) with an emblem of a shamrock or harp. Attend parades and gather with friends and family at pubs or at home often enjoying Irish music and dancing.
The true party atmosphere around the day however originates in the United States. Here, cities with large numbers of Irish immigrants staged elaborate celebrations. The first St. Patrick's Day parade was held in Boston in 1737 with New York following suit in 1762. Though perhaps the most OTT celebrations take place in Chicago. Here even their river is coloured green to mark the occasion!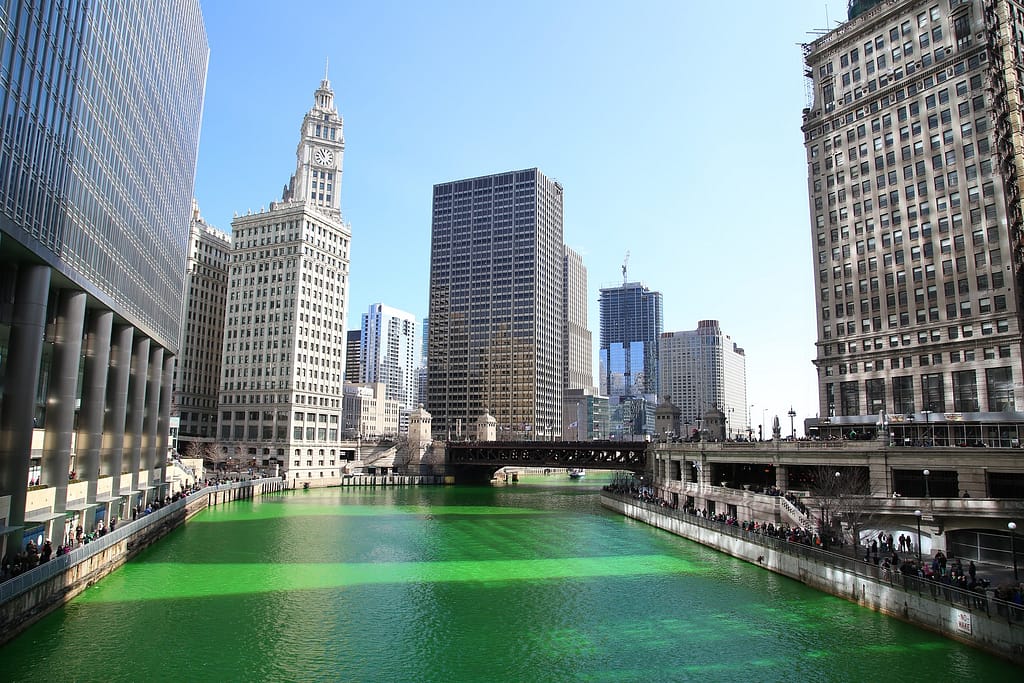 Other countries also celebrate St. Patrick's Day. On St. Patrick's Day, Australia holds a public holiday in some states. Irish communities then come together and celebrate their heritage. Parades, feasts, and music are common ways to celebrate. Many people also wear green clothing and accessories to symbolise spring, hope, and growth.
The United Kingdom celebrates the occasion with parades, concerts, and events. London being the hosts one of the largest St. Patrick's Day parades in Europe. Cities such as Birmingham, Manchester, and Glasgow also host events.
Japan chooses to showcase Irish culture and heritage, whilst in other countries such as Russia, it is also a way for people to come together and celebrate.
So, What's T.O.M.'s Connection With The Emerald Isle?
Those of you who have been reading our previous posts will be wondering how we associated with Ireland? After all, you know we are Gibraltarians. You also know that I have a firm affection for Wales after having studied there for four years. What you didn't know yet was that Milly's husband, and my granny, are both Irish. Milly's paternal ancestors also originate from Kilarney.
Unbelievably however, we have as yet not travelled to Ireland. I assure you that this is high on our bucket list, especially after our research for this blog post.
What Does Ireland Have To Offer?
Ireland (both the Republic of Ireland and Northern Ireland) is known for its rolling green hills, rugged coastline and picturesque villages. They are each countries of bustling cities, stunning natural scenery and rich history.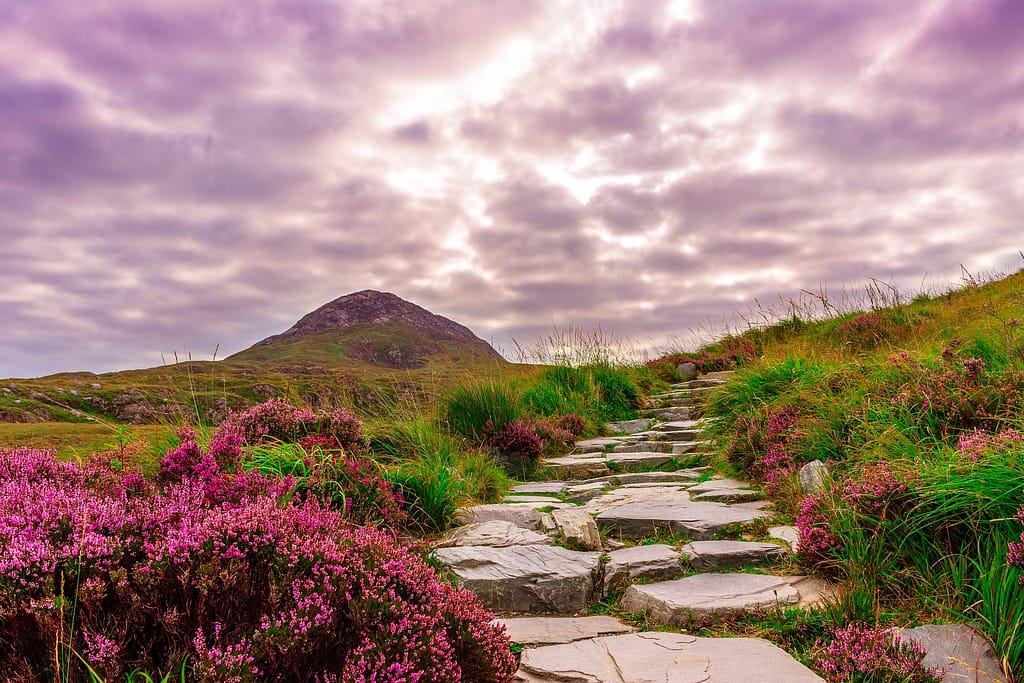 Republic of Ireland
Apart from its natural wonders which we explore hereunder, the Republic of Ireland has some vibrant cities which are all worth a visit.
Dublin
Dublin is Ireland's capital as well as the largest city in Ireland.
Visitors to Dublin will enjoy a mix of history and culture with literary greats such as Samuel Beckett and W.B. Yeats having called Dublin home.
Some popular attractions in Dublin include Guinness Storehouse, Trinity College, St. Patrick's Cathedral and the National Museum of Ireland. Of course, no trip to Dublin would be complete without a visit to its famous Temple Bar. This is Dublin's most famous pub and nightlife district.
If you are more into the outdoors scene, Dublin also has plenty to offer on this front. Phoenix Park, is one of the largest enclosed public parks in Europe. The park is open 24 hours a day, 7 days a week. For stunning trails in nature explore the Dublin Mountain Trails.
Cork
In the south of the country you will find Cork. The second largest city in Ireland. Famous for its vibrant food and drink scene. Local produce and artisanal products are available in many of the cafes, restaurants and markets. The English Market is one of the oldest markets in Europe. Trading since 1788 it has a strong emphasis on fresh, local produce . Many stallholders at the market are local and independent food producers or retailers often with several generations having worked in the market.
The Cork City Gaol is a highly recommended visitor attraction with guided or self-guided tours available.
However, perhaps one of the most famous attractions in County Cork is Blarney Castle. This is a historic landmark built in the 15th century. The castle has been the site of many important events in Irish history.
Blarney Stone
Famous for its Blarney stone which is believed to give those who kiss the gift of eloquence (or commonly referred to as the gift of the gab!) You will find the stone at the top of the castle's tower and is said to have been brought to Ireland from the Holy Land by the Crusaders. Visitors can climb the winding staircase to the top of the tower to kiss the stone, but, a word of warning, you will need to lean backwards over the edge of the castle and this can be a bit intimidating for some! Visit here for more information and to plan your visit.
If you fancy venturing out a bit further from the city, be sure to explore the Ring of Kerry. This is a scenic driving route that loops around the Iveragh Peninsula in southwest Ireland. It is a popular tourist destination and is considered to be one of the best ways to experience the natural beauty of Ireland.
Whilst there are various viewpoints along the route, recommended stops include the breathtaking Molls Gap and the Ladies View (so called because of the admiration of the view by Queen Victoria during her 1861 visit to Ireland).
Don't miss out on stopping in some of the charming towns along the route to enjoy the local shops and restaurants.
Galway
Apart from being famous for Ed Sheeran's song Galway Girl, Galway is a picturesque city in the west coast. Known for its vibrant arts and culture scene with many festivals taking place throughout the year.
Some of the main architectural attractions include the Spanish Arch which dates back to pre-medieval times, Galway Cathedral and the Galway City Museum.
Cliffs of Moher
Slightly away from the centre (about an hour and a half drive) you will find the Cliffs of Moher. These majestic cliffs rise 700 feet above the Atlantic Ocean and are one of Ireland's most stunning natural wonders with evidence of human activity dating back to the prehistoric era.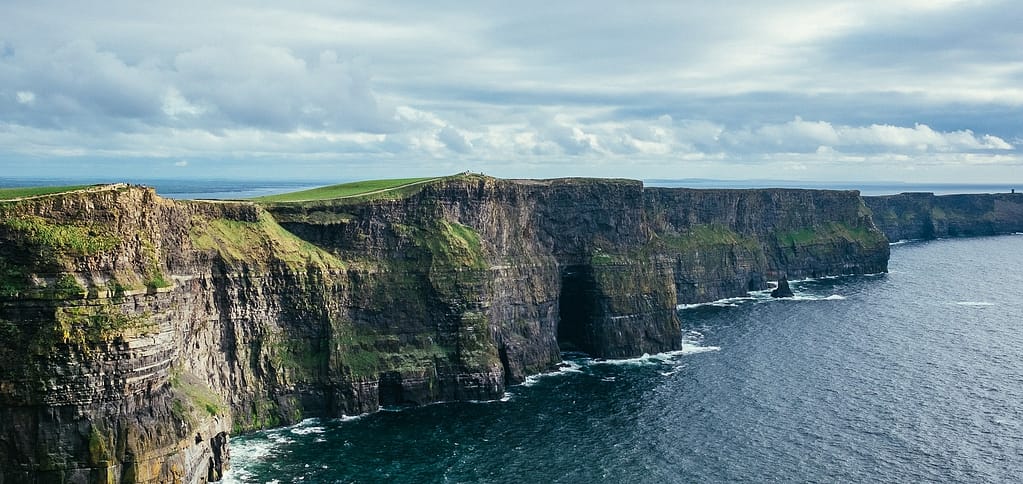 The cliffs stretch out for 8 kilometres along the coast and visitors are able to explore them by foot along a series of marked trails.  The most popular route is the Cliffs of Moher Coastal Walk. Along the way, visitors can stop at several lookout points to take in the stunning views of the ocean and surrounding landscape.
O'Brien's Tower
One of the most popular viewpoints along this route is O'Brien's Tower. Built in 1835 by the local landlord and MP, Sir Cornelius (funnily close to my paternal grandfather's surname of Cornelio!) O'Brien an observation tower for the English tourists. It is said to have been used initially as a tea house although some say that it was built in order for Cornelius to impress women he was courting!
Harry Potter
More recently, the Cliffs have been a popular site for television programs and movies, including Harry Potter and the Half-Blood Prince. The cliffs feature in a scene where Harry and Dumbledore apparate on the shore of some sea cliffs and enter a cave to find a horcrux.
There is a visitor centre where visitors can learn about the history and culture of the cliffs by way of exhibitions, audio-visual presentations and interactive displays. The visitor centre also offers dining and shopping options.
Limerick
Limerick is located in the mid-west of Ireland and is home to many historic buildings and landmarks. King John's Castle, St. Mary's Cathedral and the Treaty Stone are all worth a visit.
Waterford
Known for its crystal manufacturing, Waterford is a city rich in Viking and medieval heritage.
It is home to many historic landmarks which are extremely popular with visitors to the area. When planning a visit to Ireland, be sure to explore Reginald's Tower, Waterford Cathedral and the Bishop's Palace.
Other Famous Landmarks In the Republic of Ireland
Rock of Cashel
This imposing castle in County Tipperary sits on top of a rock which, according to legend was formed when the devil took a bite out of a nearby mountain and spat it out in disgust.
Whilst the site itself dates back to the 4th century, the castle we see here today dates back to around the 12th century. Built by the King of Munster it has served as a residence for the kings and bishops of the area for several centuries.
For more information and to purchase tickets for the Rock of Bushel, visit here
Newgrange Ancient tomb
Located in County Meath, Newgrange is an ancient tomb and one of the most important archaeological sites in Ireland. It is one of the best examples of a prehistoric tomb in the world.
Built around 3200 BC (making it older than Stonehenge and the Great Pyramids of Giza) by a farming community that lived in the area. The tomb is believed to have been used for religious purposes, possibly as a place of worship or as a burial site for important members of the community.
The most impressive feature of Newgrange is its roof box. During the winter solstice, the sun shines through a small opening above the entrance, illuminating the chamber inside. This demonstrates the advanced knowledge of astronomy and mathematics which the builders possessed.
Note, access is only available via guided tour from the Brun Na Boinne Visitor Centre.
Northern Ireland
Northern Ireland, is a part of the United Kingdom, which offers visitors history, culture and adventure experiences. Apart from its better known cities, some of which we highlight hereunder, be sure to investigate Northern Ireland's stunning Coastal Towns (the Antrim Coast is also a great place for scenic drives and coastal walks).
Belfast
Its capital city is of course Belfast which has a rich history dating back to the Industrial Revolution. Belfast has plenty of interesting sites to explore, including the Titanic Quarter the birthplace of the doomed liner.
The Ulster Museum, St. George's Market (which claims to be one of best markets in the UK and Ireland) and Crumlin Road Gaol (which took a leading role in the detainment of Republicans and Loyalists during the Troubles) are all worth a visit.
Lisburn
Located just outside of Belfast, visitors to Lisburn can explore Castle Gardens, a beautiful park which was once the location of Lisburn Castle. The Gardens are a gift to the people of Lisburn by Lady Wallace's heir, Sir John Murray Scott
Londonderry
Known for its well preserved walls dating back to the 17th century, Londonderry offers a glimpse into Northern Ireland's complex past. A must see is The Peace Bridge which is a symbol of the city's progress towards peace.
Armagh
Home to two stunning cathedrals St. Patrick's Church of Ireland Cathedral and the Catholic St. Patrick's Cathedral as well as for its Georgian architecture, parks and museums.
Newry
Visit Newry in County Down and enjoy its historic narrow streets and cathedral. Staying here also offers the perfect opportunity to visit The Mourne Mountains which are a popular destination for hikers. With over 20 trails there is a trail for all fitness levels.
Other Famous Landmarks In Northern Ireland
Perhaps one of the most famous attractions in Northern Ireland is the Giant's Causeway. Made of about 40,000 interlocking hexagonal basalt columns which, according to science, were formed by volcanic activity millions of years ago. Legend however will tell you that the Causeway was created by the Irish giant Finn McCool who built it to cross the sea to fight the Scottish giant Benandonner. Regardless, it is a UNESCO World Heritage site and attracts around a million visitors every year.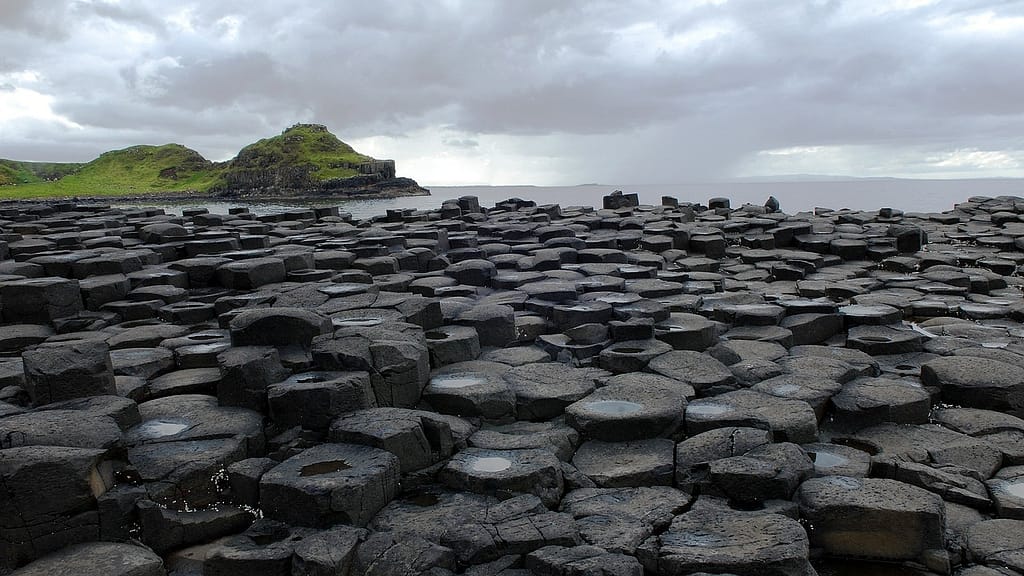 When visiting the Causeway you may want to explore one of the four trails that lead to different parts of the Causeway:
Red Trail: Uneven paths in places with steep steps. This trail is not suitable for those with limited mobility. This is a trail of moderate difficulty trail and should take between 30 minutes to 1 hour 30 minutes to complete.
Blue Trail: This trail is an easy trail, completed in around 25 minutes.  However, the path is steep in places and may not be suitable for wheelchair or mobility vehicle users although it does offer some rest stops.
Green Trail: Another easy trail which takes around 1 hour 30 minutes to complete. Whilst steep in places this is an accessible trail for everyone to enjoy.
Yellow Trail: This is a challenging trail and wheelchair users or those with limited mobility should not attempt the same.
Dogs on leads are welcome on all trails.
When visiting the Giant's Causeway, you may also want to visit the nearby Dunluce Castle. Dating back to the 13th century, the castle is rich in history. However, its recent appearance (though modified with CGI) for scenes on Game of Thrones has ensured the site has become a top tourist attraction.
Irish food
Irish cuisine is a rich and diverse blend of flavours, ingredients, and cooking techniques. From hearty stews to fresh seafood, Irish food is hearty, flavorful, and deeply rooted in tradition. Here are a few key points about Irish food although check out these unique Northern Ireland Dishes:
Hearty stews: Irish stews comprising of meat (usually beef or lamb), vegetables (typically potatoes, carrots and onions), and a flavorful broth are a staple of the country's cuisine.
Seafood: Seafood is an important part of the country's cuisine. From fresh salmon and haddock to Atlantic prawns and mussels, Irish seafood is abundant, flavorful, and often enjoyed in dishes such as fish chowder, seafood pies, and crab cakes.
Comfort foods: Irish comfort foods are warm, hearty, and filling, perfect for the colder months. Popular dishes include colcannon (mashed potatoes with cabbage), boxty (potato cakes), and coddle (a stew made with sausage, bacon, and potatoes).
Breads and pastries: Irish breads and pastries are delicious and versatile. Often eaten with meals or as a snack. From soda bread to scones Irish baked goods are definitely something to enjoy during a visit to Ireland.
Drinks: Irish drinks are an important part of the country's cuisine and culture, and they include a range of beverages, from tea and coffee to beer and whiskey. Irish coffee, a blend of coffee, whiskey, and cream, is a popular drink, and Guinness, a dark Irish stout, is a staple of the country's bar scene.
Michelin Restaurants
There are a total of 21 Michelin Star Restaurants in the Republic of Ireland and a further 22 in Northern Ireland making Ireland a perfect destination for foodies .
Weather
When visiting Ireland, it is important to keep in mind its unpredictable weather. We recommend packing for all seasons, even in summer!
Enjoy Ireland
As I said earlier, Ireland has been on my bucket list for some time and, after my research for this post I really can't wait to book a visit to the land of my ancestors.
Today, whether you are of Irish descent or simply enjoy celebrating this holiday, grab a pint of Guinness, wear something green, and celebrate St. Patrick's Day in style!
Related ARTICLES you might enjoy: