Cleaning is a CHORE AND A BORE, right? It is one of my most despised things and thinking about cleaning will surely get me in a bad mood. That being said, nothing beats finally sitting down to watch a movie or read a book in a clean and tidy living room.
Spring Cleaning
Now, there is cleaning and then there is spring cleaning, an annual or six-monthly deep cleaning and decluttering session. Basically, the mother of all cleaning sessions!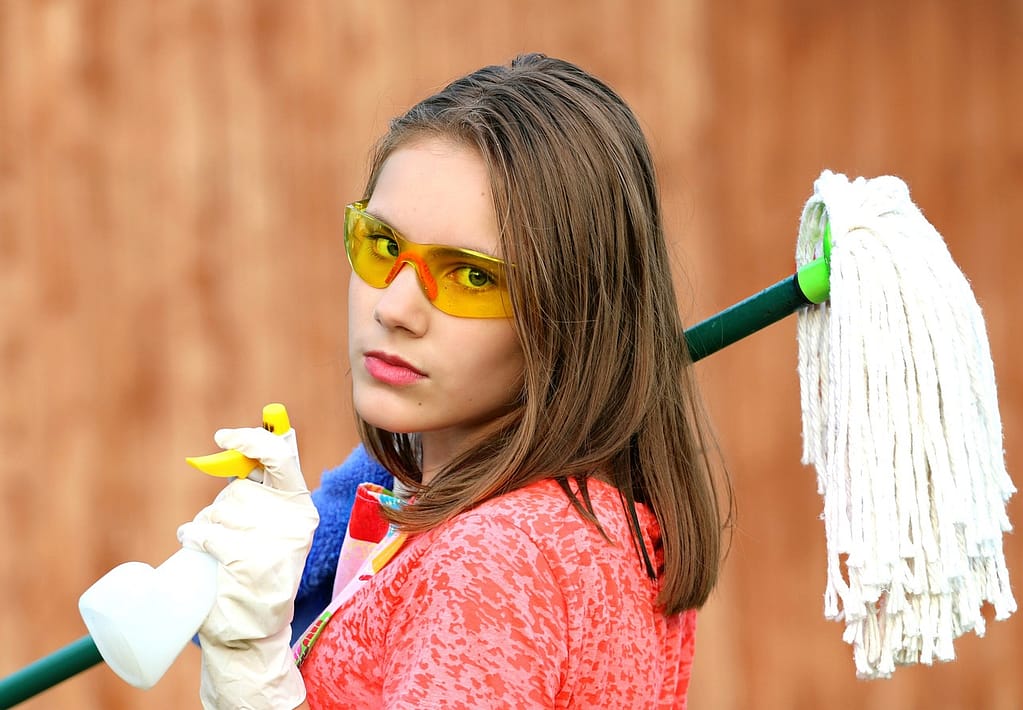 When Should I Spring Clean?
In our house, this usually happens with the change of seasons. Once from winter to spring and then again from summer to autumn. For me, this is the best time as it is also when I look through all of our wardrobes to see what still fits, what clothes will be needed for the season ahead etc. Once I start on this exercise, decluttering as I go, I feel the need to do the same in all other rooms. I'm always surprised by how quickly we accumulate junk and clutter!!!
Why Should I Spring Clean?
I find the spring session especially important. Evan suffers from bronchial asthma and this is usually at its worst during the spring months. As such, I want to ensure that I remove as many allergens as possible from the house.
As it does with Evan, spring cleaning can improve your physical health. Dust, dirt and other allergens accumulate in your home over the winter months and these can aggravate allergies and cause respiratory problems.
What Needs To Be Done?
Cleaning can feel daunting. Like there is a mountain of things to get done. Changing the bedding. Washing, ironing and then putting it all away. Cleaning all the rooms. Not to mention the other home activities which need to get done at the same time – cooking, homework… Then we want some time for self-care – meditations, exercise, walks. Are there even enough hours in the day for all this?!?
Make A Plan
The key to not getting overwhelmed is to make a plan and break things down. Take one room at a time and don't try to do everything on the same day.
Start Small
You want to enjoy the health benefits of a clean and decluttered house but you are not going to get this if you are raging like a lunatic (been there done that!) because you have stormed into every room like hurricane Katrina attempting to tackle all areas at once. All this will do is leave a great big mess in every single room which will make you feel like you will never get things done!
Declutter First
Before you even attempt cleaning you need to declutter. This can be a difficult exercise especially if you do not plan ahead. Isn't it annoying to come to the end of your decluttering only to then find something else which needs to go in your carefully organised drawer which now doesn't fit?
Don't panic, we've already got this section of your spring cleaning covered. Check out our top tips for decluttering.
By planning ahead you will avoid finding yourself with art supplies in about four different cabinets and drawers at home. You'd honestly think that we have budding Picassos at home. The truth however is that these art supplies are getting used less and less as the kids grow up. I just can't bring myself to throw them out though but perhaps this should be an area where I should look at invoking the The KonMari Method.
Developed by Marie Kondo The KonMari Method is an alternative method to the traditional organising by room. Instead, this method encourages you to tackle decluttering by sections rather than by room and to give away any item which no longer gives you joy.
Starting off with clothing and then moving on to books and papers. Once all of this is organised, you can move on to miscellaneous items and finally sentimental items.
The miscellaneous and sentimental items are my most hated sections. I mean, where has all this stuff come from and what am I going to do with it?!?! But, at the same time with the sentimental stuff, my baby made this picture in nursery, how can I get rid of that?!?! Decisions, decisions, and hard ones at that!
The good thing is that by breaking things down in this manner and seeing exactly what you have in all rooms for each category. This will enable you to develop a better organisation system which may in turn free some extra space so that you don't need to be ruthless with those sentimental items.
Moving on to Cleaning
Whichever method you choose to start with, once you have decluttered, you will be able to tackle the deep cleaning. Again, the key here is to have a plan and work in small, manageable sections.
Kitchen
Once you have decluttered the worktops, start from top to bottom so that you are not knocking dust and dirt down to already cleaned surfaces. That being said, even before tackling the first job, now is the time to spray your oven with any oven cleaner. Be sure to also remove oven racks and trays and soak them with a product such as Oven Pride (again, no commissions paid!). This ensures that the products start working whilst you tackle the rest of the kitchen. If you have a self-cleaning oven (life saver!!) now's the time you should switch this on.
Tops of The Cabinets
Once you have got started prepping the oven, you want to tackle the tops of your cabinets which are likely to have accumulated grease as this is not an area which is generally cleaned on a regular basis. Firstly, dust or vacuum the top. Spray with degreaser spray and leave to work for a few minutes whilst you tackle the next job. We will come back to this task shortly
Light Fittings
Next clean any light fittings. If these are removable then an easy way to clean them is to soak them in warm water with washing liquid. Give them a good scrub, rinse, dry and then replace them.
Cabinets
Coming back to the cabinets, scrub the tops of the cabinets which have already been sprayed with degreaser with some warm soapy water. Dry with a microfiber cloth and then move on to the rest of the cabinets. Work from top to bottom to avoid any water streaks. I use warm soapy water and then also some zoflora. Don't forget to clean the underside of the cabinets.
Windows
Windows and blinds should be tackled next although depending on the type of window you have and how difficult these are to clean you may wish to have these cleaned by professional cleaners. We live on the sixth floor of an apartment building and our windows are massive. I have attempted to clean these myself before but I actually just feel sick with fear at the thought of cleaning them even as I type this. We now get professionals in (long overdue now as I look at how filthy they currently are!) and even then I can't bear to be in the same room as they lean over to get the glass sparkling. Anyway, if your windows are easy to clean and you don't suffer from vertigo, firstly remove any curtains you may have and wash the same. Dust the curtain poles or any blinds and then, using canned air and a brush, clean the window tracks. Next job is to clean the windows themselves. For this it is best to start with warm soapy water. Use a water squeegee to remove excess water and then spray the glass with window cleaner and buff with a microfibre cloth.
Cooker Hood
Remove the exhaust screens and soak them in warm soapy water whilst you tackle the rest of the kitchen.
Spray the surrounding area with a good degreaser and then scrub with some warm soapy water. Buff using a microfiber cloth to dry.
Microwave
An easy way to clean the microwave is to take half a lemon in a bowl of water and blast it in the microwave for 5 minutes. Be careful when taking out the bowl as it will be very hot!
Take out the plate and give it a good wash and scrub down the internal surfaces. You should now be able to wipe away any grease stuck on food easily
Refrigerator
Next, empty the refrigerator and, if you haven't already done so, throw out any expired items. Remove all shelves and drawers and wash them in warm soapy water. Once dry I also spray them with disinfectant spray and wipe them again.
Whilst your fridge is empty, pull it away from the wall and unplug it. Start by vacuuming the coils at the back of the fridge or removing any dust with a small brush. Next, degrease the walls behind the fridge as this is certainly not an area that is cleaned frequently (although experts recommend that it is done every 3 months or so!). Finally, vacuum and mop the floor behind the fridge, plug the appliance back in and push it back into place before putting back all your food items.
Once done place a small container with bicarbonate of soda and some lemon essential oils to absorb any smells.
Oven and Hob
We recommend using The Pink Stuff on any dried burnt areas. Using a wet sponge, generously apply some paste onto the hob and scrub using a non-abrasive sponge. Note that we do not get any commission from this recommendation but seriously, it will make your job a lot easier!
If you followed our first piece of advice and sprayed your oven with oven cleaner, or set your self-cleaning oven on clean mode before starting with the rest of the kitchen, you should now be ready to tackle the cleaning of the oven. Using a scourer, scrub the walls of the oven to remove all grease and oven-cleaning product. Rinse with warm soapy water and dry. Next, scrub the rails and trays before replacing them in your sparkling oven.
If your oven window has spills between the glass, follow the manufacturer's instructions to remove the same so you can clean between the glass properly.
Dishwasher
Remove the lower rack and sprinkle baking soda on the sprayer arms. Add some white vinegar on top of the baking soda. Once it stops foaming, gently scrub it with a brush.
Rinse the sprayer arms with water and inspect the holes for any food build-up removing the same with a toothpick if required.
Remove the filter and wash with warm soapy water. Do not forget to clean the area where the filter goes too!
Spray the inside of the dishwasher with a degreaser or hydrogen peroxide. Let it sit for around 5 minutes and then scrub.
Top up with any salt and rinse aid as required. At this point for a really deep clean, you may want to run a wash on empty on the hottest wash cycle.
Final Steps – Sink, Worktops and Floors
Finally, disinfect the sink and tap and wipe down worktops and backsplash before hoovering or sweeping the floors and finally mopping.
Bathroom
The first job I tackle when cleaning the bathrooms are the dreaded toilets which the men of the house seem to think is done by the magic fairy! Whilst we use normal toilet cleaner on a daily basis, the deeper weekly clean or spring clean calls for Black Harpic. This stuff is amazing if you have any difficult to remove staining. Pour in plenty of Black Harpic around the rim and into the bowl itself. If possible, leave to work for a few hours and then scrub with a toilet brush. The stains will be totally gone with hardly any elbow grease.
Next, I scrub the shower and bathtub with a bathroom cleaner and clean the shower screen. This is probably the most time consuming and difficult areas in the bathroom. If you have built-up soap scum and watermarks on your shower screen then a top tip is to clean the same with a paste made up of vinegar and baking soda. For this, you will need:-
1 ½ cups vinegar
½ cup baking soda
Sponge
Squeegee
Microfiber cloth
Warm up the vinegar in the microwave and pour over half a cup of baking soda. Add just enough liquid to help form a paste. Work the paste onto the shower screen with the sponge and rinse off with warm water. Remove excess water with the squeegee before using glass cleaner as a final clean. Use the microfiber cloth to wipe it dry.
Living Room
The living room is one of the least taxing rooms when it comes to cleaning. Start by dusting and wiping down all surfaces including tables, shelves, electronics such the TV and games console and any nic nacs.
Moving on, vacuum the sofas and soft furnishings and finish off by spraying them with a fabric freshener to get rid of any musty smells. You can make your own natural fabric freshener which you can customise with your favourite scents.
Vacuum the floors and carpets and don't forget to get into the corners and edges where dust can accumulate.
Next tackle the windows and blinds before finishing off by mopping the floor.
Bedroom
Now that you have decluttered and organised the wardrobes and drawers it's time to dust and wipe down all the surfaces and clean the windows just like we did in the living room.
Entrance
You will not be surprised to learn that the process for the entranceway is pretty much a carbon copy of the process for all the other rooms! But, two areas which are easily forgotten are the cleaning of the front door and door mat.
Your front door is the first thing visitors to your home will see. Make sure you make a good impression and that the same is clean and dust free.
Door mats are there for a reason. Every day you wipe off excess dirt and debris from your shoes before walking into your home. But, if you forget about cleaning your door mat then that will just mean that you are bringing that exact dirt and debris into your home!
To clean your doormat, shake off any loose dirt and debris by giving it a good shake. Vacuum the doormat using a hose attachment to remove any remaining dirt and dust and then spot-clean any stains using mild detergent and water. Some variety of doormats can also be washed in the washing machine. Check any labels and wash accordingly.
It is recommended that doormats are cleaned once every few weeks (I'm embarrassed to admit that I didn't even know this was a thing!)
Staying motivated
Let's face it, staying motivated whilst cleaning is hard. One way of making this arduous task a little easier is to play music. Everything's better when you have some top tunes blasting and can sing at the top of your lungs!
Here are some fun spring songs to consider adding to your spring clean playlist. Happy cleaning!
Happy Cleaning!
Related Articles you might enjoy: