Welcome once again to our monthly book reviews blog post. As autumn graces us with its presence, bringing cooler days and crisper nights, there's no better moment to embrace the warmth of a captivating book. In this month's edition of "September 2023 – Book Reviews", we invite you to join us on a literary journey through the pages of the latest reads that have captured our attention. Additionally, we'll share an honest review of a book that, regrettably, fell short of our expectations. So, grab your cosiest blanket and let's immerse ourselves in the literary wonders that await.
Amazon Associates
As an Amazon Associate, we earn a commission from qualifying purchases.  Some of the links on this post are affiliate links.  This means that if you click on the link and make a purchase we may earn a commission at no extra cost to you.  Learn more

here.
Navigating The September Frenzy
September brought about a whirlwind of busyness. Back-to-school to-do lists along with back-to-work nerves, doctor and dentist appointments, my son's birthday and my daughter embarking on her year-long adventure in Cardiff, coupled with falling prey to the horrid flu, my schedule left me with scarcely a moment to spare. However, during moments of stress and uncertainty reading is what carried me through.
Despite my time constraints and opting for slightly shorter books this month, the sheer joy of reading remained unwavering. There was one book in particular that captivated me for 17 days straight. Omg, what a book! For 17 days I was completely enthralled by the magnificent storytelling. Want to know what book I'm on about? Keep reading! Now, let's dive into my September 2023 book reviews: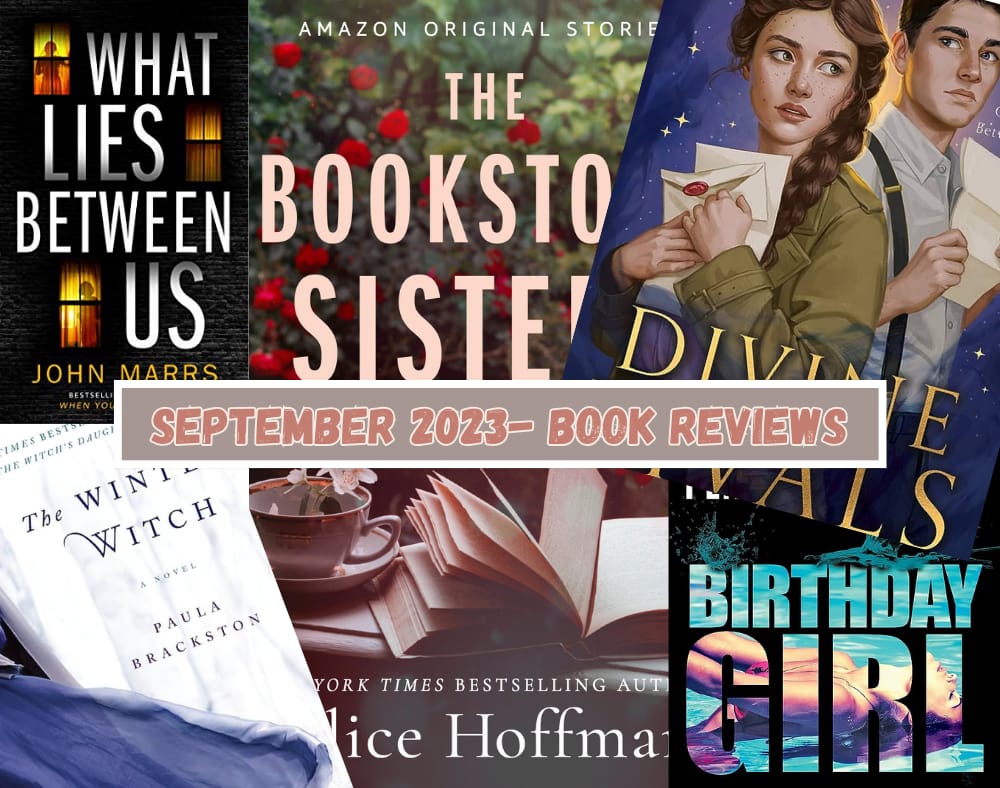 Synopsis:
At the tender age of eighteen, Iris nurtures aspirations of her writing making a meaningful impact someday. In the midst of an epic struggle among deities, she secures a prestigious position at the Oath Gazette, her gateway to influence.
However, within the confines of her home, her life is unravelling. Her brother remains unaccounted for on the front lines and her mother grapples with addiction, veiled in a disorienting fog. Night after night, Iris pens heartfelt letters to her absent sibling, never anticipating a response.
Yet, these heartfelt missives have found an unexpected recipient, the very last person Iris would confide in—Roman Kitt, her cold and unforgiving rival at the Gazette.
Review:
If I had to use one single word to describe this story, it would have to be captivating. Loosely set in Edwardian England/ World War 1 era, with a fantasy twist. Divine Rivals has a timeless feel to it. A tale delicately woven around the ugliness of war, interwoven with the joy of a blossoming romance.
Compelling Characters Worth Falling For
The characters are so well-developed. Ross's writing enabled us to see and experience the many layers within each of them, especially Iris and Roman. There was a rawness to them, a quality that's challenging to put into words. Flawed yet strong, confident tinged with a hint of self-doubt, and despite their fears, they cling desperately to their frail threads of courage. These characters are perfection as far as book characters go.
A Skillfully Crafted Plot
The plot was skillfully crafted and maintained an appropriate pace for a book of this calibre. After all, literary masterpieces cannot and should not be rushed, and, as it turns out, this book is pretty much just that—a masterpiece.
As previously mentioned, it took me 17 days to read this book. However, I felt compelled to thoroughly digest every single word on its pages and savour the delight of its exceptional storytelling. One of my favourite aspects was the inclusion of both men and women in the army during their war. Which, as we well know, back in the WW1 era would have been unheard of.
I appreciate the author's unique take on the war narrative. Rather than portraying human beings in conflict, tearing the world apart, she introduces the concept of powerful Gods. While I would have liked to witness more of the action on the war front, I understand that doing so might have diminished the focus on the real story and its underlying message. Courage and love will always prevail over fear and greed.
Masterfully Crafted World-Building
The world-building was beautifully executed. I am a lover of historical fiction, throw in some fantasy and you have me drooling. The likes of TV Shows like Downton Abbey or Call The Midwife are some of my all-time favourites, and this book did not disappoint in giving me all the feels. Sometimes an author will try hard to set a book in a certain era but doesn't really accomplish the desired effect. I must say, this author truly hit the nail right on the head.
If you fancy being enchanted by a story that will transport you to another time, featuring relatable characters and a well-paced plot, then I wholeheartedly recommend giving Divine Rivals a try. The second book, Ruthless Vows is set to be published on 4th January 2024, and I can't wait to dive back into the tale of Iris and Roman.
Synopsis:
An emotionally charged short narrative delving into themes of family, independence, and discovering one's role in the world.
Meet Isabel Gibson, a seasoned practitioner in the art of forgetting. She's transformed herself into a quintessential New Yorker, severing nearly all ties to her Brinkley's Island, Maine origins. Her parents are gone, the family bookstore teeters on the brink of financial ruin, and her sister, Sophie, seems irreparably distant.
Yet, a cryptic missive materializes in her mailbox, tugging at the threads of her past. After years of relentless pursuit of autonomy, Isabel recoils at the notion of returning to the island. What awaits her there, however, could redefine her trajectory and shatter preconceptions about her family, her homeland, and her very identity.
Review:
One way to describe this book, aside from its brevity (36 pages) is its charm. When I picked it up I was in need of something short and sweet, with minimal world-building and a single POV. And this book delivered just that. It took me less than an hour to read, and it's not only well-written but also nicely executed and straight to the point, devoid of any unnecessary embellishments.
Synopsis:
Nina harbours an unforgivable grudge against Maggie, one she's determined to never release. She's equally resolved never to let Maggie escape.
As the saying goes, every house conceals its own secrets, and the one Maggie and Nina have long shared is no exception. The difference is that these secrets are not buried in the past.
Their peculiar routine unfolds; dinner together every other night, followed by Nina's assistance in escorting Maggie back to the attic, and into the heavy chain that keeps her there. Maggie must pay for the transgressions she's committed against Nina, it is time for her to pay the price.
Yet, lurking in the shadows of their shared history are things Nina remains blissfully unaware of, and Maggie is hell-bent on maintaining that ignorance, even if it kills her.
In this house, the truth is more dangerous than lying.
Review:
From the moment I began reading this book, I have tirelessly recommended it to anyone who will listen. The reason being, the more I read the more confusing it got. Let me clarify it for you. There are two POV's, mother and daughter. Whilst I was reading the mum's POV, I was convinced that the daughter was the bad one in the story. I felt sorry for the mum and I kept questioning what kind of daughter would put her mother through hell. However, when I read the daughter's POV I found myself feeling sympathetic towards her instead and automatically thought, the mother definitely deserves her punishment.
When it comes to the thriller genre, if the book you are reading manages to have you questioning your better judgment throughout the whole story, then you know you have hit the jackpot. And that's exactly how I felt reading What Lies Between Us. Even before I turned the last page, I was already recommending it.
As with any good thriller, there were a few plot twists along the way. Some of them I totally saw coming, however, the ending was unexpected. I cannot emphasise enough how much that ending took me by surprise. Had it not been for the sheer shock, I would have probably shed a few tears.
I thoroughly enjoyed this book, and I look forward to reading more from this author.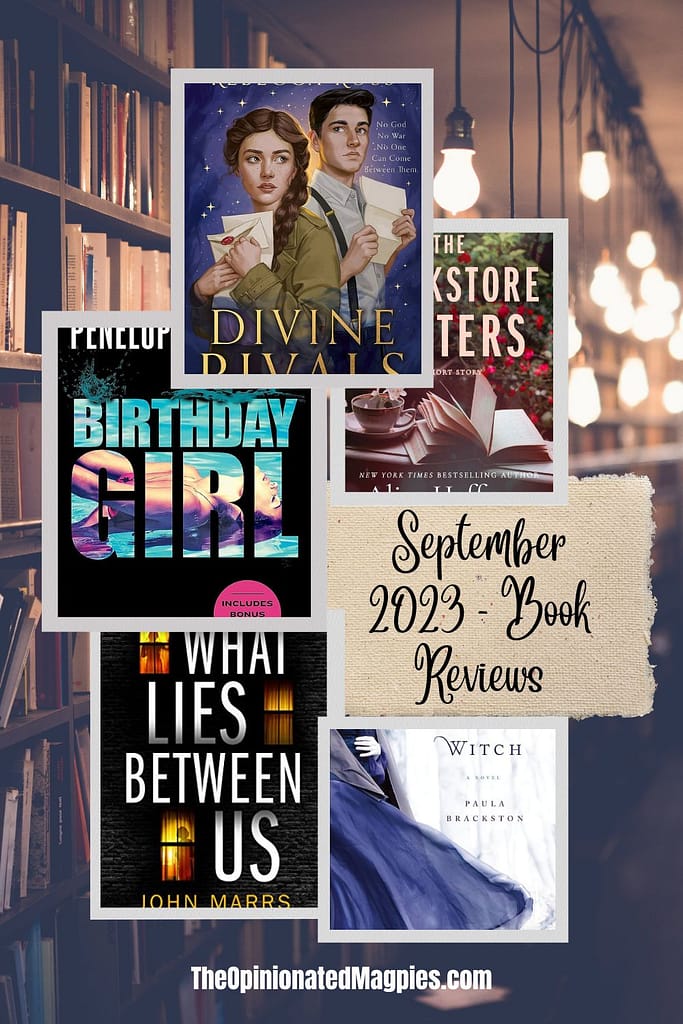 Synopsis:
Jordan and her boyfriend Cole have reluctantly moved into his father's home as they work on regaining their financial independence.
While Jordan makes sincere efforts to contribute and show her appreciation for Pike's generosity, her boyfriend Cole continues to display immature behaviour, mistreating her and taking her for granted. In stark contrast, Pike treats her with respect. He genuinely listens to her and acknowledges her presence. As a result, a whirlwind of emotions builds up within Jordan.
She's fully aware of the impropriety of her feelings. He is after all Cole's father and almost twenty years her senior. But will she follow her heart to find solace in a secure haven, or will she persist on a path leading to nowhere?
Review:
Birthday Girl was if nothing else, entertaining and an easy read. Have I mentioned that September has been a whirlwind? Yes, I needed easy reads, and this book ticked all the boxes.
Our main character, Jordan is a strong and independent nineteen-year-old. A hard worker and wise beyond her years. However, her good heart and loyalty drive her to accept mistreatment from the one she loves. This kid hasn't had it easy, and the author did a beautiful job of making the reader feel for her and instantly connect.
The same can be said about the male main character, Pike. It was easy to become attached. A man in his late thirties who has had to make unnoticed and unappreciated sacrifices for his son. Douglas succeeded in creating great chemistry between the two of them. While some people will shy away from the forbidden fruit/ young girl, older man trope, I can honestly say, based on my parent's relationship, happily ever afters are still possible.
When it comes to the plot, it was easy, straightforward and full of smut. Although the ending was predictable, this book still managed to be an enjoyable read.
Synopsis:
In the quaint Welsh town where Morgana resides, there exists no one quite like her. She has remained silent since her childhood, and her silence, coupled with her sometimes unpredictable magic, renders her a curiosity, a magnet for rumours, an enigma, and even resentment.
Out of concern for Morgana's well-being, her mother takes proactive steps, arranging her marriage to Cai Jenkins, a widower from the distant hills who remains blissfully ignorant of the unkind gossip surrounding her daughter.
Cai escorts his new bride to his farmstead, where Morgana begins to fall for the rugged, mountainous scenery, and where her husband gradually captures her heart. It appears she has stumbled upon a kind of serenity her soul had never dared to imagine. However, this newfound harmony is short-lived, as a malevolent force emerges, one determined to sow discord and turn the townsfolk against her.
With an unwavering resolve to protect her home, her love, and herself from all adversaries, Morgana must embark on a journey to master her powers – or risk forfeiting everything dear to her.
Review:
Rarely will I ever give a one-star rating to a book. However, let me tell you, this book shattered my heart, and not in a good way. It received that solitary star from me, and believe me when I say, that was me being generous.
If you happen to be interested in the complexity of farming in Wales, then congratulations, this is the book for you. As for myself, I was craving a witchy book, full of magic, spells and a pinch of mystery, given that Halloween is around the corner. Let me keep it real for you, this book had none of those enchanting elements.
Sure, I'll give credit where it's due, the writing style was decent. However, the plot? It bored me to the point of a near-death experience. The characters? I have found more depth in a kiddie pool on a hot summer day. And as for the farming…..it ploughed through the entire storyline like a herd of overenthusiastic cattle. Horses, sheep, and enough farming to make Old Macdonal blush. I just couldn't endure it.
It's been a long time since I was so bored while reading a book. In fact, this might just take the prize for the most yawn-inducing story I've had the misfortune of encountering this year. Enough said!!
Final Thoughts
So, there you have it. I hope you've enjoyed my humble opinion, and that somewhere within these words, you discover your next read. Whether it's the enchanting tale of Divine Rivals or the tedious saga of a mute witch and her assortment of horses and sheep!
Until next time, happy reading.
Milly
Sharing Is Caring:
Related Articles You Might Enjoy: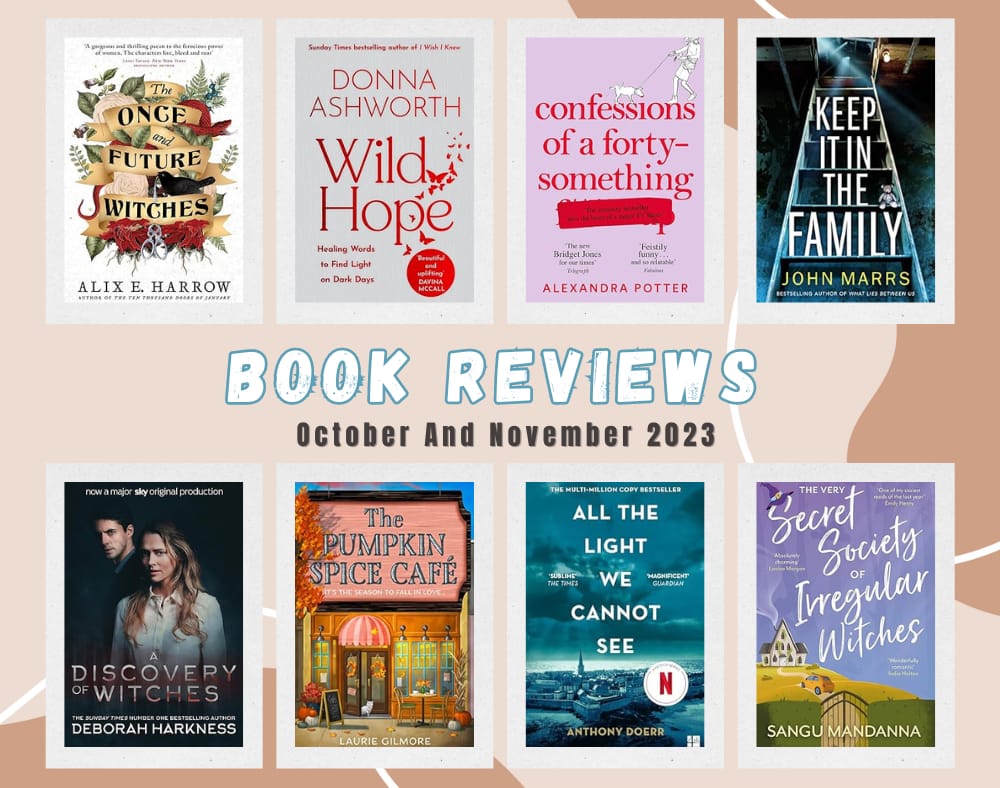 October was exceptionally busy, leaving me with minimal time for reading—only two books, to be…