February seemed like the perfect month for a romantic weekend away. For starters, most of us have recovered from the crazy spending that occurred in December. Secondly, if you travel nearby (as in drive to the destination) the cost can be reasonable and peak season is still a few months away.
My husband and I rarely go away for Valentine's Day. It's either his shift pattern at work getting in the way or family commitments. It never seems to happen. The last time we went away for Valentine's weekend was in 2016.
This year though, we did manage it. Because of work, we could only manage one night, so we decided to go a few days before Valentine's, mostly to avoid the hustle and bustle of the actual day.
La Cala Resort – Our Romantic Weekend Away
Every year without fail, we go away for 4 or 5 days to what we consider our happy place. I'm talking about La Cala Resort. A beautiful Andalusian hotel, nestled cosily in the Sierra De Mijas – Spain. With its breathtaking views, amazing golf courses and Hydrotherapy Health Spa, La Cala Resort has undoubtedly become our favourite hotel in Andalucia. This year we decided that a visit in February wouldn't go amiss.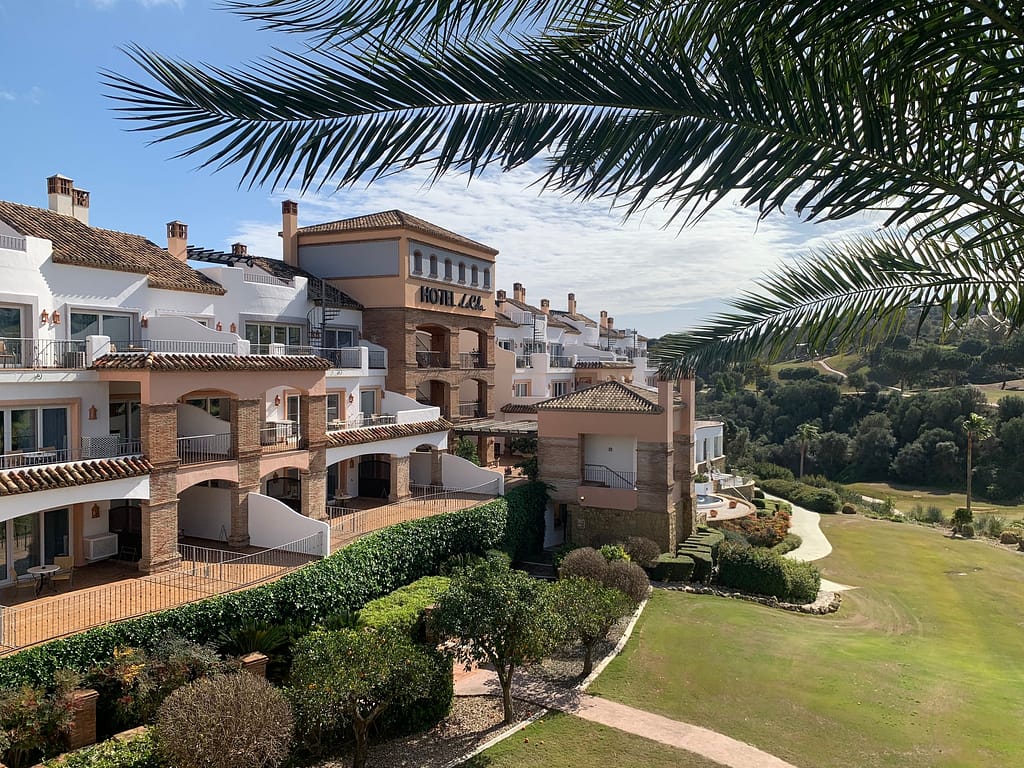 Our Happy Place
The rooms in La Cala Resort are comfortable and clean and the best part is the outdoor terrace and the incredible views.
For us, getting away from our everyday life is all about peace, chilling and indulging in good food. We love sitting on our room's outside terrace. I will read a good book whilst my husband listens to a football match on his phone's radio or just enjoys the scenery. A nice glass of wine is often part of the ritual. We obviously couldn't enjoy the outside space in February. It wasn't only cold, but quite windy too. Nevertheless, we still enjoyed a good dose of the fresh outdoors.
Hydrotherapy Health Spa
I cannot emphasise enough how much I love the spa at La Cala Resort. The circuit consists of the hammam and herbal steam rooms, the garden crystal sauna (with views to one of the golf courses, an igloo room and relaxation rooms. The indoor and outdoor pools provide amazing views over the complex. Both pools provide water jets for a full-body experience. They have a great menu of treatments and massages available too. These need to be booked beforehand. Also available are the Spa Boutique, a hair salon and a fully equipped gym.
I have often told family and friends that the spa's outside pool, overlooking the golf course, as the sun sets is indeed my favourite place on earth. I feel so at peace and so blessed every time I'm there.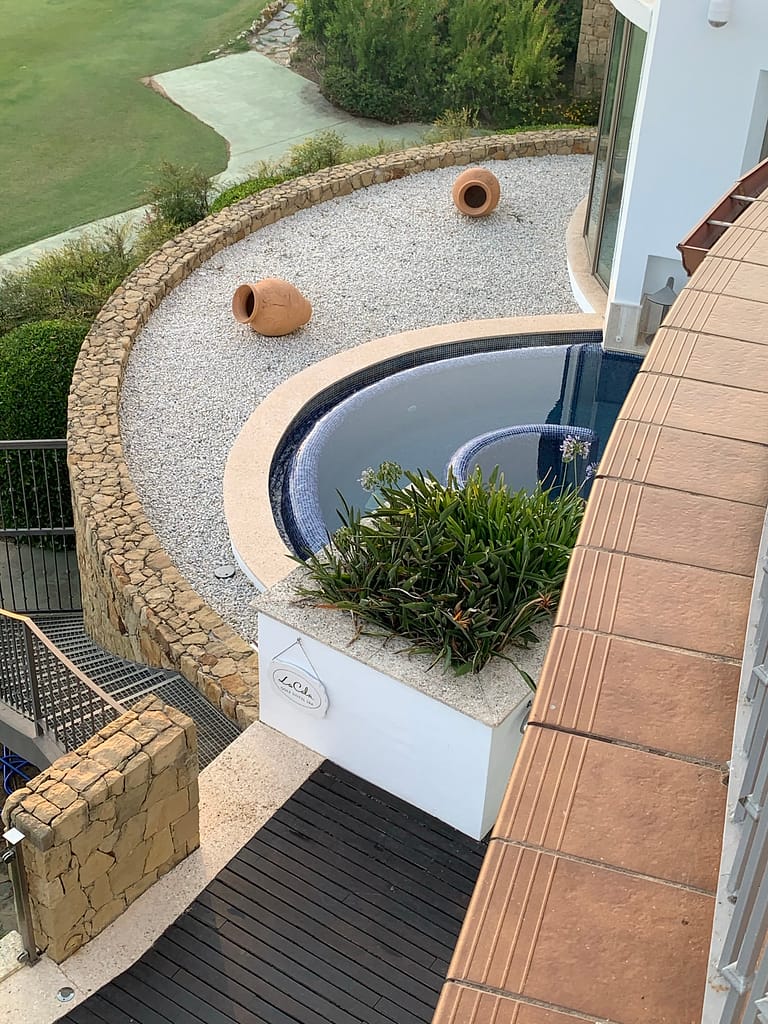 La Cala Golf
I don't play golf, much to my husband's dismay. In my defence, I have given it a go, but I'm no good at it. My husband, on the other hand, loves golf. With a handicap of 13, he will play the sport at any chance he gets. On many occasions during our summer stays, Dave has left me chilling by the pool with a mojito in one hand and a book in the other, whilst he has gone off to play 18 Holes.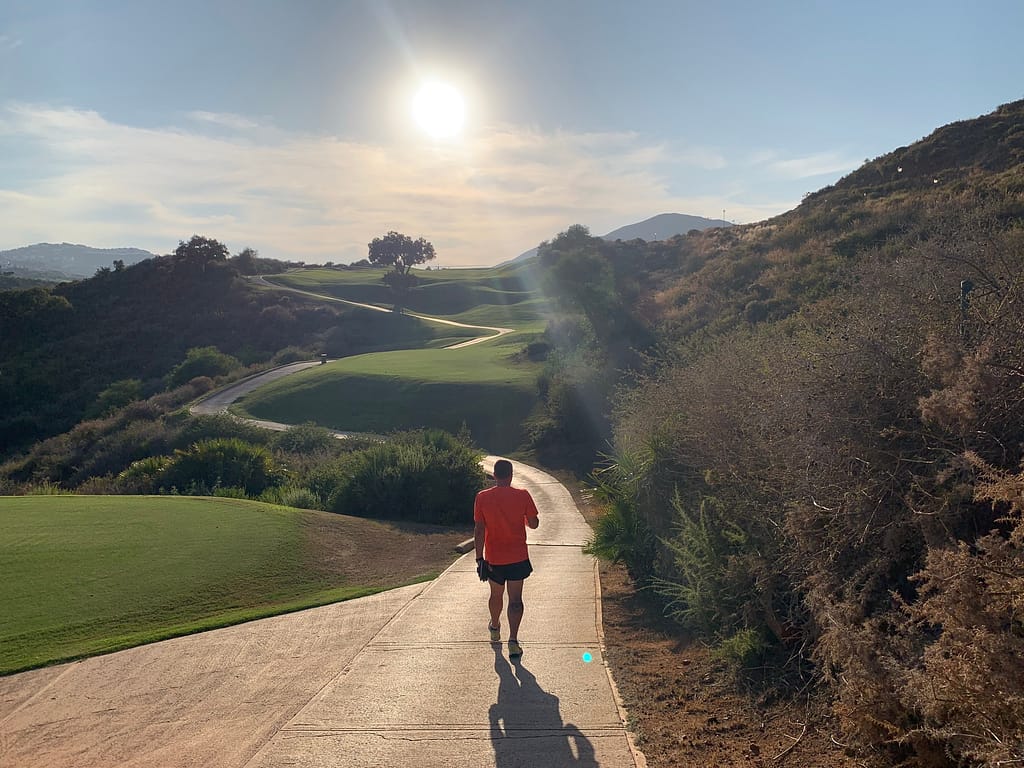 The resort offers three different golf courses. Whilst I have never played, I can say that I have walked all three of them. A favourite activity of ours is to put on our trainers and go for a long walk along a golf course, just as the sun is setting. It's one way to burn all the extra calories, and the scenery makes it an experience.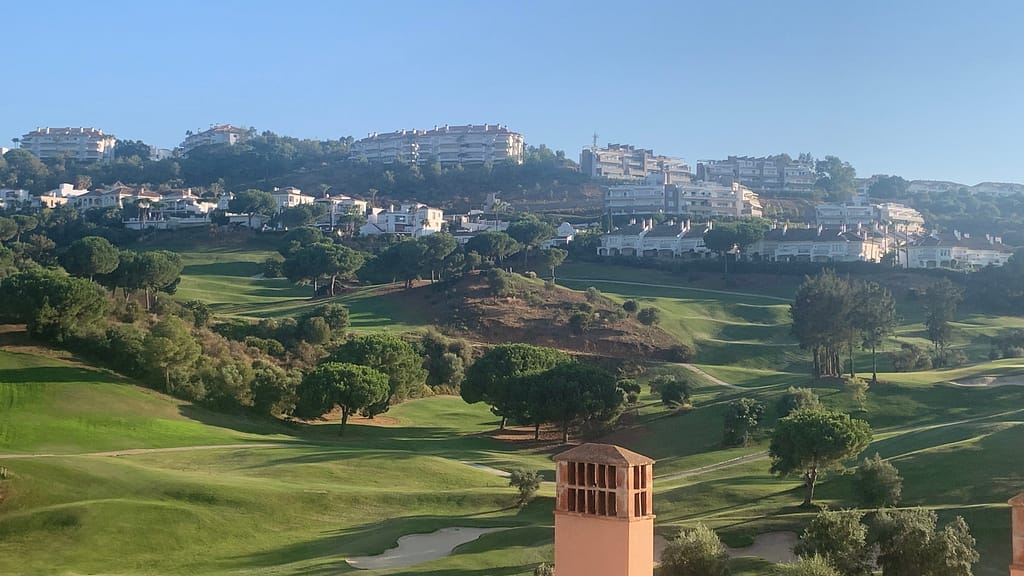 The Outdoor Pool
Staying over in February meant no sunbathing and no pool. Needless to say, during our summer stays, this is where I spend most of my time. The pool bar, Limonada, provides snacks, smoothies, ice cream, alcohol…..anything you need to make your holiday as relaxing as possible. The staff is always friendly and willing to help.
Those who know me by now, know that without a shadow of a doubt the most likely thing I will be doing whilst sunbathing is….reading!! Every time we go to La Cala I read approximately three books. It's the perfect combination of total chill and indulging in my favourite hobby.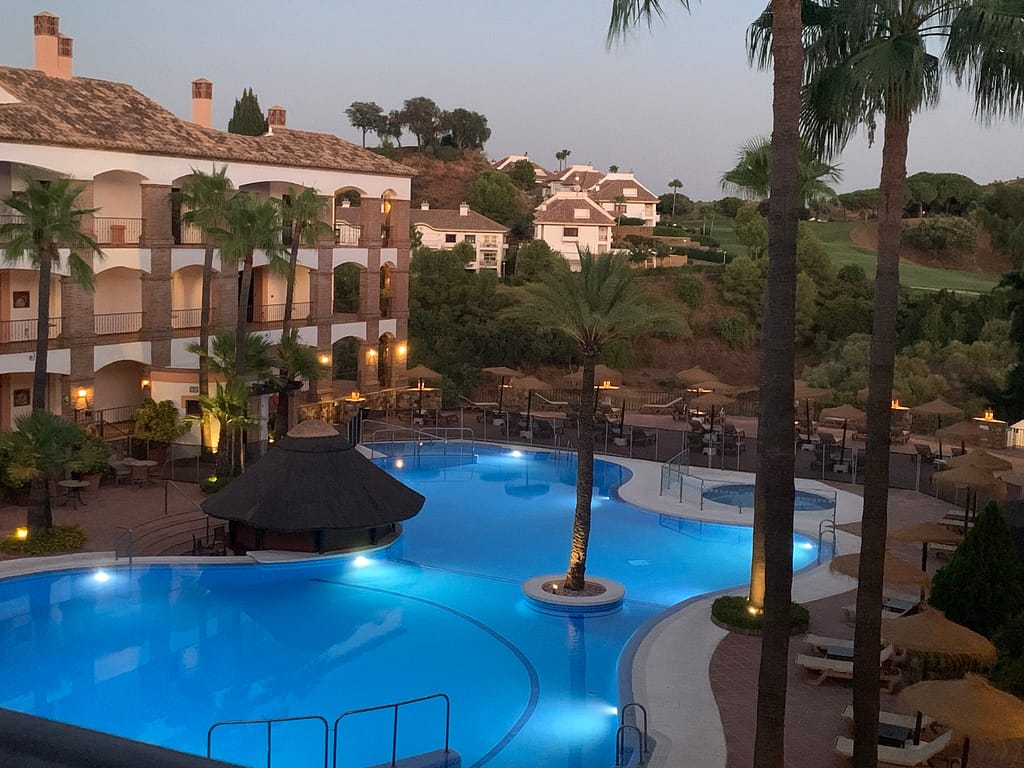 Whilst this time round there wasn't any sunbathing involved, I still managed to get some reading done. It's such a peaceful setting, that it's impossible to not relax completely.
La Cala Resort Boasts Five Restaurants
During the summer, we eat breakfast and lunch at the pool restaurant. Breakfast is always of a high standard and with an impressive selection. For lunch, we always prefer to have a light snack. The Clubhouse Sandwich is my husband's favourite.
We like to alternate dinner locations, depending on how many nights we are away. One night we will indulge in the beautiful food provided by La Bodega Tapas & Grill, another evening we will enjoy dining al fresco at La Terraza Restaurant. Another alternative is dinner at the Clubhouse Restaurant.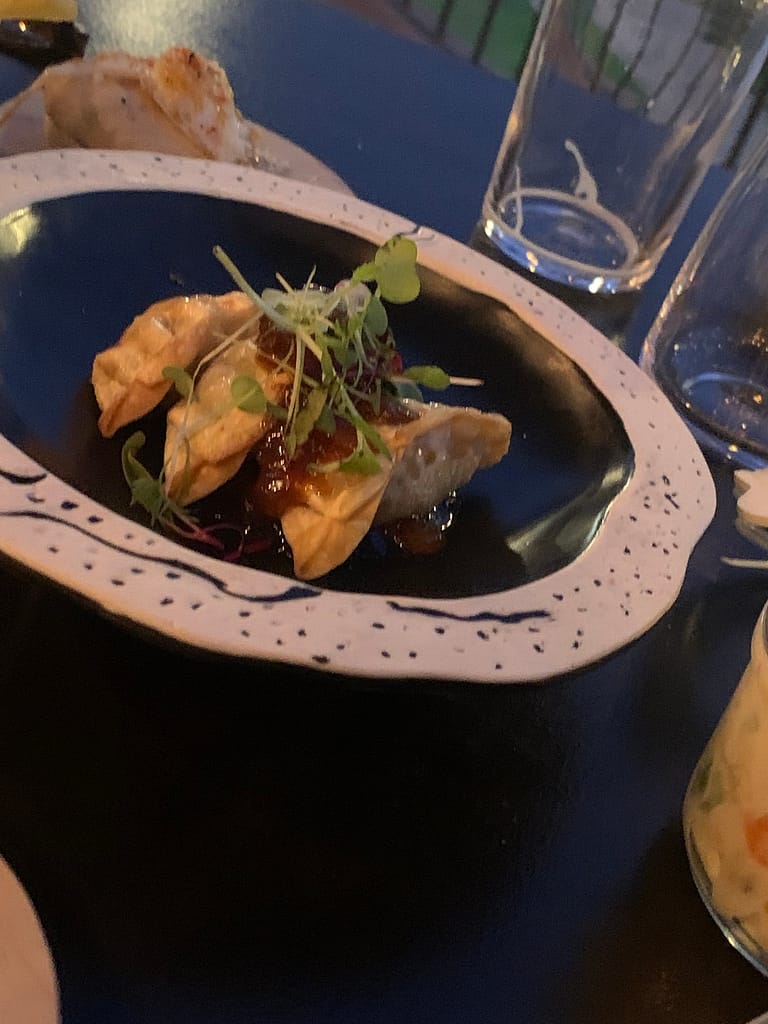 On occasion, we have visited the town of La Cala De Mijas. It's a 10-minute drive from the hotel and the town boasts a grand selection of restaurants, many of them specialising in seafood.
A nice meal followed by a walk and homemade ice cream from the local parlour is always a great way to end the day.
For our Valentine's trip, we had lunch at the Clubhouse Restaurant. The quality of the food is always of high standards, and this time round was no exception.
Time To Go Home
It was a very short trip, but it was just what we needed. By Sunday morning we were driving home, relaxed and batteries fully charged for the week ahead.
Sometimes all we need is a change of scenery, a break from routine. My husband and I will try and go away a few times during the year. Yes, we always make it a point to go on a family holiday, but time together is something we both prioritise. Obviously, our children are all grown up now (in fact we are grandparents to two beautiful boys) and so for us, it is easier to plan time away, just the two of us.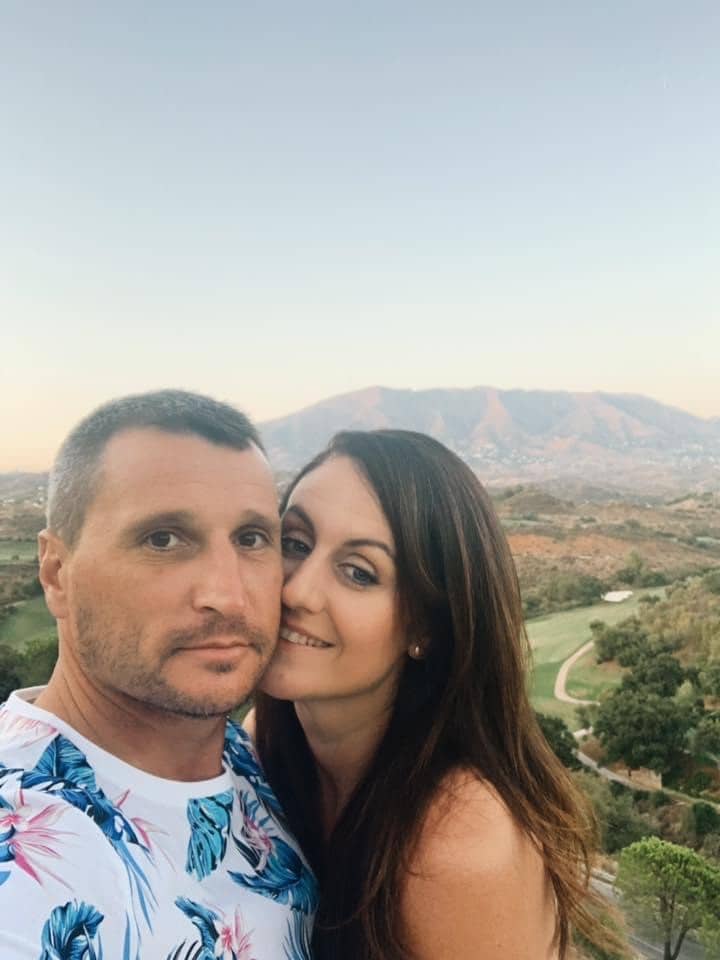 So if your kids are still little (by all means enjoy them to the max, time flies and before you know it they have moved out), and babysitters are short in supply, try to at least get away for one night. Even a day out can make a huge difference.
Check out our article on London For Couples for more romantic getaway ideas.
To Many More Weekends
Hope you have enjoyed this mini-review of my favourite hotel in the area of Andalucia. I plan to indulge in many more weekends away this year. Good food, good books, spa treatments and of course great company.
Until then, happy travels x
For more information check out La Cala Resort Website: https://www.lacala.com/
Enjoyed our review? Please share with your friends!
Related Articles: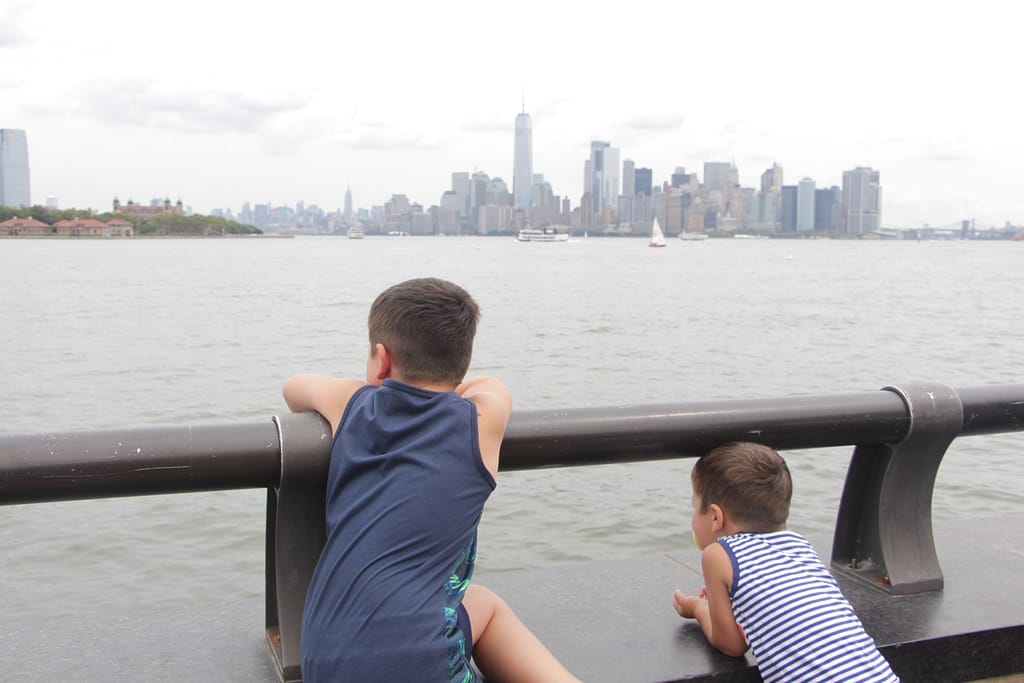 Whilst looking for photographs for the Mickey's Not So Scary Halloween Party blog I came…