Gelato and tiramisu are perhaps two of Italy's most famous and favourite desserts. Whilst for me nothing can beat a creamy pistachio gelato Dani had an almost impossible decision to make. After exploring the between streets and canals of Venice it was time to enjoy dinner in a quaint Italian restaurant which had a perfectly creamy tiramisu on display.
I must admit that it looked absolutely delicious. The only snag for me being my distinct dislike of coffee! Dani however was almost salivating. Imagining the smooth mascarpone, infused with the aromatic coffee-soaked ladyfingers and the bittersweet cocoa dusting – dessert could not come soon enough!
What Is Tiramisu?
Tiramisu is a dessert made from ladyfingers which are quickly dipped in coffee (there is no alcohol in the original recipe) and topped with a mixture of mascarpone cheese, eggs and sugar. It is one of Italy's favourite desserts whose name literally means means "pick me up" in Italian.
Origins
The exact origin of this dessert is one which is subject to dispute between the Italian regions of Veneto in Treviso and Friuli Venezia Giulia in Udine.
The residents of Veneto claim that the dessert originates from a restaurant called Le Beccherie. Here the restaurant's owner made her pregnant daughter-in-law a breakfast of zabaglione and coffee. It is said that this breakfast inspired Alba Campeol (the pregnant daughter-in-law) to work with the restaurant's pastry chefs to create this much loved dessert. The Original Recipe was presented as part of a menu at a food expo in Milan in 1972 and the recipe has since been deposited with a notarial deed at the Italian Academy of Cuisine.
This said the residents of Friuli Venezia Giulia claim that the dessert actually originates in their town and point to a handwritten recipe for tiramisu dating back to 1959. And, much to the outrage of Veneto, in 2017 the Italian Government declared this dessert a prodotto agroalimentare tradizionale (an officially approved, traditional regional speciality) of Friuli.
Famous Worldwide
Whatever its origins, tiramisu is undisputedly a dessert which is much loved and enjoyed across borders and cultures.
A Magpie Take on the classic Tiramisu
The original tiramisu has no alcohol but, with the dessert having been exported worldwide it has been adapted countless times. The following is our take on the perfectly creamy tiramisu. In our case, this becomes a perfectly creamy (and boozy) treat!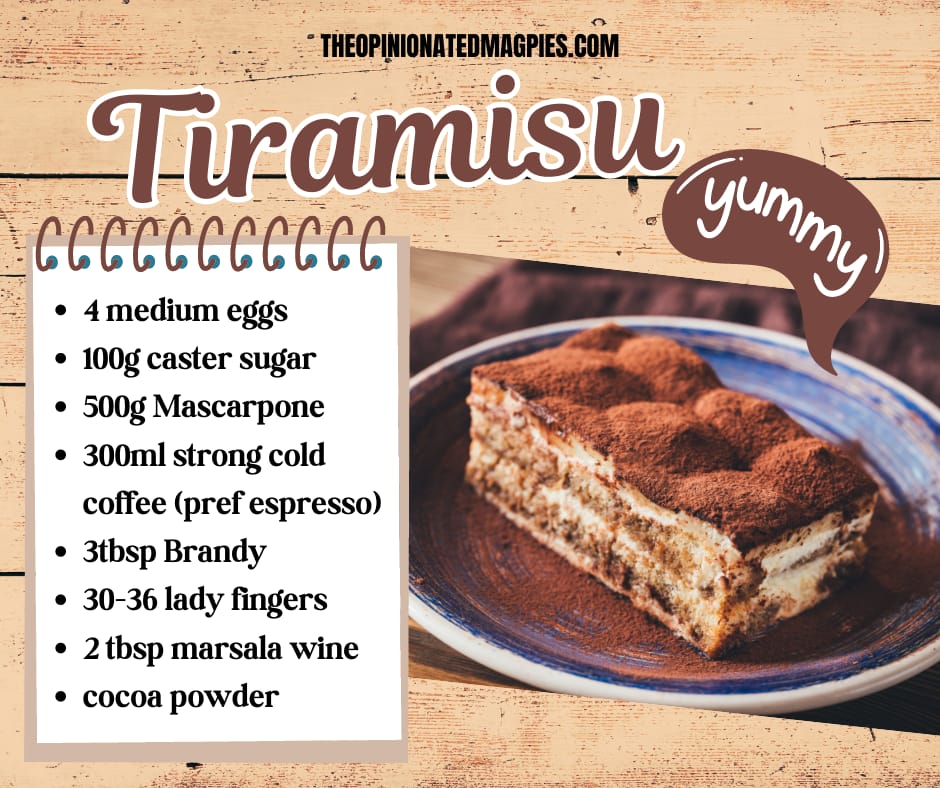 Directions
Make the coffee and add the marsala wine. You can always omit the alcohol if you do not drink or you are making it for children. Allow the coffee to cool whilst you continue making this delicious treat.
Separate the eggs and whisk the egg whites until stiff and do not move when you turn the bowl over.
In a separate bowl, whisk together with egg yolks and sugar for around 5 minutes until light, smooth and creamy.
Soften the mascarpone in another bowl and then add the egg yolks, whisking for another 2-3 minutes.
Carefully fold the egg whites into the mascarpone mix.
Quickly soak the ladyfinger biscuits into the cooled coffee. This should literally be for a second or two or the biscuits will become too mushy.
Arrange a layer of biscuits onto a square or rectangular Pyrex dish before adding a layer of the mascarpone over the top.
Repeat the process with at least one more layer, finishing with a thicker layer of cream mix.
Sieve unsweetened cocoa powder over the top of the finished tiramisu for a delicious bittersweet chocolate taste.
Some more Magpie Tiramisu Variations
For a refreshing (and egg free!) twist to the classic tiramisu, check out our White Chocolate and Limoncello Tiramisu Delight or our deliciously nutty White Chocolate and Pistachio Tiramisu.
I also like making a fruity version by swapping the pistachios with mixed frozen berries and have an ultra-secret recipe which my family adores at Christmas time! Maybe I will share this with you sometime.
For now, I hope you enjoy these easy-to-make recipes which are perfect during these hot summer days.
Sharing Is Caring:
Related Articles You Might Enjoy:
Every year on the 30th November, Scotland, and Scots around the world, celebrate St. Andrew's…