At the end of April, my husband and I took an improvised trip to Chiclana De La Frontera. In search of sun, good food and a disconnection from our daily routines, it ended up being the perfect weekend escape.
With 6km in length, the Playa de la Barrosa is one of the most beautiful beaches I have ever visited in Spain. We love to go on long walks, especially close to sunset. The fresh sea air and the expansive stretch of golden sand, help me whisk away worries and stress. It is the ideal medicine for my soul, the best form of self-care. It allows me to find peace and serenity.
Restaurant Popeye
Our first stop was for lunch at the restaurant Popeye. As you walk in, the first thing you see is a mural full of frames, with messages and photos of celebrities who have visited the establishment in the past. Their very own wall of fame. My husband was particularly excited to see Severiano Ballesteros message and autograph, in view of the fact that he is a massive golf aficionado.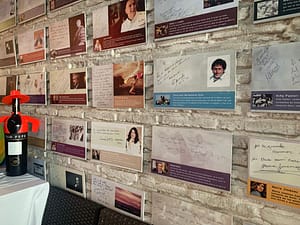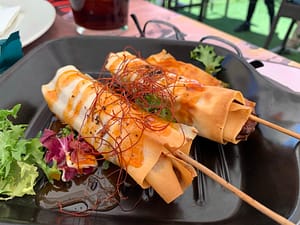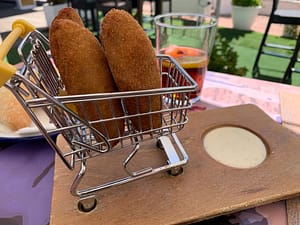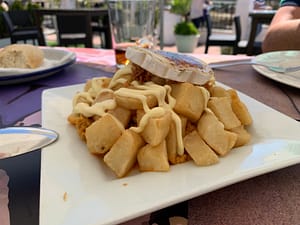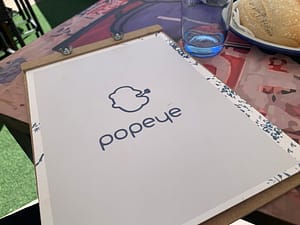 Whilst we waited for our table, we sat down by the bar area. David enjoyed una caña (small beer) whilst I admired the fresh fish in the display freezer. I kept thinking, "My dad would love this place, and probably order the most expensive fish on the menu." He was a lover of good food and even better wine.
I was impressed with the extensive selection of dishes available on their menu. After much deliberation (mainly because we wanted to order everything), we ended up ordering patatas bravas with minced meat and goat's cheese, ham croquettes, salmon rolls with tuna filling, and pastry prawn skewers with bacon and cheese. Needless to say, the food was exquisite and the service was top-notch.
However, when it comes to exquisite, the dessert takes the first price. OMG, we ordered the chocolate brownie with vanilla ice cream and I almost died and went to heaven.
Vincci Resort Costa Golf – Chiclana
Next up was the hotel check-in. It was quick and efficient and the staff was very friendly.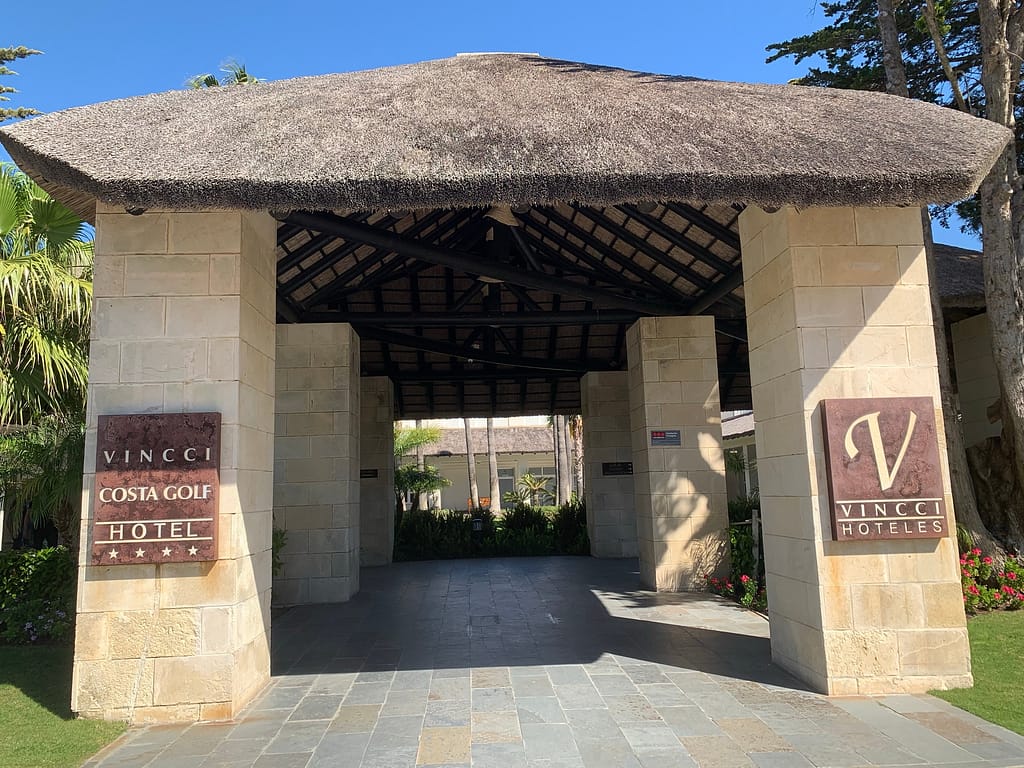 We literally found a great offer at the Vincci Resort Costa Golf over at booking.com two days prior. Our accommodation consisted of a living room with a dining area, complete with a mini fridge. It also had a spacious bedroom and en-suite bathroom. The living room led onto a lovely terrace. (Views weren't that good, but we really didn't mind as we didn't spend much time in the hotel).
We were short on time and just wanted to go out and enjoy a walk along the beach, so we really didn't explore the hotel. However, I can say that our room was very clean and comfortable, even the pillows, which is a plus for me.
Playa La Barrosa And Gorgeous Sunset
The first time I set foot on Barrosa Beach was a month after my father passed away. In search of a change of scenery and a break from grieving, my wonderful husband booked a night away. He introduced me to this beautiful beach. I remember walking for two hours, watching the sun go down, feeling the cool water on my feet, and feeling for the first time in weeks, almost like myself. Since then, this location holds a special place in my heart. It has become an escape of sorts.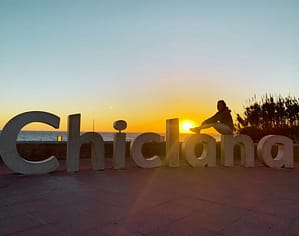 This time, I was again seeking to disconnect from reality and reconnect with the present moment. The last six months had been full of stress and worry regarding my health, followed, thankfully, by a successful medical procedure. I was definitely feeling the brunt of it. It felt as though it was carving out a hole in my soul, robbing me of my peace and burning me from the inside out. Watching the sunset as we walked along the beach felt like the cloud that had been hovering above my head was finally lifting. I could breathe and I could once again feel optimistic about the future.
The long walk allowed me to immerse myself in the beauty of the surroundings and embrace the simplicity of being in the here and now. There are no words to describe how beautiful it is there, so I will let the images we captured speak for themselves.
Morning Walks and Exploring
The next day we decided to venture out a bit more. We went for a walk on the promenade, which lines up with the beach and sat down for a coffee. Watching the world go by is one of our favourite pastimes. There is no need to engage in small talk, just enjoy our time together. Even though it was early, the beach and promenade were already bustling with people enjoying their morning. Whether it was swimming in the ocean or going for a jog, or like us, enjoying a cup of coffee and some churros.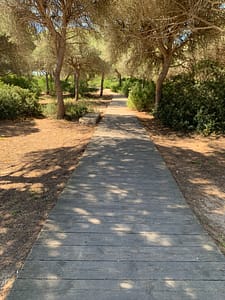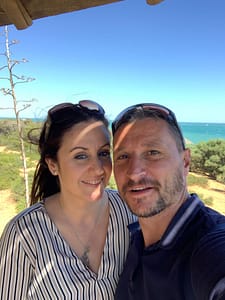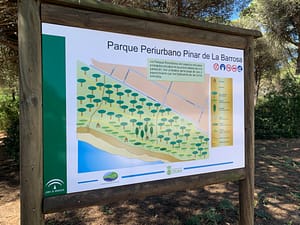 We then took a walk down to one of Chiclana's nature parks, Parque Periurbano Pinar De La Barrosa. Amidst the hustle and bustle of daily life, it was lovely to see people enjoying picnics and children playing, enjoying nature at its best.
After walking for a good twenty minutes we reached an open area looking out to the Isolte de Sancti Petri. This is a small barren island belonging to the municipality of San Fernando, Cadiz. We sat down for a while, taking in the stunning views and enjoying the rhythmic sound of the crashing waves. It was the perfect spot for some peace and quiet before making our way back for lunch.
Lunch At The Pescadores
It was almost 2 pm and we were starving and looking forward to some tapas. We decided to try out a restaurant at the end of the promenade called The Pescadores, a typical Spanish Marisqueria (Fish Restaurant). There are numerous restaurants in Chiclana with the same name. This one is located at the north end of the promenade, beside the famous ice cream parlour Emozioni.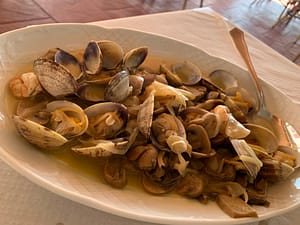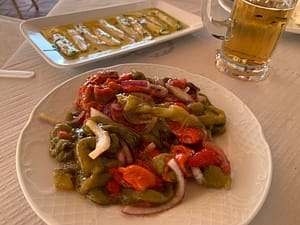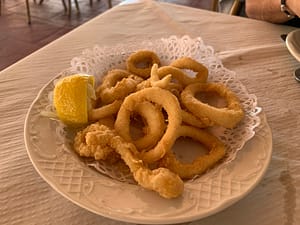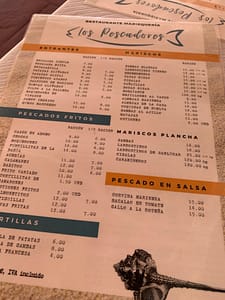 Again, the food was delicious and our waitress was a charming local woman, full of anecdotes about the restaurant business and life in Chiclana.
As you can see from the photos the food looked amazing. It tasted amazing too, especially the garlic clams.
We will definitely be eating at this restaurant again in the near future.
Ice-Cream To Die For
We decided to skip a homemade dessert and opted for ice cream instead from the ice cream parlour further up the street.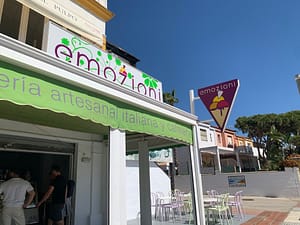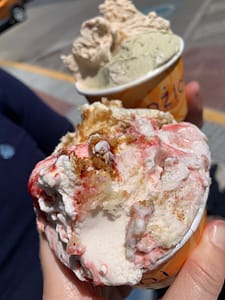 Emozioni should be renamed ice cream heaven. The sight of frozen delights behind the glass display overwhelmed me (in a good way). There was a substantial variety of flavours to choose from. Obviously, I wanted a scoop of each.
In the end, I opted for a scoop of strawberry cheesecake and a scoop of kinder bueno white chocolate. David went for the pistachio and dulce de leche. We left the Emozioni with a satisfied smiles on our faces and about to indulge in a major sugar rush. Simple pleasures that life has to offer always end up being what makes us the happiest.
We have visited Emozioni three times since that weekend, always trying different flavours. It will remain a favourite of ours for sure.
Final Thoughts
Two days away might seem like too short of a time to even bother packing a bag. However, for my husband and I, the chance of a brief escape from the everyday routine is always welcomed.
Whether it's exploring new landscapes, or simply enjoying moments of peace and solitude, a weekend away can leave a lasting impact on our well-being and outlook on life. It definitely serves as a reminder of the importance of self-care.
I hope you have enjoyed this review, short as it may be. Hopefully, it encourages you to plan a weekend away. In the meantime, I will continue enjoying our little getaways whilst creating memories that nourish my soul and inspire me long after the journey ends.
Is the beach not for you? How about a Spa Weekend? Check out our blog post on The Cala Resort Golf & Spa
Enjoyed our review? Please share with your friends!
Related Articles You Might Enjoy: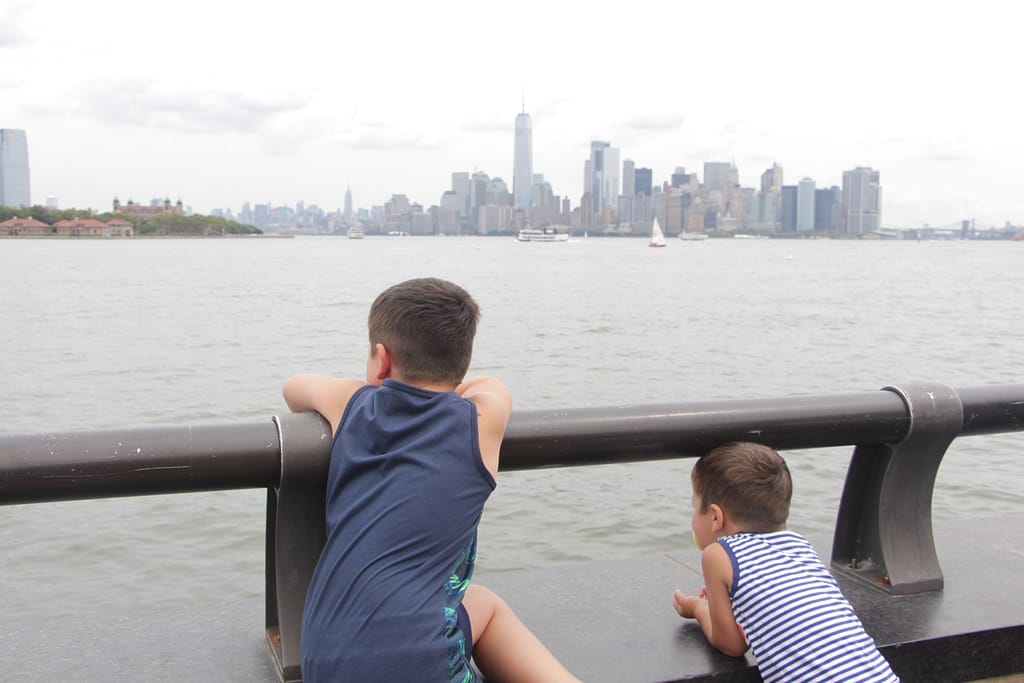 Whilst looking for photographs for the Mickey's Not So Scary Halloween Party blog I came…