One of the favourite traditions in our household is Pancake Day. We spend all day, whether at school or work, eagerly looking forward to that night's dinner. And, who wouldn't when dinner will consist of deliciously sweet treats! So naughty but oh so nice!
What is Shrove Tuesday?
Pancake Day, or Shrove Tuesday to use it's official name, is a popular tradition celebrated on the day before the start of the Christian season of Lent. The term "shrove" is derived from the word "shrive", which means to confess and receive absolution for sins. This was a common practice in the lead-up to Lent, when people would seek forgiveness for their sins and prepare themselves for the penitential season ahead.
Why Pancakes?
Over time, the custom evolved into a day for feasting. The tradition of having pancakes on Shrove Tuesday can be traced back to medieval England, where pancakes were made as a convenient way to use up perishable ingredients like milk eggs, sugar and flour which were avoided during lent. Pancakes were quick and easy to prepare thereby making them the perfect dish for a last-minute feast.
The tradition of Pancake Day has since spread far and wide, and is now celebrated in many countries around the world, including the United States, Canada, Australia, and New Zealand. And, the pancakes themselves have come a long way from their humble beginnings. While the traditional British pancake is made from a simple batter of flour, milk, and eggs, modern variations can include a wide range of ingredients and flavours, from sweet to savoury. Some popular toppings include fruit, syrup, chocolate, and even bacon, making Pancake Day a versatile and delicious holiday for everyone to enjoy.
Pancake Recipe (crepe style – thin and delicious)
Ingredients: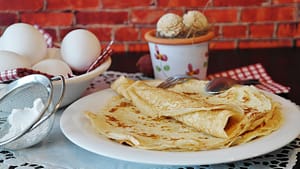 1 cup all-purpose flour
2 large eggs
1/2 cup milk
1/2 cup water
1/4 teaspoon salt
2 tablespoons melted butter
Instructions:
In a mixing bowl, whisk together the flour, eggs, milk, water, salt, and melted butter until smooth.
Let the batter rest for 15 minutes to allow it to thicken.
Heat a non-stick pan over medium heat.
Pour a small amount of batter (about 1/4 cup) into the centre of the pan and swirl to spread it evenly and thinly.
Cook the crepe for 1-2 minutes on each side, until lightly browned and set.
Repeat the process with the remaining batter.
Fill each crepe with your desired filling (see suggestions below.) and fold or roll as desired.
Serve warm and enjoy!
Pancakes (American style – thick and fluffy)
Ingredients: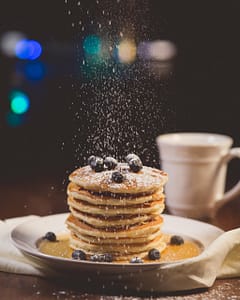 2 cups all-purpose flour
2 tablespoons sugar
2 teaspoons baking powder
1 teaspoon baking soda
1/2 teaspoon salt
2 large eggs
1 1/2 cups milk
2 tablespoons melted butter
Instructions:
In a large mixing bowl, whisk together the flour, sugar, baking powder, baking soda, and salt.
In a separate bowl, whisk together the eggs, milk, and melted butter.
Pour the wet ingredients into the dry ingredients and gently mix until just combined (don't worry if there are a few lumps).
Heat a large non-stick pan over medium heat.
Using a 1/4 cup measure, scoop the batter onto the pan for each pancake.
Cook the pancakes for 2-3 minutes on each side, until the edges start to look set and the tops are bubbly.
Serve hot with your desired toppings.
Top Tip: You can adjust the consistency of the batter by adding more milk for a thinner pancake or more flour for a thicker pancake. To make fluffy pancakes, do not over mix the batter and avoid pressing down on the pancakes while cooking.
Pancake Fillings
Maple syrup and butter
Fresh fruit (strawberries, blueberries, bananas, etc.)
Chocolate chips
Peanut butter
Honey
Whipped cream
Yogurt and granola
Lemon and sugar
Cinnamon and sugar
Ice cream
Nutella
Biscoff
Cream cheese and fruit preserves
Caramel sauce
Almond butter and honey
Lemon Curd
Bacon and eggs (savoury filling)
Options, options!
Deciding on which toppings to have can be a truly difficult one! In our house everyone prefers something different but my favourites would have to be Nutella with strawberries, banana with Biscoff spread (both options also served with ice-cream (I mean, in for a penny in for a pound right?) and a basic one with lemon and sugar.
So whilst for some Shrove Tuesday remains an important religious day in which to reflect on their spiritual journey and to seek forgiveness for their mistakes others will look forward to it simply as a day of fun and feasting with family and friends. Regardless of how you view the day, there is no better way to mark the occasion than with a hot and delicious pancake. So gather your ingredients, heat up your pan, and get ready to celebrate one of the most beloved and enduring traditions of the year. Happy Pancake Day!
Related Articles