As Valentine's Day, approaches many of us will be looking at booking a romantic getaway with our significant other. Renowned for its rich history, stunning architecture, and cosmopolitan culture, London could be the perfect destination to consider. London has something for everyone.
Iconic Landmarks and Museums
One of the best ways to experience the essence of London is to visit its most famous landmarks and museums. Take a stroll through St. James' Park to enjoy stunning views of Buckingham Palace. Visit the palace and watch the Changing of the Guard a centuries-old military tradition that's now a popular tourist attraction.
Another must-visit attraction is the Tower of London. A historic castle that's been used as a royal palace, a prison, and an armoury. Here you can see the Crown Jewels and learn about the castle's fascinating history.
The British Museum is also a must-visit for culture lovers. This world-renowned museum has a vast collection of artefacts and specimens from all over the world. Two highlights include the Rosetta Stone and the Parthenon sculptures.
Experience the Romance of London's Riverside
London's riverfront is one of the city's most romantic spots. Take a leisurely stroll along the South Bank. A promenade that runs along the River Thames and offers stunning views of the city's skyline. This area is also home to some of London's most popular attractions. Highlights include the London Eye , the Sea Life London Aquarium, and the London Dungeon.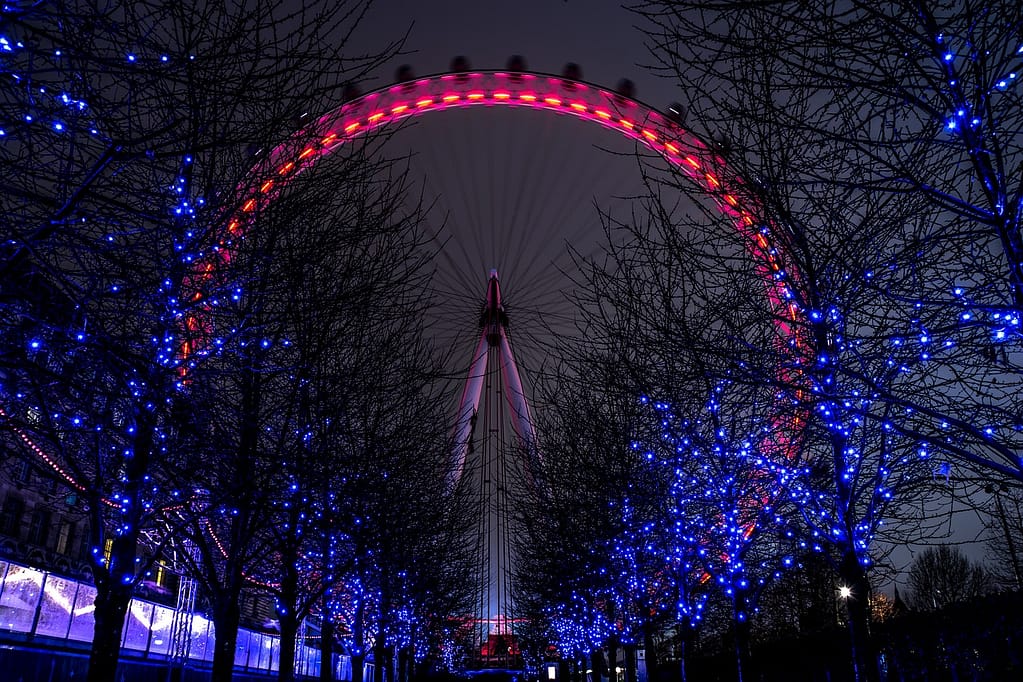 For a more intimate experience, book a riverboat tour and glide down the Thames. There are a variety of boat tours available, including dinner cruises, sightseeing tours, and champagne cruises. From here you can take in the city's stunning sights and sounds.
Take a Walk in the Park
London is home to some of the world's most beautiful parks, including Hyde Park, Regent's Park, and Greenwich Park. These lush green spaces are the perfect place for a romantic stroll or picnic.
Hyde Park is one of London's largest parks and is home to the famous Serpentine Lake, the Diana Memorial Fountain, and the Italian Gardens. Alternatively, Regent's Park which is known for its beautiful rose gardens and the London Zoo, will surely not disappoint.
Greenwich Park is a historic park that offers breathtaking views of the city. Here you can visit the Royal Observatory, where you can stand on the Prime Meridian Line, the line that separates the eastern and western hemispheres of the Earth.
Shop, Eat and Drink in London's Markets
London is famous for its vibrant market culture, and there are plenty of markets to explore. Borough Market is one of the city's most popular food markets, offering a diverse range of food stalls, cafes, and shops. Here you can sample a variety of delicious foods, including artisanal cheeses, freshly baked bread, and street food from around the world.
Another popular market is Camden Market. Known for its eclectic mix of vintage clothes, jewellery, and artisanal crafts the market is also home to a vibrant nightlife scene, with plenty of bars, clubs, and live music venues.
Covent Garden
Covent Garden offers a unique blend of history, culture and entertainment. At the heart of Covent Garden is its iconic Piazza, a lively square surrounded by historic buildings and bustling street performers. Take a leisurely stroll around the square taking in the sights and sounds of the city and watch as street performers entertain the crowds with music, dance and magic shows.
The historic floral hall is also a must visit. Browse the stunning selection of fresh flowers, plants and gifts and perhaps purchase a romantic gift for your loved one.
In addition, Covent Garden is a perfect place to enjoy a casual lunch or brunch or to take in a show or concert. For a unique entertainment experience, visit the Punch and Judy Pub. This historic pub has been putting up traditional Punch and Judy shows since the 17th century.
Visit an art museum
If you love art and photography, be sure to check out this guide for information on the top ten free galleries to enjoy in London. Spending quality time together and enjoying culture does not always have to break the bank!
Catch a show in London's West End
Surely no visit to London with your significant other can be complete without catching a West End show. Be sure to check out the London Theatre Guide for up to date listings on what shows are currently on during your visit. I've thoroughly enjoyed watching Phantom of the Opera, Wicked, Dirty Dancing, Joseph and The Technicolour Dreamcoat and The Woman In Black to name but a few. You are sure to find something for all tastes.
Indulge in London's Fine Dining Scene
Be sure to research your options for a special and romantic dinner in the capital. London is home to a thriving fine dining scene, and there are plenty of restaurants to choose from ranging from British cuisine, exotic Asian dishes, Mediterranean tapas… the choices are endless.
Given the vast array of activities London has to offer, we would highly recommend that you consider a visit to London this Valentine's Day or for any other romantic getaway.
Related Articles: