Rainy Days Happen
Finally, we are all enjoying travelling and doing all those outdoor activities which were prohibited during lockdown.  All sporting activities are back and children are thriving.  The last thing we want is to have to be stuck indoors again.  But, rainy days do happen. And, whilst these can be a welcome opportunity for some R&R, keeping little ones entertained whilst being cooped up indoors can be hard.  We've got you covered though!  Check out our top ideas for fun indoor activities which are sure to keep the whole family entertained.
Kids need to burn their nervous energy
When we are stuck indoors we need to find alternative ways to make sure that our kids burn up all their nervous energy. Failing to do so could result in our children becoming irritable, aggressive and exhibiting other inappropriate behaviour. This is usually just their way of attention seeking.
There are plenty of fun indoor activities which are sure to wipe out your little ones when cooped up at home.
Energy Burning Activities
Have a dancathon or play musical statues.
Download a fun playlist your little ones will enjoy and get dancing.
Check out our post on Playlists for babies, toddlers and pre-schoolers.
Set up an indoor assault course
Sack race – If you don't have party sack races, don't worry!  A large pillowcase will work just as well.
The Floor Is Lava – Line the floor items which your children will have to navigate without stepping on the lava. Items such as cushions, skipping ropes and yoga blocks work well.
Tunnels – Kids love crawling through tunnels. If you don't have any pop-up crawl tunnels, just use chairs.
Limbo – Stretch out some string on two chairs and have your little ones do the limbo
Hoola Hoop – see who can keep going the longest
Run whilst balancing a beanbag on your head
Do ten jumping jacks
Make a hopscotch using masking tape
Scavenger hunts are always so much fun.
Bring the fun indoors and use household items to come up with clues which will have your little ones running to discover the treasure.
Subscribe to our newsletter for a free home scavenger hunt kit.
An oldie but a classic. Is there any better indoor activity than this?
Craft Activities
Kids love getting messy. Hand or finger painting will be an indoor activity that you will repeat again and again.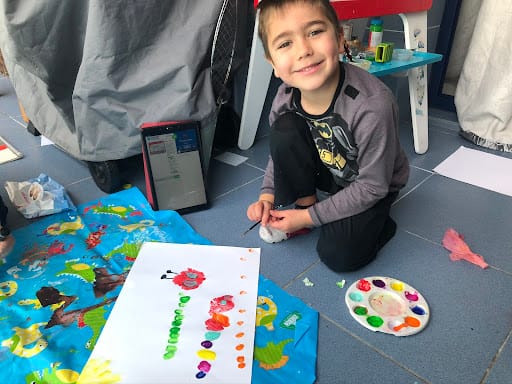 Have A Drawing or Painting Competition
There are some great tutorials on YouTube which you can follow as a family and learn to draw. We love Cartooning Club.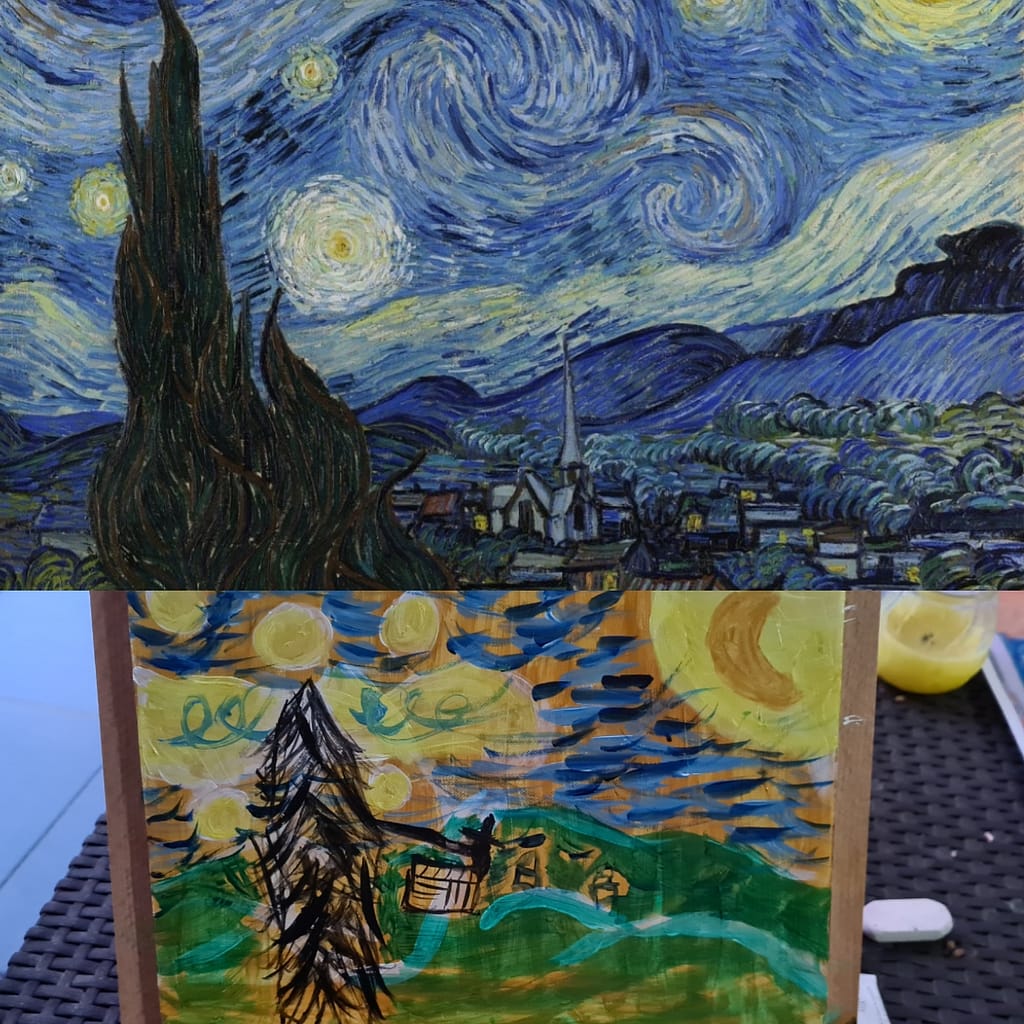 Let them go wild with some face paint.
With just a few simple supplies you will be able to make some fun raised paintings.
Grab some white PVA glue, salt, watercolours, brushes or droppers and you are set.
All you need are old socks and some buttons to make them come to life. If your kids are too young then give them stickers instead of buttons to avoid sewing.
During summer, collect some smooth rocks which you can then paint during winter in a fun indoor activity.
Make Owls or Fairy Houses
Save some loo rolls and have your little ones decorate them as fairy houses or owls.
Or, make a robot using foil and empty cereal boxes.
Science or STEM Activities
Get them to learn whilst having fun. 
This fun indoor activity will surely wow your little ones. And, it is so easy to set up.
Materials
Empty plastic bottle
Dry yeast
Warm water
Fairy Liquid or other similar washing-up liquid
3% hydrogen peroxide
Measuring cups and Measuring spoons
Safety glasses
Large tray to catch the foam
Liquid food colouring (optional)
You should carry out this activity where any spills can easily be contained. The kitchen, bathroom or outdoors would be good locations.
We recommend that you wear your safety glasses before carrying out this experiment as the hydrogen peroxide can irritate your eyes.
Do not forget to remind your children that whilst this is called Elephant Toothpaste and indeed looks like toothpaste IT IS NOT AND MUST NOT BE USED!!
Ask your kids to watch what happens when you add the yeast to the bottle and to take in any changes. How long does the reaction last?
Method
Measure 1/2 cup of hydrogen peroxide. Pour it into the bottle, VERY CAREFULLY.
Add a large squirt of Fairy liquid into the bottle, and swirl gently to mix.
If you want to add some colour to your toothpaste, add a few drops of food colouring into the hydrogen peroxide, and swirl the bottle gently to mix.
In a measuring cup mix together one tablespoon of yeast and three tablespoons of warm water. Stir for about 30 seconds.
Pour the yeast mixture into the bottle then quickly step back and watch your reaction go!
Explain to them the process that led to the reaction they saw.
By way of simple explanation, when the yeast is added to the hydrogen peroxide it starts breaking down into water and oxygen.
Given that Oxygen is a gas, it wants to escape the liquid but the dishwashing liquid traps the gas bubbles and turns it into a foam. The reaction will continue whilst there is some hydrogen peroxide and yeast left in the bottle. Once either of them runs out the reaction will stop.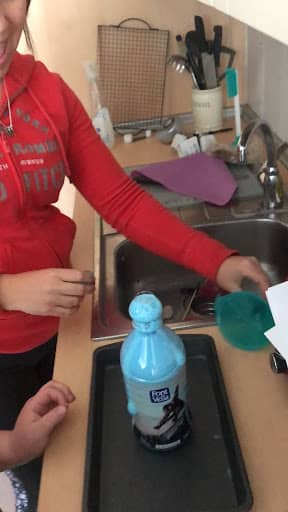 This was one of the fun indoor activities which our boys undertook as part of a Scout challenge during lockdown.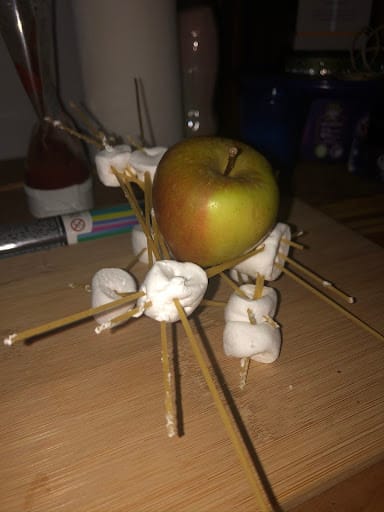 Grab an apple, marshmallows and pasta and see if you can balance an apple on the top.
Make a boat from card and have a bathboat race
Make paper aeroplanes and see who's plane flies the furthest
Bake or Cook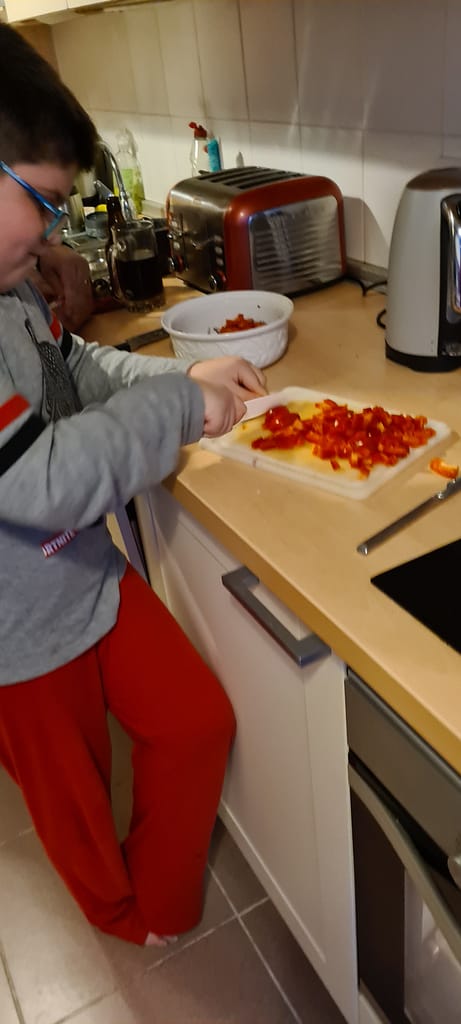 Evan learning how to make Chilli Con Carne during lockdown.
Make and decorate some cupcakes
Make some Rice Krispie treats
No Effort Indoor Activities
Ideas for when you are exhausted and just need something easy to keep them entertained.
Grab some ready-made supplies and have an indoor picnic.
Make a fort using chairs and blankets – During lock-down we even put blow-up beds in the fort and we slept in the living room!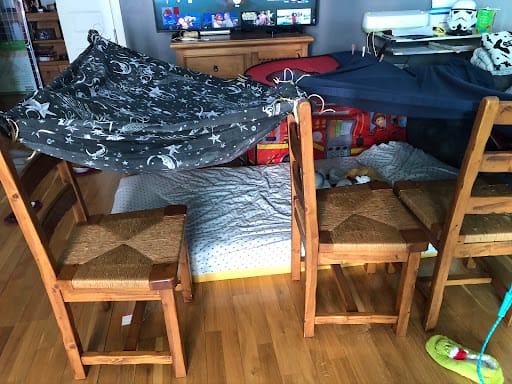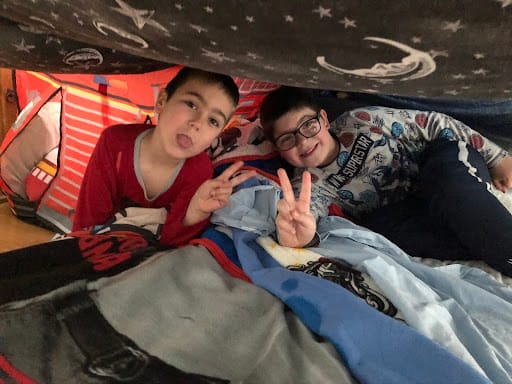 Finally, although not an indoor activity, when all else fails, nothing will beat jumping in puddles!
Sharing Is Caring:
Related Articles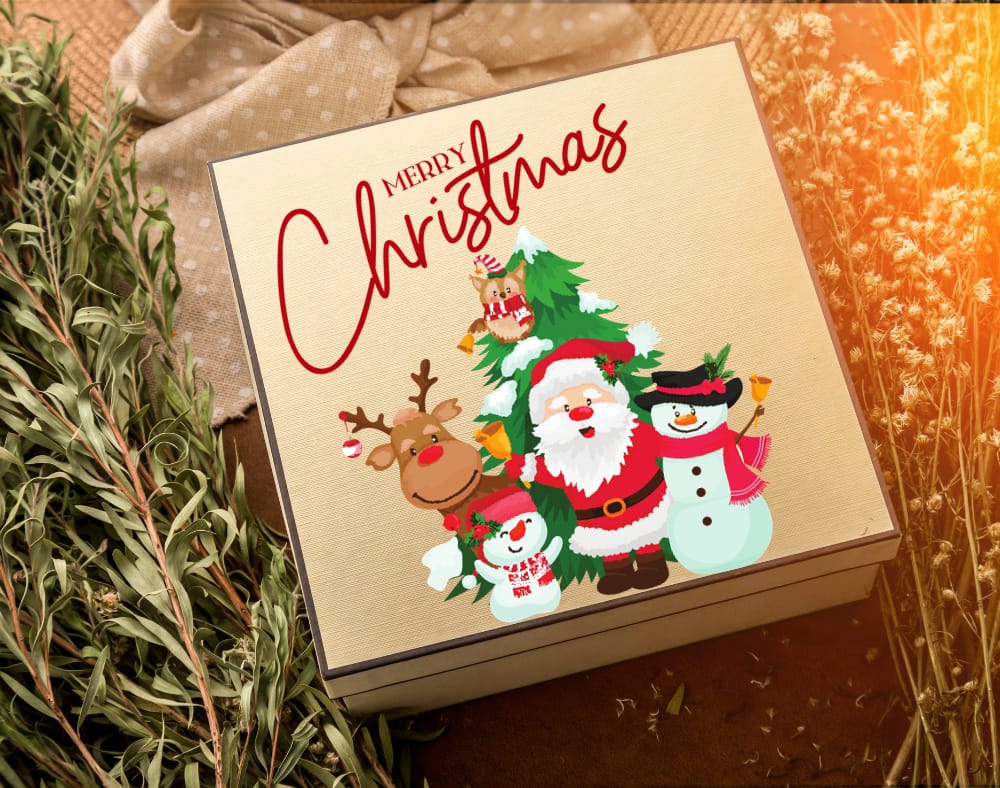 Christmas family traditions play a big part in our family dynamics. A few years ago,…