Whilst it may feel as if summer has only just come to an end this blog is about the C-word! Yes, Christmas! It's only October, and we're just beginning to adjust to the cooler weather, but when it comes to Christmas cake, it's time to start baking now. Because, if you want to bake the perfect Christmas cake, timing is everything.
For me, Christmas baking always takes place during the last weekend of October. This Tasty Thursday, get your supplies early to prepare the perfect Christmas cake in time.
As an Amazon Associate, we earn a commission from qualifying purchases. Some of the links on this post are affiliate links. This means that if you click on the link and make a purchase we may earn a commission at no extra cost to you. Learn more here.
The Tradition of the Christmas Cake
Christmas cake began as plum porridge, ideal for filling stomachs on Christmas Eve after religious fasting. Back then, dried fruit were generally known as plums hence the name plum cake or pudding. In the 16th Century, wealthier families began making today's fruit cakes with spices representing those offered to Jesus by the Wise Men.
However, the Puritan government banned Christmas in the UK during the mid-17th Century. They deemed the celebrations a mere pagan festival and an excuse for dancing, singing, and drinking since the 25th of December is not a festive day in the Bible. The government banned Christmas, kept shops open, and closed churches to prevent Christmas services.
This brought about violent disturbances and looting throughout the UK eventually leading to a rebellion and a second Civil War. In fact, the ban had the opposite effect to that which the government was seeking to achieve because although people became less religious the ban did not stop them from continuing to treat the occasion as a reason to eat, drink and have fun! It was not until the reinstatement of the monarch eighteen years later that the official celebration of Christmas returned.
Abolition of the 12th Night Celebrations
The UK celebrated the traditional 12th night celebrations until the late 19th century, during which people enjoyed fruit cakes. However, Queen Victoria banned this tradition as it was not considered a Christian festival. The ban caused confectioners to lose money, giving rise to modern Christmas cakes with decorated icing for celebrations
Royal Icing
People traditionally used royal icing to decorate Christmas cakes. It earned its name "royal" icing because it was the icing used for decorating the wedding cakes of the British Royal family.
Today, people decorate Christmas cakes with either royal icing or fondant. I use Deliah Smith's recipe found here and decorate my cake with marzipan and fondant icing.
Feeding Your Cake
So you might be thinking why do we make our Christmas cakes in October? The answer is easy. "Feeding" ensures a deliciously moist, boozy cake for Christmas day.
"Feeding" refers to adding alcohol (typically Brandy, sometimes Whiskey) to the cake. I do this on a weekly basis up to the week before Christmas itself. This is when I cover my cake with marzipan.
To do this I recommend that you use apricot jam to make sure that the marzipan sticks onto the cake. I bring 3 tablespoons of the jam to the boil together with a tiny amount of water and then strain it through a sieve to make sure that there are no lumps. Using a pastry brush, brush the cake board with a little of the jam to prevent the cake from sliding about. Level the top of the cake if needed and measure out the cake so that you know how big you need to roll the marzipan. A good tip for doing this is to use a piece of string to measure the top and sides of the cake. Once you have done this cut out the string and this will tell you how big the marzipan needs to be. Follow this video for a simple step-by-step guide.
Icing Your Cake
Once the marzipan is dry (I usually cover my cake with a clean tea towel for 2 days for the marzipan to dry) it is time to ice the cake. I prefer buying Ready Rolled Icing as this saves a lot of time and gives you a clean, smooth finish to your cake. Make sure you have an Icing Smoother tool to give you a perfect finish.
To decorate your cake you can buy an edible icing cake topper such as this one or you can keep your cake nice and simple and add some simple icing snowflakes. I find that this gives you a very simple but elegant looking cake. This edible cake ribbon would also give your cake a nice finish.
I have made countless cakes over the years and each year I try to give it a different look. Here are some of my Christmas cakes (remember I am a mere hobby baker!)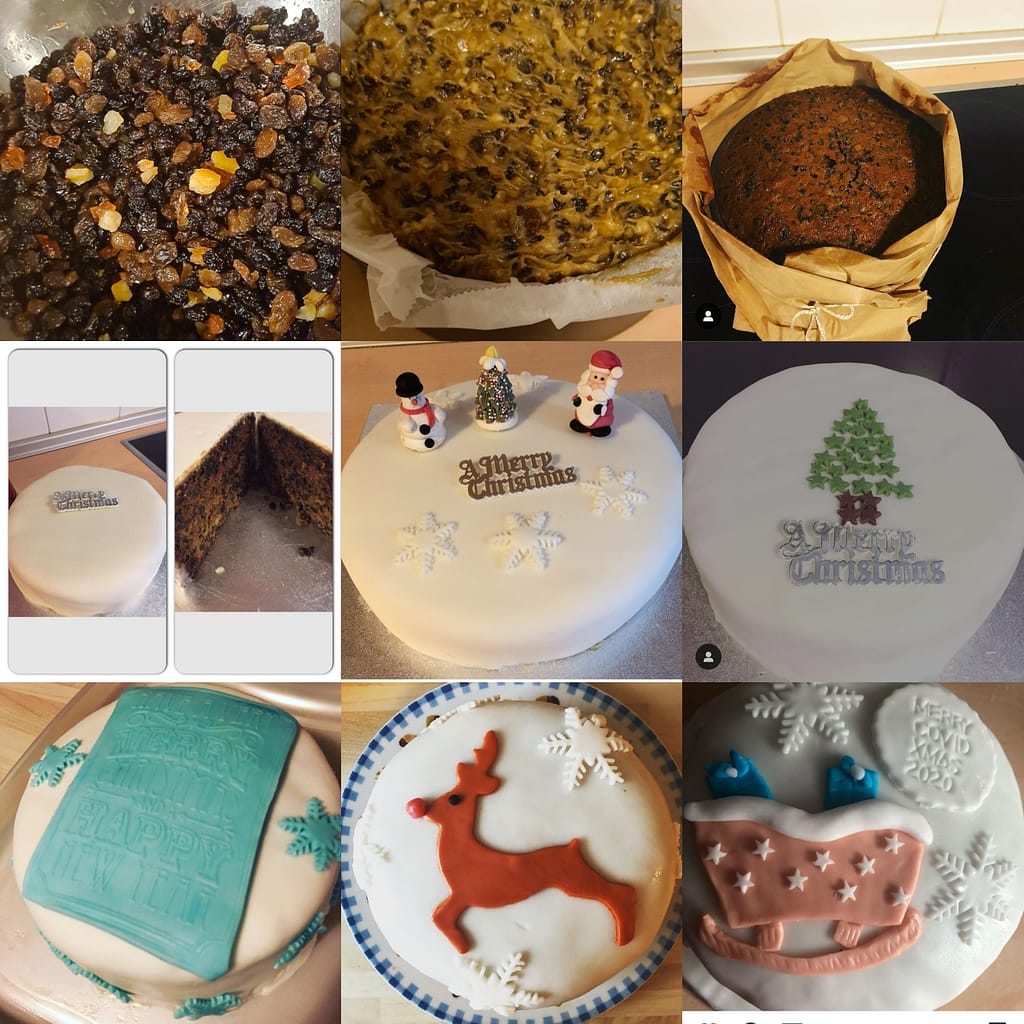 Nothing Beats Homemade
Whilst there are countless ready-made Christmas cakes which you could buy, nothing beats homemade. I hope that this blog inspires you to have a go at baking your own Christmas cake this year.
Sharing Is Caring:
Related Articles You Might Enjoy:
Every year on the 30th November, Scotland, and Scots around the world, celebrate St. Andrew's…