Health Benefits Of A Decluttered Home
As I researched the health benefits of a decluttered home, it dawned on me how and when my need for one started. It all came about as a result of growing up with health problems. One of the most profound memories I have from my childhood is my poor health and the sacrifices my parents made to keep me healthy. When I was barely a toddler, I was diagnosed with chronic bronchitis, asthma and allergies. To my understanding, my father suffered from the same ailment and later on so would my younger brother.
For years I was injected every day with what I believe must have been antihistamines (I assume, as when I ask my mother now, she isn't sure what exactly was in those injections). I was prescribed inhalers, a plethora of cough syrups and a nebulizer machine. The episodes of acute chest infections were horrendous. Ice lollies and running around like other kids was forbidden for me. Laughing too much was out of the question too, as it would bring about a wheezing episode.
My parents were advised to keep me away from the countryside, and animals and most importantly, provide a dust-free environment. I was not allowed to keep cuddly toys and my room was kept with minimum clutter. This is where my need and passion for decluttered, clean spaces took root.
The upkeep of my bedroom consisted of, clean bedsheets on a daily basis, weekly change of curtains, my furniture had to be cleaned with water and soap and my mattress vacuumed daily. It was a constant struggle for my mother, however, she took it all in her stride and made the best out of it.
I Took It Upon Myself To Keep My Environment Clean
As I grew older I remember wanting to help with the cleaning, however, my father wouldn't allow it. He claimed it would aggravate my condition. When I hit my teenage years, my bronchitis seemed to have improved. I was no longer ill for months on end, I could enjoy a day out in nature and gradually became more active. The summer season provided a respite. We live by the sea, so I would spend my days at the beach taking in the fresh sea air.
By the time I reached my late teens, I was working and leading a normal life. It was at this time that I took over the cleaning and organizing of my bedroom. And it was at this time that I discovered that not only did I need clean and organized surroundings for my health, but also, it had become essential for my mental health.
I am not sure if it was brought about by my health issues, but I was always an anxious kid. I carried this anxiety with me straight into my teen years and adulthood. Making sure that my bedroom (and later on my home) was clutter free and clean provided me with a feeling of calm and accomplishment. At no time did it escalate to an Obsessive Cleaning Disorder. I was too busy with work and socializing to let it take over my life, however, it did boost my mood and reduce my anxiety.
Health Benefits of Keeping a Decluttered Home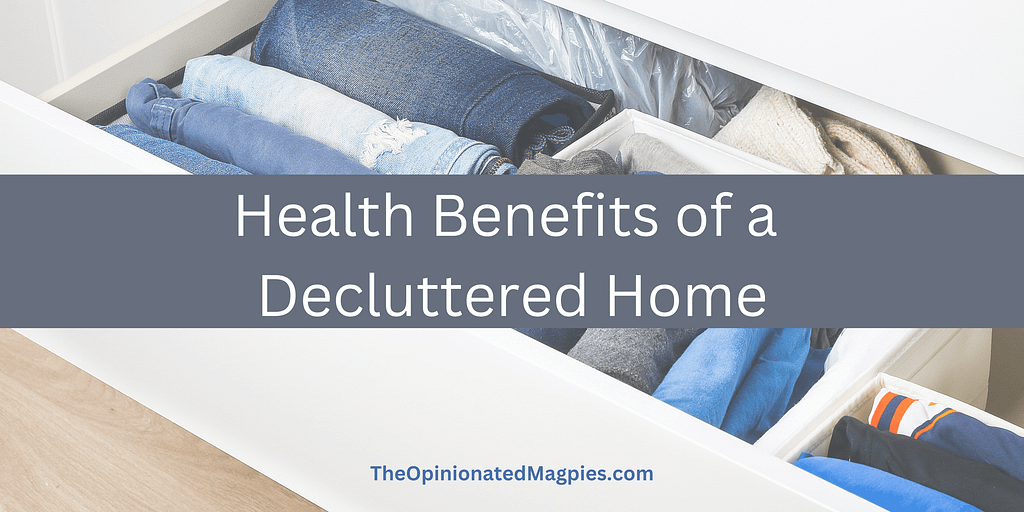 Let us start with the health benefits, the best part of a decluttered home.
Less clutter = less dust, mould and mildew which may result in asthma and allergies.
An organized and clean home will boost your mood and reduce your anxiety levels. It will decrease the stress hormone, cortisol.
Decluttering energizes you into a productivity mode and keeps you active.
Promotes better sleep. A calm and clean bedroom environment will help you sleep soundly.
Improves focus and concentration.
It helps build trust in yourself and increases self-confidence. Creates a sense of self-efficacy.
Creating a to-do list for your decluttering strategy and ticking off each task will help improve mental health.
Fewer things to clean results in more time for self-care.
Improved lifestyle and well-being.
Clean and orderly kitchens make it easier to prepare healthy meals.
The Dos and Don'ts of Decluttering
Research shows that the cause of clutter could be due to depression, low self-esteem or lack of personal boundaries. In any case, the trick to keeping a consistent schedule is to not dive in full-on and become overwhelmed. Let's have a look at how to approach decluttering sensibly.
Formulate a plan. Do not start any major decluttering without one.
If you plan to donate or sell, make sure to not hang on to stuff for a long time.
Don't try decluttering all at once. Target different rooms on different days and if possible divide rooms into small areas.
It is easy to get wrapped up in the sentimental value of certain possessions. Try to break free from that pattern.
Don't try to organize the room before decluttering. It is much easier to order and categorize after the clutter has been eliminated.
Tips to Get Started.
Allocate 10 minutes each day to decluttering.
Fill a trash bag a day.
Tackle one closet a day, donate clothes
Create a checklist.
Give away an item a day.
Concentrate on a room at a time, and break up the room into smaller sections.
Remove the easiest items first.
Create a filing system. Concentrate on filing a small pile daily.
Making Decluttering a Habit.
During the different seasons of my everyday life, keeping my home to my usual organized standards becomes quite a task. It's times like these when my mental health gets tested. Therefore I have established certain habits that keep me on track most of the time. It may not be perfect, but it keeps my space clear and organized.
I keep a simple and straightforward to-do list. Every night before I go to bed I write out my plan for the next day.
At home, I have a place for almost everything. Keys, bills, pens, chargers etc. I make it a point of placing back anything that is left laying around in its designated space. The plus side is, everyone in my family knows where to find stuff, no wasted time.
Being a creature of habit, I follow a daily routine. More often than not, it gets thrown out the window because life gets in the way. However, I always try to get back on track.
Perfectionist is a title I have worn with pride in the past, but when it comes to decluttering, it is better left aside. There is no perfect way of purging unnecessary items from your home, the point is to do it and clear up your space.
Read about our daily habits and the benefits of daily tracking.
Decluttering books to Motivate You.
If you are still not sure if decluttering your home is something you want to do, I recommend the following books. You will surely find something to inspire you.
The Life-Changing Magic of Tidying Up – Marie Kondo
Declutter Like a Mother – Allie Casazza
The Declutter Challenge – Cassandra Aarssen
Kurashi at Home – Marie Kondo
Cluttered Mess to Organized Success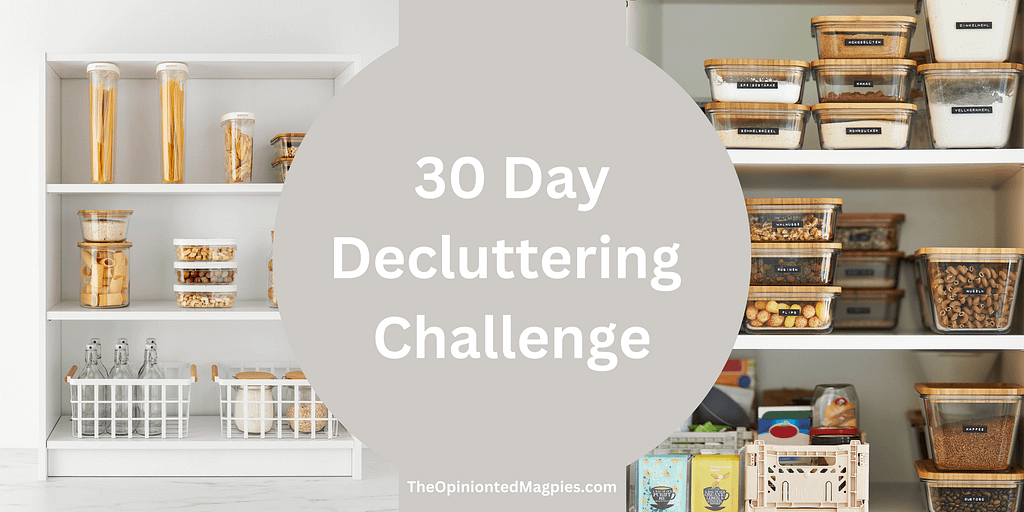 Why not start off with our 30-Day Decluttering Challenge? Commit to 30 days and it might be the start of a new way of life. And I promise, once you get a taste of what an organized and clean home feels like, you will never go back. Plus don't forget all those health benefits of keeping a decluttered home.
THE OPINIONATED MAGPIES 30-DAY DECLUTTERING CHALLENGE
So, that's 30 days of Decluttering laid out for you. Needless to say, once you get started it becomes so much easier to maintain a routine.
Let us know if you decided to challenge yourself, or if you have any decluttering ideas. We love and welcome feedback.
Remember the only thing holding you back is you!
Milly & Colleene
Related Articles