If you read our last blog you will by now have the basics on how to throw an epic Halloween party. Spooky decorations and music as well as fun games are the foundations for a fun time to be had by all. And, once the scene is set it's time to turn your attention to Halloween party food. After all, what's a party without good food? As always we have you covered with our own special recipes and some fabulous ideas we've rounded up from the web that will make your Halloween party a huge success.
Amazon Associates
As an Amazon Associate, we earn a commission from qualifying purchases.  Some of the links on this post are affiliate links.  This means that if you click on the link and make a purchase we may earn a commission at no extra cost to you.  Learn more

here.
Spooky Spider Deviled Eggs
An oldie but definitely a classic Halloween party food. A must-have at any Halloween party.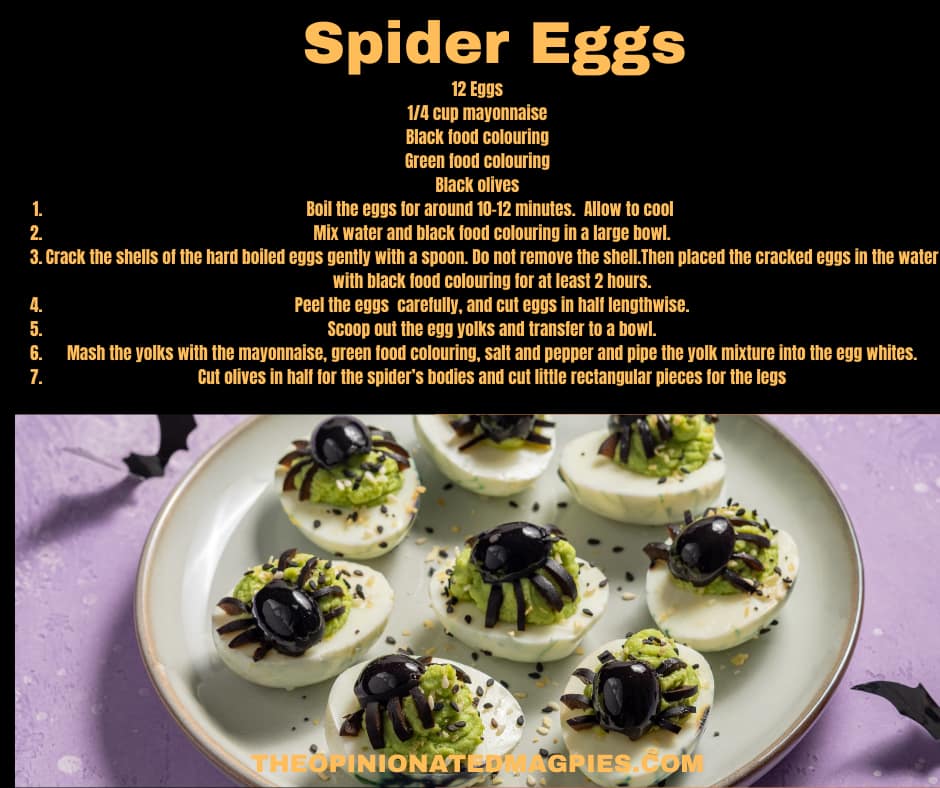 Mummy Hot Dogs
Jack-o'-Lantern Stuffed Bell Peppers
Carve jack-o'-lantern faces into orange bell peppers and remove the seeds and membranes. Fill them with a mixture of cooked rice, ground meat (or vegetarian alternative), diced vegetables, and your favourite seasonings. Bake until the peppers are tender and the filling is cooked.
Witch's Finger Breadsticks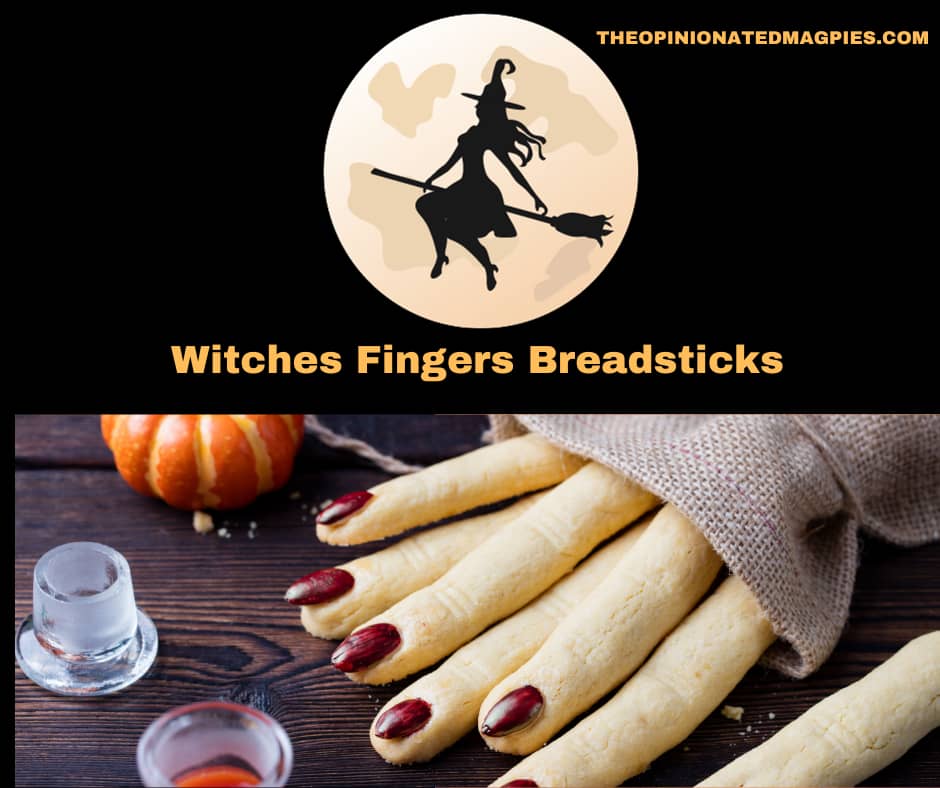 Prepare breadstick dough and shape it into thin finger-like sticks. Use a knife to create knuckle lines and almond slices for the fingernails. Bake until golden brown and serve with a "bloody" marinara sauce or your favourite dip for a perfectly gruesome Halloween party food. This recipe by Tastes Better From Scratch is easy, delicious and can be made ahead and frozen.
Graveyard Taco Dip
Layer refried beans, guacamole, sour cream, and salsa in a rectangular dish. Place tombstone-shaped tortilla chips in the dip and use black olives or piped sour cream to create spooky designs on the tombstones.
Halloween Sugar Cookies
Our sugar cookie recipe is super tasty. The secret is the addition of the spoonful of Biscoff spread! This is a fun activity to do with your little ones. My two always liked decorating cookies for Halloween and all other holidays and this makes a cute and tasty Halloween party food.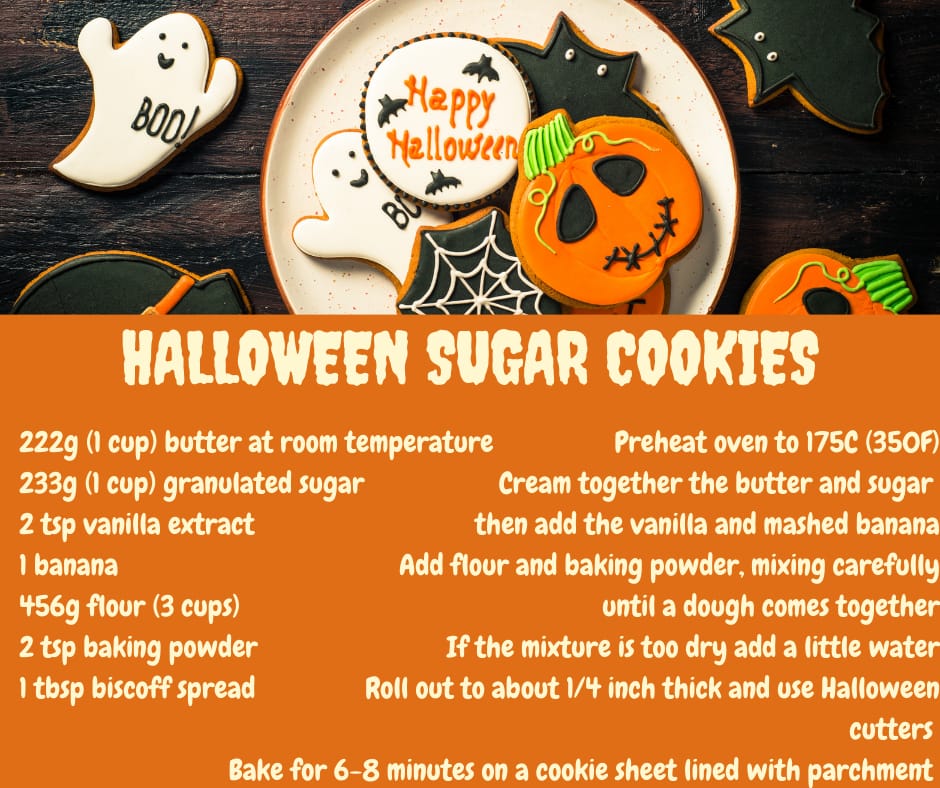 Banana Mummies
Close your eyes and pretend that your kids are eating a healthy-ish dessert when you serve this banana recipe. Simply dip bananas in white chocolate and sprinkle with coconut flakes (you can omit the coconut if your children are not keen). Melt some milk chocolate and use a piping bag with a small nozzle to draw some spooky faces on your bananas.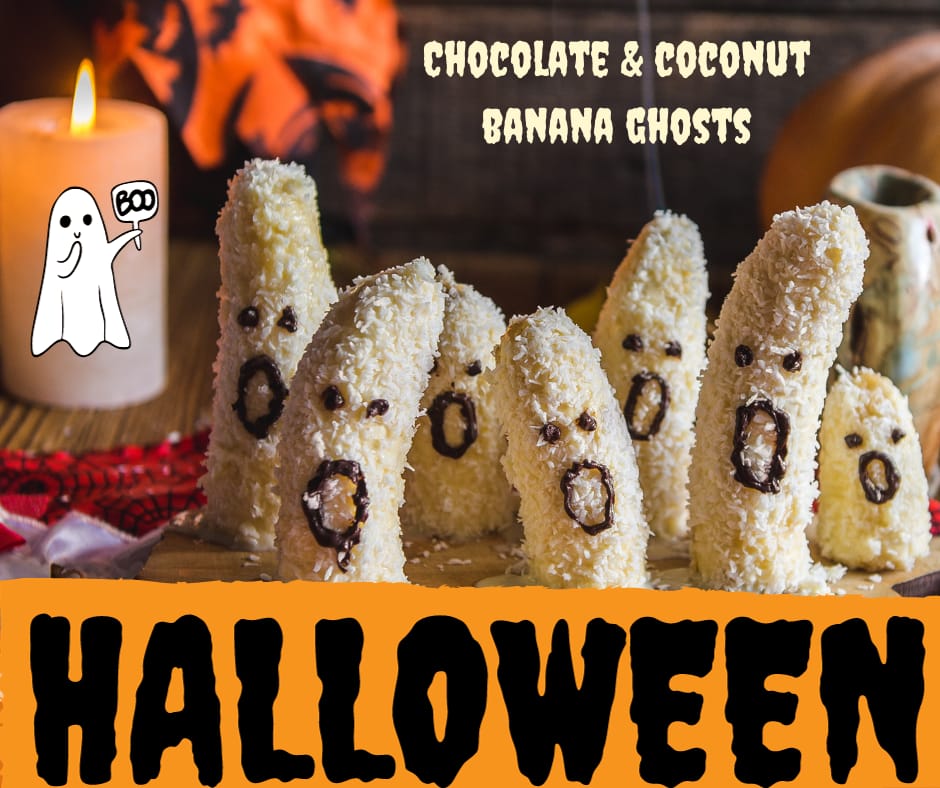 Chocolate Covered Candy Apples
Another fruit treat – so it's healthy…right?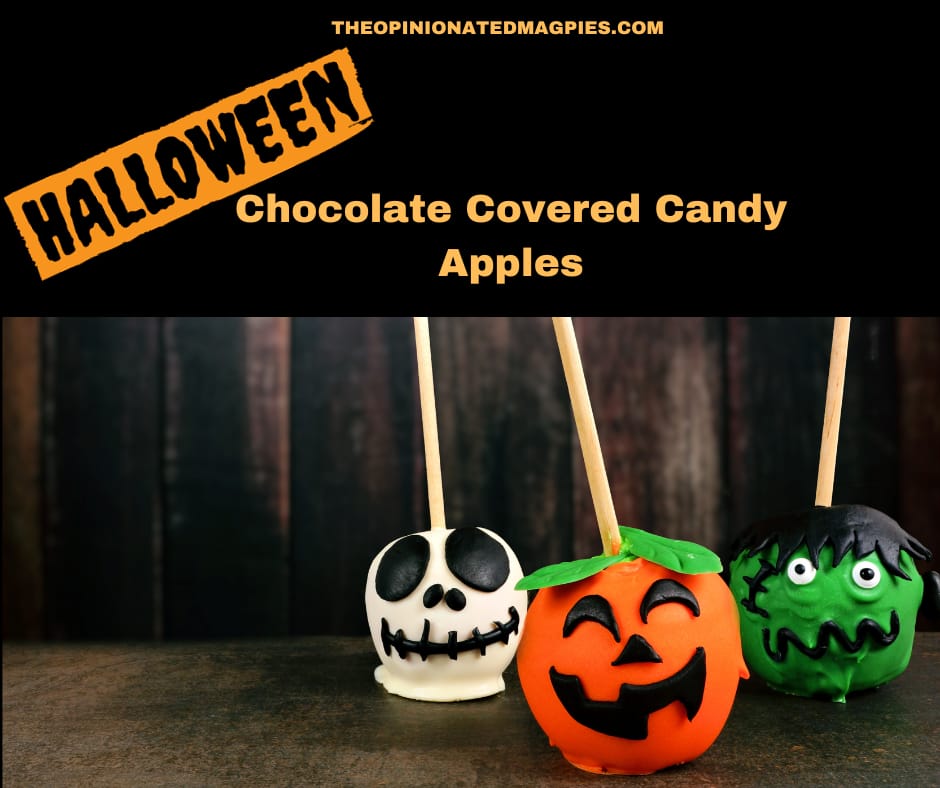 Ingredients
4 Granny Smith apples
White chocolate
Lollipop sticks
Food colouring
Icing
Directions
Melt white chocolate in short bursts in the microwave or over a bain marie. Pour into three separate glasses. Add some orange food colouring to one glass and green colouring to another.
Push a lollipop stick into each apple.
Dip in the chocolate and make sure you cover the whole apple.
Allow any excess chocolate to dip back into the glass and then let the chocolate set by placing the apple down onto a cookie sheet lined with parchment paper.
Once the chocolate has set, decorate your apples using icing and some more melted chocolate. There is no need to buy different coloured icing – just buy white icing and use food colouring as required.
Red Velvet Bone Cake
I haven't yet made this cake but I came across it whilst preparing this blog and I definitely want to give it a go so I thought I would share it with you all. Check out the step-by-step guide here.
Zombie Brain Cupcakes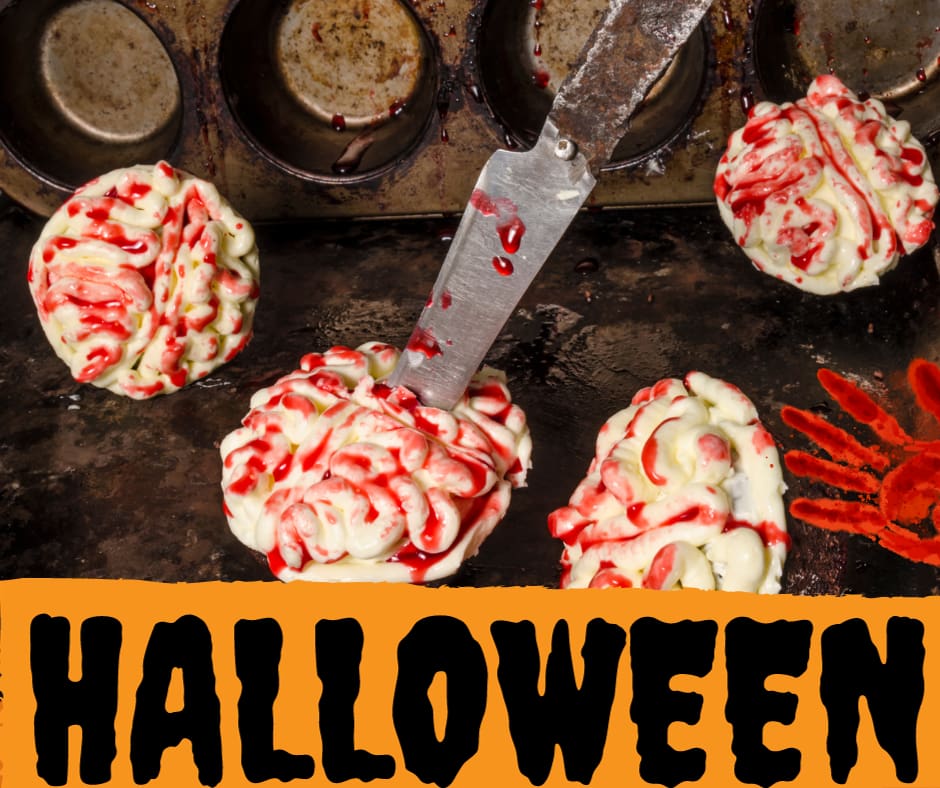 Cupcake Ingredients
175g caster sugar
175g butter, softened
3 medium eggs
150g self-raising flour
1 tsp baking powder
25g cocoa powder
Frosting Ingredients
455 g icing sugar, sifted
325g unsalted butter at room temperature
1 tsp vanilla extract
¼ tsp salt
Red food colouring
Directions
Preheat oven to 180℃/350℉.
Line two 12-hole muffin tins with paper or silicone cases.
Cream together the butter and sugar and then mix in the eggs.
Add the flour, baking powder and cocoa powder and beat for 2 minutes until smooth.
Fill the muffin cases with the cupcake mix and bake for 15-20 minutes.
Transfer to a wire rack to allow the cupcakes to cool.
Using a stand mixer (I love my Kitchenaid mixer) make the icing by whisking together the icing sugar and softened butter. Add a little bit of red icing to create a light pink icing.
Fill an icing bag fitted with a round nozzle with the icing.
Create a mound of icing by making circles all around the cupcake. Then add an extra line of icing down the middle of the cupcake and use that as the dividing line for the "brain". Make the brain by making snake-like swirls along both sides of the cupcake.
Drizzle some red icing along the cupcake so that it looks like blood.
Dracula Dentures
Cover shop bought chocolate chip cookies with red frosting. Add mini marshmallows around the front and a couple of slivers of almonds for the incisors. You can also add a white chocolate mouse to the top to decorate.
N.B. You can of course make your own cookies using your favourite recipe if you prefer but on this occasion, we are giving you a fab cheat to make your Halloween party prep a breeze.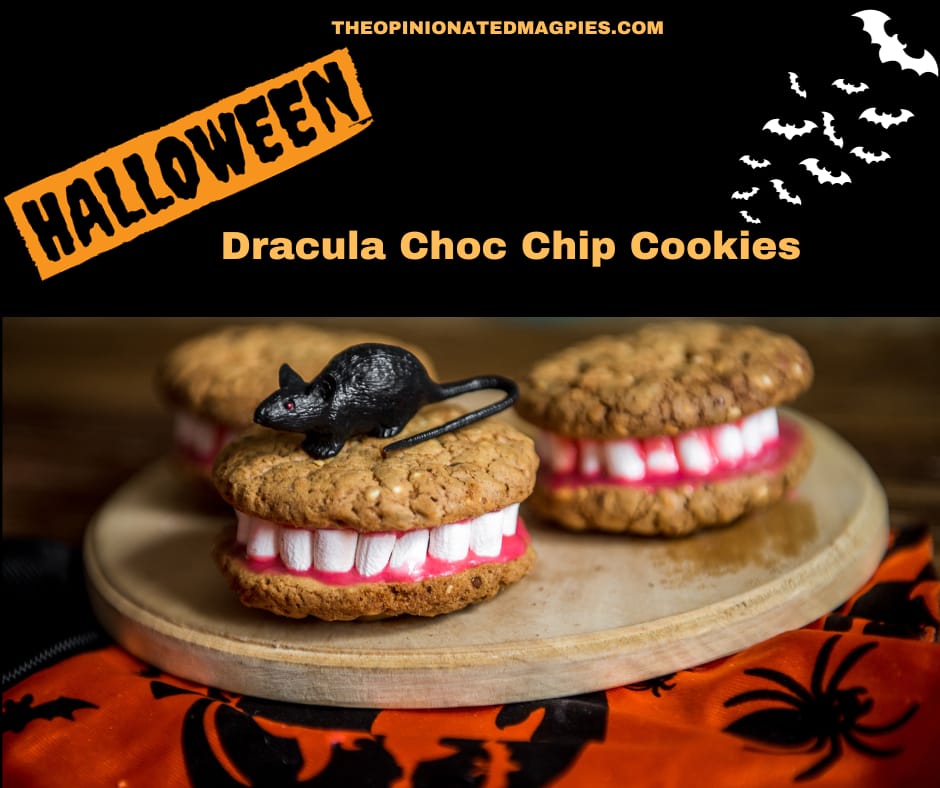 Spiderweb Cake
Make our delicious chocolate cake and decorate it with melted white chocolate. To do this, fill a piping bag with the melted white chocolate. Snip a corner of the bag and pipe straight lines from the centre of the cake to the outer edges. Connect the lines by piping curved lines in between to create the web effect. You can also pipe a chocolate spider onto the web.
Another fun option is to decorate the top with melted marshmallows to make the "spiders web". To do this, microwave three marshmallows in a bowl on high for about 20 seconds. Let the marshmallows cool just a little. Test the consistency of the marshmallows by dipping your thumb and index finger into the marshmallows. You are looking for a stringy effect when you open and close your fingers. When you have the right consistency, keep dipping your fingers in the melted marshmallows and placing the stringy webs over the cake. Once stringy, make a web over the top and sides of the cake, dipping your fingers back into the marshmallow mixture as necessary.
Plan the perfect Halloween Party – Check out our Spooktacular Guide
Gruesome But Yummy!
These treats may look gruesome but they will certainly go down a treat at any Halloween party!
Sharing Is Caring:
Related Articles You Might Enjoy:
Every year on the 30th November, Scotland, and Scots around the world, celebrate St. Andrew's…