Just a week ago we were sipping delicious cocktails on board the beautiful Norwegian Gem. This was our first time cruising with Norwegian and we have enjoyed it so much that we have already paid a deposit for another cruise! Yes, it is safe to say that after a ten-year break from cruising the Winks have caught the cruise bug. Unfortunately, it's not the only bug that we caught as I tested positive for Covid over the weekend. I am feeling slightly fed up and as I reminisce about the delicious Greek food we had in Santorini I am currently craving Dani's take on Greek meatballs.
Garlic, honey and white wine form the base of the delicious sauce for these moist and super tasty pork meatballs. Serve with pitta bread and yoghurt and mint sauce for a delicious Greek meal.
Super Versatile Meal Options
The craving for these delicious Greek meatballs has also got me thinking of how versatile meatballs can be. As kids Italian-style tomato meatballs were firm favourites for my brother and I but there are countless variations out there. The following are just a few of the were the versions that form part of our meal rotation at home:
Sticky honey garlic meatballs
Italian tomato meatballs
Swedish meatballs (IKEA style)
Teriyaki meatballs
Cranberry meatballs
Chicken Peppercorn meatballs
Almond sauce meatballs
French onion meatballs
Perfect Back To School Meal Ideas
Whilst the last thing you may want to think about at the beginning of August is packed lunches, the dreaded task will soon be upon us once again. Meatballs also make the perfect back-to-school thermos flask lunch. And, the best thing about meatballs is that you can make them in batches and freeze them so that you have different meatball meals on rotation for weeks on end.
School Lunch Meal Planner
Speaking of back-to-school lunches, do you struggle to plan your school lunches? Do you find that your searches for lunch ideas online come up with meals that your children would never eat? I totally feel you. Jamie is the fussiest eater ever! This is why we have designed a free downloadable four-week school lunch planner with food children will actually eat! If you are a subscriber to our newsletter you will receive this for free. So, if you are not yet a subscriber, what are you waiting for? Click on the link below for your free meal planner and for lots more behind-the-scenes information and freebies.
Greek Meatballs
Anyway, time to get back on track and talk about delicious Greek meatballs, Dani style!
New Year's Eve is always celebrated at our house and every year we try to vary the menu. After all, there is only so much turkey and gravy that one can eat over the Christmas period. This means that at our house, the NYE menu is varied. Italian one year. Greek, Moroccan, Indian or Asian the next. This is how our Greek meatballs came about.
Our recipe is just as perfect for a family celebration as it is for a delicious midweek lunch or dinner. As part of a celebratory meal, we would be sure to include typical Greek starters such as Spanakopita. This is a delicious pastry filled with feta and spinach and we love this version by The Mediterranean Dish). A meze platter including vine leaves, olives, cheese, grilled veggies and hummus is also a firm favourite with guests. Finally, include a finger-licking Baklava such as this one by My Greek Dish to round off the perfect Greek meal.
Hopefully, we have whetted your appetite enough to give our Greek meatballs a whirl. Without further ado, check out our recipe below.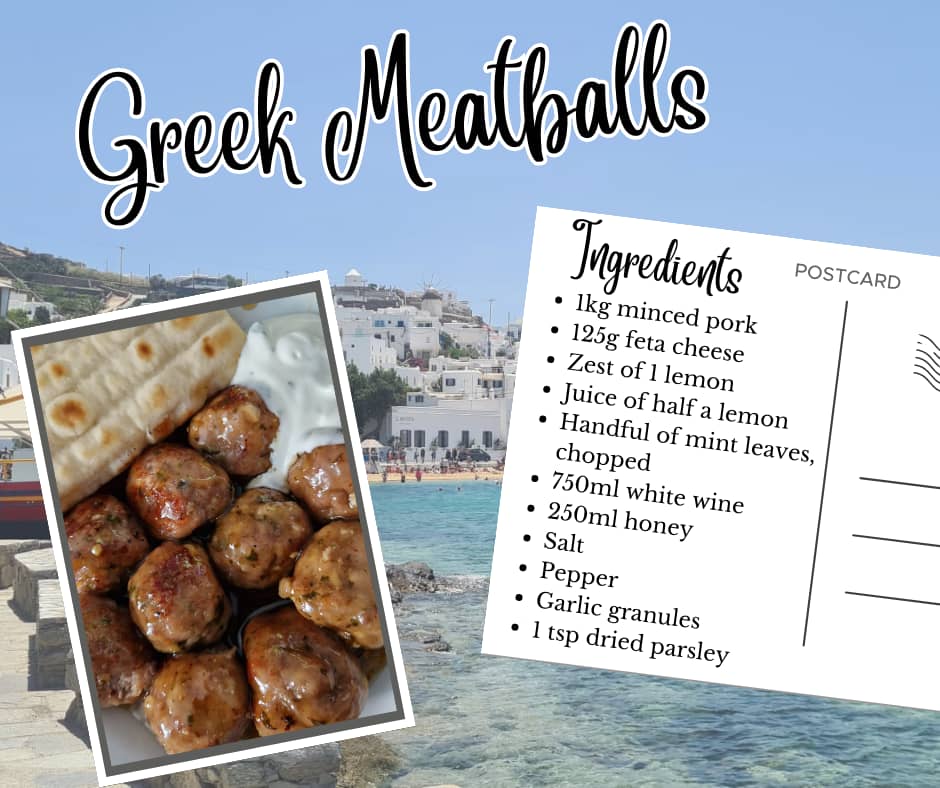 Ingredients
1kg minced pork
125g feta cheese
Zest of 1 lemon
Juice of half a lemon
Handful of mint leaves, chopped
750ml white wine
250ml honey
Salt
Pepper
Garlic granules
1 tsp dried parsley
Instructions
Mix the feta cheese, lemon zest, juice of half a lemon, a large dollop of honey (around 100ml), chopped mint, salt, pepper and granulated garlic with the minced pork.
Make the meatballs (about 1" big).
Roll the meatballs in flour and then brown them in a frying pan with olive oil.
Place the meatballs in a casserole dish.
Using the same pan where you browned off the meatballs, add 750ml of white wine, around 125ml honey, a teaspoon of garlic granules and a teaspoon of dried parsley. Mix well over medium to high heat. As you do this, add the meatballs back into the pan. Let them simmer for around 15 minutes.
Using a slotted spoon, remove the meatballs from the pan and place them in a casserole dish. Increase the heat on the pan and let the sauce reduce until it reaches a semi-sticky consistency. This should take about 5-10 minutes. Stir occasionally with a wooden spoon.
Pour the sticky honey sauce over the meatballs.
When serving add some Greek yoghurt sauce – recipe below.
Greek Yoghurt Sauce
3-4 tbps Greek yoghurt
Small handful of mint leaves, finely chopped
1 tbsp honey
Zest of half a lemon
Juice of half a lemon
Mix all the ingredients together and add to the side of your meatballs to enjoy with some pitta or flatbread to mop up the sticky honey and yoghurt sauce. Believe me, you will want to lick the plate with this recipe!
Let us know if you have tried this recipe (or any of our other recipes). We love to receive your feedback and ideas of anything else you would like us to write about. Be sure to check back in over the new few weeks for all our other meatball recipes.
Sharing Is Caring:
Related Articles You Might Enjoy:
Every year on the 30th November, Scotland, and Scots around the world, celebrate St. Andrew's…