Christmas is a time of magic and tradition. From choosing and decorating a tree to singing carols and visiting a crib. Wearing Christmas jumpers and baking cookies for Santa are also long-standing Christmas traditions. More recently, however, you may have seen and heard about The Elf On The Shelf. But, what exactly is The Elf on the Shelf and is it one of your Christmas traditions? If not, should it be?
As an Amazon Associate, we earn a commission from qualifying purchases. Some of the links on this post are affiliate links. This means that if you click on the link and make a purchase we may earn a commission at no extra cost to you. Learn more here.
The Elf on the Shelf is a tradition which started only as recently as 2005 with the publication of a children's book of the same name written by Carol Aebersold and Chanda Bell. The book tells the story of a magical scout elf which is sent by Santa to keep an eye on children and provide him with daily reports. Every day, the elf returns from the North Pole and part of the fun is searching for the elf to see where he will appear next.
Pros of the Elf on the Shelf Tradition
Excitement and Anticipation: Children look forward to searching for the elf and finding out what he/she has been up to the night before. You see, not only will the elf move, but usually he/she will have been up to some interesting (read naughty) antics which the children absolutely love.
Behaviour Incentive: Many parents use the elf as a way to encourage good behaviour in the run-up to Christmas. The idea that the elf reports back to Santa on a daily basis can be a powerful motivator for kids to be on their best behaviour.
When deciding whether you want to start this tradition, be sure to carefully consider the following downsides to adopting an elf:
Pressure for parents: Keeping up with moving the elf on a daily basis and finding new and interesting antics can become stressful. For me, the worst feeling is when you are nicely tucked up in bed and all of a sudden remember that the elf needs to move! Or even worse, when you fail to realise and wake in the early hours to find yourself running around the house looking for props for the elf's latest adventure!
Anxiety: Some children may feel uncomfortable or anxious about the thought of being watched and judged by a magical elf.
Consistency Is Key: If the elf fails to move or is accidentally touched by a child (note this affects his magic powers) this can lead to all sorts of difficult questions from your little ones. Be sure to have a backup plan when faced with such questions. For example, you can consider explaining that the elf needs some rest or is watching from the same spot because it is a perfect location to keep an eye on the day's activities to report back to Santa.
Also, if your elf needs a magic top-up after being accidentally touched, sprinkle some glitter dust, cinnamon or sugar to help him "recharge".
Should I Adopt An Elf?
Deciding whether to adopt an elf and introducing another Christmas tradition to your home will in essence come down to your values, other traditions and whether this will be a fun activity for your family or one which will cause unnecessary stress.
If you do have an elf or will be looking to buy one this year, then we have you covered with 24 fun ideas.
Elf's Arrival
When we first adopted our first elf Pluto, our doorbell rang and we found this big present direct from Santa. Now when Pluto returns (together with our latest elves, Snowball, Icicle and our reindeer Cutie!) their entrances will range depending on how creative we are feeling!
If you want to have a grand entrance you can have the elf swing in on a parachute or zip lining from a high spot in the house. Another way to reintroduce your Elf is to have them arrive with a tiny suitcase or personalized note from Santa.
Elf's Movie Night
Set up a mini movie theatre with popcorn and a tiny screen, featuring the Elf's favourite holiday film.
Elf's Snow Angels
Sprinkle flour or powdered sugar on a countertop, and have the Elf make snow angels.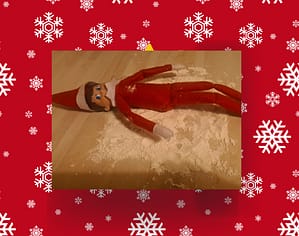 Elf's Artistic Side
Set up a small canvas, paint, and brushes for the Elf to create a tiny masterpiece.
Elf's Baking Adventure
Have the Elf attempt to bake mini cookies in the dollhouse kitchen. Make sure that your Elf is adequately dressed with these cute chef accessories.
Elf's Yoga Class
Position the Elf in various yoga poses with miniature yoga mat and props.
Elf's Elfie
Set up a tiny photo booth with props and a miniature camera for the Elf to take "selfies."
Elf's Post Office
Have the Elf deliver tiny letters or messages to the kids.
Elf's Fishing Trip
Create a fishing scene in a small bowl or sink, with the Elf "catching" mini fish.
Elf's Gift Wrapping
Show the Elf wrapping tiny gifts for the kids, complete with a miniature gift-wrapping station. Add some sweets (candy) to tiny gift-wrapped boxes for an extra little treat.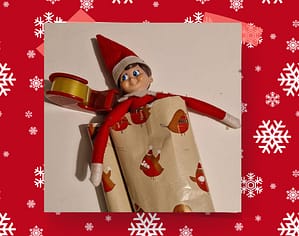 Elf's Candy Shop
Create a candy store scene with the Elf as the shopkeeper, surrounded by mini candy and treats.
Elf's Bookworm
Have the Elf reading a tiny book to other toys or stuffed animals.
Elf's Spa Day
Set up a spa scene with the Elf relaxing in a small bathrobe bathrobe and towel, surrounded by mini spa products.
Elf's Science Experiment
Create a simple science experiment setup with the Elf as the scientist. Use a science set or place some Skittles around a plate with a note telling your little ones to add some water and watch for the magic.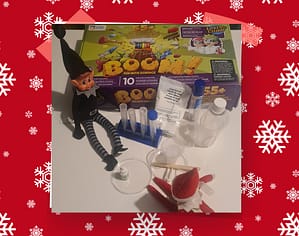 Elf's Game Night
Arrange a game night with the Elf playing board games or cards with other toys.
Elf's Wrapping Mishap
Show the Elf caught in a tangle of wrapping paper and ribbon.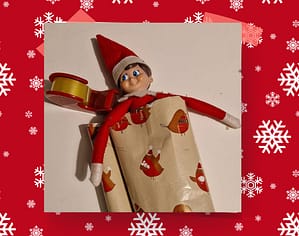 Elf's Workout Routine
Position the Elf with miniature exercise equipment, like tiny weights or a yoga mat. You can also have your elf falling after a skating attempt!
Elf's Sleigh Ride
Create a sledge or sleigh using small objects, with the Elf ready for a ride. A fun option is creating this with chocolate treats – this doubles up as a little gift for your little one.
Elf's Sweet Tooth
Have the elf perch on a mountain of cans to reach the counter and treat jar and surround him with empty candy wrappers and a guilty look on his face.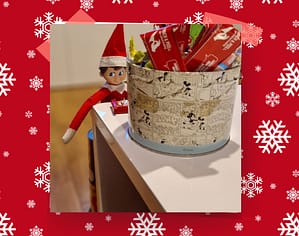 Toasty Elf
Make an elf toast with a note saying "Brrrr it was really cold but now I'm really toasty!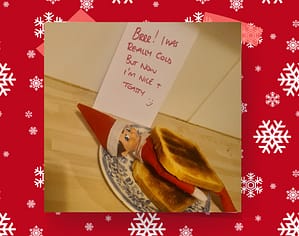 Elf's Snowball Fight
Set up a snowball fight scene with cotton balls as snowballs.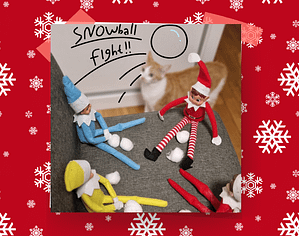 Elf's The Floor Is Lava
Have your elf hanging off a piece of furniture with a note saying "The floor is lava"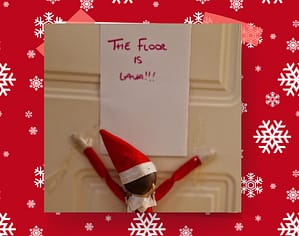 Elf on the Shelf Redecorates the Tree
Grab a roll of toilet paper and wrap it around your Christmas tree. Place your elf on the top of the tree holding on to the end of the tissue!
Elf Cereal Spelling
Have your elf spell his name or a note with cheerios.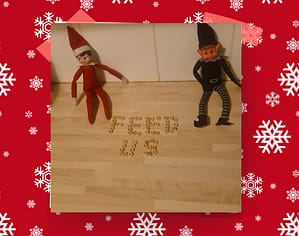 Elf's Goodbye Note
On Christmas Eve, have the Elf leave a heartfelt goodbye note, thanking the kids for the fun and memories.
Top Tip: A great way to name your Elf is to use an online name generator!
These ideas should keep the Elf on the Shelf antics exciting and engaging for children throughout December.
Sharing Is Caring:
Related Articles You Might Enjoy: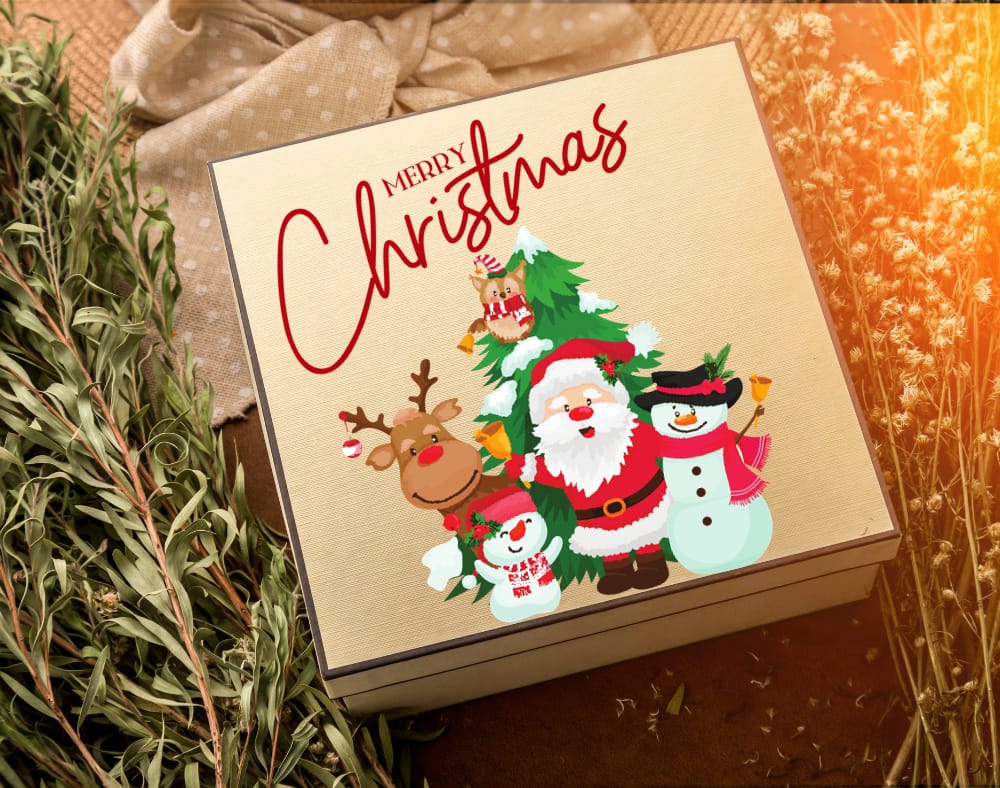 Christmas family traditions play a big part in our family dynamics. A few years ago,…