Easter is fast approaching and, being good Gibraltarians, with our renowned passion for food, we explore Easter food traditions around the world.
United Kingdom
Hot Cross Buns
So synonymous with Easter celebrations in the UK, there's even a nursery rhyme dedicated to it!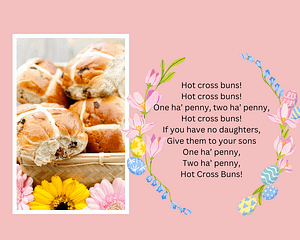 Hot cross buns are small sweet buns full of currants or raisins and with a delicious flavour of cinnamon and nutmeg. Decorate the with an icing or pastry cross to symbolise the crucifixion of Jesus Christ.
Traditionally hot cross buns were typically eaten on Good Friday given that this is the day that commemorates the crucifixion. Nowadays however, probably due to commercialism, these can be found in supermarkets as early as January!
Simnel Cake
Similar to the traditional Christmas cake but much lighter given that it is not laden with alcohol. The simnel cake as we know it now originates from around the 20th century. However, it has been a work in progress since mediaeval times.
One key feature of the simnel cake is the 11 marzipan balls which decorate the same. One for each of the disciples (barring the treacherous Judas!)
This recipe by Mary Berry will be a welcome addition to your Easter recipe collection.
Roast Lamb
It is usual to celebrate Easter Sunday lunch with a roast lamb. The tradition behind this is probably as a result of a combination of factors. In the first place, John the Baptist refers to Jesus as the lamb of God in the John's Gospel. The eating of lamb is therefore a representation of Jesus but also commemorates the sacrifice he made at the Cross.
In addition, lamb has been the traditional meat for celebrations since ancient times. There is mention of sacrificial lamb ceremonies by the ancient Egyptians and there are also references to such practices in the Old Testament.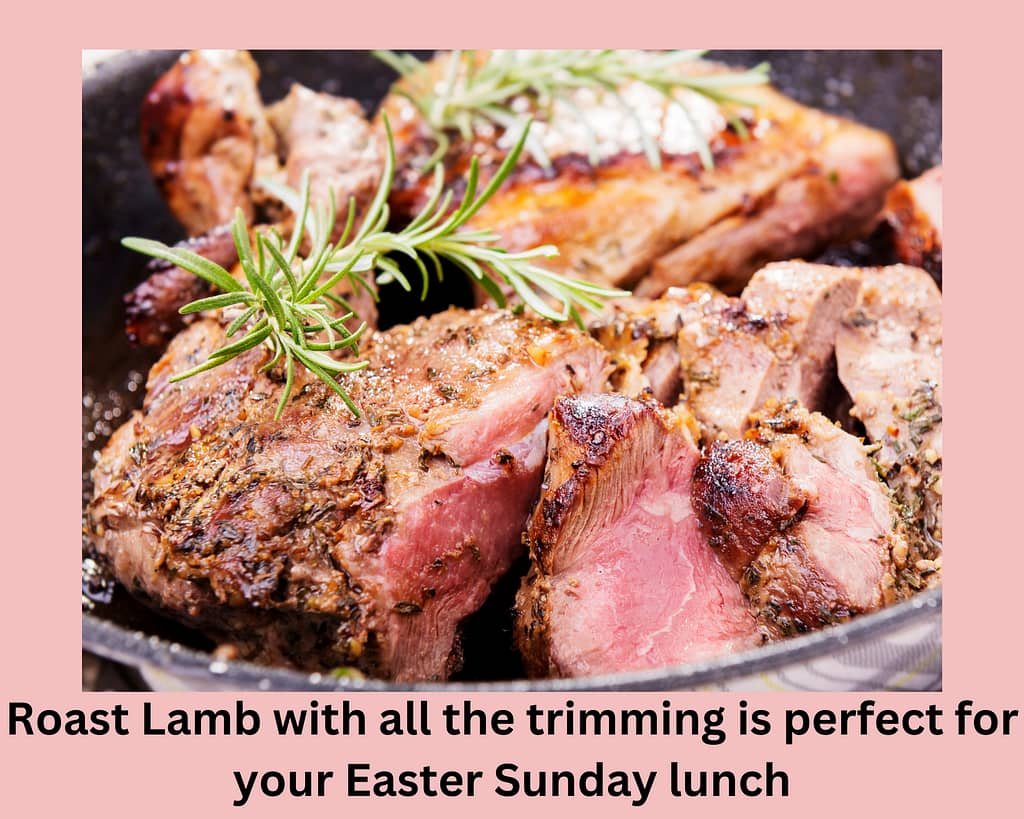 Serve your roast lamb with mint sauce, roast potatoes and seasonal vegetables.
Easter Eggs
Traditionally Christians would forgo eggs during the lenten period and the Easter egg became a symbol of rebirth and new beginnings. Additionally, the egg symbolises the empty tomb and therefore Jesus' resurrection. Nowadays chocolate Easter eggs are a big money industry and are enjoyed by children and adults alike.
USA
Devilled Eggs
This is a classic Easter starter made with hard boiled eggs, mayonnaise, spices and mustard and tabasco for the "devilled" kick.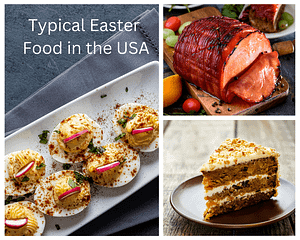 Ham
During Easter, many families will serve ham as their main dish. The ham is usually topped with a sweet glaze which can be made with honey, brown sugar and mustard. As with the UK, sometimes lamb will also be served.
Typical side dishes to accompany the ham or lamb include roasted vegetables such as asparagus, carrots and Brussels sprouts. Mashed potatoes or sweet potato casserole are also hugely popular.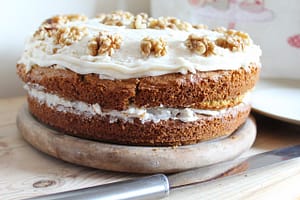 One of the most popular Easter desserts is carrot cake, a rich and moist cake made with grated carrots, cinnamon, and cream cheese frosting.
Spain
Easter, or Semana Santa is one of the most significant religious holidays in Spain. One of the most important Easter traditions in Spain is the processions. These take place in the week leading up to Easter Sunday. If visiting Spain during this time do not be surprised to find participants dressed in traditional robes and hoods.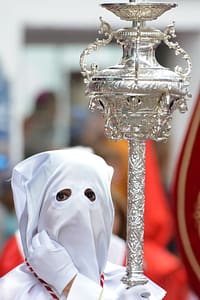 History of the Robes and Hoods
Whilst some visitors may find this dress startling, the use of hoods in religious processions in Spain is a tradition which dates back centuries. Indeed, the use of hooded robes is a tradition which is common in other countries including Italy, Portugal and some parts of Latin America.
There is no connection to the Ku Klux Klan (KKK). In religious processions, the hoods are traditionally used as a way to maintain anonymity. They also serve to focus on the religious significance of the procession. The KKK on the other hand use hoods as a way to conceal their identity whilst engaging in racist and violent acts. That said, the use of the hoods as part of the Easter processions is not a practice which I like and I find the whole practice greatly unnerving.
Traditional Spanish Easter Food
Some typical Spanish Easter food include:
Torrijas – Torrijas are a classic Spanish dessert that is especially popular during Easter. Similar to French toast, Torrijas are made with bread that is soaked in milk, eggs, and sugar and then fried until golden brown. They are typically flavoured with cinnamon and can be served with honey or syrup. This is a sweet treat which is also hugely popular in Gibraltar.
Potaje de Vigilia – A traditional lentil stew that is often eaten on Good Friday. This hearty dish is made with lentils, potatoes, chickpeas, and other vegetables, as well as bacalao (salted cod) or other seafood.
Buñuelos de Viento – Buñuelos de Viento are sweet, fluffy, fried dough balls which are dusted with sugar. You can also fill these sweet treats with cream, chocolate, or other sweet fillings.
Mona de Pascua – This is a traditional Easter bread that is popular in Catalonia. The cake is made with a sweet bread dough that is decorated with hard-boiled eggs, sugar, and other toppings such as almonds, fruit, or chocolate.
Gibraltar
As with all celebrations in Gibraltar, food plays a HUGE part of our Easter celebrations! If you are ever invited to eat at a Gibraltarian's house prepare to be stuffed! We are known for providing obscene amounts of food!
Good Friday is the day when families typically gather together. In the past this was a solemn occasion when not even the TV was switched on. Whilst this may continue in some families, it is not the case in ours. Instead, in the immortal words of the Eagles, we gather for the feast!
On Good Friday it is traditional to avoid meat. Instead, families will feast on a variety of dishes and it is not unusual to find a whole plethora of different dishes at a Gibraltarian Easter table.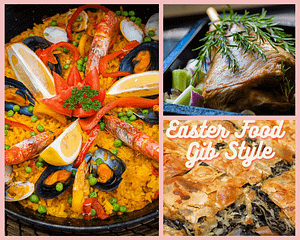 Torta de patata
Torta de patata, also known as Spanish potato omelette or tortilla de patatas, is a classic dish. It is a simple and versatile dish and you just need a few ingredients to make it. Torta de patata is a staple not only at a Gibraltarian Easter table but for school lunches, picnics in the countryside and our National Day beach celebrations.
To make torta de patata, start by peeling and slicing potatoes (about half a kilo) into thin slices . Next, heat up a good amount of olive oil in a frying pan and fry the potatoes until they are soft and tender. If you like your torta with onions, fry some sliced onions in a separate pan until soft and golden.
In a bowl, beat three eggs and add the potato and onion mixture, along with a pinch of salt and pepper, some garlic granules and dried parsley. Mix everything together.
Pour the egg and potato mixture into the pan and cook until the bottom is golden brown and the top is almost set. To flip the torta, place a large plate over the pan and flip the torta onto the plate. Then, slide the torta back into the pan and continue cooking until it is fully set.
Torta de patata also tastes great with chopped chorizo (but, this is not added to the Good Friday version!)
Torta de acelga
Like torta de patata, torta de acelga (or spinach pie) is another family favourite. Acelga is translated as chard but typically either chard or spinach is used hence the translation into English as spinach pie.
Whilst usually made with a pastry topping, you can omit the same if you are sensitive to wheat.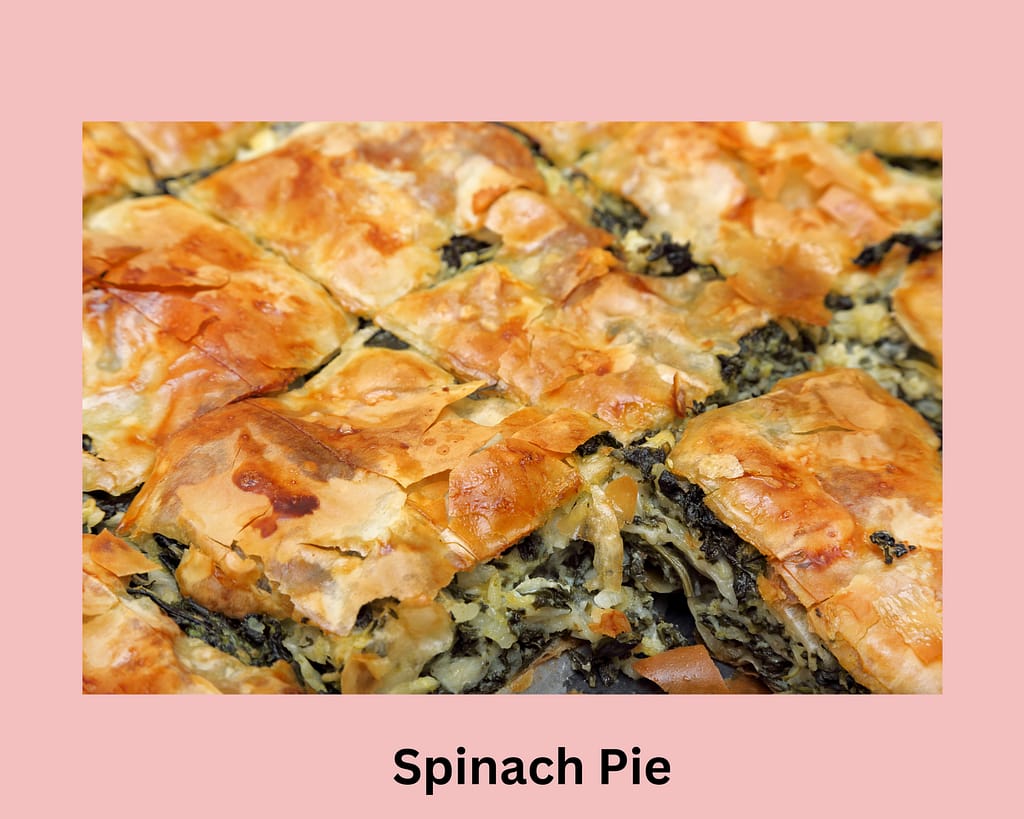 We love this version by Mama Lotties.
Ensaladilla Rusa
Translated into Russian Salad, this simple salad of potatoes, tuna and mayonnaise has now been renamed Ensaladilla Ukraniana in solidarity for Ukraine.
Ingredients
2 large potatoes (approx 1lb or 500g)
2 large carrots
½ cup sweetcorn
½ cup canned green peas
1 medium red onion
3 eggs
2 tins of tuna
1 Roasted red pepper (cut into thin slices to decorate)
Olives
Mayonnaise
Method
Peel the potatoes and chop into bite size pieces.
Peel the carrots and dice the carrots into small pieces.
Boil the potatoes and carrots until soft. Meanwhile, boil the eggs. You want these to be hard boiled so boil for around 10/11 minutes.
Drain and place in a bowl to mix in the mayonnaise, tuna, peas and sweetcorn (drained). I like my salad to have plenty of mayonnaise but add at least half a cup and adjust to your personal taste.
Season with salt and pepper.
Decorate with sliced roasted peppers and olives.
Caracoles (snails)
I know what you are thinking. Yuck, right? Well, don't knock it till you've tried it! I have some amazing memories from one Easter when I was about 10 years old. My late uncle Alfred loved eating snails and he took my mum, brother, cousin and I out to try this delicacy.
At first I was horrified and disgusted. But upon trying the rich, nutty and spicy sauce with some warm crusty bread I was soon becoming curious to try the accompanying snails. So, I closed my eyes and went for it! They were amazing. Granted it is the sauce that makes it although I have since tried escargots made in a creamy sauce and they too were divine.
Ingredients
1kg jar snails – rinsed well
100g walnuts -roughly ground in a food processor
100g almonds – roughly ground in a food processor
1 large onion, diced
2 x 400g passsata
1 small tin tomato puree
1 litre white wine – add about 700ml and then top up (slowly!) if sauce is too thick
3 cloves garlic, crushed
3 tsp snail spices – available in the market
1 1/2 tsp dry parsley
3 slices of bread
1 red pepper, diced
Method
Fry the bread and garlic in some oil.
Mash up the bread and garlic with a pestle and morter.
Using a food processor, roughly grind the walnuts and almonds. You want them to be quite bitty so you can taste them in the sauce.
Add a little more oil to the saucepan and fry the onion and red pepper.
Add the rinsed snails to the saucepan and then add the passata, tomato puree and wine.
Add the parsley and spices and season with salt and pepper to taste.
Calamares Rellenos In Almond Sauce
For those who cannot bring themselves to try snails, this delicious recipe for stuffed squid is the perfect alternative.
Ingredients
10 medium sized squid
3 kgs potatoes
Saffron
100g hard Edam cheese
30g tomato puree
1 tsp dry marjoram
1 small bunch coriander
250g breadcrumbs
6 eggs
50g garlic
2 green peppers
1kg onions
100g blanched almonds
Method
Clean the squid and separate the head from the hood (you can always ask the fishmonger to do this for you!)
Mix the eggs, breadcrumbs, garlic, salt and pepper to make the squid stuffing.
Stuff the squid hood with the stuffing mix and secure with a toothpick. Be sure not to overstuff the squid.
Cook the onions, peppers and saffron in a saucepan until soft.
Add the tomato puree, water, potatoes and squid to the saucepan and cook on a low heat for around 1 ½ hours or until the squid is tender.
Add the blanched almonds 5-10 minutes before the squid is cooked.
Be sure to stir gently whilst cooking to ensure that the sauce does not stick to the bottom of the pan.
Boquerones Rellenos
Ingredients
250g anchovies (boquerones) Ask your fishmonger to clean, debone and butterfly the fish
1 tbsp breadcrumbs
2 tbsp hard edam cheese (grated)
1 garlic clove
2 small eggs
Salt and Pepper
Flour
Method
Beat the eggs in a bowl. Add garlic, cheese, salt and breadcrumbs and mix well. If your mix is too wet and runny add a little more breadcrumbs. Add this slowly as you do not want a dry mix.
Place the fish skin side down and add some mix to each fillet.
Dredge them in a little flour (pasalo por harina!) before frying.
Calabacines Relleno
Whilst these may look similar to the boquerones rellenos, they are stuffed courgettes. This makes them the perfect alternative for any vegetarian friends or family.
Ingredients
12 small courgettes
50g Harm edam
50g Breadcrumbs
1 clove garlic
Pinch of parsley and marjoram
2 Eggs
Method
Cut courgettes lengthwise and boil until soft.
Once cooled, scoop out the courgette flesh and squeeze out all the water. This can be done with a clean flour sack cloth or by using a tablespoon and sieve.
Mix the courgette with the eggs,parsley, marjoram, garlic, breadcrumbs and grated cheese.
Stuff the courgette skin with the mix.
Dredge in flour and fry in hot oil.
Calentita
I must admit that I am not a huge fan but, Calentita is extremely popular amongst many Gibraltarians.
Made with only chickpea flour, water, olive oil and salt and pepper, Calentita originates from our Italian/Genoese ancestors. Originally known as "Farinita" but renamed "Calentita" which was what local street vendors would call out when selling their freshly made fare. "Calentita" literally means warm.
Ingredients
250g gram flour
2 ¼ pints water
3 level tsp salt
¼ pint olive oil
Freshly ground pepper (to taste)
Method
Mix flour with half of the water to form a smooth paste.
Gradually add the rest of the water and the oil.
Add salt and pepper to taste.
Leave to soak for a few hours stirring occasionally.
Preheat the oven to 175℃ and bake until set. Approximately 45 minutes to 1 hour.
If you are interested in learning more about the history of calentita, we highly recommend this post where local TV personality and author of the cookbook Mama Lotties discusses the same with local historian Jennifer Ballentine Perera.
Croquettas De Atun (Tuna Croquettes)
Highly popular with children, these croquettes are also perfect for school packed lunches.
Ingredients
1 oz (30g) butter
2 oz (60g) plain flour
1 egg
¼ pint (150ml) milk
Grated nutmeg (optional)
Salt and pepper (to taste)
2 cans tuna
Method
Melt the butter and add the flour to make a roux. Add milk until the mix leaves the sides of the saucepan.
Add the tuna to the roux, mixing continuously.
Allow the mix to cool and set on a plate.
Form the mix into croquettes.
Dredge in flour and quickly dip into a beaten egg and cover with breadcrumbs.
Fry in olive oil until golden brown.
There is also no shortage of sweet treats during this time. Typical sweets enjoyed in Gibraltar during Easter truly reflect our cultural mix. Hot cross buns, simnel cake and Easter eggs from our British ties. Torrijas, borachuelos ahuelas from Spain. We also love a good carrot or chocolate cake (because who doesn't/!?) and desserts such as Banoffee pie and Chocolate Boudoir are a staple at almost any celebration. Tea time treats include bollo hornazo, torrijas and mantecados.
Mantecados
Ingredients
500g self raising flour
315g butter
220g sugar
2 egg yolks
Salt
Method
Mix the butter and sugar.
Add the flour, salt and 2 egg yolks. Mix into a dough.
Roll out the dough and cut into small balls.
Flatten the top of the balls with the back of a teaspoon and sprinkle with sesame seeds.5. Bake in a preheated oven (200℃) for 15-20 minutes or until lightly browned.
This can also be made with peanut butter. Add half a jar to the ingredients and adjust flour to be able to get a good consistency on the dough.
Additionally, you could dredge the balls in a little cinnamon sugar for an even more delicious flavour.
Ahuelas
Ingredients
4 eggs
½ lb plain flour
4 half egg shells of sunflower oil
Lemon rind
Hundreds and thousands (sprinkles) to decorate
Method
Beat the eggs in a bowl.
Use half an eggshell, measure out 4 eggshell measures of oil and add to the bowl.
Slowly add the flour to the mix until the mix no longer sticks to your hands.
Knead the mix in the bowl to form a dough.
Take a small amount of the dough and roll out as thinly as possible on a floured surface.
Using a pizza cutter, cut out strips (about 30 x 10 cm) . Cover with a clean tea towel whilst you continue the process with the remaining dough.
Heat the oil in a large frying pan and add one dough strip at a time, rolling the mixture with a fork as it fries to form a loose roll. Repeat the process until all the strips are cooked.
Syrup
In a separate frying pan add the sugar, water and lemon rind. Bring to the boil until the syrup thickens. Allow the same to cool and then pour over the ahuelas to cover generously. Top with hundreds and thousands.
Borrachuelos
Ingredients
1 cup oil
Aniseed seeds
Juice and rind of 1 orange
1 cup white wine
1 tsp baking powder
½ cup anis
½ pkt plain flour
1 egg
Syrup – see ahuelas recipe
Hundreds and thousands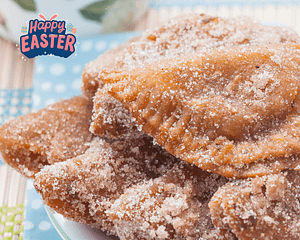 Method
Add oil to a frying pan and toast the aniseed. Leave to cool.
Add flour, baking powder and grated orange rind to a bowl. Make a well in the centre and add all the wet ingredients.
Mix thoroughly into a smooth dough. If the mix is too wet, add a little more flour.
Roll out and cut into circles using a glass or circular pastry cutter.
Fold the pastry in half and fry.
Dip into the syrup and top with hundreds and thousands.
Torrijas
Ingredients
4 slices of stale bread
200ml milk
4 eggs
Cinnamon
Oil for frying
Golden syrup
Method
Cut the slices in half and soak in the milk.
In a separate bowl, beat the eggs and dip the milky bread into the eggs. Allow excess mix to drain back into bowl.
Fry in hot oil.
Dip the torrijas into some golden syrup and sprinkle with some cinnamon.
Hornazo
Ingredients
1lb self-raising flour
7oz butter
6oz sugar
1/2 tsp baking powder
matalauva (or fennel seeds)
2 eggs
Orange/lemon rind
Method
Add all the ingredients to a mixer with the hook attachment until the dough forms
Make into bread shape balls.
Cook for 20 minutes at 160℃ for small buns or 180℃ for 45 minutes for large buns. (quantity makes 2 medium buns)
We hope you enjoy these Gibraltarian recipes and would love to hear if you have tried and loved any recipe in particular. Be sure to check back in regularly for more food ideas from our hometown.
Check related ARTICLES: