In 2007 I went on a girlie trip to Madrid, to watch Beyoncé in concert. My daughter Celine was five years old at the time and was NOT impressed that she was staying behind. 'Mum I want to go with you', I remember her saying to which I replied, 'You are not big enough'. She wasn't, but her reply to that was 'But I'm taller than all the other girls my age'. She was right, she was. Back then young as I was, I didn't really understand the importance of creating memories with my daughter.
At the time I was in my late 20s and a girlie weekend was the highlight of my year. A few days away from the mundane, from mother and wife duties, not to mention work. As I boarded that plane, I couldn't have been happier.
Fast forward fifteen years, and now all I want to do is spend time with my daughter. Alas, the roles have reversed. Celine is now almost twenty-one and has just completed her degree in primary teaching. Yes, she is still my best friend, but she's also a busy twenty-year-old friend.
For the last three years, she has lived in Cardiff, whilst I was at home, looking forward to Christmas and summer holidays so that I could spend time with her. However, like every other twenty-year-old, Celine has a busy schedule. Honestly, I wouldn't have it any other way. It fills me with joy that she is living her best life.
Beyonce Renaissance Tour
In February this year, Beyoncé concert tickets went on sale. I have been a BeyHive member since that first concert in 2007, which meant I had early access to ticket sales. I called Celine to let her know, thinking she would want to go with a friend. Instead, she said 'No Mum, you have to come. You introduced me to Beyoncé fever. Who else am I going to go with?' This meant I would have to travel to Cardiff, by myself, something I hadn't done in over fourteen years. But, I wasn't ready to let the opportunity to spend time with my kid fly by, especially if it meant being able to witness one of her dreams coming true, finally seeing Beyoncé live.
Travelling Alone For The First Time In Fourteen Years
The past ten years have been hard on my mental health. Where once stood a fearless young woman, now stands a forty-four-year-old socially inadequate me. When I started drafting this blog post, I left that bit of information out. I felt ashamed. But then I thought, I can't possibly be the only middle-aged woman who feels anxious about stepping out of their comfort zone. Right?
The mere thought of travelling by myself was causing deep anxiety within me. However, my husband kept encouraging me, so I went with it. I stepped out of that comfort zone that has been suffocating me and embraced the idea of tapping into my old fearless self.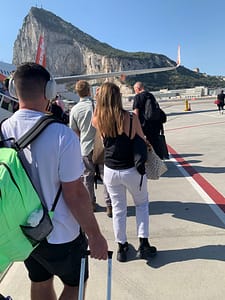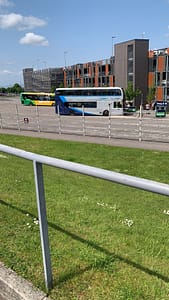 It was time to put on my big girl pants and get on with it.
Reunited With My Daughter
Once I arrived at Bristol Airport I made my way to the bus station and got the bus to Bristol Temple Meads train station. I met Celine at the train station, seeing as she didn't trust me to get on the right train and end up in London instead. Have I mentioned my lack of sense of direction? I'm going to keep it real, it's pretty bad, no use denying it.
As always hugging my kid after weeks of no physical contact is one of the best feelings in the world. It's like coming home. Once I have my arms around her, I feel as if I can finally breathe. She is safe, and she is with me. There might have been a few tears! Just saying.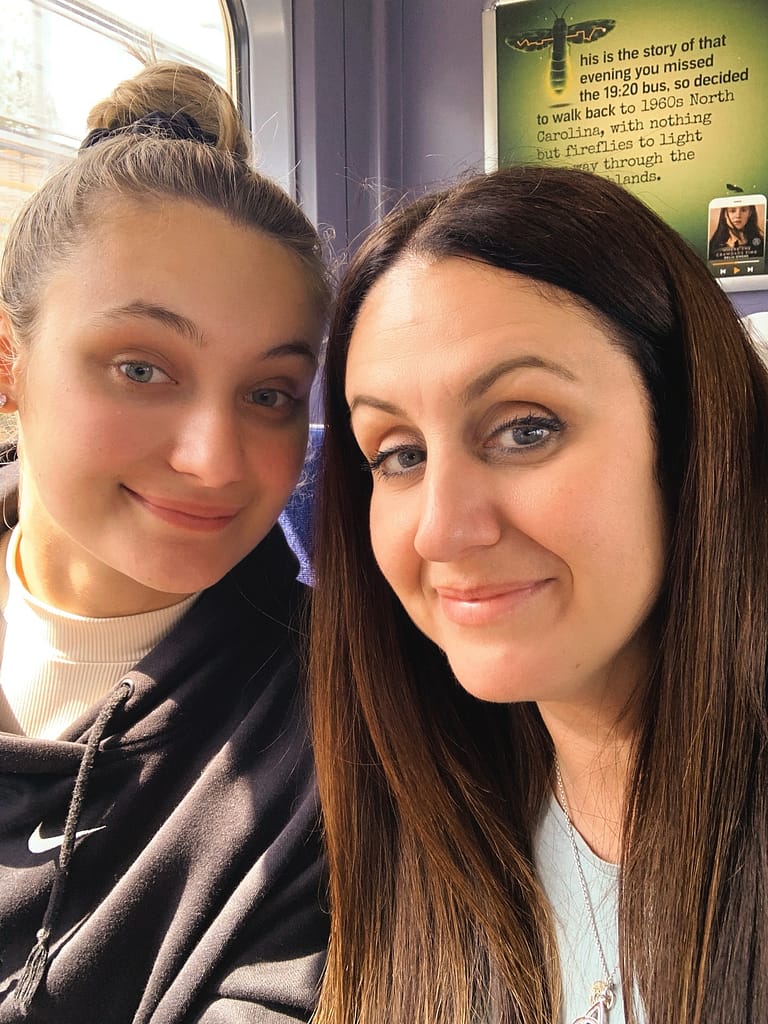 An hour later we arrived at Cardiff full of energy, hungry and excited for the days ahead. We met up with her friend Sharan and headed straight to Nando's. Eating at Nando's is a family tradition which my husband started. According to him, every time we set foot in the UK, a visit to Nando's is mandatory. And so off we went for some delicious peri peri chicken.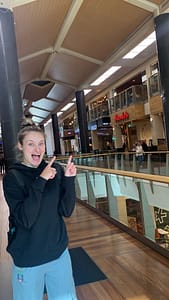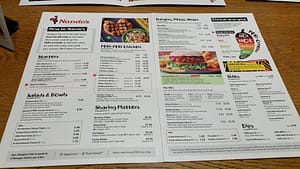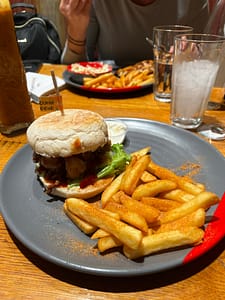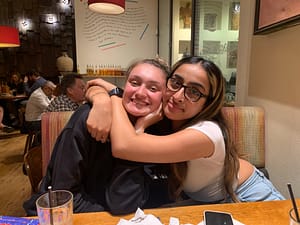 Finding Accommodation
Little did we know when we bought the concert tickets that finding accommodation in Cardiff would be so hard, or so expensive. Some hotels were charging over £1500 for three nights, with no breakfast included. However, after days of checking online, we were lucky enough to find a room in the Premier Inn in Cardiff Bay. About a twenty-minute walk from the town centre, but reasonably priced and guaranteed a good night's sleep.
Exploring Town Centre
My second day in Cardiff started off with a walk into town. The weather was amazing, clear blue skies, and quite warm for May. We had breakfast at Costa, (we love the cheese and ham toasties) and enjoyed some shopping, and by shopping, I mean a visit to Waterstones, which resulted in a bag full of books.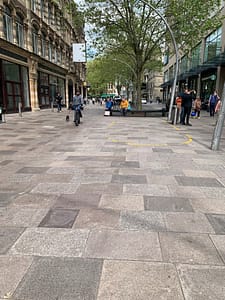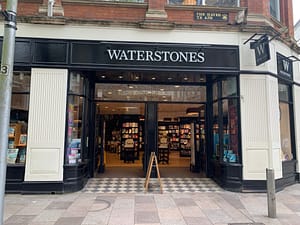 Experiencing The Cardiff Market (Also Know As The Central Market)
Celine had been raving about the local market and the delicious Welsh Cakes, so a trip there was inevitable. This was my fifth time in Cardiff and yet I had never been to the market. OMG, I didn't know what I was missing. A delightful journey through the bustling aisles, instantly greeted by a colourful scene of stalls brimming with a variety of goods. This market isn't just for those wanting to purchase fresh produce and groceries, no this was an entirely different experience to the market we have back at home. Here you can find a showcase of talent from local artisans. From handmade jewellery to textiles and artwork, to books and second-hand CDs and vinyls.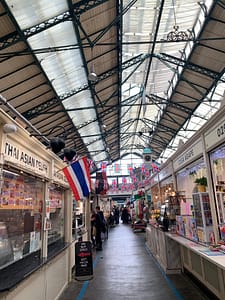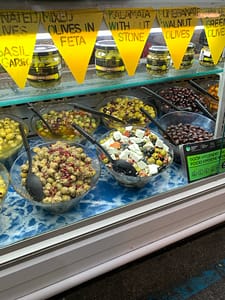 Whilst the sight of fresh fruit, vegetables and fragrant flowers caught my attention, it was the scent of freshly baked goods that had my eyes rolling to the back of my head. However, we came across a Mediterranean food stall which instantly had us drooling. The selection of food was overwhelming. We spent a good ten minutes sampling olives. Something you need to know about my daughter and me is that we have an insane and often unhealthy, obsession with olives. Luckily the stall vendor was a lovely woman who was more than happy to indulge us. We ended up buying three portions. Olives with garlic and chilli flakes, mixed olives with feta and my favourite, green olives with almonds and pomegranate. My taste buds were on fire. An absolute gastronomic adventure.
The Best Welsh Cakes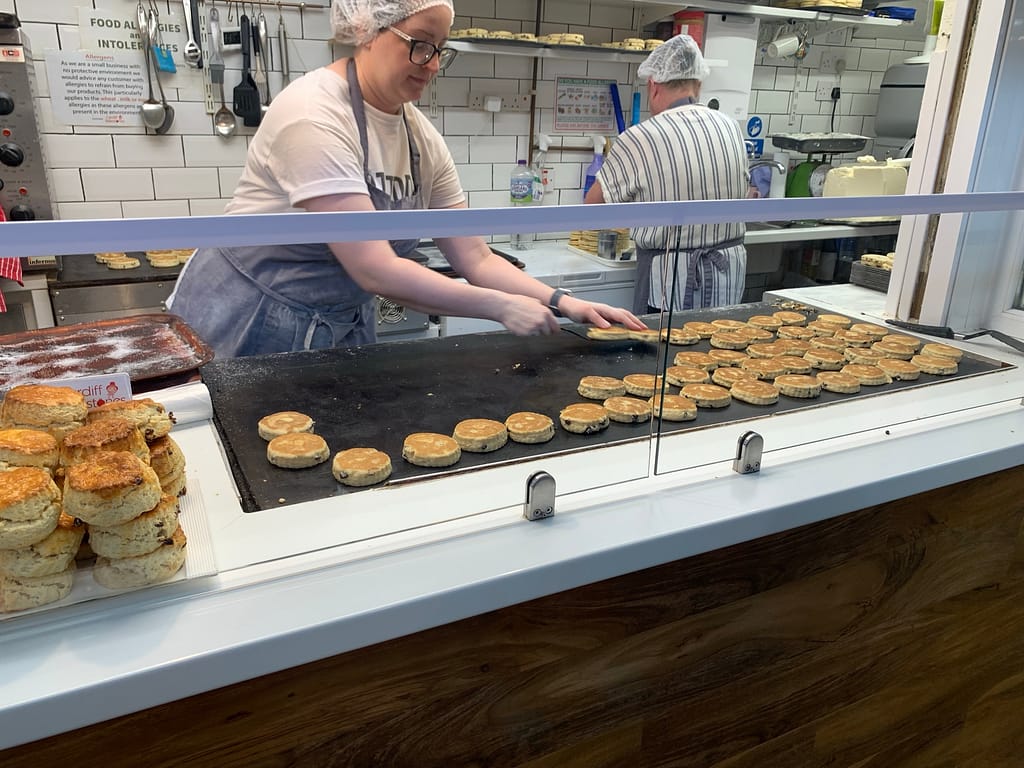 At this point, it was only fitting that we headed to the baked goods stalls. We bought an assortment of Welsh cakes, and as if that wasn't enough we also treated ourselves to a slice of banana cake. I mean, as the saying goes, you only live once right? Well, we were adamant to overindulge because why the hell not??
The Big Event
After stuffing our faces with olives and a Welsh cake, or two, we decided to skip lunch and head back to the hotel to get ready for the concert. Goes without saying, by the time we got there, we were hungry and finishing off the rest of the olives and banana cake.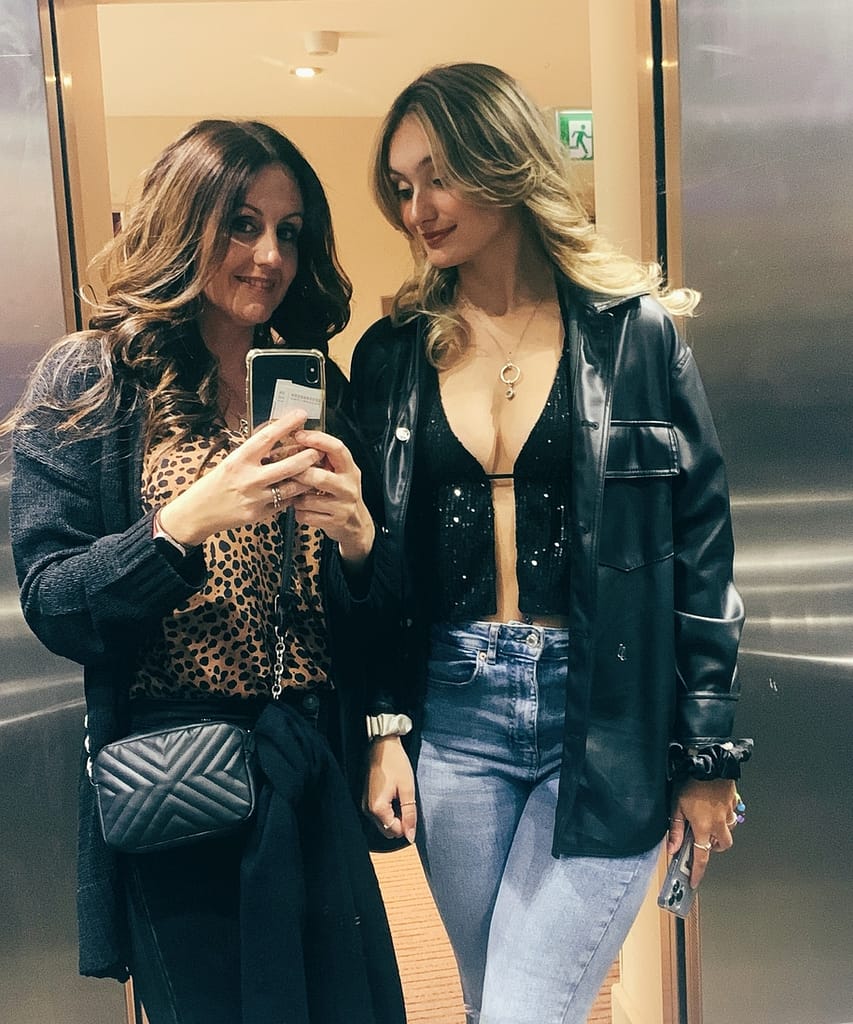 A few hours before the doors to the venue opened, we booked an Uber and headed back to town. By now, we were once again feeling peckish. It's a common habit of ours, we eat, we complain about how much we ate and two hours later we are once again starving. Wanting to avoid queuing up inside the venue to buy food, we opted for a quick bite at Tim Hortons. Nothing fancy, a wrap and chips, but substantial enough to see us through the next few hours.
First on the agenda was buying Beyonce merchandise. Everything was very well organised, with a number of merchandise stalls distributed evenly around the venue, which meant we didn't have to queue for long. Proud owners of Beyonce t-shirts, we made our way to our designated gate. Everything ran smoothly with security tight as expected. Within twenty minutes we were sitting at our allocated seats. A bit high up for Celine's liking, but we were grateful nonetheless to be there.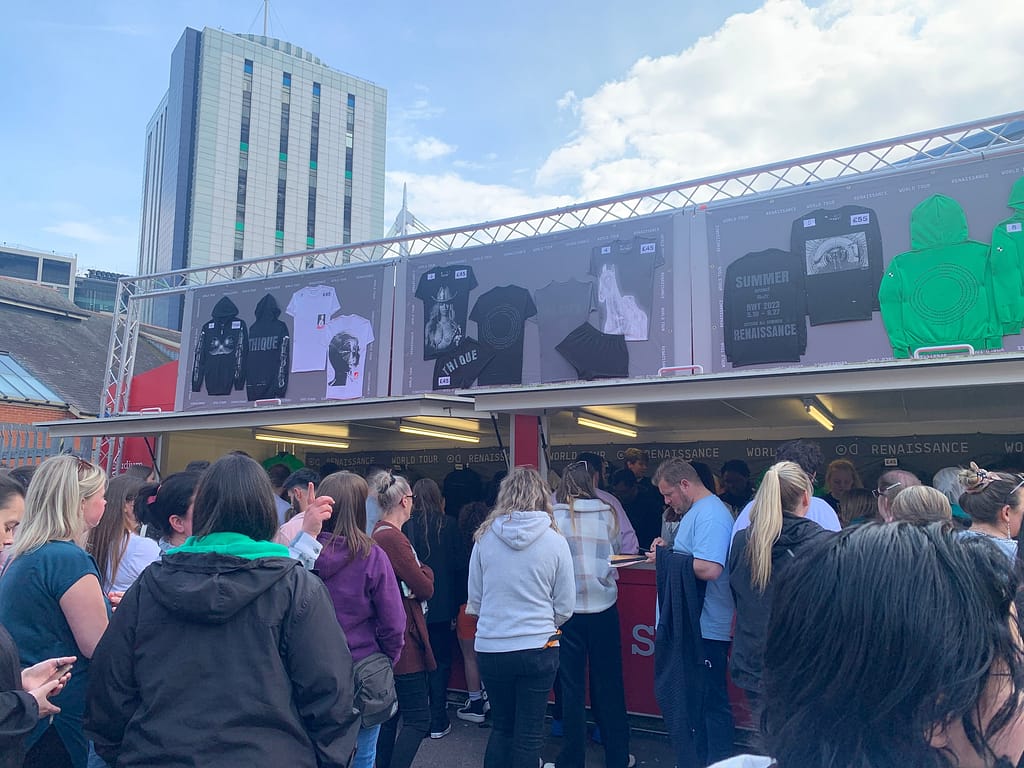 The air was filled with anticipation and excitement. The venue was a sea of fans dressed in Beyonce-inspired outfits. Celine kept looking at her watch, feeling exhilarated and counting down the minutes until her idol stepped on stage.
Even though the Principality Stadium has a capacity of 74,500, the seats behind the stage were obviously empty. Having said that, the rest of the stadium was jam-packed. I would say there were easily 50,000 fans present.
A Night To Remember
As the lights dimmed and the intro music started, there was a palpable energy in the air, creating an electrifying atmosphere. I could feel Celine holding her breath. When Beyonce finally graced us with her presence, my kid started crying. Emotions running high, she just couldn't contain herself. I, on the other hand, didn't pay much attention to Beyonce (this was my third Beyonce concert after all). For me, the best part of this night was watching the utter look of happiness on my kid's face. I experienced an immense sense of gratitude for being able to witness this moment. The emotion was so strong, I started tearing up. Celine thought it was because of Beyonce. Little did she know it was because her happiness made me the happiest mother on earth.
There is nothing more important to me than her joy and her health. It was a moment in time I will cherish forever.
The concert was spectacular. Beyonce performed some of her hits, but mostly songs from her latest album. Her talent is unparalleled, commanding the audience's attention from the very first note. The backup dancers, the larger-than-life screens and the visual effects complimented her energy and powerhouse vocals. As to be expected, the dance routines were impeccable. We were swept away by her passion, energy and the sheer intensity of her performance.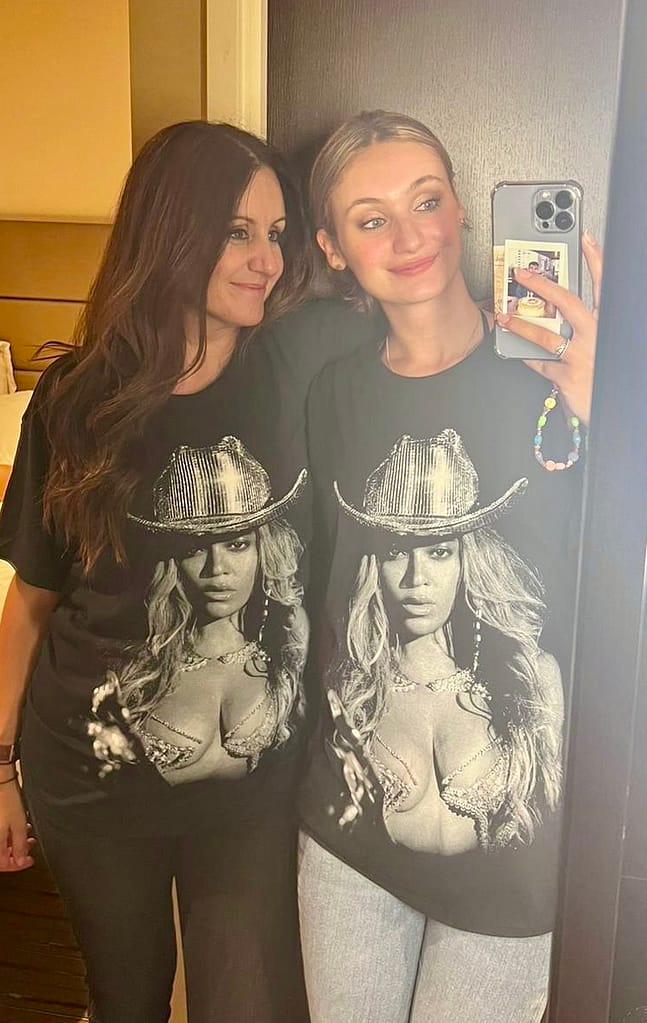 However, as good as it was, the icing on the cake came when Celine said to me, "Mummy this has been the best night of my life" At that precise moment I knew that no matter what, this night would be forever etched in her heart. It was an experience I will forever be grateful for.
---
Join Our Tribe, Don't Miss Out On Fun Content!
Day Three In Cardiff
With the concert done and dusted, my third day in Cardiff was all about shopping, shopping and a delicious lunch at an Irish pub, called O'Neills. After much deliberation, we ordered burgers and chips and it was possibly one of the best burgers I have ever eaten, no joke.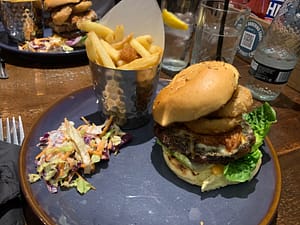 The initial plan had been to stay in town all day, but our bodies had other plans. We were exhausted. After lunch, we headed back to the hotel and enjoyed a lovely nap. Well Celine did, I chilled out with my book.
At around 7 pm we left the hotel and ventured into Cardiff Bay. Once a bustling port, Cardiff Bay has undergone a remarkable transformation in recent years. It has become a popular destination for locals and tourists alike, offering unforgettable experiences for visitors of all ages. Bursting with an array of restaurants, shops, entertainment and cultural venues, there is something for everyone in this charming corner of Wales.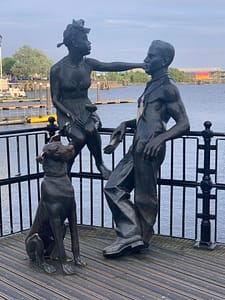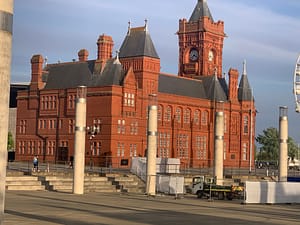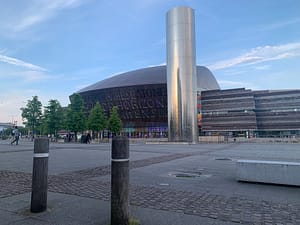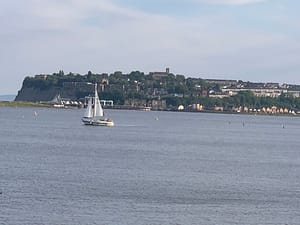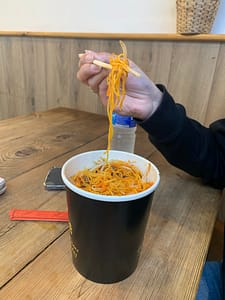 Had we wanted a night out, this was the perfect place to be. However, drained of energy as we were, a leisurely walk followed by some food was all we needed. After enjoying the breathtaking views of the bay, and with a good dose of fresh sea air in our lungs, deciding on what to eat for dinner was our biggest priority. Celine wanted noodles, whilst I would have gladly visited Nando's again. Noodles won. We sat at this quaint noodle bar called Chans and stuffed our faces with these massive buckets of tasty noodles and vegetables.
With our tummies full we made our way back to the hotel for some much-needed sleep.
Struggling To Stay Present
If you've ever had to say goodbye to your kid, leaving them behind whilst you travel home, you will know how painful it is. At least it is for me. It's way worse saying goodbye when I visit than when she leaves home after the holidays.
My last day in Cardiff saw us checking out nice and early and making our way to the centre. We visited the market again, making sure that Celine had a good stock of olives to take back to her house.
I had some blog work to do and Celine some uni work to complete, so we sat at a coffee shop, laptops out, a smoothie for Celine and a cuppa tea and a cupcake for me.
For lunch, we decided on Italian food. We both suffer from gluten intolerance, but this was so worth it. We ordered Tagieltelle Carbonara from an Italian food vendor at the market and watched as the fresh pasta was being made.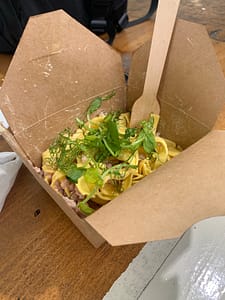 As we sat on the 1st floor of the market and ate our lunch, I was beginning to feel the effects of separation, even though we had not yet said goodbye. The pasta was delicious, but all I kept thinking about was how in less than an hour I would be saying goodbye to my kid and not seeing her for another six weeks. I suppose you could say, I was not living in the moment. Guilty as charged. I constantly advocate for living in the present moment, but this time around, I was struggling.
A Bittersweet Goodbye
Alas, the moment I had been dreading arrived. Celine walked me to the bus stop, trying to make light conversation. This kid is way stronger than I am. She knew I was struggling.
As the bus arrived to take me to the airport, we hugged tight whilst she repeated instructions on my travelling journey ahead. It truly felt like I was the child and she was the parent. "Message me as soon as you get to the airport, Mum". I kept nodding, struggling to conjure words, and fighting to keep my emotions in check.
It's funny how she actually gave me advice on where to sit once I was on the bus. Whilst I was busy trying to raise her, she grew up into this efficient and responsible young woman. Having found the 'perfect' seat on the bus, (according to her) all I could do was wave as the bus drove away, and watch as she waved back. Yep, I cried for the first thirty minutes of my journey. Although saying goodbye is never easy, I was overwhelmed by the feeling of gratitude.
Final Thoughts
It wasn't easy saying goodbye, but it's not really goodbye, is it? It's more of a 'I will see you later'. She will always find her way back home, and I will always be waiting with open arms.
Whilst I went back to my husband and my son, she went back to living her best life. As her mother, I couldn't possibly ask for more.
Unforgettable memories were made on this trip. We laughed, we cried, we danced and sang at the top of our lungs, and we ate. We ate a lot. So, as I finish writing this blog post, I know without a doubt that the future is full of opportunities to create more memories.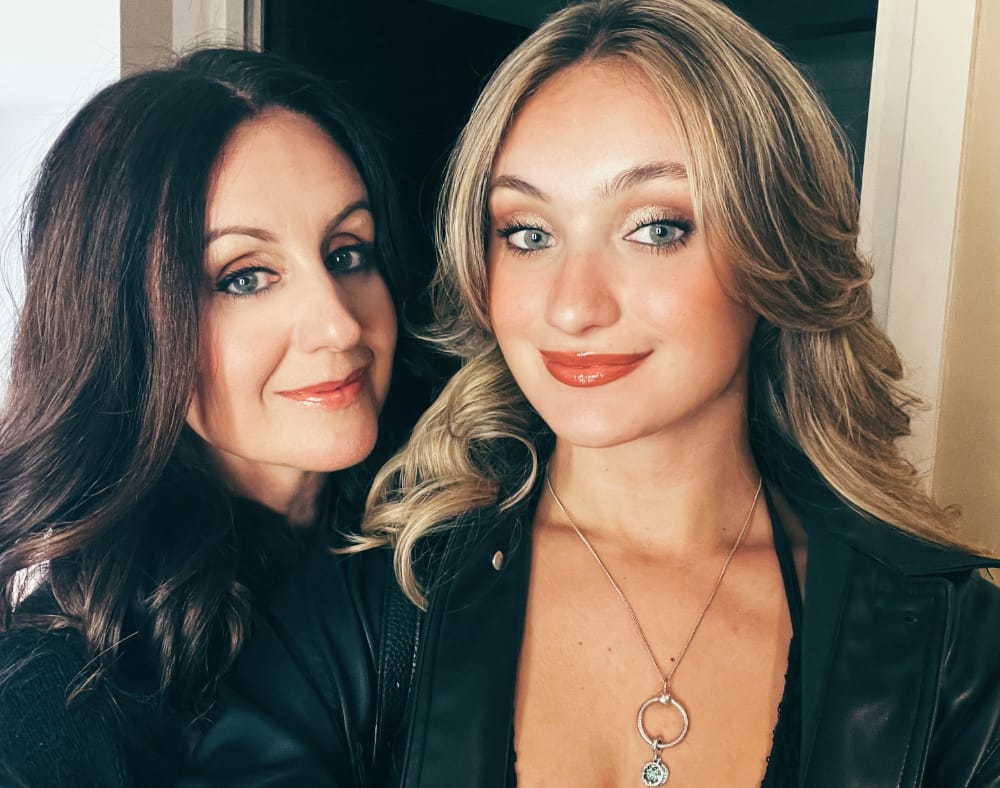 And when the opportunity arises, I will unquestionably jump out of my comfort zone and right into the core of a possible memory-making adventure.
---
Planning on visiting Wales? Check out our travel guide right here.
---
Sharing Is Caring: If you enjoyed this article, please give us a share!
Related Articles You Might Enjoy: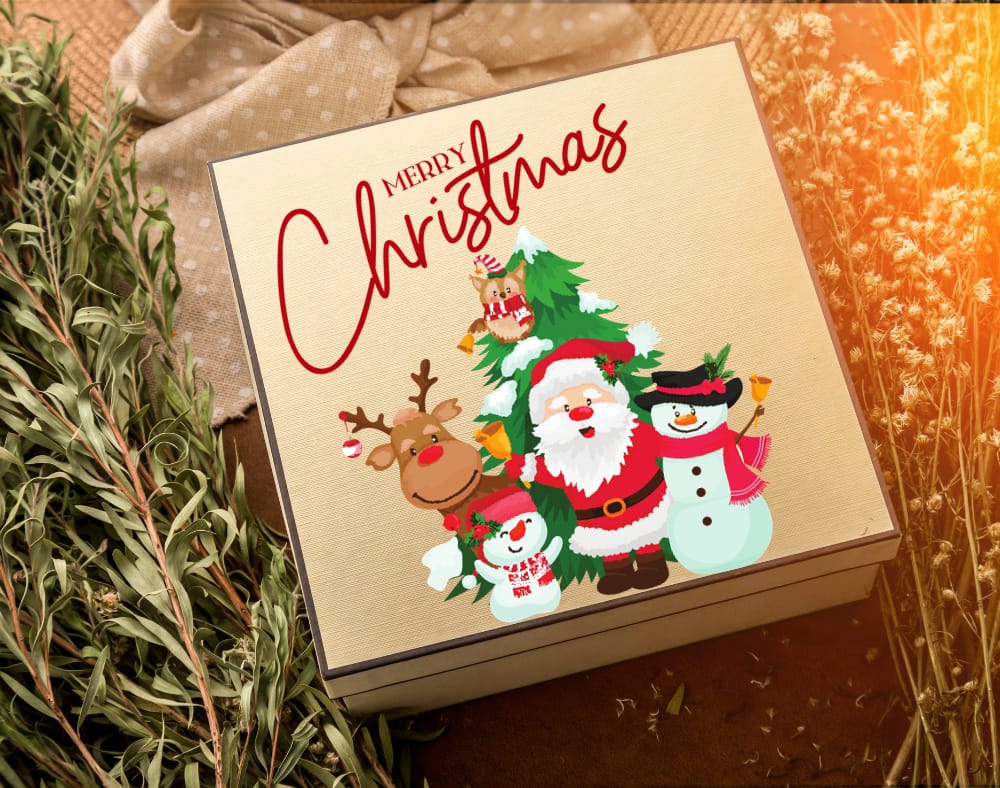 Christmas family traditions play a big part in our family dynamics. A few years ago,…