Cinco de Mayo, or May 5th, is a celebration that has become popular in the United States and some parts of Mexico. It often involves consuming delicious Mexican food and drinks, parades, and parties. If you are planning a Cinco de Mayo party, or just love Mexican food and drink, we have you covered. However, the celebration has a deeper history that is worth exploring.
Battle of Puebla
In 1862 Mexico was in financial ruin after years of war and political instability. Forcing President Benito Juarez to suspend payments on Mexico's foreign debt and leading to the intervention of European powers. In particular, France, led by Napoleon III, sought to establish a presence in Mexico.
On May 5, 1862, a small Mexican army led by General Ignacio Zaragoza defeated a much larger French force at the Battle of Puebla. The victory was significant for Mexico, as it represented a rare moment of triumph against a colonial power. Although the French would ultimately conquer Mexico, the Battle of Puebla inspired Mexicans to continue their fight for independence and sovereignty.
Origins of the Cinco de Mayo celebrations
Cinco de Mayo did not become a major holiday in Mexico until the 20th century. In fact, it is not even a national holiday in Mexico, but rather a regional one celebrated mainly in Puebla and parts of the United States. In the U.S., Cinco de Mayo has become an occasion to celebrate Mexican culture and heritage.
Celebrations typically involve traditional Mexican food such as tacos, guacamole, and margaritas. Some people also dress up in traditional Mexican clothing or attend parades and festivals that feature Mexican music and dance. In some cities, there are even re-enactments of the Battle of Puebla.
Cinco de Mayo Party Ideas
Set a theme: A great way to make your party stand out is by setting a theme. You could choose to make it a traditional Mexican fiesta or opt for a more modern twist. Whatever you choose, make sure to incorporate it into all aspects of the party, from the decor to the food.
Plan the menu: Food is a big part of any party, and for Cinco de Mayo, you'll want to serve traditional Mexican cuisine. Consider making dishes such as tacos, nachos, guacamole, and churros. Don't forget to include vegetarian and gluten-free options if you have guests with dietary restrictions.
Drinks: No Cinco de Mayo party is complete without margaritas! Offer both alcoholic and non-alcoholic versions of the classic drink. You could also consider serving other Mexican-inspired cocktails like palomas or micheladas.
Decorations: Bright colours and festive decor are a must for any Cinco de Mayo party. Decorate with papel picado banners, sombreros, and cacti. You could also set up a photo booth area with props like moustaches and maracas.
Music: Music is an essential part of any celebration, and for Cinco de Mayo, you'll want to create a playlist that includes traditional Mexican music as well as modern Latin pop hits. Consider hiring a Mariachi band to play live music.
Games and activities: Keep your guests entertained with fun games and activities like piñatas, a salsa-making contest, or a DIY margarita station.
Invitations: Finally, send out invitations well in advance to give your guests plenty of time to plan. Consider designing your invitations with a Mexican-inspired theme to get everyone excited about the party.
Mexican Food Ideas
I absolutely love Mexican food. Here are some of my favourite go-to recipes.
Let us know if you love them too and share any other recipes which are must haves for your Mexican family night with us – we love trying out new recipes.
Guacamole
3-4 avocados, mashed
¾ onion, thinly sliced
75g slow roasted tomatoes
2-3 limes (juice only)
Salt to taste
Chilli flakes to taste (optional)
Pico de Gallo
5 roma tomatoes, de-seeded and diced
1/2 cup of red onion, finely diced
1/4 cup of fresh cilantro, chopped
1 jalapeno, de-seeded and diced
juice of 1 lime
1 garlic clove, minced
salt to season
If you are using different tomatoes be sure to remove the seeds as you do not want watery pico de gallo.
Nachos
There is nothing worse than dry nachos, right? I actually had some really great nachos whilst visiting Manchester recently, surprisingly at The Old Wellington Inn, a traditional pub in the city centre which was founded in 1552! These nachos were covered fully in delicious salsa, melted cheese and sour cream, yes even the ones on the bottom.
When I make Nachos I simply place Chilli Doritos in a bowl and cover all layers with tomato sauce and loads of cheese. I then top the Nachos with some sour cream. Mmmmm so good!
Carne Asada
2 shallots, diced
3 garlic cloves, diced
1 bottle of Worcestershire sauce
1 orange, juice
bunch of cilantro
chilli flakes
salt and pepper to taste
beef skirt
Make a marinade using all of the above ingredients and marinade the beef overnight. Next day, cook the beef, add flour wraps with some feta cheese, and enjoy.
Chicken Fajitas
400g Chicken breast, diced
Red pepper, sliced
Green pepper, sliced
Yellow pepper, sliced
1 red onion, diced
1 packet Discovery Fajita Mix
Cheddar Cheese
Marinade the chicken with the fajita mix whilst cooking the peppers and onions.
Cook the chicken and then add in the veggies.
Enjoy in a flour tortilla wrap with some cheese and sour cream.
Chicken Enchiladas
Marinade the chicken with the fajita mix before cooking. Once ready place flour tortillas on an ovenproof dish and fill with the chicken. Make sure to place the close of the wraps on the bottom of the dish so that the filling does not fall out.
Spoon tomato sauce over the enchiladas and then cover with plenty of cheese before baking at 180℃ for 20 minutes.
Honey Chipotle Prawn Tacos with Mango Salsa
450g peeled and deveigned
2 tablespoons honey
2 teaspoons chipotle seasoning
1 teaspoon garlic powder
1/4 teaspoon salt
For the mango cucumber salsa
1 cup mango, chopped
1 cup cucumber, chopped
1 cup red pepper, diced
1/4 cup red onion, diced
1/2 cup coriander leaves, chopped
juice of 1 lime
8 small flour tortillas
Instructions:
Mix all the salsa ingredients together and set aside whilst making the tacos.
Season the prawns with the chipotle, garlic and salt.
Heat up a little olive oil in a frying pan on medium heat and fry the prawns (with the honey) for about 1-2 minutes on each side. They will turn from grey to pink once ready.
Warm the tortillas in the microwave or on a griddle pan to add some cool-looking lines to the wrap.
Assemble and enjoy.
Chimichunga
We love this cheesy beef and bean Chimichanga Recipe with spinach and lots of cheese by MunchkinTime.
Mexican Drink Ideas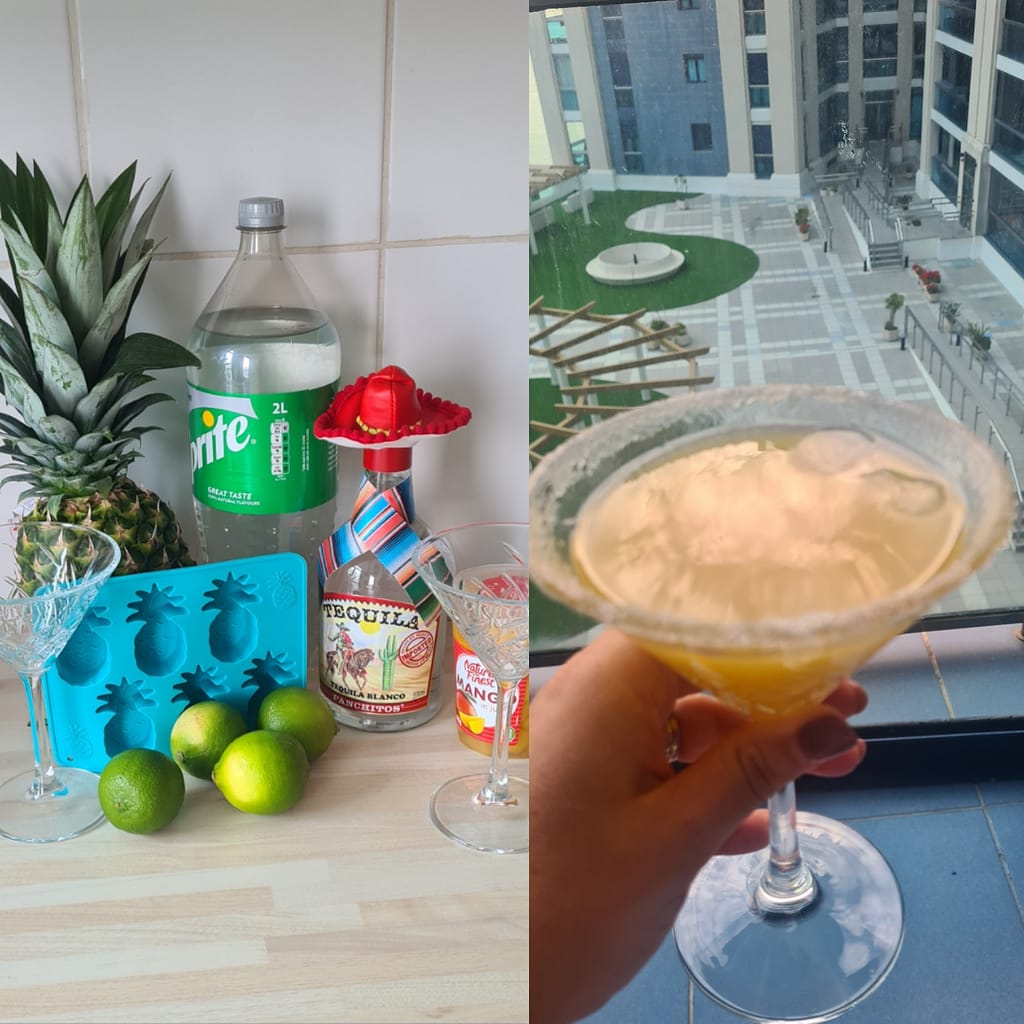 You've got to have a classic Margarita at a Mexican party but there are countless other combinations which are sure to be a hit too. Some great options are:
Maybe set up a cocktail area with instructions so your guests can customise their own cocktails.
Not Into Margaritas?
Wait, is that we end a thing? On the off chance that it is, having some Desperado beer on ice will certainly be a hit at any Cinco De Mayo celebration.
And if you are looking for some non-alcoholic drinks for your non-drinkers or kids, these aqua fresca recipes by The Happier Homemaker are divine.
Fiesta Time!!!
We hope you enjoy the recipes and drinks in this blog and have a fabulous Cinco de Mayo party!! Be sure to check out our other recipes.
Check out these delicious recipes: