I don't know about you but for me chocolate cake is the ultimate cake. It is the perfect choice whether you are celebrating a birthday, special event or just want to indulge in a perfectly delicious slice of heaven.
There is something about the smell of chocolate that can instantly lift my mood. If I'm having a bad day or need a pick-me-up a slice of chocolate cake will surely brighten up my day. I can definitely not turn down a slice of good chocolate cake.
Chocolate cake is also a certain crowd pleaser and it is one of the most popular flavours when choosing a celebration cake.
There are hundreds of chocolate cake recipes out there but I have found that adding caramel to the cake mix really adds an extra dimension to my cakes. This recipe makes for a moist, gooey cake and it is extremely easy to make. It's so good, I'm just going to go straight to the point and let you have the recipe!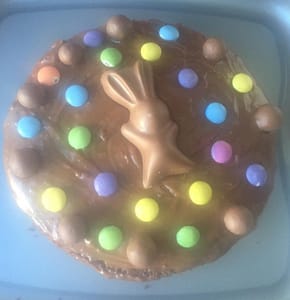 Ingredients
175g Self-raising flour
2 ½ tbsp Cocoa powder
1 tsp Bicarbonate of soda
150g Caster sugar
2 Eggs
150ml Corn Oil (but sunflower or vegetable oil will also work)
150ml Milk
2tsp Vanilla extract
125g Galaxy chocolate
397g can Carnation caramel
1 tbsp icing sugar
Equipment
2 x 18cm sandwich cake tins
Parchment paper
Preheat the oven to 180°C, (160°C for fan ovens).
Sieve the flour, cocoa and bicarbonate of soda into a bowl and stir in the sugar.
In a separate bowl, whisk the oil, milk, eggs, half the vanilla and a tablespoonful of caramel until smooth. Then mix into the flour mixture
Divide the cake mix between the two tins and bake for about 20-25 minutes.
Cool the cakes in their tins and then turn out onto a cake rack.
Melt the chocolate over a pan of boiling water (bain marie) or carefully in the microwave. Be careful if you are melting the chocolate in the microwave as it can easily burn.
Add the rest of the caramel and vanilla and beat until smooth.
Put one half of the cake onto a plate and spread some of the icing on top before adding the other half of the cake on top.
Add the rest of the icing. I like to ice the entire cake but it's up to you whether you just ice the top.
Once the chocolate icing has set you can decorate to your liking.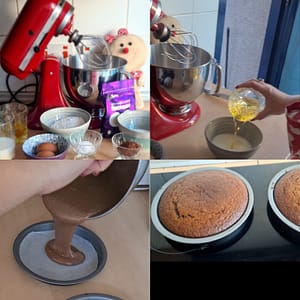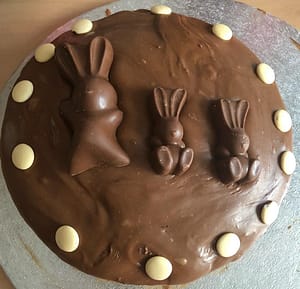 I hope you love this cake as much as I do. Be sure to check out some of our other recipes such as Arroz Con Leche or Honey and Walnut Loaf. Happy baking!
Related Articles you might enjoy: