Many of our friends and family have asked us, "How come you have started a blog?" At some point we always knew we would eventually write about blogging, mostly to help others who want to dive into it too. However, as we kept having to explain to others this unexpected path we had embarked on, we decided that the best way was to write a blog post on blogging and how it's going six months into our journey.
Truth be told it's not something we had discussed as kids or as young adults. We both always enjoyed writing, however, it was never part of any given conversation.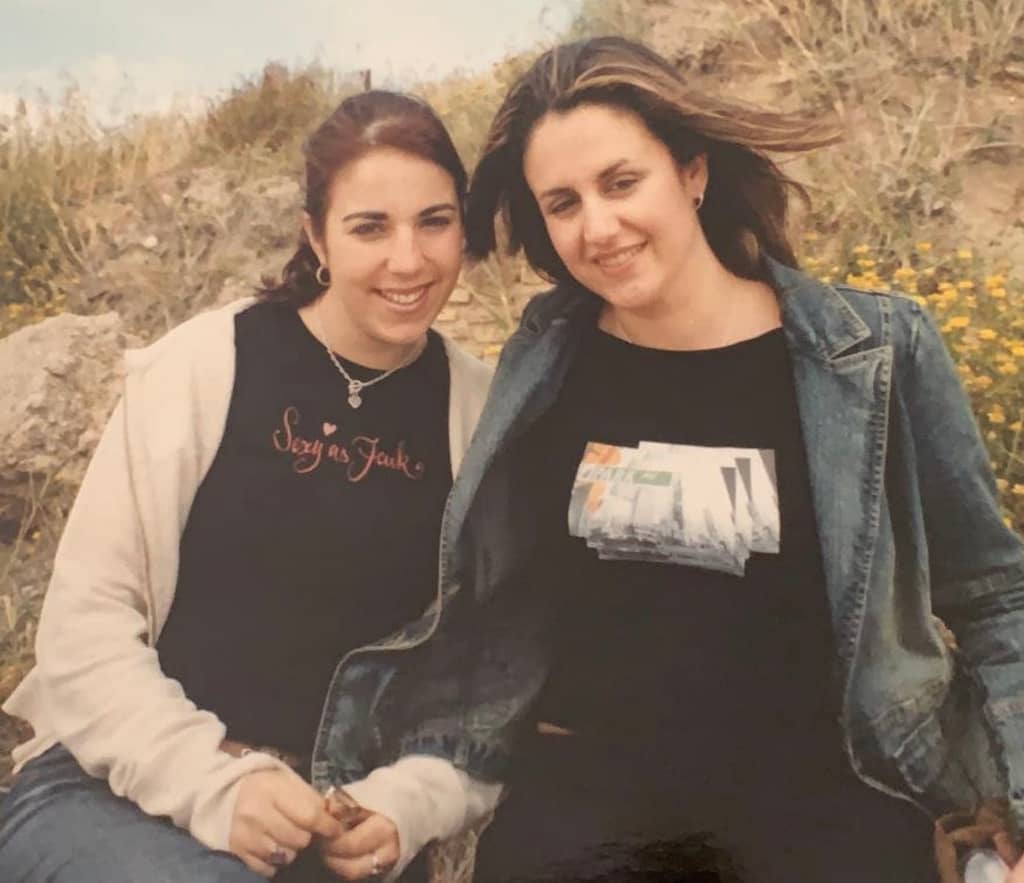 During one of our many walks together, around two years ago, the topic came up. It was actually Colleene who brought up the idea of starting a blog. I remember at the time agreeing with her, but thinking to myself, 'erm not something I am capable of doing'. I could give you a million and one excuses as to why I felt that way, but the truth is, I genuinely didn't think I had it in me. Who would want to read anything I wrote anyway?
COURAGE TO MAKE IT HAPPEN
Then six months ago something shifted. We were both at a crossroads. We found ourselves having very deep conversations about life, where we were at, regrets of things not done, of chances not taken. And so we finally found the courage to try something which was totally out of our comfort zone. "Let's do it, let us start a blog. We won't know if we can do it unless we try" Surprisingly enough those words came from me. I remember we were walking past Macdonalds. For some reason, that moment has stayed with me. I had somehow in the last six months grown comfortable in my own skin, and I was willing to try something new.
It didn't take much encouragement for Colleene to jump at the opportunity. It was a pivotal moment in our adult lives. Deciding to do something for ourselves, something we could create from scratch filled us with excitement for the future.
LET'S LAUNCH A BLOG
Deciding to launch a blog and actually going through the process of getting started are two very different things. We were understandably nervous about the whole procedure. Whilst the idea of being able to write about the things we love, and share our ideas, experiences and expertise with our readers, was at the forefront of our plans, blogging requires much much more. Boy were we in for a surprise. Don't get us wrong, yes, it was exciting, however, when you have no IT knowledge (and I mean zero, zilch) and you are working demanding jobs as well as taking care of your family and home, it can also seem like a daunting and at times an impossible task.
THE FIRST STEPS TOWARDS STARTING A BLOG
The journey towards our blog launch has been full of challenges, from designing our website whilst learning it all from scratch to struggling with SEO (search engine optimization), social media marketing and learning graphic design. We also spent hours upon hours researching the best software, the best hosting company, and the do's and don'ts in the blogging world. On paper it all looked quite straightforward, alas it was not so!
Buying A Domain
Our first step was deciding on a name. After a week or so of going back and forth on names, it was Colleene who came up with The Opinionated Magpies. Not the full name though. We were at my house brainstorming and eating a takeaway (you will somehow always find us eating). Colleene was looking at a photograph of my late father which I keep on my desk. She looked up at me and said "Whatever name we decide on has to have the initials T.O.M. Like your Dad". Obviously, that made me emotional, and I didn't quite understand the reasoning behind it. In all honesty neither did Colleene as her answer to my 'why?' was, "I don't know why, it's a feeling".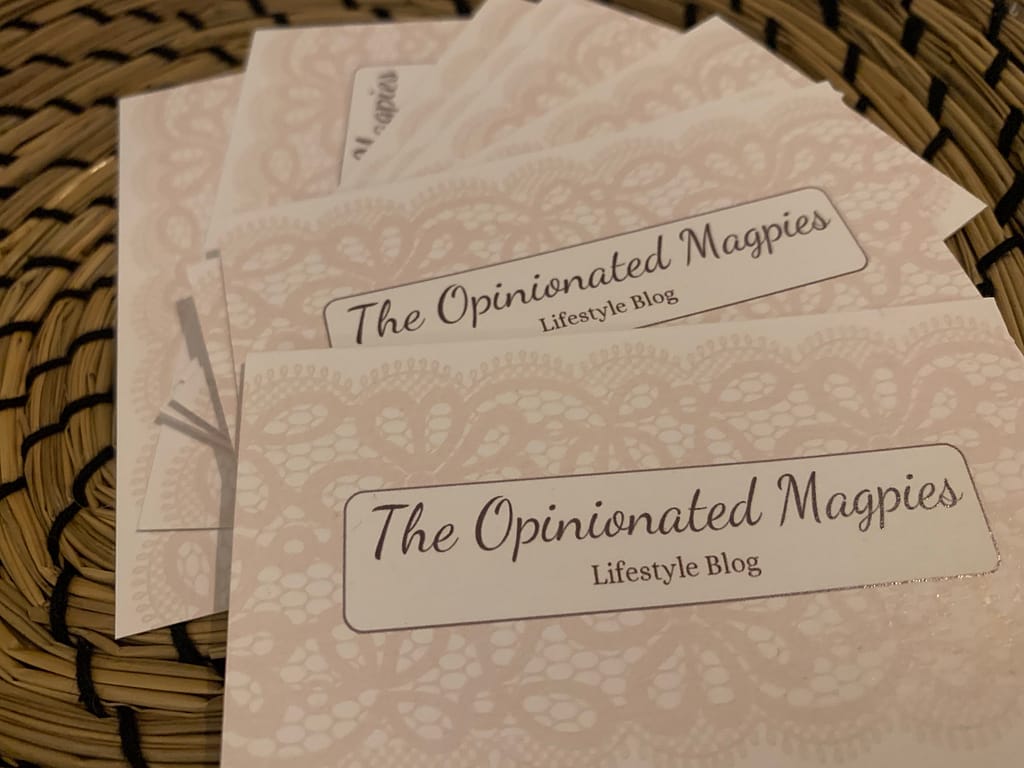 So, after that was settled, and a lot of brainstorming, The Opinionated Magpies were born. Symbolically Magpies in pairs bring joy, positivity and success. The opinionated was simple enough, we are both just that, full of opinions.
And so that same night we bought our domain name. (more on this in a future blog post where we will provide a comprehensive guide on how to open your own blog).
We were so happy and proud of ourselves. We had taken the first step and felt as though we were well on our way to successful blogging.
FINDING AN ADEQUATE HOSTING PROVIDER
This step was both frustrating and hilarious. Let me explain. The first company we decided to go with, based on other bloggers' recommendations, (again we will cover this in a future post and save others the trouble we went through) was a total flop. Funny anecdote for you. On one occasion Colleene told one poor IT help desk assistant "Vishna, (assistant's name) I am losing the will to live" This lady insisted that the solution to one particular IT problem was that we were not using the Euro section on the website as we are based in Gibraltar. Now, this particular section has nothing to do with the area but the currency for payment, yet this lady could not see the difference. We were on a call with this lady for around 1.5 hours and in the end, we gave up with that particular provider and started afresh with another, super-efficient hosting provider.
INSTALLING AND CREATING A WEBSITE
There's an ad on Youtube that goes something like this, "Building a website is sort of like painting a masterpiece, except it's nothing like painting a masterpiece" This ad couldn't be more accurate. Building a website with zero IT knowledge was an absolute nightmare. I am not going to sugarcoat this.
Firstly we had to install the software needed to create a website and then decide on the format we wanted. However, that was the easy part. Once that was done, we had to install plugins. Then came the part of designing each page and making it navigational. Learning about headers and sub-headers and how to make it all functional? What's a widget? A post carousel? Why does this page look okay on a desktop but not on a mobile phone?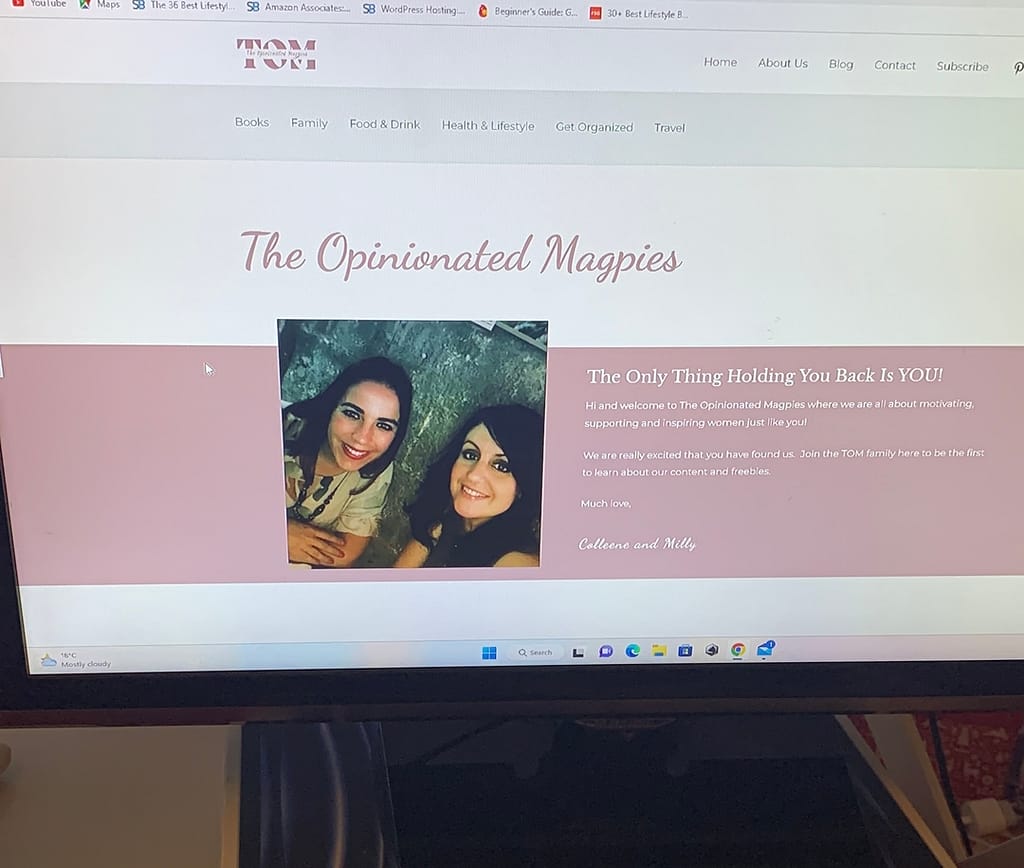 There were times I cried, literally fat tears of frustration. On more than one occasion I told my husband, "I cannot do this", to which he replied, "Sleep on it". The man knows me well enough to know that once I start something I'm like a dog with a bone.
And so we persevered. We kept meeting up, overcoming obstacles and encouraging each other to push forward. Whilst I was busy trying to understand the world of website building, (purely because I am the one who owns a nice juicy desktop), Colleene was planning content, writing articles and becoming a pro at graphic design. We became the ultimate definition of 'teamwork', two people working together towards a common goal.
A LOVE-HATE RELATIONSHIP WITH SOCIAL MEDIA
Opening social media accounts was a must. In order to generate traffic to our website, being active on social media and building a following, is essential for a blog's success.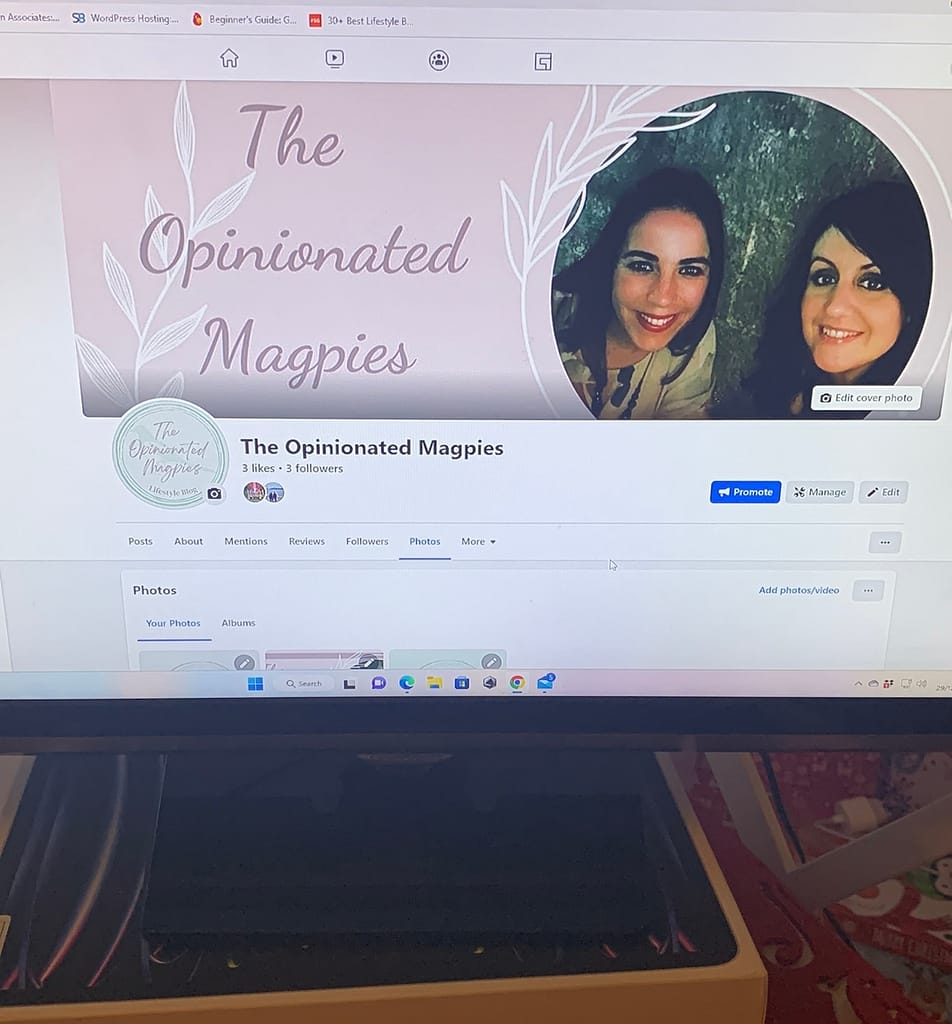 Having said that, we currently have an ongoing love-hate relationship with social platforms. We are working against algorithms constantly. When you put so much hard work into something, but then no one sees it, it becomes so discouraging. This past month I have personally found myself wanting to quit on numerous occasions. Scheduling posts on Facebook and Pinterest take hours out of our day. Hours, I kid you not. I thought I would be writing to my heart's content, but hey ho, that's not the case.
Want to support us? Follow us on our social media platforms.
UPLOADING BLOG POSTS
We thought that writing blog posts would be the most enjoyable part. In a way it is, but it takes a lot of time. There is a ridiculous amount of research involved. Then you write the 1st draft followed by 2nd and 3rd draft. And then comes the uploading to the website. Time-consuming doesn't cover it.
There is this thing called SEO, which I mentioned above. Well SEO is a pain in the behind, and that's me being subtle. If you have a writing style, be assured that SEO will make you change your writing style and adapt to Google's needs. In the beginning, we found ourselves changing practically whole pieces because SEO was telling us that we were using a passive voice! Wait what? We spent a lot of time googling abbreviations and IT terms during our first few weeks. And don't get me started on the use of keywords. Because if we don't have the correct keywords our blog post will not appear in any search engine. At times we felt like we were drowning. And yet once again, we kept at it, to the point that when we upload articles now, using a passive voice is no longer a problem (most of the time anyway). Go figure.
EMAIL NEWSLETTER IS STILL A THING
When we started researching this blogging gig, we were amazed at the number of established bloggers who recommended starting your own mailing list. Do people still open their emails? I am well known for having over 9000+ unopened emails on one of my accounts. I know, it's absurd. The thing is, I tend to only open emails from work, or official stuff, like online applications to e-gov (Government Website) etc.
So, we find ourselves having to install yet more software on our site, which doesn't come without proper research (more hours on YouTube). We finally decided on a certain company (their free version for now) and embarked on learning yet again, how to design newsletters, what to include, how to make them attractive to the reader, and the list goes on.
Deciding to only send one newsletter a month was a no-brainer. Firstly we didn't have the time to write and design weekly newsletters, and secondly, we really don't want to spam our followers. I mean, it's one of the reasons I have 9000+ unopened emails.
Want to support us? Sign-up for our Newsletter below. It's free and full of fun content.
WELCOME TO THE WORLD OF GRAPHIC DESIGN
Canva is a graphic design programme that allows us to get creative and work some magic. All for the love of attracting followers on our social media accounts. As with everything new, in the beginning, we struggled to understand how it worked. As it is, we are still learning. But it's one of the best things about blogging, especially if like me you are a little bit of a creative freak.
Creating Facebook and Instagram posts is so easy now. However, the main reason we spent hours upon hours on Canva is because for every article we publish, we need to create around 14 different pins for Pinterest. Pretty, eye-catching pins. And they all need Keywords in their title and in the description too. And so after that is done, we manually upload the 14 pins, add a title, description, and link to the blog post, save them in the correct category, and make sure to schedule them to the correct date and time. Yes, because apparently there is also a particular time to schedule on Pinterest that will generate more traffic. And all this for just ONE blog post. We normally publish fourteen to sixteen new blog posts every month. We will let you do the maths!
As we said, time-consuming. It's literally a full-time job.
PLANNING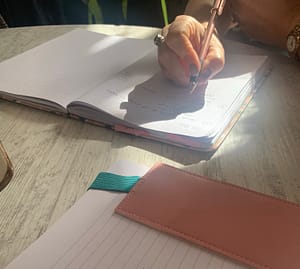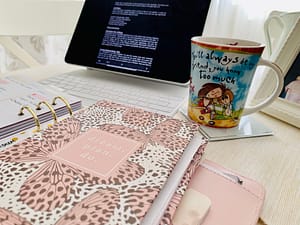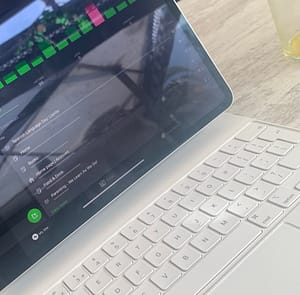 Once a month we meet up and plan, plan, plan! We plan blog post content, social media content, behind the scene content, and newsletter content. Do you see a pattern here? If we want to progress we have to find ways to stay on trend, engage followers, produce good quality content which will help others, and edit and customise our website as we go along. It's easy to see now that blogging doesn't just incur writing.
HOW YOU CAN HELP US MOVE FORWARD
Currently, we have 273 Facebook followers, 142 Instagram followers and 83 Pinterest followers. Our emailing list consists of 95 subscribers. We still have a long, long way to go.
We have a dream and a purpose. Firstly we would love to serve. We have both accumulated a plethora of life experiences. It helps that we are from different backgrounds and that we both took very different paths in life. Colleene is very passionate about food and travel, whilst I am very passionate about books and self-care. And, let's not forget we are both mothers (one of us is a grandmother to two boys) and totally dedicated to our families. So, yes we do have a lot to say and hopefully, it can help someone else along the way.
Secondly, someday we would love to make a living as full-time bloggers. In the (hopefully) near future we will be applying to affiliate marketing programmes, partnering with brands, running ads on our site and maybe, selling digital or physical products online. In order for us to do this, we need support and followers.
Probably the most discouraging part of this journey has been experiencing how our blogs and hard work get lost in the ugly social media algorithms.
We depend on a small but very powerful group of friends and family who tirelessly share and like our content. For this, we will be forever grateful. However, it's not enough.
We need to grow a following and in order to do that our social media accounts have to grow. So if you ask yourself, how can I help these two hard-working, delightful (lol) women? The answer is simple. Share and like our stuff, sign up for our newsletter, and engage with us online, whether it's commenting on a social media post or replying to one of our emails. You can leave comments on our site. If you have enjoyed a book we recommended or tried a recipe from our food section, please let us know, it really helps.
FINAL THOUGHTS
By now you might have gathered that we work really hard. We pour our hearts and souls into this little dream of ours.
Nevertheless, we are also human. We get tired and discouraged at times, we have families and jobs (Colleene has a stressful full-time job). When one of us is going through personal stuff (and trust me we have had our fair share this year, but let's leave that for another blog post) the other happily picks up the slack. We encourage each other and celebrate each other. We are friends, yes, but above all we are sisters, and together we want to build something amazing. Something we can look back on in 20 years' time and say, "We did that. No one handed it to us on a silver platter. Sweat and tears and pure determination got us this far".
So we ask, please help us on this incredible journey. We promise we won't give up, we won't throw in the towel, no matter how hard it gets or how many times life gets in the way. We will keep moving forward.
Much love and gratitude,
Milly & Colleene
Check out our most popular blog posts this year so far:
Related Articles:
In the warm embrace of our homes, there are those with wagging…