Welcome back, fellow barbecue lovers. In our previous post we delved into the world of BBQ starters and appetisers. We hope that your taste buds were sufficiently tantalised and you are eager for more delicious BBQ food as we turn our attention to the main event.
Cooking Up A Primal Feast
Standing before a roaring fire cooking up a primal feast has a certain allure. Whether it is its appeal to our inner caveman or the simple fact that BBQ food is just plain AMAZING! In this post we explore the cooking of meat (and fish) over an open fire providing you with the ultimate food guide for the main event.
The Ultimate Summer Social Event
BBQs bring people together in an informal and relaxed environment. Unlike the confines of a kitchen which are often removed from the main gathering, BBQs provide an open place where guests and hosts can mingle and enjoy good conversation, food, drink and fun.
For me, BBQs definitely become a social event as Dani will take over the entire cooking of the main meal. Whilst Dani at least loves cooking normally, during BBQ season he really is in his element. And, if our conversations with our neighbours are anything to go by, it seems that most of the men in our block relish the prospect of cooking up a feast over the open flames.
This leaves me free to concentrate on preparing the starters and desserts (my favourite) and being the hostess with the mostess! On BBQ day, I become the sous chef. Dani is in charge of the main event and I become the gofer! But, I also have another very important role. I make sure that everyone's glass is full and that there is a delicious and refreshing cocktail or two for our guests.
The Perfect BBQ Menu
I apologise in advance to all our vegan and vegetarian followers but this post is a BBQ post and in my mind the perfect BBQ food is simply meat and fish. So without further ado, let's dive into the perfect BBQ menu for the main event.
Juicy Rib Eye Steak
A thick, marbled ribeye steak is an absolute must have for a successful BBQ. You can choose to season it simply with salt and pepper. Alternatively, prepare a marinade with your favourite herbs and spices or a delicious chimichurri.
Chimichurri
¼ -½ cup flat leaf parsley
3 garlic cloves, crushed
½ cup olive oil
2 tbsp red wine vinegar
½ tbsp sweet, smoked paprika
Salt and pepper to taste
½ tsp chilli flakes (more if you like your sauce hot!)
Directions
Crush the dry ingredients using a pestle and mortar and then add the oil and vinegar. That's it!
Smoky Barbecue Ribs
Ribs are the epitome of BBQ perfection as long as they are cooked properly. Tender, succulent and falling off the bone! Whilst you can achieve this result by solely cooking your ribs on the BBQ, you need to make sure that you are able to control the temperature throughout. For easy to follow instructions and a delicious rib rub recipe, check out this blog by Bowl Me Over.
If you are going to cook your ribs on a charcoal BBQ where it can be difficult to control the temperature, our top tip for the perfect ribs is to slow cook them in the oven before finishing them off on the BBQ for the ultimate smoky taste.
Another must do with ribs is to baste them with tangy barbecue sauce during the cooking process. We recommend heating up a ready made BBQ sauce such as this for a deliciously sweet and smoky taste.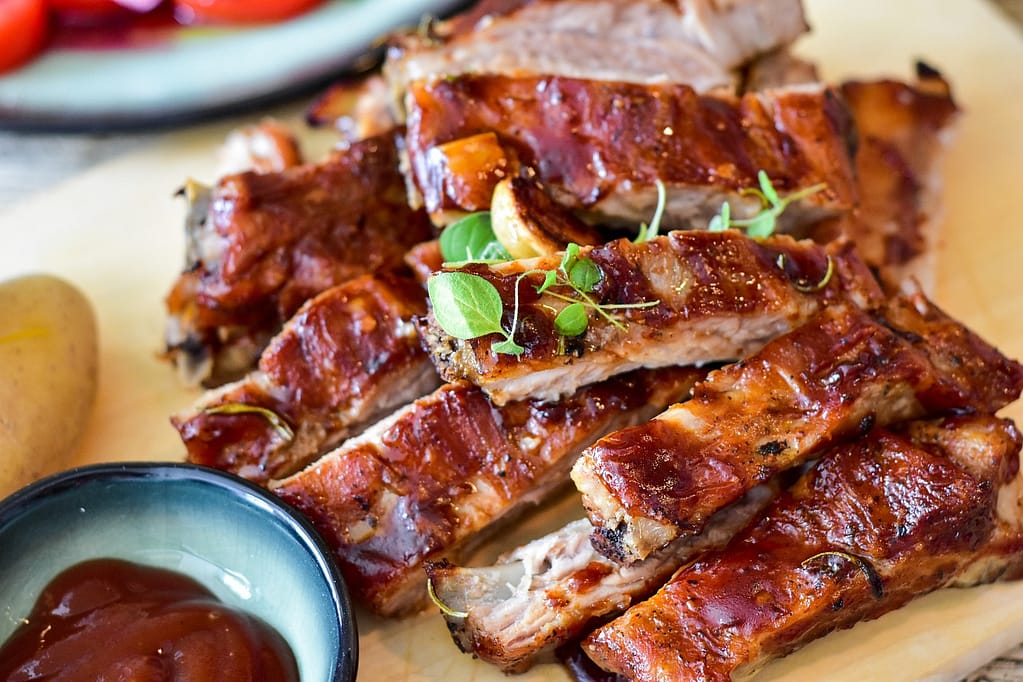 Smoked Brisket
A brisket is a huge amount of meat so, if you choose to cook this meat at your next BBQ you may want to have this as the sole main.
Cooking a brisket on the BBQ requires patience as the cooking will take place over several hours (even overnight including the prep). That said, the end result will be absolutely worth your efforts as your brisket transforms into a masterpiece. Follow this guide with the ingredients below for perfectly cooked juicy tender meat that melts in your mouth.
Ingredients
1 whole, untrimmed beef brisket, including both the flat and point sections (weighing 4.5–5.5 kg)
Brisket rub 475ml Honey BBQ Sauce
Cedar-Planked Salmon
Whilst meat often takes centre stage in most BBQs, you should not overlook fish as a delicious alternative. Cedar-planked salmon would be a perfect choice when barbecuing fish. Note that cooking the fish on the cedar wood will result in a very smoky taste. If you are not keen on the same just follow the instructions and cook on the grill without the wood.
This simple rub is so easy to prepare and will guarantee a deliciously sweet tang to your smoky salmon.
Ingredients (for 4 people)
1 kg salmon fillet, pin bones removed
2.5 tbsp extra-virgin olive oil
2 tsp smoked paprika
½ tsp chilli flakes
2 tbsp light brown sugar
½ tsp himalayan salt
½ tsp ground pepper
Special Equipment
1 untreated cedar plank about 30-37 cm long and 18cm wide (12-15 inches long and 7 inches wide)
Directions
If you are going to be using the cedar wood then soak in water for at least an hour before you need to start cooking. After this time, dry the plank with a paper towel and brush one of the sides with olive oil.
In a small bowl combine the paprika, chilli flakes, sugar, salt and pepper.
Cut the salmon fillets into four equal pieces and cover with the rub.
Place the salmon plank over a direct medium heat and close the BBQ lid for about 5-10 minutes. When the wood starts to smoke and char, turn it over and place the salmon fillets on top (skin side down). Cook over a medium heat for about 12-15 minutes (BBQ lid closed). You will know that the salmon is cooked through when it reaches 45-50℃ (110-125℉) in the thickest part of the fillet. You may sometimes see a recommendation of 145℉ but this will give you very firm and dry fish!
Burgers
Makes 6-8
500g mince meat
2 tbsp garlic powder
1 tbsp onion powder
1 tbsp sweet paprika
1 tsp parsley
100g grated parmesan cheese
1 tbsp butter
Mix all the ingredients together and then divide into burger shaped patties. Cook as desired.
Chicken Pinchitos
What would a Gibraltarian BBQ be without chicken (although you can also use beef, lamp or pork if preferred) pinchitos? Surely, this is a guaranteed staple dish at any BBQ, right? So whilst we can easily buy Moroccan spiced chicken pinchitos at any local market, if you want to make your own pinchito spice rub just follow these steps
Ingredients
1 kilo chicken fillets, cubed
1 tbsp ground cumin
1 tbsp sweet paprika
1 tsp ground coriander
1 tsp ground turmeric
1 tsp oregano
1 tsp Himalayan sea salt
½ tsp freshly ground black pepper
¼ tsp ground cinnamon
5 garlic cloves
¼ cup olive oil
1 lemon
Directions
Cut the chicken into 1 inch cubes and place in a large freezer bag.
Make the rub by mixing together all of the spices, salt, pepper, minced garlic, juice of half the lemon and olive oil. Add to the freezer bag, seal and massage the rub into the chicken. Allow to marinate for at least 2 hours but preferably overnight.
Thread around 5 chicken pieces onto bamboo skewers which have been previously soaked in water.
Cook on a medium heat until browned on the outside. Be careful not to overcook them or you will end up with very dry chicken.
Allow to rest for about 5 minutes and then add a squeeze of lemon.
Bacon Wrapped Pork Chops With Bourbon Sauce
These juicy and tangy pork chops will be an absolute hit at any BBQ get together.
Ingredients
4 boneless pork loin chops (about 2.5cm thick)
Vegetable oil
4 bacon rashers
Sauce
15g unsalted butter
1 onion
1 garlic clove
5 tbsp tomato ketchup
1 tbsp Worcestershire sauce
1 tbsp balsamic vinegar
5 tbsp black treacle
4 tbsp bourbon
½ tsp hot pepper sauce
Rub
1 tsp chilli flakes
½ tsp himalayan sea salt
½ tsp ground pepper
Directions
Melt the butter in a saucepan and add the chopped onion, cooking for about 5 minutes. Stir in the crushed garlic and cook for a further minute.
Add the remaining sauce ingredients to the saucepan and cook, simmering, for about 10-15 minutes. Reduce the heat and continue to simmer until the sauce has thickened. Be sure to stir the sauce often to avoid it sticking and burning.
Reserve 4 tablespoons of the sauce for basting the pork chops whilst cooking and the remainder to serve.
Mix the rub ingredients together. Brush the chops with oil on both sides and then season with rub.
Allow the chops to stand at room temperature for about half an hour before barbecuing. Just before cooking the pork chops, cook the bacon in a frying pan for about 2 minutes. Wrap a slice of bacon around each pork chop and secure with a cocktail stick (soak the cocktail stick in water to prevent it from burning).
Cook the chops over a medium direct heat for about 8-10 minutes with the BBQ lid closed. You will need to turn the chops over at least once and baste with some of the reserved sauce.
Previously food safety guidelines advised that pork should be cooked to 160℉ however nowadays, the guidelines provide for an internal temperature of 63℃ (or 145℉).
---
Want to receive exclusive recipes straight to your inbox? Join our tribe. It's free, it's fun and we won't spam!
---
Prawn Kebabs With Pistachio Tarragon Pesto
Ingredients
20g fresh flat leaf parsley
4 tbsp fresh tarragon
25g shelled unsalted pistachios
5 tsp fresh lemon juice
1 garlic clove
32 large prawns
24 cherry tomatoes
2 small courgettes
1 large yellow pepper
12 spring onions
2 lemons
Sea salt
Black pepper
Extra virgin olive oil
Special Equipment
Directions
Soak the skewers in water for at least half an hour.
Combine the parsley, tarragon, pistachios, 5 tablespoons of lemon juice, garlic, ¼ tsp salt and ¼ tsp black pepper in a food processor until finely ground. This will take around 30 seconds to a minute. With the food processor still going, add 125ml olive oil and continue to blitz until smooth. You may need to scrape the mix down into the bowl a couple of times to make sure it all mixes in well. Transfer 5 tablespoons of the mix to a small bowl to brush onto the prawn kebabs. Add the remaining mix to another bowl and add 1 tablespoon of water to loosen the pesto. This will be used when serving the prawn kebabs.
Devein the prawns, leaving the tails on.
Alternate threading the prawns, tomatoes, courgettes, pepper and spring onions onto skewers. Brush with oil and the reserved 5 tablespoons of pesto. Season with some salt and pepper and grill over a direct high heat for 3-5 minutes with the lid closed.
---
Sharing Is Caring:
---
Unleash Your Inner Caveman
Indulging in these mouthwatering main BBQ meals will surely get your inner caveman roaring with delight! Next time we'll share cocktail and dessert ideas to help you finish off your BBQ in style.
Happy barbecuing! For more barbecue ideas check out our safety guide and starters.
Check Out Our Food & Drink Section – Yummy!!
Every year on the 30th November, Scotland, and Scots around the world, celebrate St. Andrew's…