There are certain recipes that are just so easy they are dangerous! Our anytime banana bread recipe is one of those and can easily be a go to when baking with kids.
Just yesterday upon realising that the bananas were looking a bit past their best I quickly had a loaf in the oven.
Lockdown Banana Bread
Whilst I have been a hobby baker for some time I don't think I had ever made banana bread before lockdown.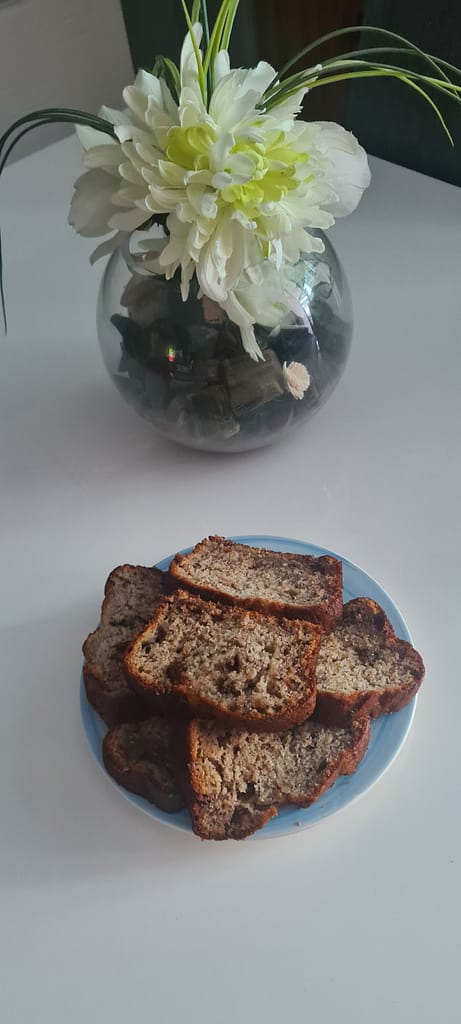 Looking back at posts on Facebook and Instagram it seems like everyone was making banana bread during this time! Thankfully we also had a lot more time to exercise and burn off the extra calories.
That "Deliciousness" Smell
Within an hour there was a delicious smell filling the house. Evan, my eldest, ran to the kitchen to find out when the banana bread would be ready. Insisting on eating some whilst still piping hot.
Tried and Tested
Having tried a few recipes, this quickly became our favourite.
The result is such a soft and moist loaf. The addition of chocolate chips (or just cut up pieces of Dairy Milk chocolate) then takes this banana bread to another level.
Storage
The banana bread keeps lovely and fresh in a tupperware for a few days but believe me, it won't last that long!
Freezing
This banana bread can also be frozen. If you have lots of mushy bananas you can easily make a few loaves. Once the banana bread has cooled, wrap in plastic wrap and foil and freeze. If you slice the loaf up before freezing you can have a little slice of heaven with your tea of coffee practically on demand.
Extras
I didn't add any extras to the banana bread I made yesterday as I was in a rush. Baking whilst also making dinner and lunch for the next day, cleaning and thinking about blogging!
Having said that, peanut butter, toffee and walnuts work well as extras.
Ingredients
3-4 medium, mushy (overripe) bananas
¾ cup sugar
1 egg
1 tsp vanilla
¼ cup vegetable oil (I actually didn't have any vegetable oil yesterday and used corn oil and it still worked great)
1 1/2 cup plain flour
1 ¼ tsp baking powder
½ tsp baking soda
⅛ tsp salt
Dash of cinnamon
1 cup of chocolate chips
Method
Preheat the oven to 190℃ (375℉)
Spray a 9×5 inch loaf pan with non stick spray and line it with parchment paper
Mash the bananas and then whisk in the sugar, egg, vanilla and oil.
Add the flour, baking soda, baking powder, cinnamon and salt to the banana mix.
Carefully add the chocolate chips and mix through by hand.
Pour the batter into the prepared pan and bake for around 55 minutes.
After 55 minutes check to see that the banana bread loaf has cooked all the way through. Do this by inserting a toothpick or knife into the loaf. If it comes out clean then it is ready.
Allow to cool (if you can wait, unlike Evan!) and enjoy.
Related Articles: