The long-awaited day has finally arrived. After months of dedicated studying and enduring the stress of exams, your child is now embarking on their journey to university. As a parent, you're likely struggling with a complex blend of emotions—pride tightly intertwined with apprehension. Your baby is spreading their wings and leaving the nest, leaving you in a state of emotional turmoil, unsure of exactly how to navigate these feelings.
Yet, even before you have the opportunity to fully reconcile your emotions, the next chapter swiftly approaches. Travelling abroad with your kid. University life awaits.
It's Easy To Become Overwhelmed
When we took my daughter to university for her initial enrollment, I remember feeling a surge of overwhelm as I pondered the extensive to-do list. It was long and it needed to be done within a limited time frame.
I extensively researched online and compiled numerous lists outlining every essential item she would require. The more I researched the more my stress levels seemed to increase. Not only having to achieve a lot in a small amount of time, but, also trying to keep to the budget. It seemed like an impossible task.
Amazon Associates
As an Amazon Associate, we earn a commission from qualifying purchases.  Some of the links on this post are affiliate links.  This means that if you click on the link and make a purchase we may earn a commission at no extra cost to you.  Learn more

here.
A Practical First-Time University Checklist – A Parents Guide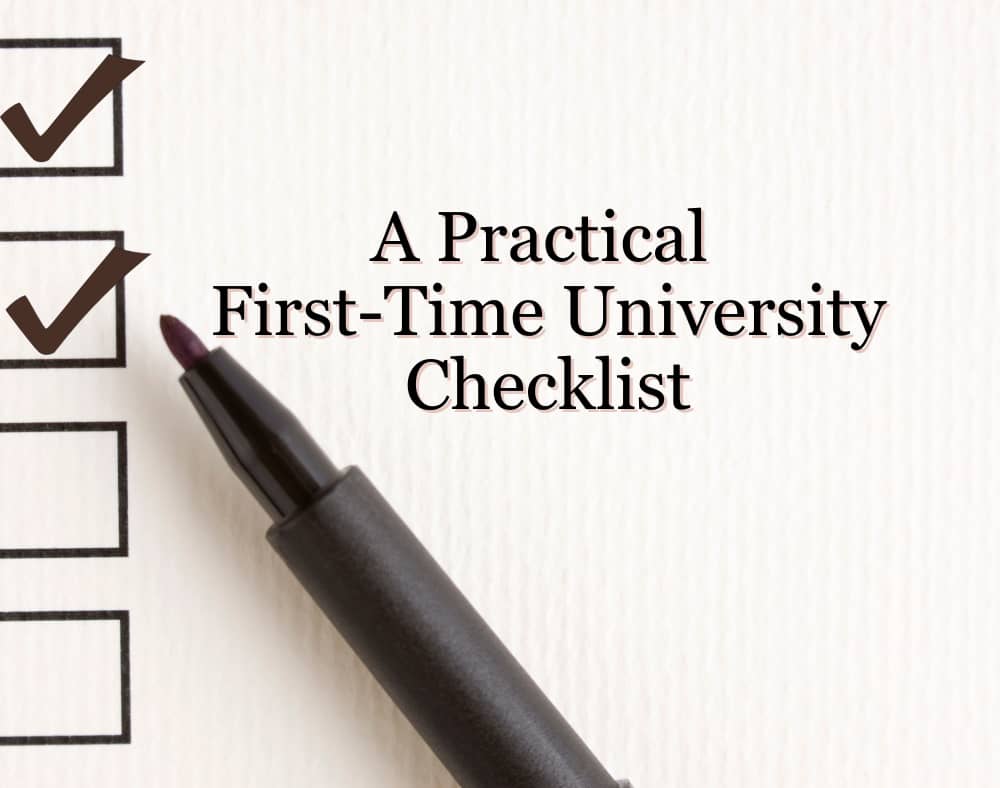 To make life easier for you, we have compiled A Practical First-Time University Checklist – A Parents Guide. Furthermore, at the bottom of this blog post, you will also be able to download a printable checklist. Hope this helps.
Bedroom Essentials:
Duvet – Make sure to buy the appropriate tog weight, depending on location. We opted for an all-year-round duvet.

Duvet Cover

– Check beforehand the size of the bed before ordering the duvet cover. Useful tip: buy two sets, students aren't great at keeping on top of their laundry.

Fitted Sheet

– Again we bought two so she could always have a spare clean one at hand.

Pillows

– Celine suffers from allergies so we opted for hypoallergenic ones.

Mattress Topper

– Before we bought this, we checked her mattress to make sure she really needed it. And she did. This made the mattress extra comfy for her.
Under Bed Storage – This came in super handy for storing stuff she didn't need on a daily basis. Like shoes, extra bedding, coats etc. Top tip: Buy one and leave space for the empty suitcase.

Bedside Lamp

: We opted for one that had a USB outlet so that she could charge her phone too.

Study Lamp

: Again, we opted for a lamp that came complete with a charging port, but also provided enough light for those long study nights.

Door Coat Hanger

: According to Celine, this was super handy. It made life easier for her and allowed her to grab and go on those days she was in a hurry. (which was probably every day).

Clothes Hangers

: These were a late purchase for us. We realized once we got to her room that there wasn't enough for all her clothes.

Plastic Storage Drawers

: According to Celine, these were a lifesaver. She used them to store all her snacks, stock food supplies, plus small kitchen appliances.

Mini Fridge

: Whilst not big enough to store all her food, it was perfect for milk, yoghurts and juices.
Extra:
Bathroom Essentials:
Towels:

Buy two big bath towels in case one of them is in the washing basket.

Bath Mat

: Best to buy one that is machine washable.
Toilet Paper
Toilet and Shower Cleaning Products
Small Bathroom Peddle Bin
Bathroom Toiletries
Kitchen Essentials:
Electronics:
Laptop

: Great for carrying around campus. Apart from having decent specs, make sure it's not too heavy and bulky.
Chargers – For phones, headphones, speakers, laptops, etc

Headphones

: Celine needs music to study. Normally there are strict rules on loud music in dorms, so these were the perfect solution.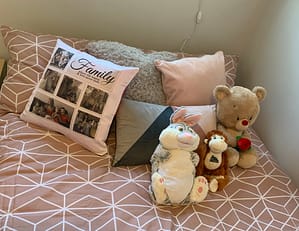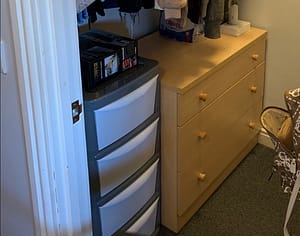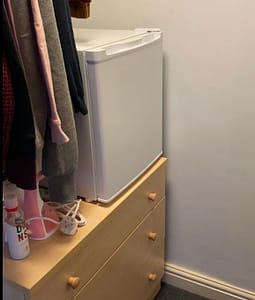 Optional:
Having taken care of the essentials, the additional items you choose to acquire to enhance their dorm room's comfort and homeliness will largely depend on your child's preferences.
This was Celine's first time away from home, so, she was particularly determined to transform her new accommodation into a comforting home away from home. We bought plenty of photo frames, allowing her to exhibit all the family and friend photos she had brought over from home. Instead of traditional candles, which campus regulations prohibit for safety reasons, we opted for LED candles. Additionally, we also purchased fairy lights which infused the space with a warm and inviting atmosphere, potted plants, a few snug cushions and a cosy bed throw. Without forgetting to mention the assortment of cuddly toys that accompanied us on our journey to the UK.
Top Tips:
Check first with the university regulations, but as a general rule, occupants are NOT allowed to stick anything on dorm room walls. However, if you do, make sure you use

white tac

.
Buy a good stock of food and snacks to last a few weeks. This will avoid them from stressing out about grocery shopping during the first few weeks of university life.
Upon receiving the dorm room keys, you will find that it needs to be cleaned. While the university might tell you that it's clean, from our experience, this wasn't the case We dedicated a solid five hours to an extensive cleaning process. Before we left for the day, we vacuumed the mattress and the carpets and then sprayed it

Dettol All-in-One Disinfectant Spray Crisp Linen

.
Sports Water Bottle with Motivational Time Marker: This is a great way to stay on top of hydration.
A small

first aid kit

won't go amiss.
Make a list of all studying supplies for the year and really stock up. During her first year, Celine never had to buy any extra stationery.
A student planner comes in super handy. My kid thrives on organization, so this was a must in order to avoid mental overwhelm.
Encourage your child to meal prep as often as possible. Having to cook a meal after a long day of lectures, does not appeal to anyone. Celine managed to fall into a nice routine of preparing her meals during the weekend and freezing them accordingly. We have some great and easy recipes available for you right here.
Extra Top Tip:
For your own peace of mind, and possibly theirs too, before you travel back home, study the travel route to and from campus to the town centre. Whether it's locating the nearest bus stop, or downloading the Uber app. The first few months in a foreign place might be overwhelming to some kids. This avoids unnecessary stress.
In the case that your child is attending a foreign university, as mine did, it's advisable to arrange for a new SIM card and phone number. International roaming fees can be excessively costly. A more optimal approach would be to provide them with a package that includes 4G connectivity.
One of the best buys has been a student backpack. It comes with plenty of storage, for a laptop too. It's water-resistant and comes with a USB charging port.
Download your free first-time university checklist below: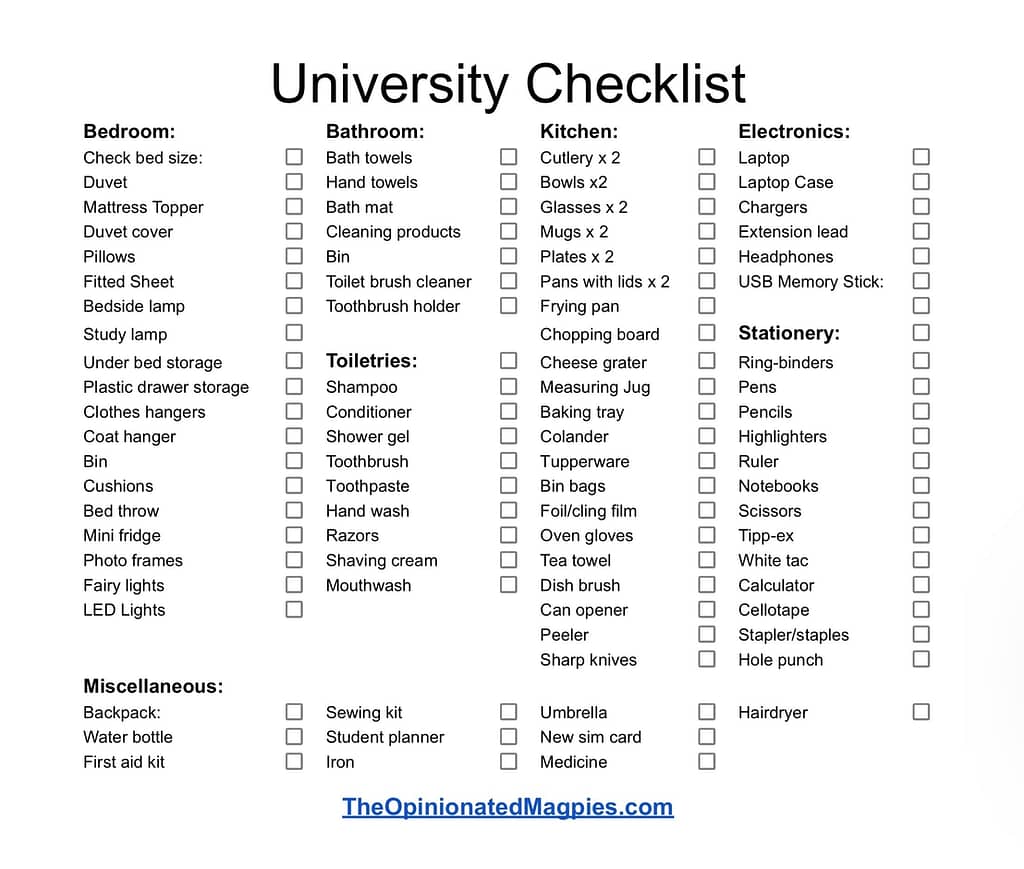 Final Thoughts
The day I travelled back home, leaving my firstborn behind, was probably one of the hardest days of my life. Whilst I was overwhelmed with pride, I was also crumbling from the fear, as though I was leaving a piece of my heart behind. I was fighting my motherly instinct with every step I took. All I wanted was to grab my kid and go home, but I couldn't. Life was happening and it was time to let her go.
Allowing our children to spread their wings takes a remarkable blend of courage and grace. Naturally, we have an innate desire to protect them forever because that is how we are wired. Unfortunately, that isn't possible, and that's a good thing too. The time has come to stand back and watch from the sidelines as they navigate this new chapter. As they stumble and fall and then pick themselves up again. We will always be watching, always willing to help when and if they need it.
If you are a parent going through this right now, my big piece of advice is simple: trust. Trust that you have raised them well and that you have provided them with all the life skills and tools they need to embark on their own journey.
We truly hope this blog post proves to be of great value to you, alleviating any needless stress along the way.
Sharing Is Caring:
Related Articles You Might Enjoy: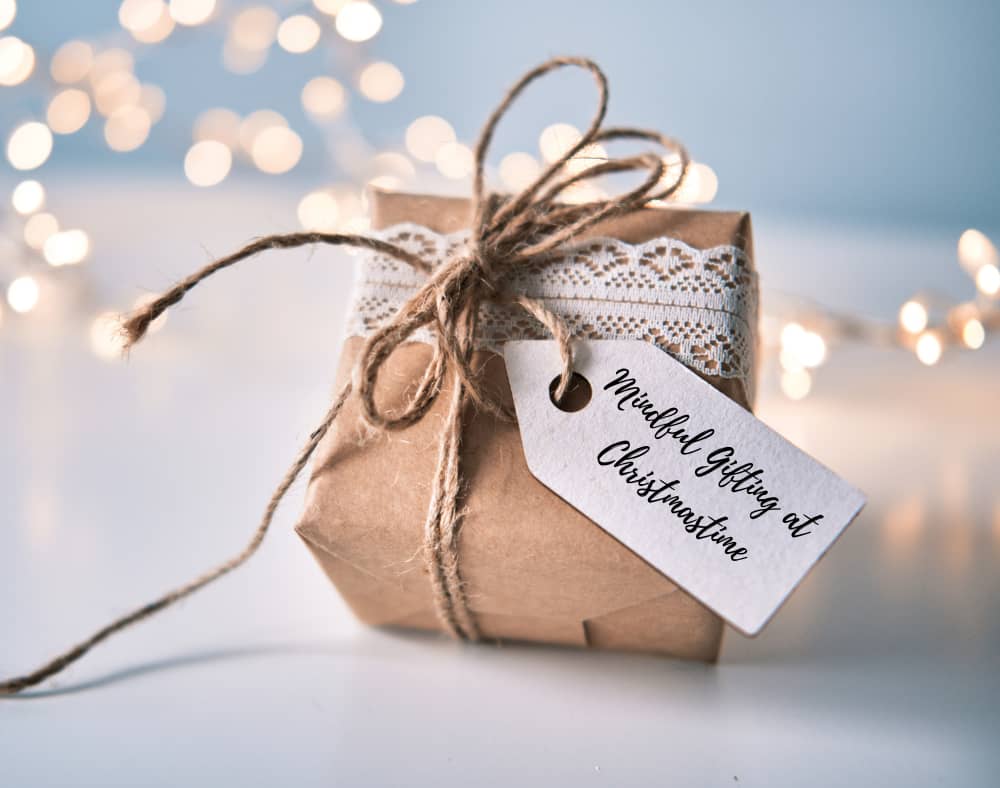 Christmas is now well and truly just around the corner. After weeks of non-stop toy…