When a marriage comes to an end, as a parent you ask yourself, 'How many of my child's milestones will I miss out on?' Often people outside the marriage will tell you, 'Stay for the children'. Little do they know there is another way forward. A way to be part of every hurdle, challenge, success, every milestone. Divorce shouldn't define you as a parent. Despite the challenges and complexities, the love for your children will remain constant and strong. This blog post is about a journey of forgiveness and moving into the unknown waters of co-parenting. And, how the love for a child can bridge the gaps that might otherwise seem insurmountable. Life became a journey of shared milestones.
The Start Of A New Way Of Life
When my daughter was seven years old, her father and I decided to go our separate ways. I vividly remember her sitting on the bathroom floor, crying for two hours straight. All she wanted was her daddy. Meanwhile, all I kept asking myself was, 'How badly am I messing up my kid?' It felt like the earth was moving around me, spinning out of control and I couldn't stop it. I felt like a failure. The only good thing in my life are my children, and I was letting them down. It felt like I was destroying their futures.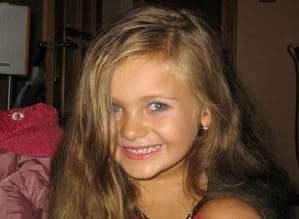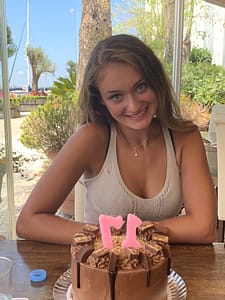 So I made a promise there and then, sitting on the floor, alongside Celine, that I would move heaven and earth to provide her and my son with a stable and happy home. No matter how inadequate I felt as a mother, or how I was currently failing them, I would find a way to move forward and guide them to live their best lives.
Rebuilding Life
The road ahead for my ex-husband and me was anything but easy. Between all the valleys and peaks, we found a way to move forward, with as much grace and compassion as we could both muster. We might have failed as a couple, but that didn't mean we had to fail as parents. With a shared love and an unbreakable passion for our children, we navigated co-parenting. We were both determined to put the children's needs first. And so that is what we did.
We set aside blame and pride and buried the past where it belongs, in the past!! Eventually, we became friends, and we watched as our children blossomed into good-hearted, polite and successful human beings.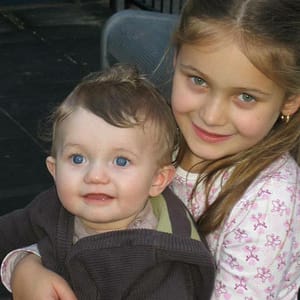 A year after we separated I met David, who I married four years later. As a stepfather, he took the time to get to know my kids, building trust and creating a strong bond. He has been instrumental in the upbringing of my children. I am eternally grateful for his unwavering support and encouragement, and I know my ex-husband feels the same. There are no me's and you's when it comes to raising children, there is only – how can we all move forward together as a team. And that is what we became.
Watching Her Grow and Reach For The Stars
I have watched my daughter grow from a curious but shy, little girl to a determined and ambitious young woman. At four years old, at the end of her first day of school, she proudly informed me that she was going to become a teacher. I thought it was a phase, and yet in all her years of schooling, she has never deviated from her dream. A goal was set that day and she has worked hard towards it, regardless of all the challenges. Whether it was learning to live with new family dynamics, teachers who didn't or wouldn't see her potential, or the latest, a global pandemic.
Undoubtedly Covid has been a challenge for all of us. A time in our lives ruled by fear and uncertainty, and loss. As a student in higher education, Celine's life was thrown off balance. Her mental health suffered, she was afraid of the unknown. How was this going to affect her future plans? She had to learn how to let go of the idea of how things should be. And yet, she navigated this time with grace, and the occasional tantrum. Every goal she hit represented the dedication, hard work, and resilience she is capable of. She kept pushing, kept her eye on the prize. Celine was determined. And it paid off!
However, amidst all her success, Celine possesses the gift of kindness and compassion. She has the ability to empathize with others, doesn't judge and strives to make a positive impact in the lives of those around her. Especially the children she works with. Celine wants to make a difference. I raised a good kid, and I couldn't be prouder.
The University Milestone
Three years ago, with a bucket full of dreams and another full of worries, Celine started her university journey. We travelled to the UK with her. Myself and my husband, Celine's father and her step-mum. My daughter never had to choose which parent she would share this milestone with. We travelled together as a family, setting her up in her dorm room, and creating cherished memories along the way. Many people in my life do not understand our family dynamics. That's fine, they don't need to. All that matters is my kid and her happiness. She deserves parents who respect each other just as much as those kids who do not have divorced parents. For this, Celine is eternally grateful.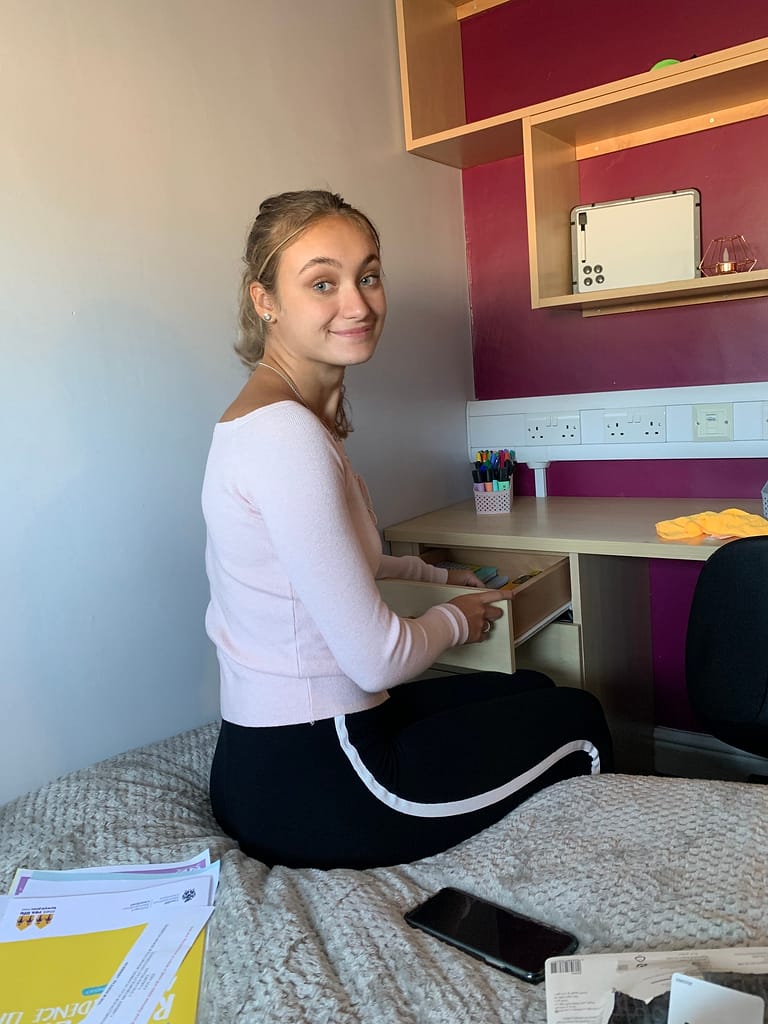 Graduation Day Milestone
Fast forward to July 2023, and once again we all travelled back to the UK to bear witness to the culmination of a lot of hard work and tears.
It was the perfect day. As her father and I sat waiting for the ceremony to begin, I was overwhelmed with emotion. We didn't fail. Throughout all the storms we still managed to carry her to this very moment. And what a moment it was!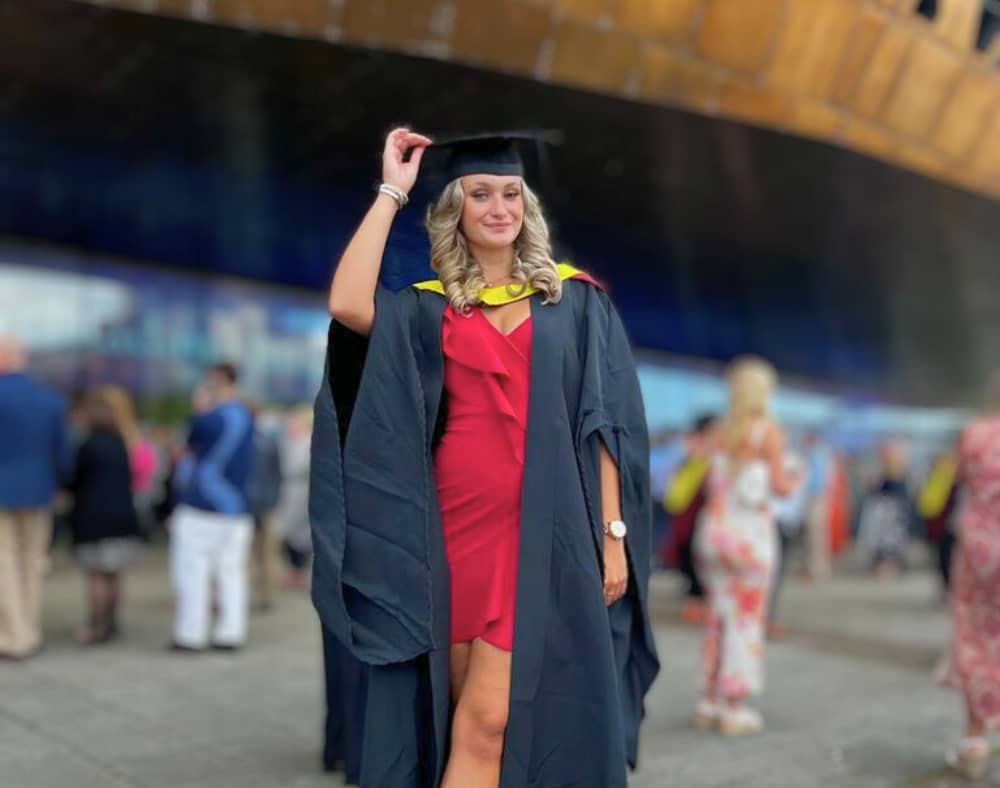 The ceremony run smoothly, without any hiccups and before we knew it we were heading outside, trying to find her over a sea of capes and graduation hats. Everywhere we looked people were hugging, smiling, cheering, and taking photos. Once we found our newly graduated primary teacher, we proceeded to take what seemed like one million photos. Trying our hardest to freeze time and preserve its essence forever in a single snapshot.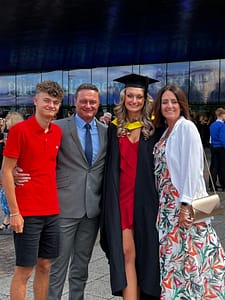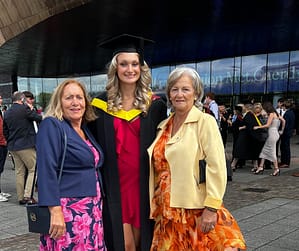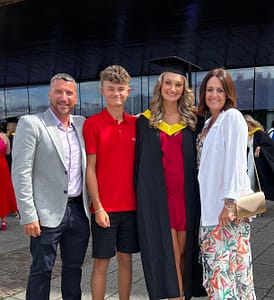 Lunch was booked at Cote Brasserie at Cardiff Bay. The food was delicious, and the staff was welcoming and super efficient. Everything was perfect. Our table was full of food and drinks, but above all, it was brimming with love. Celine sat in the middle, surrounded by those she loves the most. Her parents, her stepdad, her brother and the icing on the cake, both grandmothers. Anyone watching from the outside would have never guessed that the young woman celebrating her graduation was a kid of divorced parents and that both parents were sitting at the same table.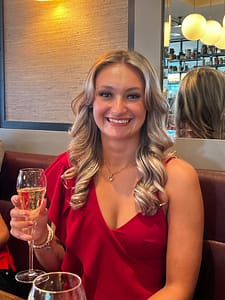 As everyone indulged in the glorious food, exchanging funny anecdotes from Celine's childhood, and enjoying each other's company, it dawned on me how lucky I am. How blessed I am that this group of individuals all decided to place their differences to one side because of the common love they share for my daughter. Despite a journey full of ups and downs, we all came together to celebrate her. How blessed is she to be so loved?
It was without a doubt, the PERFECT day!
Final Thoughts
Pride. I have never felt as proud as I did when she walked on stage. Her smile, her happiness, the future ahead of her. The woman before me who has inspired me with such fierce love. This perfect human being, who made me a mother and changed my life. This love that grew and grew, an unwavering force that has driven me to keep going through all the dark days. One look at her and I know I didn't fail, not even close.
For any parent who at any given time has felt like a failure, I see you. Our journey as parents isn't easy. We make mistakes, but the beauty lies in all the times we pick ourselves up and try to do better, be better for them. For their future, for their happiness, for their love. Being a mother is my greatest achievement, hands down. And even if sometimes I feel as though I'm living with my heart outside of my body, I wouldn't change it for the world. 
We can still witness those milestones, even after dark seasons.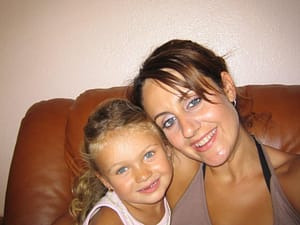 ---
If you liked this article you might enjoy reading Creating Memories With My Daughter
---
Sharing Is Caring:
Related Articles You Might Enjoy: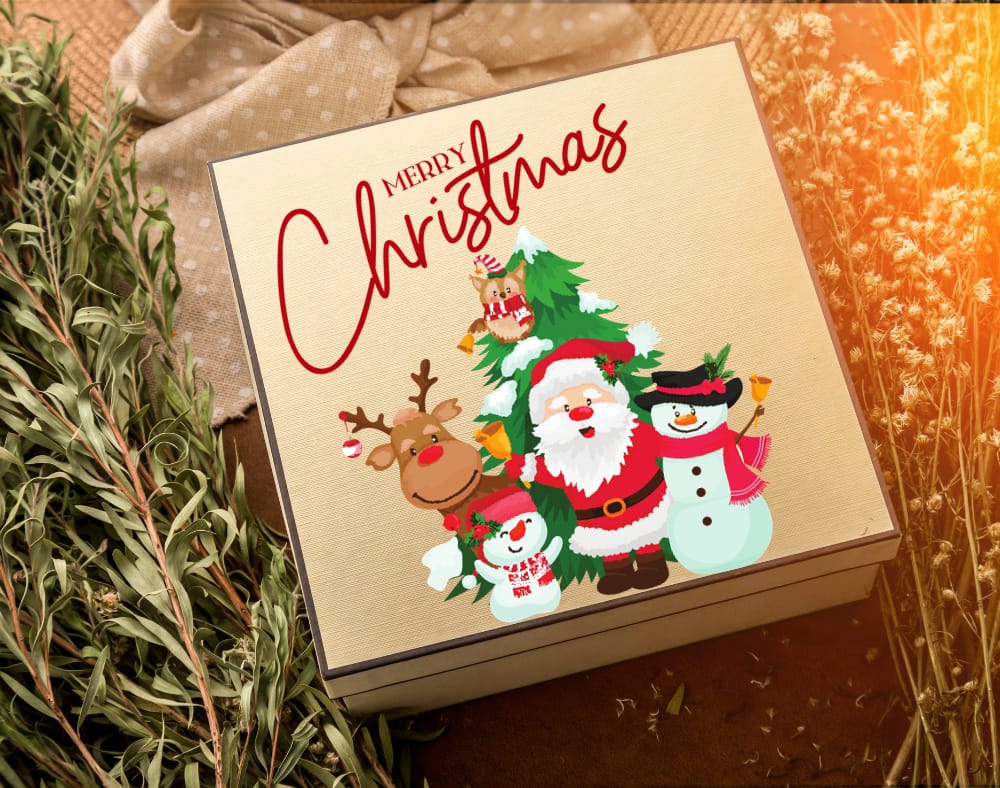 Christmas family traditions play a big part in our family dynamics. A few years ago,…