It's June, which means summer is upon us. I am a winter kinda gal, but I can't deny that during the summer I get a lot of reading done. I spend many hours at the beach, which gives me the perfect excuse to be unsociable and lose myself in a book, or two. So right now is the ideal time to start planning our summer reading lists. With that in mind let us dive into these 20 summer romance reads.
20 Summer Reads – The Romance Edition
I have divided these book recommendations into two lists. The rom-com list is light, funny and witty with some sexual tension thrown in the mix. Followed by the contemporary romance list. With these books, you can expect, slow burn romance, drama, more sexual tension and at times a whole lot of heartbreak.
Out of the twenty books on this post, I've read sixteen of them. The ones I haven't are listed at the bottom of each list with a note, to let you know that they are the ones on my TBR (to be read) list for the summer.
RomComs, The Laugh Out Loud Food For My Soul
1. It Happened One Summer – Tessa Bailey
Piper has a perfect life. Or so it seems on her social accounts. Step-daughter to a successful businessman, she has everything she wants and then some. One night one of her wild shenanigans gets out of hand and lands her in jail. When Piper gets home after being bailed out by her younger (and much more sensible) sister Hannah, she is in for a shock. Her step-father has had enough and is sending her away to her birth town, to run a local dive bar left to her by her late father. In other words, Piper needs to fend for herself. But how is she supposed to pull it off? After all, it's not like she has had to work a day in her life.
When she arrives at the fishing village of Westport, with Hannah by her side, Piper is appalled by her new living quarters. How is she supposed to sleep in a bunk bed, in a flat that is smaller than her walk-in closet in LA? And is she going to have to cook? Luckily most of the local townspeople are welcoming except for the hot grumpy fisherman who just doesn't seem to like her…..at all!!! He obviously has a problem with Piper, and all she can do is count down the days until she can go back to LA and her high-profile life.
2. Things We Never Got Over – Lucy Score
Naomi Witt arrives in the rough-around-the-edges town of Knockemout, Virginia after escaping her seemingly 'perfect' wedding. Her excuse? She is running to the rescue of her estranged twin, Tina.
Unfortunately for Naomi, she soon realises that her evil twin hasn't changed at all. Tina steals Naomi's car and cash and also leaves her to provide and care for her 11-year-old daughter. A niece, Naomi had no idea existed. She finds herself stuck in this town with no job, no plans, no home and a big bundle of extra responsibility.
Local barber Knox likes the simple life. He stays away from complications or high-maintenance women, especially romantic ones. But when the new girl in town Naomi runs into him, with her life out of control, he feels he has no choice but to help her out of her jam. Once she gets back on her feet, he can leave her alone and get back to his simple life. Right?
3. Love On The Brain- Ali Hazelwood
Bee finds herself in an impossible situation. She has been offered the opportunity of a lifetime. A chance to work on a neuro-engineering project, a dream come true. Downside? She has to work along with her nemesis Levi, a NASA engineer with whom she doesn't exactly share a good history.
Not wanting to give up on her dream job, Bee accepts the offer. But when her equipment starts to go missing, the staff ignore her and her emails are never answered, she swears she can feel Levi softening into an ally.
It doesn't take long for their relationship to evolve into more than just work colleagues. Bee will question everything she has ever believed about the handsome Levi Ward.
4. The Unhoneymooners – Christina Lauren
It seems to Olive she always ends up with the short end of the stick. Unlucky is how she best describes herself. On the other hand, her identical twin Ami seems to have all the luck in the world. So much so, that she manages to win a series of competitions that ultimately provide her with her dream wedding.
Although Olive couldn't be happier for her sister, she isn't exactly thrilled about having to spend time with the best man, Ethan. She doesn't like him and he doesn't like her.
As luck would have it, or not, everyone who attends the wedding ends up with food poisoning from eating shellfish, everyone that is except Olive and Ethan.
An expensive (although free) honeymoon is us for grabs and seeing as the bride and groom are currently indisposed, Olive and Ethan reluctantly take up the offer to go in their stead. However, when they arrive in paradise, Olive runs into her future boss. In an attempt to impress him, she tells him a little white lie, one that ultimately spirals out of control.
As she and Ethan play the role of newlyweds, Olive finds herself enjoying the forced proximity of their well-schemed lie. Could it be that there is more to Ethan than she thought? Or is he a pro at the pretending game?
5. Book Lovers – Emily Henry
Winner of Goodreads Romance Novel for the year 2022, Book Lovers is a funny, witty and adorable story about Nora Stephens, a cutthroat literary agent and Charlie Lastar, an editor with a gift for creating bestsellers. The connection between the two? They are arch nemesis.
Libby, Nora's sister, persuades her to take a month out and travel with her to Sunshine Falls, with the intention to disconnect from their busy lives, recharge their batteries and indulge in the magic of living in a small town.
It should have been the perfect get-a-way, but instead, she keeps running into no other than Charlie Lastra. Soon they both start to question whether the stories they have crafted about each other are accurate. After all, they don't like each other, right?
6. The Flatshare – Beth O'Leary
Beth O'Leary is a Sunday Times bestseller and Ron-com royalty for sure. Her novel, The Flatshare was her debut novel and has now been turned into a Paramount Original Series.
Tiffy finds herself in a bit of a predicament. Her ex-boyfriend has asked her to move out. With very limited funds, Tiffy ends up accepting to share a flat with Leon Twomey.
As far as she is concerned they have the perfect arrangement. Leon works nights whilst Tiffy works during the day, meaning their paths never cross. They share a flat and a bed, but they have never met until they do.
7. The Chemistry Of Love – Sariah Wilson
Anna Ellis is a geek, brilliant and totally in love with her boss Craig Kimball, supposedly the man of her dreams. But how can she make Craig notice her and ultimately fall in love with her? The answer comes to her in the shape of Craig's half-brother Marco. Apparently, whatever Marco has, Craig wants. So Anna hopes that if she fakes dating Marco, Craig will end up realizing he is madly in love with her and sweep her off her feet.
The thing with fake dating is……..you never know what you are in for, as Anna will soon find out.
8. The Love Hypothesis – Ali Hazelwood
Olive Smith is a third-year PhD candidate. Dedicated to her work and studies, Olive does not believe in true lasting romantic relationships. Unfortunately, her best friend Anh does and is determined to find Olive her perfect match. So in an attempt to get Anh to back off, Olive ends up randomly kissing the first man she sees.
As it happens, the random guy she kisses is no other than Adam Carlsen. Hot-shot professor but also a well-known-ass. When Adam agrees to keep the charade a secret and embark on a fake boyfriend relationship, Olive is shocked, to say the least.
As the fake dating continues, Adam pleasantly surprises Olive on more than one occasion, leading up to complicated dynamics in their so-called 'relationship'. She soon realises that when it comes to love, science isn't going to provide her with an answer. At least not an answer she was expecting.
9. Last Night – Mhairi McFarlane
Now in their 30, Eve, Justin, Susie and Ed have known each other since they were teenagers. The four are as close now as they were when they were eighteen. Thursday's pub quiz is still sacred and Eve is still secretly in love with Ed.
Maybe it would have been better if Eve would have moved on by now, but she can't stop thinking about what could have been. It doesn't help that she knows that Ed thinks about it too.
Their lives change forever in an instant. Eve learns she didn't know her friends as well as she thought. Stunning secrets are revealed, and with the appearance of someone from her past, Eve's future swerves in a surprising new direction.
10. Happy Place – Emily Henry (currently on my summer reads TBR)
Harriet and Wyn are known to everyone as the perfect couple. Ever since they met in college Harriet has been the yin to Wyn's yang! Except, that is no longer the case. The perfect couple broke up six months ago and yet, they still haven't told their best friends.
It's because of this that they find themselves sharing the largest bedroom at the Maine cottage that has been their friend group's yearly getaway, for the last decade. An annual respite for them all, with plenty of cheese, wine and seafood. Where they get to recharge their batteries and step away from their busy lives.
However, the 'couple' find themselves not wanting to break their friends' hearts, so they go along and decide to play the part of a happy couple. After years of being in love, how hard can it be?
11. Big Sexy Love – Kirsty Greenwood (currently on my summer reads TBR)
Olive Brewster is a scaredy cat. Not one to take risks, or partake in adventures, and that's just fine with her. She likes her quiet life. Quite content with her job in the local supermarket, single, because who needs a boyfriend anyways? And happily living in her childhood home. No drama, life is good!
Except for the fact that her best friend in the world, Birdie, is dying!
Turns out that Birdie has one final wish. Tracking down her first love, the one that got away. Her 'Big Sexy Love'. otherwise known as Chuck.
Due to obvious reasons, Birdie can't go in search of Chuck, so it falls on Olive to do her bidding. Unfortunately for Olive, Chuck is somewhere in New York.
Olive who has never, God forbid left her home town, let alone roamed the crazy streets of Manhattan, finds herself in quite a predicament. Can she learn to overcome her fears, abandon the safe bubble she lives in and fulfil her best friend's dying wish? It will take a big chunk of bravery and a whole lot of badassery to make it happen.
---
Want to join our tribe? Receive monthly behind-the-scenes content? It's fun and it's free. What are you waiting for?
---
Contemporary Romance
12. The Wall Of Winnipeg and Me – Mariana Zapata
Quitting doesn't sit well with Vanessa Mazur. However, she knows she is doing the right thing. She has plans, none of which includes Aiden Graves, his housework, his cooked meals, or his schedule. It was always supposed to be a temporary job, and now it's time to call it a day.
Aiden Graves is the top defensive end in the National Football Organization. He is also drop-dead gorgeous and a serious, grumpy boss. The man known as 'The Wall of Winnipeg' knocks on Vanessa's door one day and begs her to come back. Needless to say, Vanessa is positively floored.
Vanessa finds herself at a crossroads. Should she go back at his request? Or should she proceed with her own plans for the future? The money Aiden offers is good and as grumpy as he is, without a doubt, he is easy on the eyes. Vanessa makes a choice that could either make her or break her!
13. The Confidence of Wildflowers – Micalea Smeltzer
Salem is eighteen and not quite sure what direction to take in life. And that is fine with her, for the most part. When Thayer and his son move next door, Salem is truly fascinated. She finds his grumpy personality a challenge. Whilst she is all sunshine and smiles, Thayer just wants to be left alone.
It doesn't take long for Salem to win over his trust. Thayer asks her to babysit his son, and Salem can't refuse. It's extra money and extra time around the adorable kid, not to mention, a chance to get closer to Thayer too.
Everything seems to be going fine with one exception. Salem is falling for Thayer. But, Thayer is fifteen years older than Salem. Falling in love with a man much older than herself was definitely not in her plans.
13. Ugly Love – Colleen Hoover
When Tate Collins meets Miles Archer, a hot airline pilot, she knows the only thing they have in common is their undeniable attraction for each other. They embark on a typical 'friends with benefits relationship', which works just fine for Tate. That is until she starts developing feelings for the emotionally unavailable Miles.
There are just two rules Miles has for her. No asking about the past and not expecting a future. And for a while, Tate is content with this arrangement, she hasn't got the time for complicated love relationships, but then feelings get in the way and she finds herself breaking all rules. It soon turns into Ugly Love.
14. From Lukov With Love – Mariana Zapata
For all of her life, Jasmine Santos has wanted just one thing, to be a successful ice figure skater. However, after many broken bones and missed opportunities, she finds herself rather stuck and with no clear direction or prospects.
Ivan Lukov has had all the success Jasmine dreams about, but what he doesn't currently have is a skating partner.
When an opportunity knocks on her door, in the form of Ivan Lukov, Jasmine realises it might be her last chance to prove herself, even if the thought of working with Ivan makes her want to hurl.
15. It Ends With Us – Colleen Hoover
It Ends with Us is a story about Lily, a young independent woman, who even though hasn't had it easy, is still determined to work hard for the life she wants. Having moved from her birth town in Maine to Boston and starting her own business, the last thing Lily expected was to meet and fall in love with a gorgeous neurosurgeon. Lily feels as if everything is finally going her way, even if Ryle (her gorgeous man) isn't willing to commit to a relationship at first. Everything changes soon enough, with the pair falling madly in love.
Ryle is portrayed as the perfect man. A successful career, sensitive, good looking and with a soft spot for Lily. However, all is not as it seems. A great tragedy is buried deep into Ryle's past. He carries ghosts from his childhood, leaving him dealing with unhealed trauma and its consequences.
When Lily runs into her first love, Atlas Corrigan, things between her and Ryle start turning sour. Ryles true colours surface and Lily is faced with a decision to stand by the man she fell in love with or to cut ties and break a cycle that has been part of her family since she was a child.
16. All Rhodes Lead Here – Mariana Zapata
Aurora De La Torre moves back to a place she once considered home. A town full of happy memories and not-so-happy ones.
Her heart is broken and her journey ahead in life is not so clear. A move to a small town in the mountains might be the perfect remedy to heal a broken heart.
Her landlord might not share her enthusiasm, but Aurora is determined to start over. The fact that Mr Rhodes, her landlord is easy on the eyes, might be just the thing she needs to accelerate her healing process.
17. In Five Years – Rebecca Serle
Dannie Kohan is a successful Manhattan lawyer, who has a five-year plan. Meticulously crafted since she understood the concept. In a single day, her life seems to be going in the right direction. She nails the most important interview of her career and gets engaged to the perfect man.
At the end of the day, Dannie goes to sleep knowing she is on the right track to achieve her five-year plan. However, she dreams of a night five years in the future. A future where she is engaged to another man. When she wakes up she tells herself it was only a dream.
Dannie decides to ignore the odd experience, filing it away in the back of her mind. That is, until five years later. As Dannie is walking down a street, she runs into no other than the man from her dream.
In Five Years is an unforgettable love story brimming with joy and heartbreak, reminding us of the power of loyalty, friendship and the nature of an unpredictable future.
18. Reminders Of Him – Colleen Hoover
A truly heartbreaking story of a young mother who yearns for a shot at redemption.
Kenna Rowan made a tragic mistake five years ago. A mistake she has paid dearly for it, serving five years in prison. She returns to the town where it all went wrong, in the hopes to reunite with her four-year-old daughter.
She soon finds out that those bridges she burned are almost impossible to rebuild. Everyone in her daughter's life is determined to shut Kenna out, regardless of how hard she works to make amends.
Ledger Ward, a local bar owner is the only person who hasn't closed the door on her completely. He is one of the few links to Kenna's daughter.
At the risk of losing the trust of everyone important to them, the two form a connection, despite the pressure surrounding them. As their romance grows, so does the risk.
Kenna has to find a way to let go of the mistakes of her past in order to build a future out of hope and healing.
19. A Thousand Boy Kisses – Tillie Cole (currently on my summer reads TBR)
Two hearts. One love story. An ending you will never forget . . .
They met as children and swore to be friends forever.
Now teenagers, Rune Kristiansen and Poppy Litchfield saw their friendship develop into a love story that promised to last a lifetime. But when Rune is sent home to his native Norway, their worlds are shattered and their hearts are broken.
When Rune returns two years later, Poppy is ready for their happy ever after to begin. However, the boy who returns is nothing like the Rune she remembers.
Poppy is trying to understand, what happened to turn her sweet, caring Rune into this brooding stranger.
But Poppy is also carrying a secret which will either bring them closer or separate them forever.
20. She's Up To No Good – Sara Goodman (currently on my summer reads TBR)
Jenna is blindsided when four years into her marriage, her husband asks for a divorce. Suddenly she finds herself with plenty of time on her hands and an unpredictable future ahead. With the desire for change, she decides to accompany her eccentric grandmother Evelyn on a road trip to the seaside of Massachusetts. A town where much of their family history was shaped.
As they hit the road, Evelyn tells Jenna about the star-crossed teenage romance that captured her heart more than seventy years ago and how it changed the course of her life. Even though she can't stop talking about Tony, her unforgettable and forbidden first love, Evelyn insists that the return to her hometown isn't about him at all.
When they arrive, Jenna meets Joe, Tony's attentive great-nephew. They soon form a friendship which gives her the confidence and distance she desperately needs to help her put the pain of her broken marriage behind her.
As Evelyn's past unfolds, full of secrets and truths, Jenna discovers a new side of her grandmother and of herself. One she never knew existed, and with it, she learns that the possibilities for healing can come when one least expects it.
---
We have a whole lot of reviews posted in our book section. Check them out here.
Final Thoughts
So that's it. Yes, I'm well aware that there's a whole lot of Colleen Hoover and Mariana Zapata books on this list. I am pretty new to romance novels, so when I started, I developed what you would call an unhealthy obsession with these two authors' works. Currently, I am expanding my horizons.
On a personal note, I can't wait to read 'Big Sexy Love' and 'She's Up To No Good'. Reviews will be up on the website soon.
Let us know in the comments section if you have read any of the above and what you thought about them. Let's nerd over books. I can't imagine anything better.
Enjoy your summer and stay tuned for Summer Reads – The Thriller Edition
Before you leave, don't forget to follow us on our social platforms:
Related Articles: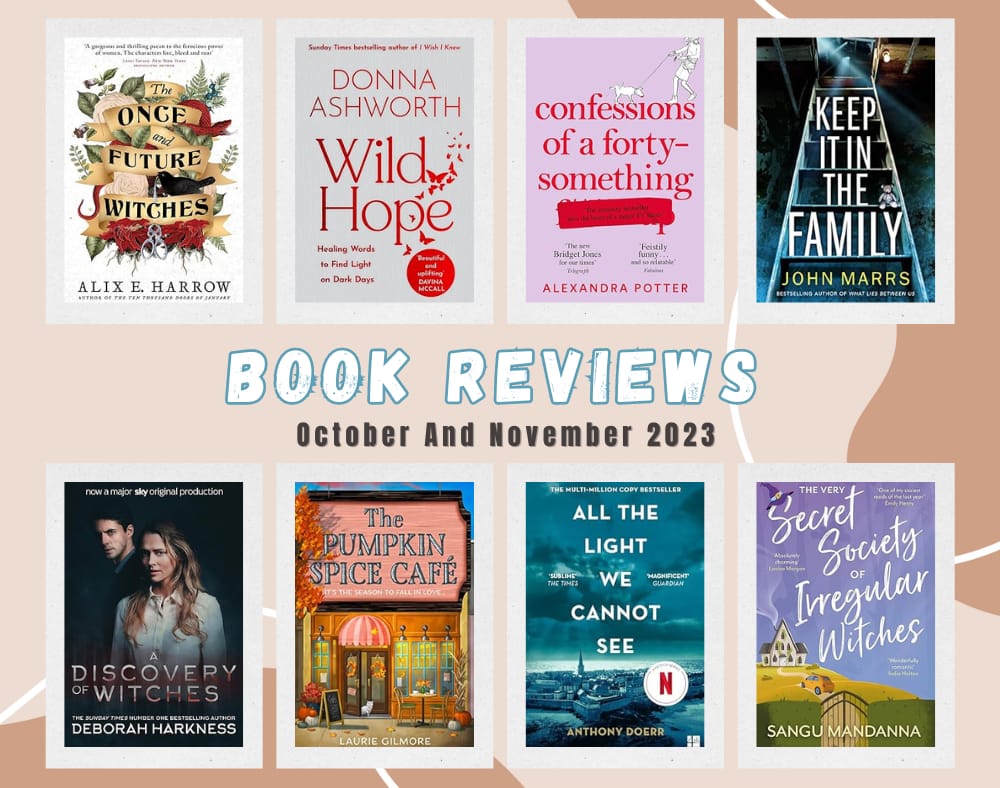 October was exceptionally busy, leaving me with minimal time for reading—only two books, to be…