If there was ever a month to indulge in romance novels, then it's February for sure. With all the Valentine's Day hype going around, rom-com or good old-fashioned romance books are a must for the romantic at heart. Therefore composing a list of my favourite 12 romance books for Valentine's Day was high on my list.
You can find below those books which I thoroughly enjoyed and would definitely recommend.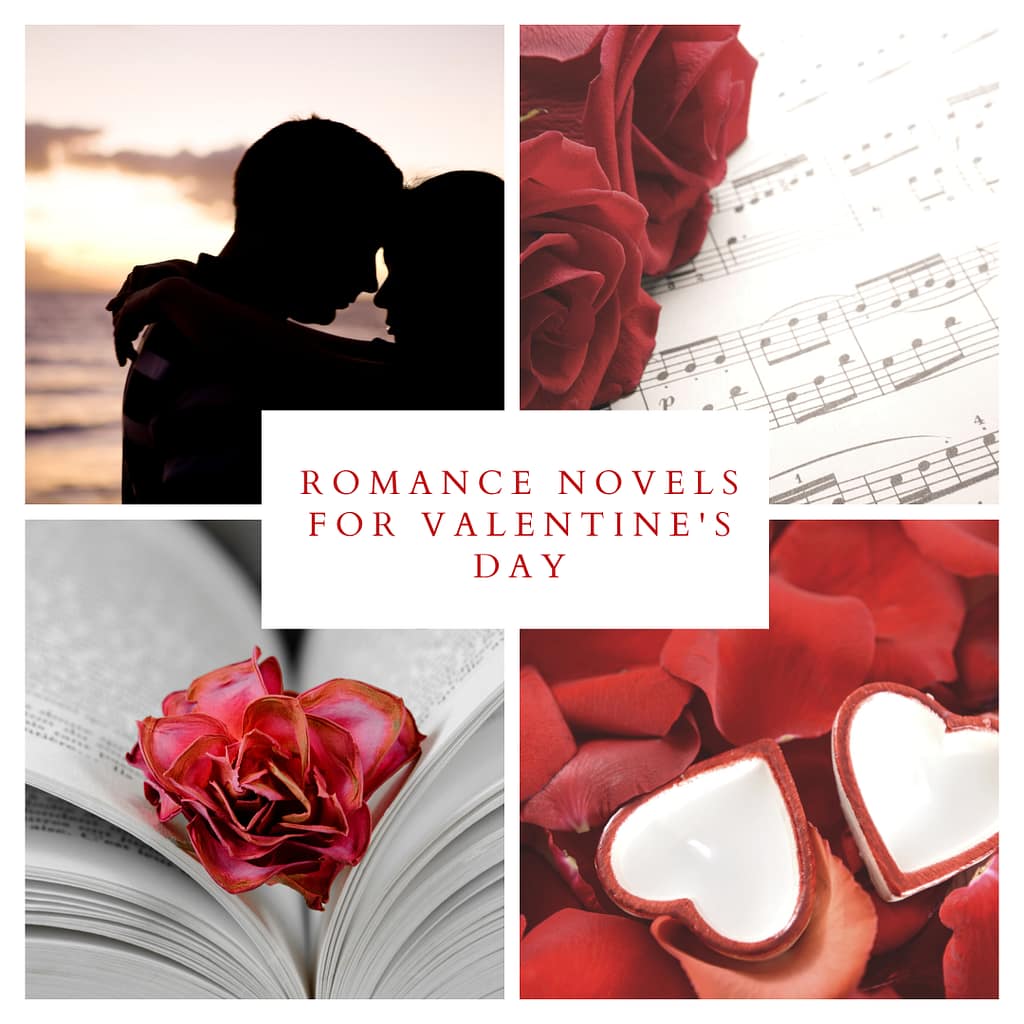 The Love Hypothesis – Ali Hazelwood
Olive Smith is a third-year PhD candidate. Dedicated to her work and studies, Olive does not believe in true lasting romantic relationships. Unfortunately, her best friend Anh does and is determined to find Olive her perfect match. So in an attempt to get Anh to back off, Olive ends up randomly kissing the first man she sees.
As it happens, the random guy she kisses is no other than Adam Carlsen. Hot-shot professor but also a well-known-ass. When Adam agrees to keep the charade a secret and embark on a fake boyfriend relationship, Olive is shocked, to say the least.
As the fake dating continues, Adam pleasantly surprises Olive on more than one occasion, leading up to complicated dynamics in their so-called 'relationship'. She soon realises that when it comes to love, science isn't going to provide her with an answer. At least not an answer she was expecting.
My Review:
There is nothing I did not love about this novel. I was in my teens the last time I read a rom-com, so this was definitely new territory for me. Seeing as the hype over this book on the internet was obscene, I had no choice but to give it a go. I LOVED IT. The Love Hypothesis ticked all the boxes for me when it comes to the perfect rom-com. It contains the right amount of banter, humour (so so funny), slow-burn romance and loveable characters.
I cannot emphasize enough how much fun this book was. I found myself reading well into the early hours of the morning, giggling and snorting through most of it. This book really did make me happy and it now sits in my re-read pile.
If you need a story that will sweep you away and drop you off on a happy cloud, look no further. Olive and Adam will definitely get the job done.
The Wall Of Winnipeg and Me – Mariana Zapata
Quitting doesn't sit well with Vanessa Mazur. However, she knows she is doing the right thing. She has plans, none of which includes Aiden Graves, his housework, his cooked meals, or his schedule. It was always supposed to be a temporary job, and now it's time to call it a day.
Aiden Graves is the top defensive end in the National Football Organization. He is also drop-dead gorgeous and a serious, grumpy boss. The man known as 'The Wall of Winnipeg' knocks on Vanessa's door one day and begs her to come back. Needless to say, Vanessa is positively floored.
Vanessa finds herself at a crossroads. Should she go back at his request? Or should she proceed with her own plans for the future? The money Aiden offers is good and as grumpy as he is, without a doubt, he is easy on the eyes.  Vanessa makes a choice that could either make her or break her!
My Review:
This is the second book I have read by Mariana Zapata and even though I enjoyed the first book, it did seem slow at times with too much fluff and nonsense in-between, which in turn made me reluctant to read The Wall Of Winnipeg and Me. Let me tell you though, I am so glad I did.
A story that is full of great characters, funny interactions and the kind of slow-burn romance I crave. It consumed my life for a whole nine hours and has become my all-time favourite MZ book. Not ashamed to say I had a cheesy grin on my face throughout most of this book and when it ended, I really didn't know what to do with myself.
A wonderfully written romance with all the feels and unforgettable characters.
It Happened One Summer – Tessa Bailey
Piper has a perfect life. Or so it seems on her social accounts. Step-daughter to a successful businessman, she has everything she wants and then some. One night one of her wild shenanigans gets out of hand and lands her in jail. When Piper gets home after being bailed out by her younger (and much more sensible) sister Hannah, she is in for a shock. Her step-father has had enough and is sending her away to her birth town, to run a local dive bar left to her by her late father. In other words, Piper needs to fend for herself. But how is she supposed to pull it off? After all, it's not like she has had to work a day in her life.
When she arrives at the fishing village of Westport, with Hannah by her side, Piper is appalled by her new living quarters. How is she supposed to sleep in a bunk bed in a flat that is smaller than her walk-in closet in LA? And is she going to have to cook? Luckily most of the local townspeople are welcoming except for the hot grumpy fisherman who just doesn't seem to like her…..at all!!! He obviously has a problem with Piper, and all she can do is count down the days until she can go back to LA and her high-profile life.
My Review
It Happened One Summer is your typical rom-com novel. It is full of wit and charm. The main character is funny and the grumpy fisherman is drop-dead gorgeous. I am a sucker for enemy-to-lovers storylines, and this novel did not disappoint. I wish there had been more depth to Piper's character though. It's not that I didn't like her but I didn't fully connect with her.
Brendan's character was well-written and had a good background story. I wish he could have kept on being grumpy for longer. It would have certainly built up the tension better between the two characters. Their falling in love seemed to happen too soon in the story, considering they didn't like each other to start with.
Hannah was by far my favourite character. She was charming and kind, and with a mind of her own. It is for that reason that I look forward to reading the next book in this series. Hook, Line & Sinker, Hannah's story.
Things We Never Got Over – Lucy Score
Naomi Witt arrives in the rough-around-the-edges town of Knockemout, Virginia after escaping her seemingly 'perfect' wedding. Her excuse? She is running to the rescue of her estranged twin, Tina.
Unfortunately for Naomi, she soon realises that her evil twin hasn't changed at all. Tina steals Naomi's car and cash and also leaves her to provide and care for her 11-year-old daughter. A niece, Naomi had no idea existed. She finds herself stuck in this town with no job, no plans, no home and a big bundle of extra responsibility.
Local barber Knox likes the simple life. He stays away from complications or high-maintenance women, especially romantic ones. But when the new girl in town Naomi runs into him, with her life out of control, he feels he has no choice but to help her out of her jam. Once she gets back on her feet, he can leave her alone and get back to his simple life. Right?
My Review
I really enjoyed this book. I loved Naomi's character. She was hilarious and such a good person. (or maybe she seemed so good compared to her evil twin). Naomi's relationship with her niece Waylay tugged at my heartstrings, I found the dynamics of their relationship so realistic. Waylay with her boundaries and Naomi treading on new waters.
Knox of course is hot and grumpy, with demons of his own and reasons for not wanting to become emotionally attached to any other human being. In my opinion that just made him more desirable.
The transition of their story was well laid out. The more I read the more I wanted to keep turning the pages. Their story had me gripped from the start.
I am looking forward to reading the second book in this series. Things We Hide From The Light.
Check out My Favourite Self-Help Books Of 2022
All Rhodes Lead Here – Mariana Zapata
Aurora De La Torre moves back to a place she once considered home. A town full of happy memories and not-so-happy ones.
Her heart is broken and her direction in life is not so clear. A move to a small town in the mountains might be the perfect remedy to heal a broken heart.
Her landlord might not share her enthusiasm, but Aurora is determined to start over. The fact that Mr Rhodes, her landlord is easy on the eyes, might be just the thing she needs to accelerate her healing process.
My Review
Mariana Zapata, is without a doubt the queen of slow-burn romance. Whilst I felt that this book was slightly long-drawn at times, it still provided me with all the feels one expects from a romance book. I loved the description of the fictional town in the mountains. Definitely gave me Virgin River feels.
Aurora seemed younger than she was portrayed as. At times it did feel like the character was borderline childish. Having said that, the story still gripped me, and Rhodes along with his broody personality won my heart. As the book progressed and their friendship grew, I kept on turning pages. I wanted them to fall in love and live happily ever after so badly.
Mariana Zapata's characters are always so well developed along with the great unfolding of her storylines. You cannot go wrong with this book if what you are looking for is a good old slow-burn romance.
The Unhoneymooners – Christina Lauren
It seems to Olive she always ends up with the short end of the stick. Unlucky is how she best describes herself. On the other hand, her identical twin Ami seems to have all the luck in the world. So much so, that she manages to win a series of competitions that ultimately provide her with her dream wedding.
Although Olive couldn't be happier for her sister, she isn't exactly thrilled about having to spend time with the best man, Ethan. She doesn't like him and he doesn't like her.
As luck would have it, or not, everyone who attends the wedding ends up with food poisoning from eating shellfish, everyone that is except Olive and Ethan.
An expensive (although free) honeymoon is us for grabs and seeing as the bride and groom are currently indisposed, Olive and Ethan reluctantly take up the offer to go in their stead.
When they arrive in paradise, Olive runs into her future boss. In an attempt to impress him, she tells him a little white lie, one that ultimately spirals out of control.
As she and Ethan play the role of newlyweds, Olive finds herself enjoying the forced proximity of their well-schemed lie. Could it be there is more to Ethan than she thought? Or is he a pro at the pretending game?
My Review
Olive is such an adorable character. I really feel for her and the daily comparisons to her almost perfect and lucky sibling.
The storyline was funny and witty and the chemistry between Olive and Ethan was brilliant. Their supposedly common dislike for each other was hilarious.
This was the perfect beach read. I loved the vacation vibes (I actually read this in a day whilst on my holidays) It was easy and flowy, and with my favourite tropes, enemies to lovers and fake dating. You can't go wrong with that combination. A definite win in the rom-com genre.
The Unhoneymooners had me smiling from the first page.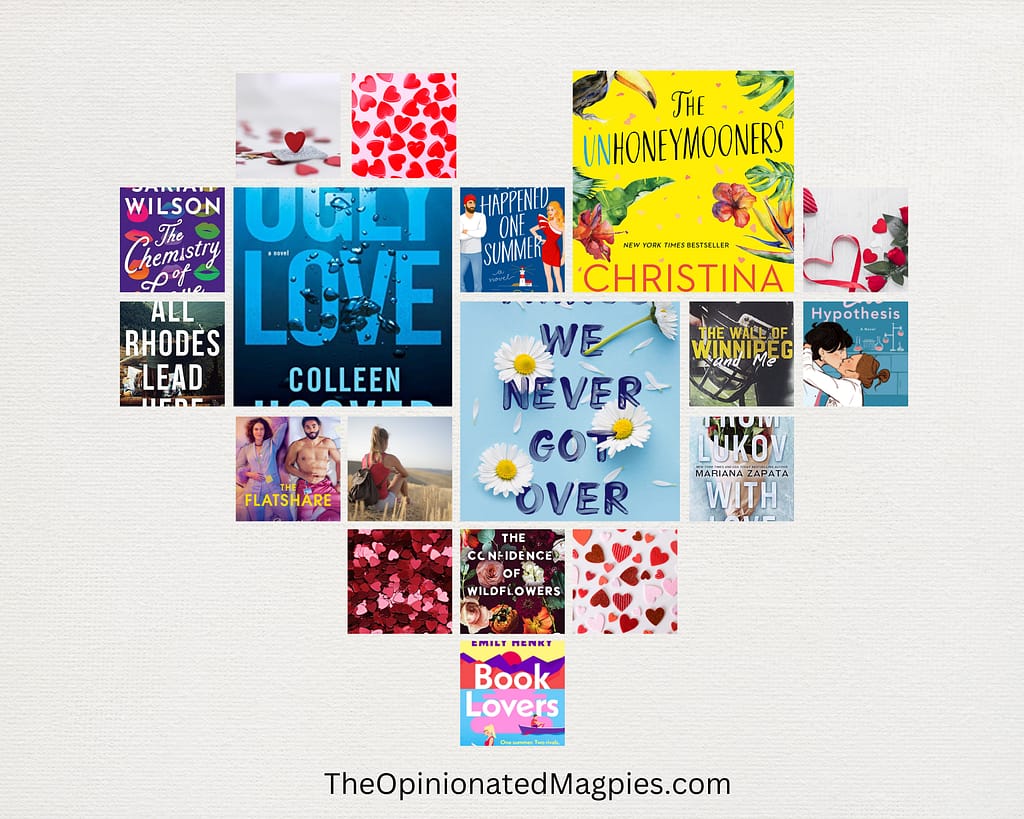 Bookmark for later: Favourite Reads Of 2022
The Confidence of Wildflowers – Micalea Smeltzer
Salem is eighteen and not quite sure what direction to take in life. And that is fine with her, for the most part. When Thayer and his son move next door, Salem is truly fascinated. She finds his grumpy personality a challenge. Whilst she is all sunshine and smiles, Thayer just wants to be left alone.
It doesn't take long for Salem to win over his trust. Thayer asks her to babysit his son, and Salem can't refuse. It's extra money and extra time around the adorable kid, not to mention, a chance to get closer to Thayer too.
Everything seems to be going fine with one exception. Salem is falling for Thayer. But, Thayer is fifteen years older than Salem. Falling in love with a man much older than herself was definitely not in her plans.
My Review
This was such a heartwarming and easy-to-read romance. I absolutely fell in love with Salem and Thayer (impossible to not fall in love with the grumpy gardener). His son was adorable. The characters were all well-written with good background stories. The grumpy-sunshine trope always ends up being a page-turner, and this was no exception.
TRIGGER WARNING: Whilst this was a romance book, please be warned the last 10% of the book is absolutely heartbreaking. I cried myself dry. Please research this book before diving into it.
Read the article to find out about My Essential 2023 TBR
Ugly Love – Colleen Hoover
When Tate Collins meets Miles Archer, a hot airline pilot, she knows the only thing they have in common is their undeniable attraction for each other.  They embark on a typical 'friends with benefits relationship, which works just fine for Tate. That is until she starts developing feelings for the emotionally unavailable Miles. 
There are just two rules Miles has for her. No asking about the past and not expecting a future. And for a while, Tate is content with this arrangement, she hasn't got the time for complicated love relationships,  but then feelings get in the way and she finds herself breaking all rules. It soon turns into Ugly Love.
Mr Review
Ugly Love was binged by yours truly in a matter of hours. I knew from the beginning that the dynamics of the 'friends with benefits' relationship would soon change. Very rarely do those relationships end well. However, I did not expect to feel so sorry for Tate. The character was so well written that I could actually feel her pain.
When it came to Miles, his attitude towards Tate was frustrating, to say the least, but it all made sense in the end when his past was revealed.
A really great romance novel that will keep you turning pages and rooting for Tate and Miles.
Book Lovers – Emily Henry
Winner of Goodreads Romance Novel for the year 2022, Book Lovers is a funny, witty and adorable story about Nora Stephens, a cutthroat literary agent and Charlie Lastar, an editor with a gift for creating bestsellers. The connection between the two? They are arch nemesis.
Libby, Nora's sister, persuades her to take a month out and travel with her to Sunshine Falls, with the intention to disconnect from their busy lives, recharge their batteries and indulge in the magic of living in a small town.
It should have been the perfect get-a-way, but instead, she keeps running into no other than Charlie Lastra. Soon they both start to question whether the stories they have crafted about each other are accurate. After all, they don't like each other, right?
My Review
This book was just jammed with witty banter. It was the perfect romance book to get me over my previous book slump. The characters are warm and loveable, and the chemistry between Nora and Charlie is undeniable.
I fell in love with the town of Sunshine Falls and its residents.
Overall a funny and enjoyable read.
From Lukov With Love – Mariana Zapata
For all of her life, Jasmine Santos has wanted just one thing, to be a successful ice figure skater. However, after many broken bones and missed opportunities, she finds herself rather stuck and with no clear direction or prospects.
Ivan Lukov has had all the success Jasmine dreams about, but what he doesn't currently have is a skating partner.
When an opportunity knocks on her door, in the form of Ivan Lukov, Jasmine realises it might be her last chance to prove herself, even if the thought of working with Ivan makes her want to hurl.
My Review
This was my first Mariana Zapata novel. Romance novels don't get more slow-burn than this. There is definitely no instant love connection in this story, which works for me just fine. Insta-love puts me off from reading a book.
For the sake of full transparency, let me just say that Jasmine got on my nerves. Her character seemed to be extremely childish and for some reason, she blinked a lot. I have no idea why the author would put so much emphasis on how many times Jasmined blinked, but it did become repetitive and annoying.
However please don't let that deter you from reading this book. Ivan is in my humble opinion a GOD! His character was so well developed throughout the book and I'm so glad I pushed through my dislike of Jasmine because Ivan certainly made up for it.
From Lukov with Love is essentially a modern version of the 1992 hit movie, The Cutting Edge, but with the roles reversed. And let me tell you, I watched that movie so many times I lost count. I'm happy to confirm that the book version was just as enjoyable.
The Flatshare – Beth O'Leary
Beth O'Leary is a Sunday Times bestseller and Ron-com royalty for sure. Her novel, The Flatshare was her debut novel and has now been turned into a Paramount Original Series.
Tiffs herself in a bit of a predicament. Her ex-boyfriend has asked her to move out. With very limited funds, Tiffy ends up accepting to share a flat with Leon Twomey.
As far as she is concerned they have the perfect arrangement. Leon works nights whilst Tiffy works during the day, meaning their paths never cross.
They share a flat and a bed, but they have never met until they do.
Mr Review:
Of course, I fell into the hype of The Flatshare, and I am so glad I did. The author had this incredible original idea, and she brings it to life brilliantly.
The relationship between Tiffy and Leon was so cute, it made me smile throughout the book. Those little notes they left for each other, and how well it was incorporated into the storyline so that we got to know the two characters at the same time they did.
Loved this story, the chemistry between the two and without forgetting her funny and supportive best friends. A definite read for any romance lovers in search of happy vibes.
The Chemistry Of Love – Sariah Wilson
Anna Ellis is a geek, brilliant and totally in love with her boss Craig Kimball, supposedly the man of her dreams. But how can she make Craig notice her and ultimately fall in love with her? The answer comes to her in the shape of Craig's half-brother Marco. Apparently, whatever Marco has, Craig wants. So Anna hopes that if she fakes dating Marco, Craig will end up realizing he is madly in love with her and sweep her off her feet.
The thing with fake dating is……..you never know what you are in for, as Anna will soon find out.
My Review
A fun book and a must for rom-com lovers. Full of witty and smart interactions that had me laughing out loud.
The characters are well-written, flawed yet relatable and loveable. Marco is warm and charming, a true prince charming. His and Anna's chemistry was right on par.
A delightful story from start to end.
End Note
In all honesty, I was never a romance novel kinda girl. But after reading The Love Hypothesis last year, I cannot get enough of them. Rom-coms are the perfect dose of fun and romance formula. They tend to be easy reads and before you know it, you have a smile on your face.
I hope you find a good read for yourself from the books listed above, and like always, if you have read an amazing romance book, please comment below and let us know.
Happy reading!!!
Related Articles: