I am truly and unashamedly a winter hermit. However, when summer rolls around, I slowly (although sometimes reluctantly) climb out of my hole and fully embrace the beautiful summer season. However, just because it's summer doesn't mean we don't lead hectic lives or that there is no need to practice self-care. Yes, the days might be longer and brighter than the long winter months, but self-care is still essential.
What Is Self-Care?
I'm busy, I don't have time, maybe tomorrow, I will manage somehow. A long list of what we tell ourselves daily. It's a fast-paced world, and whether we like it or not, most of us live on autopilot. We have mastered the art of multitasking. Before the day ends, we are already thinking ahead about what's on the schedule for tomorrow. So it comes as no surprise that many of us are left feeling the typical symptoms of burnout. Tiredness, a feeling of detachment, overwhelmed and at times defeated.
This is where self-care comes in. It's a vital practice in our fast-paced daily lives. A purposeful and conscious act of taking care of our physical, mental and emotional well-being. The best forms of self-care involve activities that make you happy and allow you to unwind and reconnect with your true self.
Why Should We Practice Self-Care?
To avoid burnout, self-care is a must. Do not allow anyone to tell you that it is selfish or that it's a trait of lazy people. It's unacceptable for anyone to make you feel like the above.
Self-care simply involves the ability to recognise the importance of showing up for yourself. When you prioritise self-care, mental clarity is enhanced and stress is reduced. Not only that, but it will allow you to enjoy improved relationships with your loved ones, whilst enjoying increased overall satisfaction and happiness.
Who in their right mind wouldn't sign up for that??
10 Self-Care Tips For A Serene Summer
1. Introduce A Morning Routine
How you start your day has a major impact on your physical, mental and emotional well-being.
Benefits include:
Reduced stress
Increased productivity
Higher energy levels
Promotes mental clarity
Seriously now, starting your morning on the right foot will set you up for an even better day. Make time in the morning to invest in activities that nourish your mind, body and soul.

Check out this blog post on Summer Morning Routine.
2. Hydrate
All year round, our bodies rely on water to function properly. However, in the summer it is especially important to stay hydrated to regulate body temperature and support organ function. Plus, if you want glowing skin, hydration is key.
Some tips to keep you hydrated during the warm summer days:
Drink regularly, even if you are not thirsty (guilty, I'm never thirsty)
Carry a refillable bottle.
Eat hydrating foods
Limit alcohol, caffeine and sugary drinks
Fancy water with a twist? Check out our blog post on Fruit Infused Water
3. Skin Care
Nobody likes dry skin, especially in the summer. The increased exposure to the sun and the higher humidity bring about unique skin challenges.
To maintain a healthy and radiant complexion, nourish your skin with SPF moisturizers.
For more tips on summer skin, check out our blog post here.
4. Reconnect With Friends And Family
This one is ironic considering I'm an introvert, but still, even I recognise that summer is the perfect season to rekindle and strengthen connections with friends, whilst creating lasting memories.
The warmer weather feels like an invitation for a more relaxed atmosphere. An opportunity to nourish your social well-being.
Some ideas include:
A day at the beach or pool
Meet up for morning coffee
Early morning powerwalks
Go out for dinner and enjoy the lovely summer nights
Go to a festival or a concert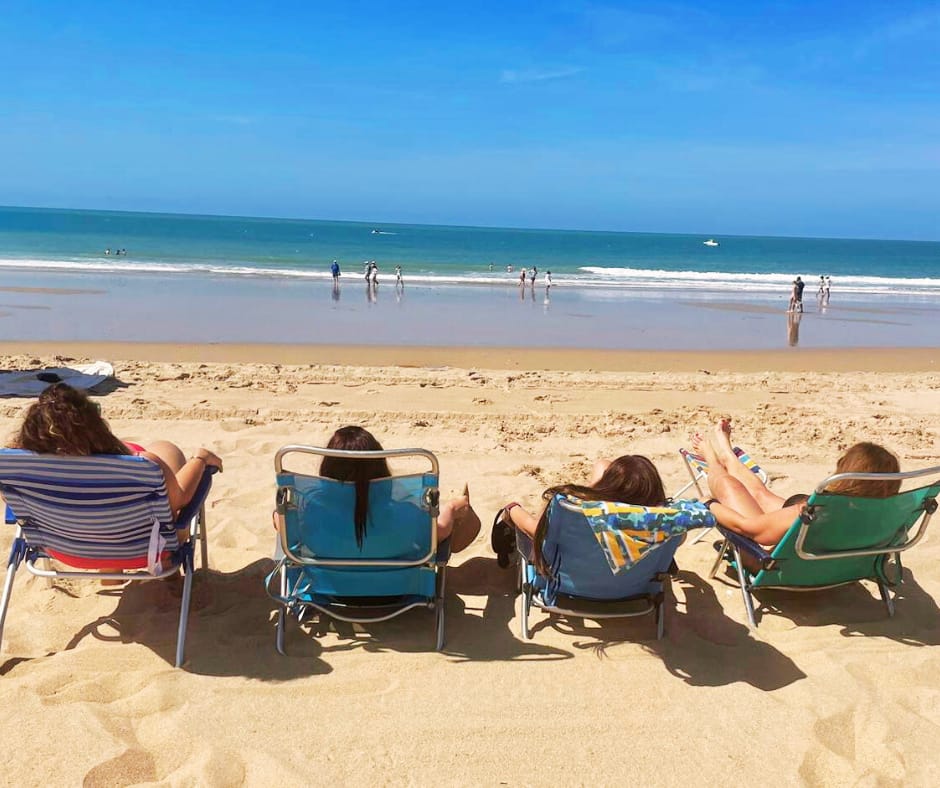 Planning a BBQ? We have you covered with delicious menu ideas. Check out our blogs on starters, main and dessert.
5. Create A Summer Journal
When summer rolls around, it brings with it the perfect weather for capturing cherished moments. Creating a journal is a beautiful way to document and treasure memories and experiences. It allows you to reflect and express gratitude.
Find a pretty notebook and make an effort of writing in it daily. Include your daily activities, and express your creativity. You can write about your thoughts, your emotions, and even your goals. Adding visuals like photos will make it all the more complete, making it a wonderful keepsake full of memories for years to come.

If you have never journaled but would like to start, we have a blog post on Journaling you might find useful.
6. Practice Mindfulness
There are so many ways to practice mindfulness in our everyday lives. During the summer months, I'm privileged to not have to work. It's during these three months that I find the opportunity to slow down, connect with nature and cultivate mindfulness.
In the past, I was so consumed with worrying about my future or regretting my past, that I never fully appreciated the gift of the present moment.
This past year has been all about embracing the now and learning to live my best life. Mindfulness has been a big part of it.
There are moments in my day, that take my breath away. And not necessarily after a wow moment, no. The feel of my son's arms as he hugs me, the good morning kiss from my husband, or the sun filtering in through the window as I wake up. Moments I would have taken for granted before, but no more.
Outdoor Yoga
Yoga is an effective way of practicing mindfulness, especially if you do it outdoors, and preferably surrounded by nature.
Enjoy The Beauty Of A Sunrise Or A Sunset
Watching the sunrise or the sunset is one of my favourite ways to practice mindfulness. It always feels like I'm watching nature's spectacular show. Both scenes bring about awe-inspiring moments. Sunrises are the promise of a new day, whilst sunsets uplift my spirit. Something I always tell my kids when they are having a rough day is, the sun will always rise and it will always disappear in the horizon, no matter what.
Mindful Swimming
Last year going for a dip would be purely to relieve my body of the effects of the heat. This year, it's a totally different experience though. I love feeling the cold water on my skin, the feel of the sand on the sole of my feet, and embracing the scent of the ocean. A dip in the ocean is one of the privileges I enjoy the most.
Outdoor Mediation
Meditation is part of my daily routine come rain or shine. If I can manage a few minutes of quiet whilst I am outside, all the better. Just last week, we went to the beach at 9.30 am. It was the perfect time to sit on the sand, close my eyes and quiet my mind whilst listening to the soothing symphony of the water meeting the shore. I felt totally at peace, my mind was clear and the rest of my day was full of joy and gratitude.
7. Spa Session At Home
No need to spend big amounts of money on visiting an actual spa (although that is also an option). You can create a spa session in the comfort of your own home. With little planning and preparation, you can enjoy the benefits of a spa retreat. Unwind, recharge and indulge in this luxurious form of self-care.
From enjoying a soothing bath, complete with essential oils, to exfoliating and moisturising your skin, to enjoying a facial treatment, creating a spa session at home is a beautiful way to prioritize yourself.
8. Read A Feel Good Book
Reading is not for everyone. Hard for me to understand but I respect it nonetheless. However, if you do enjoy reading then this is the PERFECT form of self-care. Let me explain.
Don't you ever feel overwhelmed with life in general? Me too. Part of being human I suppose. For me, one of the best ways to alleviate the mental and emotional overwhelm is to immerse myself in the pages of a captivating book. Being transported to another world feels like a different kind of meditation.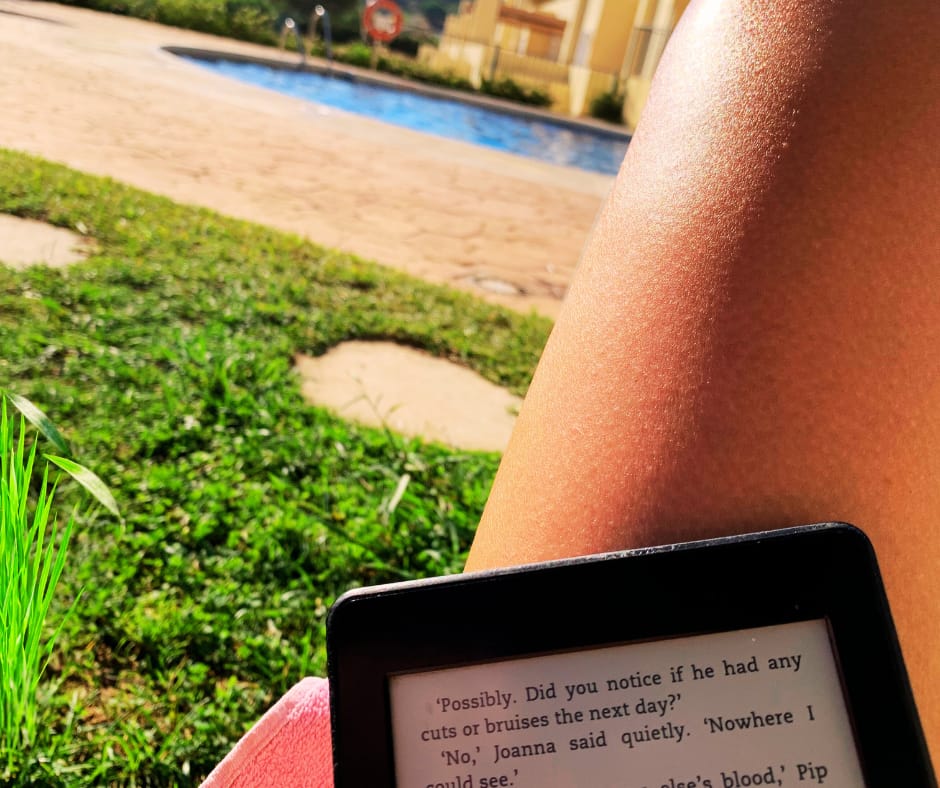 So whether you are at the beach or the pool, or at home, a good book can be a delightful companion and the best escape during the summer months.

Check out our blog post for Summer Reads, the romance edition or if you are more of a thrill seeker, find your next read in our blog post, Beach Reads, the thriller edition.
9. Bask In The Beauty Of The Great Outdoors
The summer season beckons us to step outside and enjoy the beauty that surrounds us along with a variety of outdoor activities that bring us joy and a connection to nature.
Whether it's watersports at the beach, a walk in nature, picnics with family and friends, or even bike rides, there is something for everyone to enjoy.
10. Prioritize Rest
Whilst summer is known to be a season full of energetic activities, travelling and outdoor adventures, let's not forget the importance of rest and relaxation.
Longer days equal shorter nights. Prioritise quality sleep in order to support overall well-being. Make sure to maintain a healthy balance between activity and rest.
Final Thoughts
We hope you take something useful from this blog post. Remember that self-care is not a luxury but an important and essential investment in your overall well-being. If you understand this and incorporate it into your daily life, you can experience a greater sense of joy and gratitude.
Sharing Is Caring:
Related Articles You Might Enjoy:
Mammograms, a vital tool in breast cancer screening and early detection. However, the prospect of…